Year 5 News 2015 -2019
Out of this World! - April 2019
Yet again we have been blown away by the incredible projects the children have produced linked to their science topic of space. The children had the opportunity to view and evaluate each others projects, which are now on display in the entrance hall. Well done to all the children (and parents).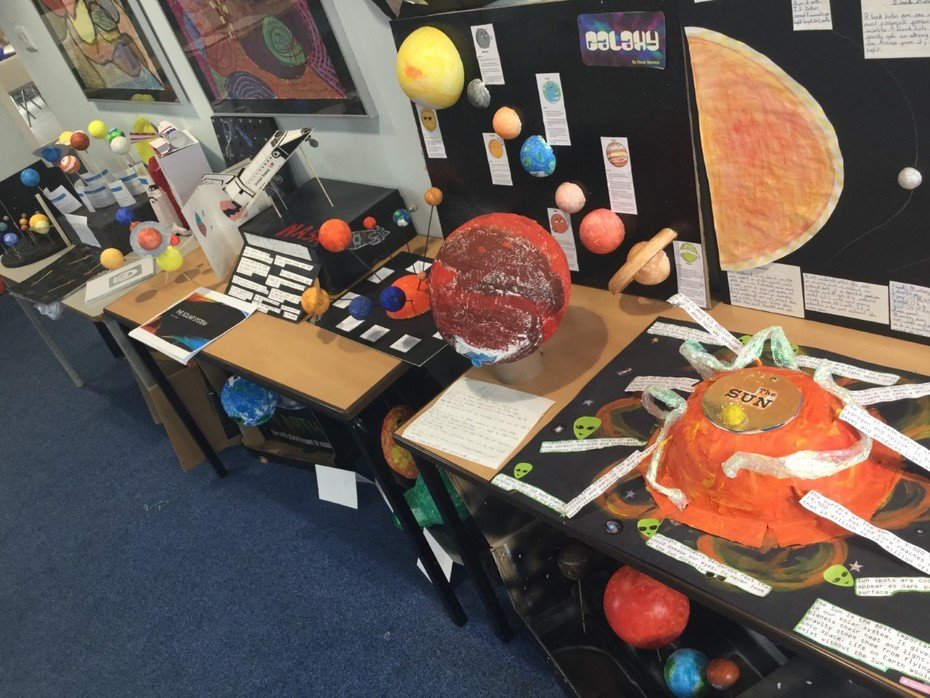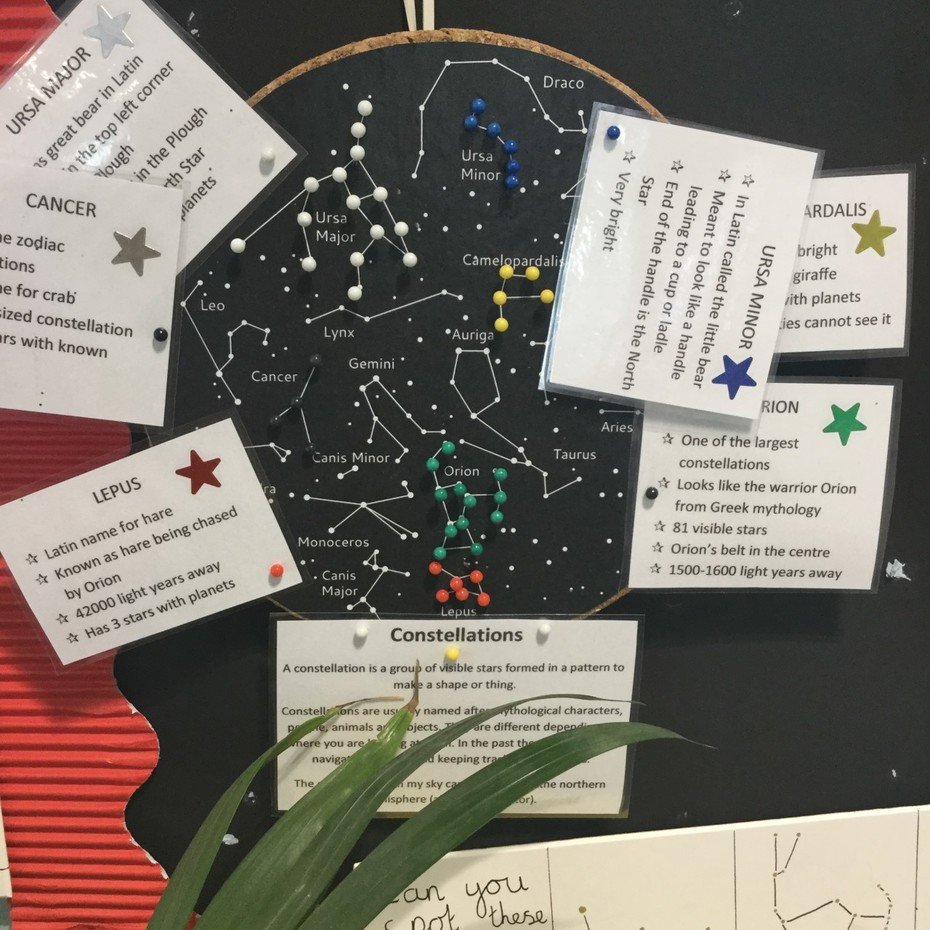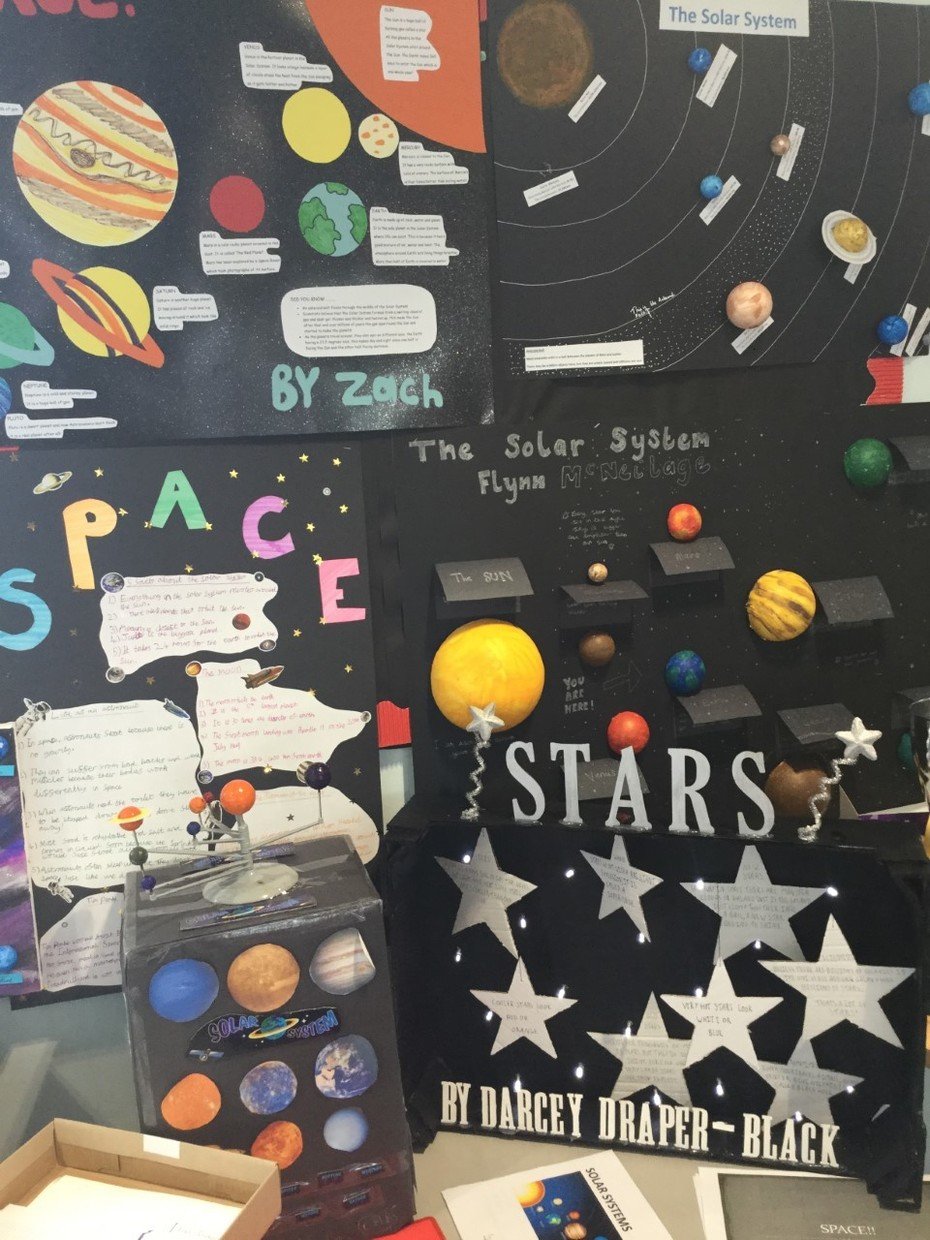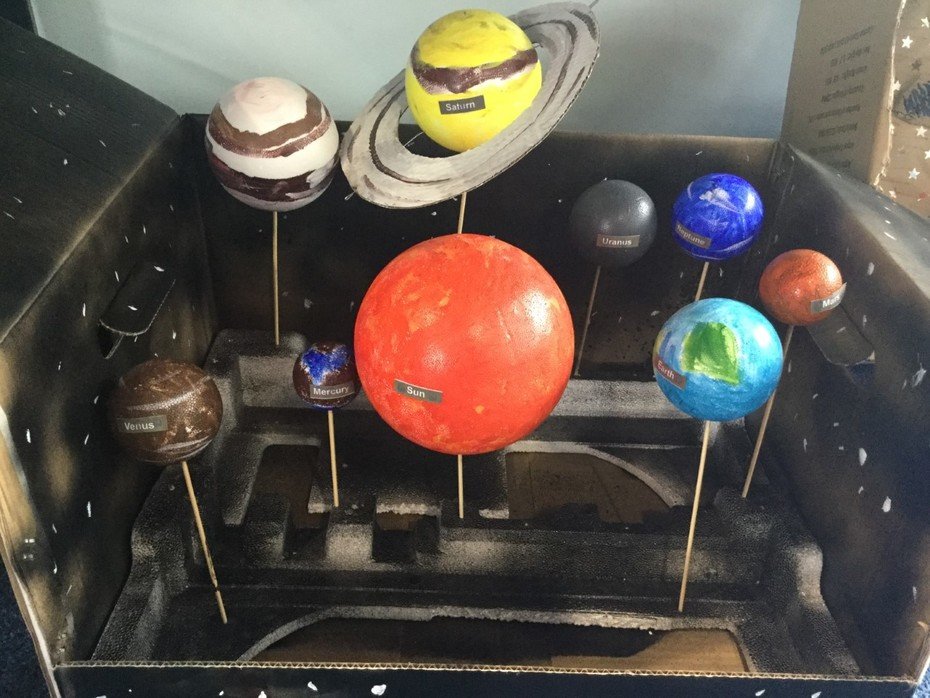 Flag Fen Visit - March 2019
Year 5 visited Flag Fen as part of their current history topic.
Going to Flag Fen was a very enjoyable trip. It taught me lots of things about pre-history as I didn't know much. My favourite part of it was the sorting of the artifacts because I learnt lots about life in the Stone, Bronze and Iron Ages. - Louisa 5HB
Flag Fen was one of my favourite trips. I learnt so many interesting facts. The most enjoyable part of the trip was when we got to listen to a story in a roundhouse, while being warmed by a blazed fire in the middle. It was brilliant that the sword described in the story was real. We had the opportunity to see the sword, touch the sword and say a wish! Then in a years time, our wish might come true. - Annabel 5HB

Space Camp - February 2019
Both classes had the opportunity to stay in the school hall in tents overnight last week. The children learnt about The Constellations, made rockets and used the iPads to identify the stars in the night sky. A great time was had by all.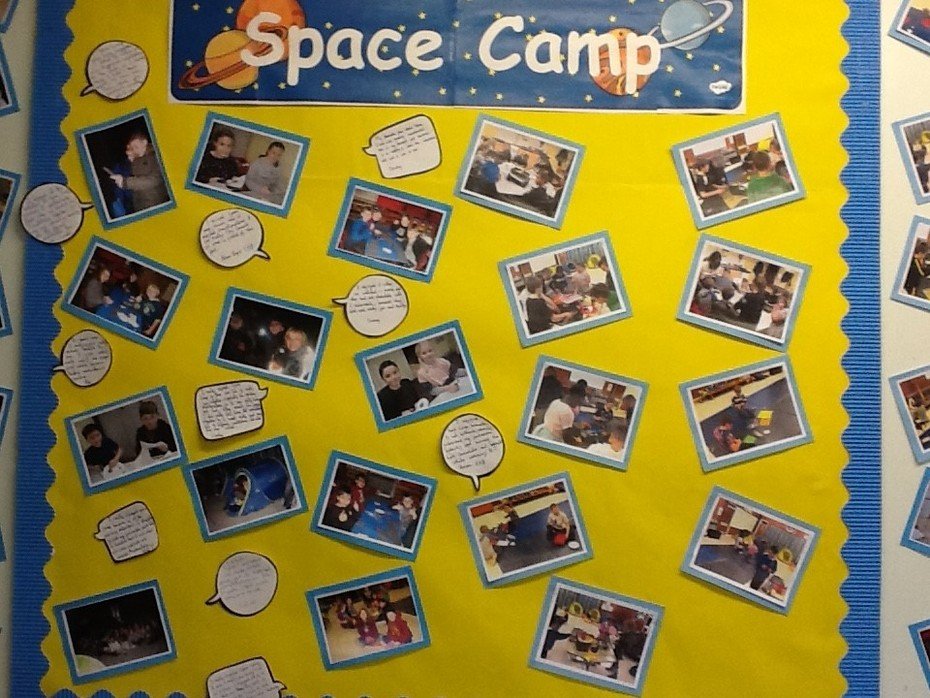 Talking Textiles - February 2019
Year 5 have produced some great art work linked to their English work on the story "The Firework maker's Daughter" by Philip Pullman. They used batik and sewing skills to create the collages.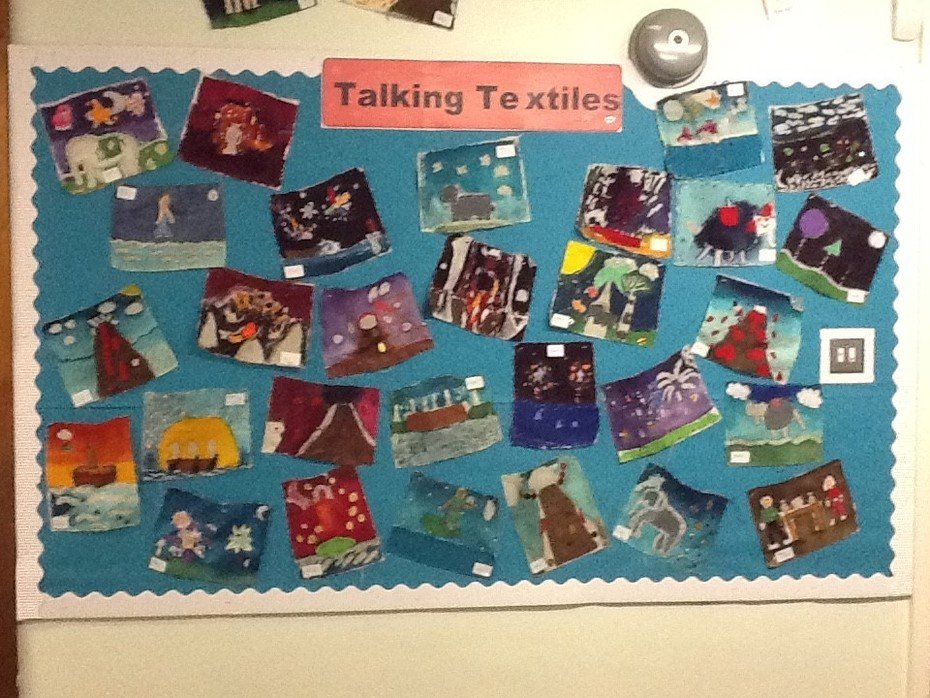 Design Technology - Tudor Houses - October 2018
Year 5 persevered to make their Tudor Houses.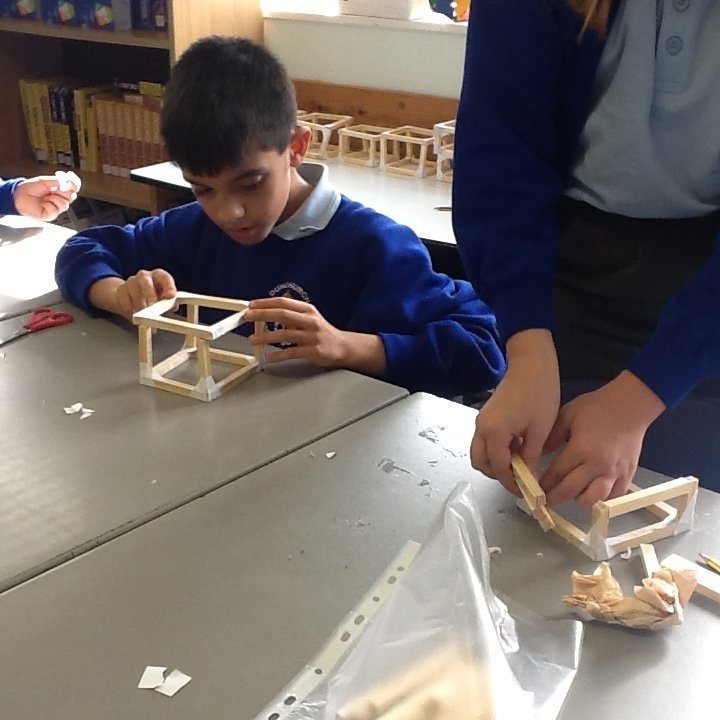 Forensic Science Morning at Rugby High School
On Monday morning, a group of randomly selected girls from year 5 went to Rugby High School to take part in a Forensic Science morning. A huge thank you to Mrs Goodwin who organised and led this exciting event for the children to take part in; it was thoroughly enjoyed by all. The girls were a credit to DBJS - they were all engaged and enthusiastic throughout and made some super contributions to the discussions. They also successfully identified the culprit. Poppy wrote a fantastic review following the visit:
" n the morning of 11th June, 19 year five girls and I went on a trip to Rugby High School for a forensic science morning. When we arrived we were surprised to see police tape on the science lab door, saying 'do not enter - crime scene'. As we walked into the lab, we met Mrs Goodwin, our teacher for the morning, and Steve, the technician. The story was that someone had broken into a cupboard and stolen trophies, laptops and ipads. There were four suspects, and we were given evidence from the crime scene, and samples from the suspects' houses. We did ink tests, examining finger prints, and many more exciting science activities until we had cracked the case. We were kindly provided with delicious home-made cookies and squash for breaktime outside. The staff running the morning were extremely kind and helpful and they explained the instructions brilliantly. We were proud that we all solved the crime by choosing the right suspect".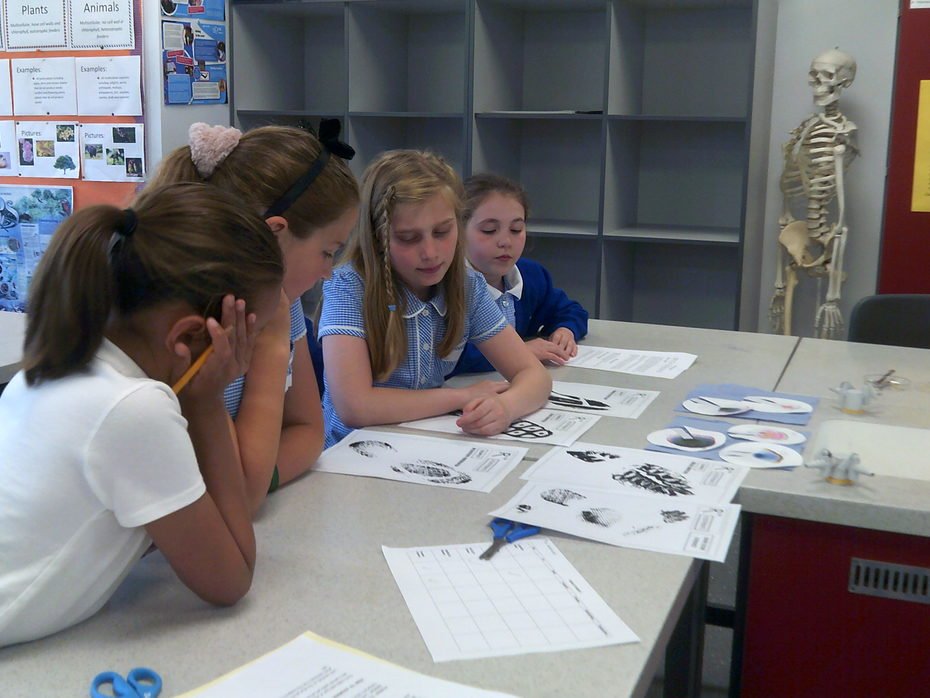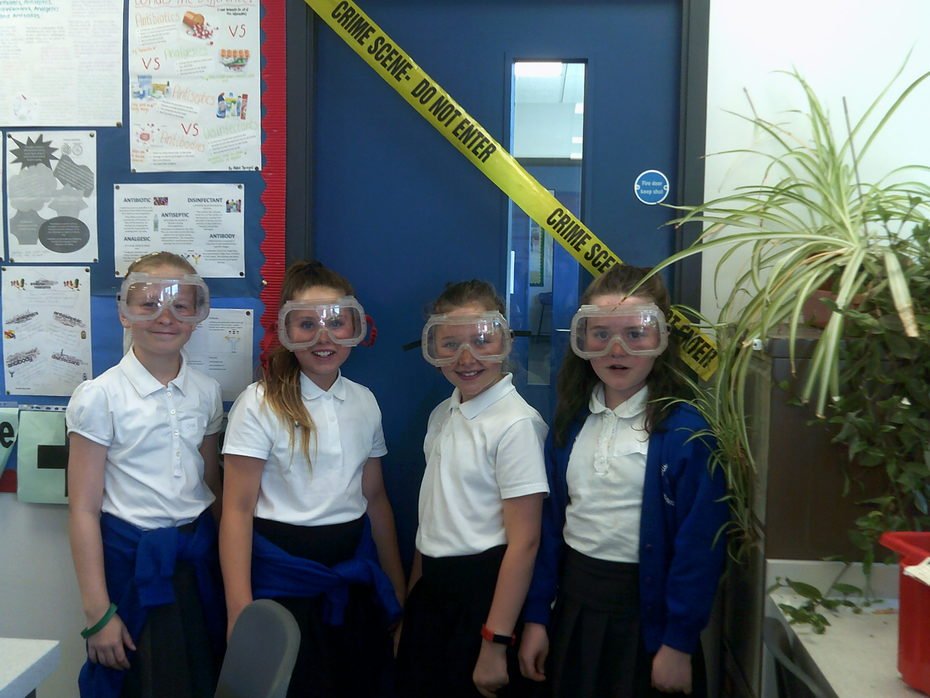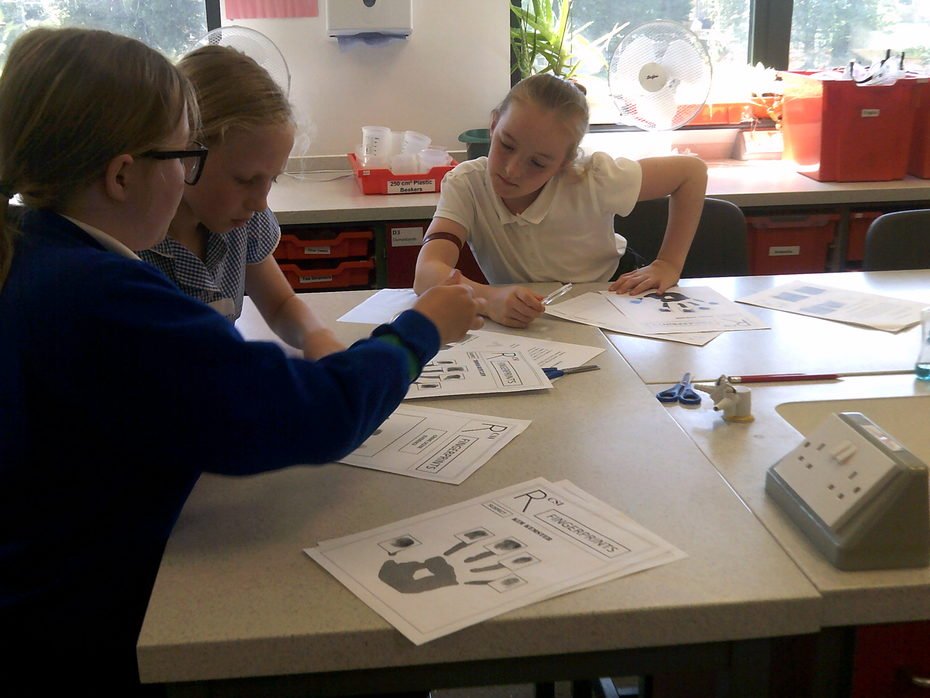 Year 5 Residential Visit to Wales
The Year 5 children who were in Wales last week had a fantastic, fun-filled week! Well done to the children who were so well behaved, it was great to hear that they had a lovely week. Thank you very much to the staff who ensured the children were kept safe and made sure that the children had an enjoyable week.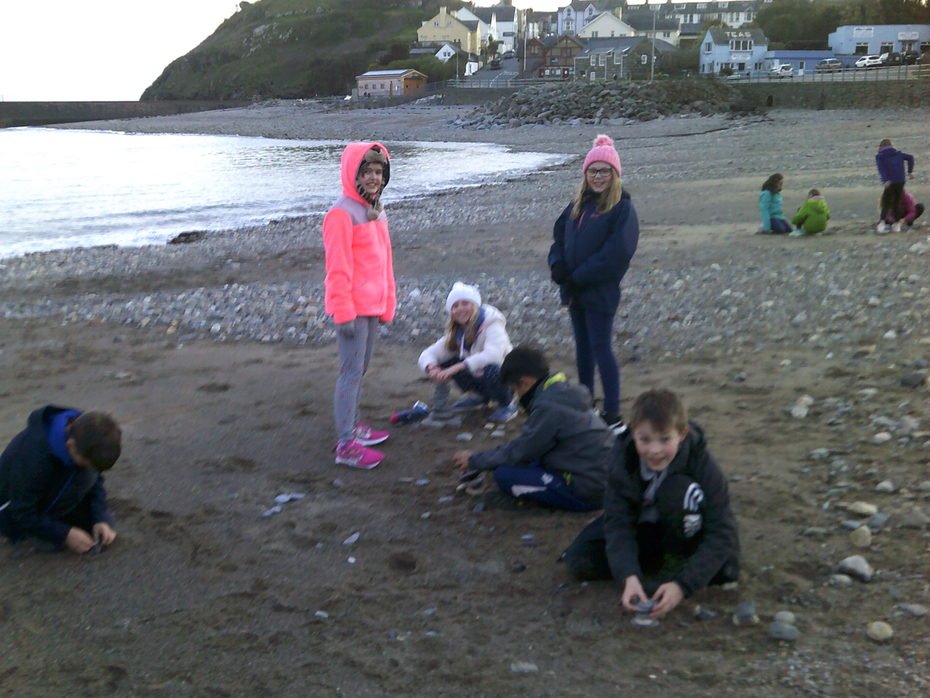 Year 5 Athletics Festival
Our Year 5 pupils went to Harris Academy on Tuesday 8th May to take part in the Rugby School Athletics Festival. They were able to take part in a range of activities based around athletics skills. The children had an enjoyable afternoon.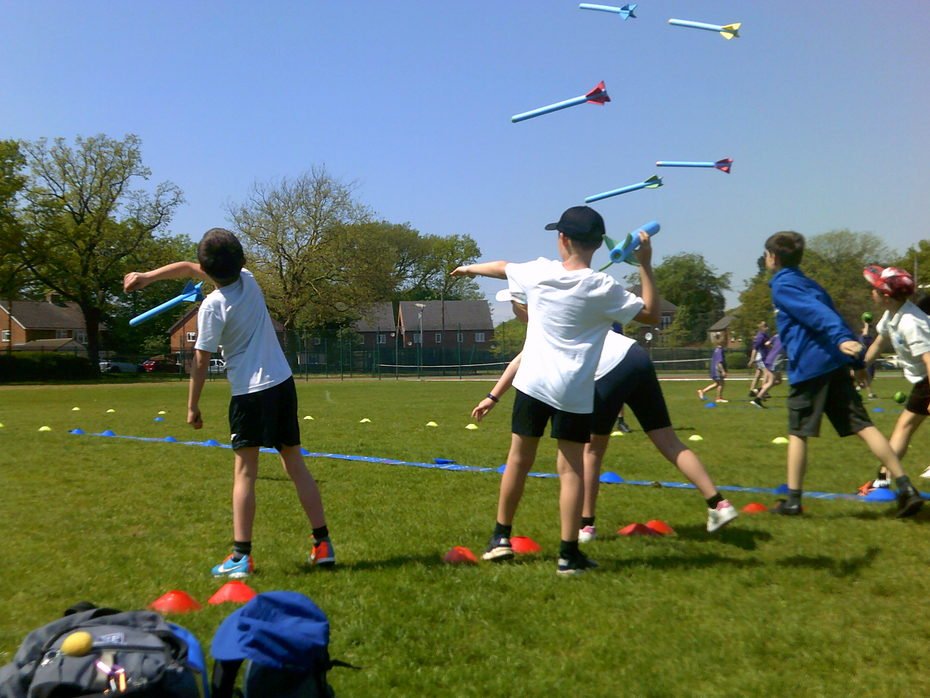 Space Projects
The children in Year 5 worked on Solar System themed homework projects. They worked very hard on their projects, which were displayed in the entrance hall.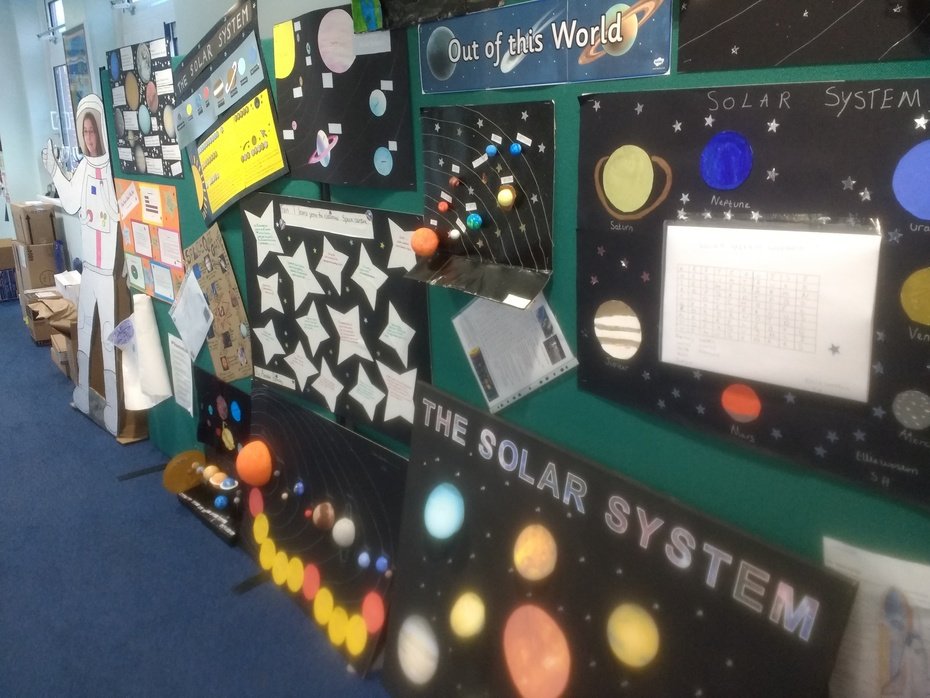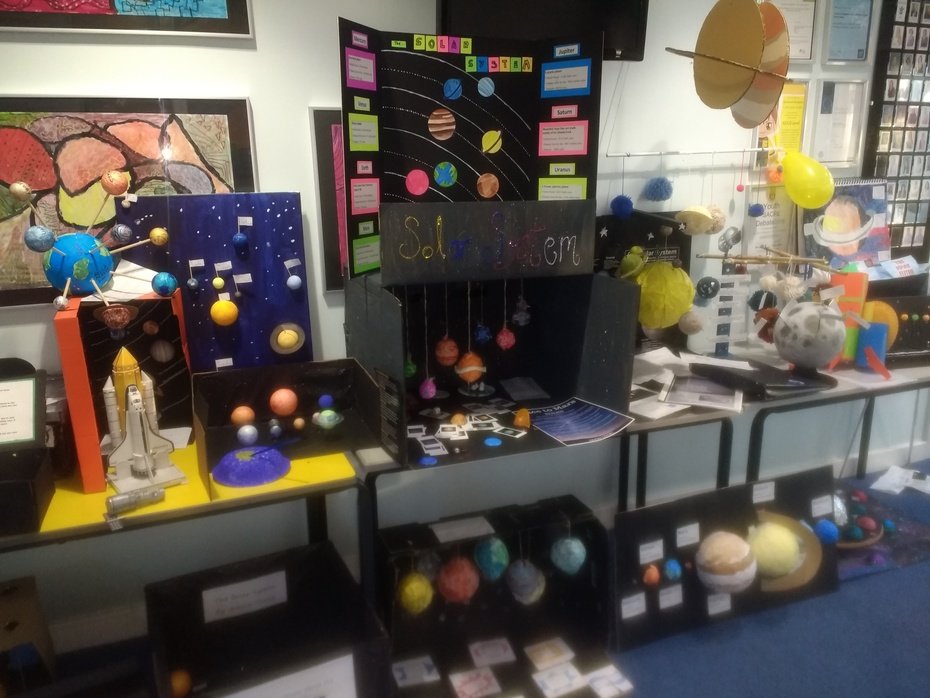 Year 5 Visit to Flag Fen
On 16th March the children in Year 5 had a fantastic day at Flag Fen in Peterborough. During the visit the children explored pre-historic life by looking at and handling artefacts, and used sources to find out information from the past. They also walked around a Bronze Age Archaeological site. It was a very enjoyable day.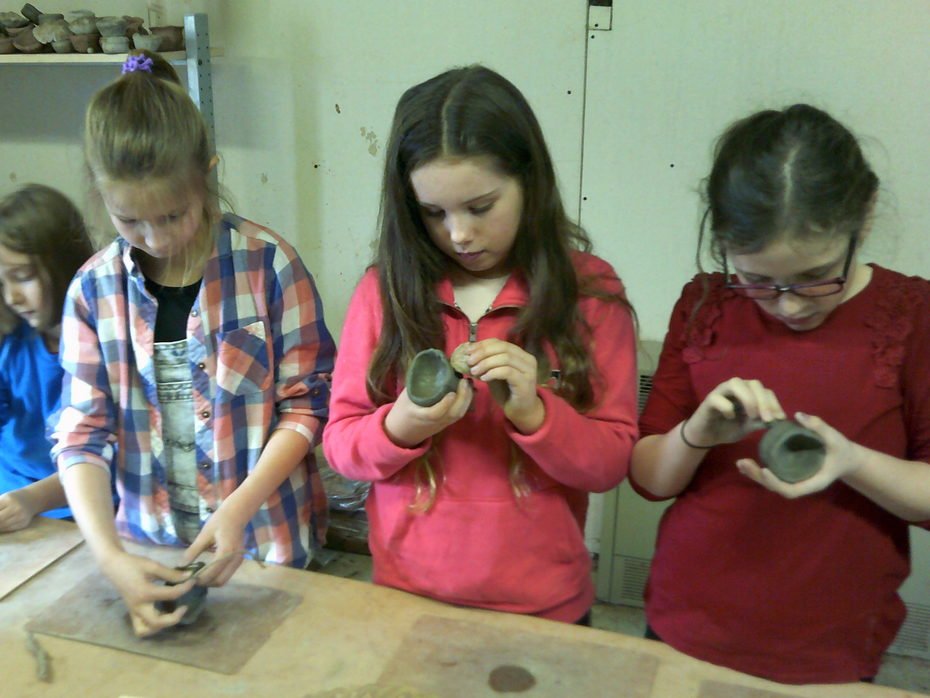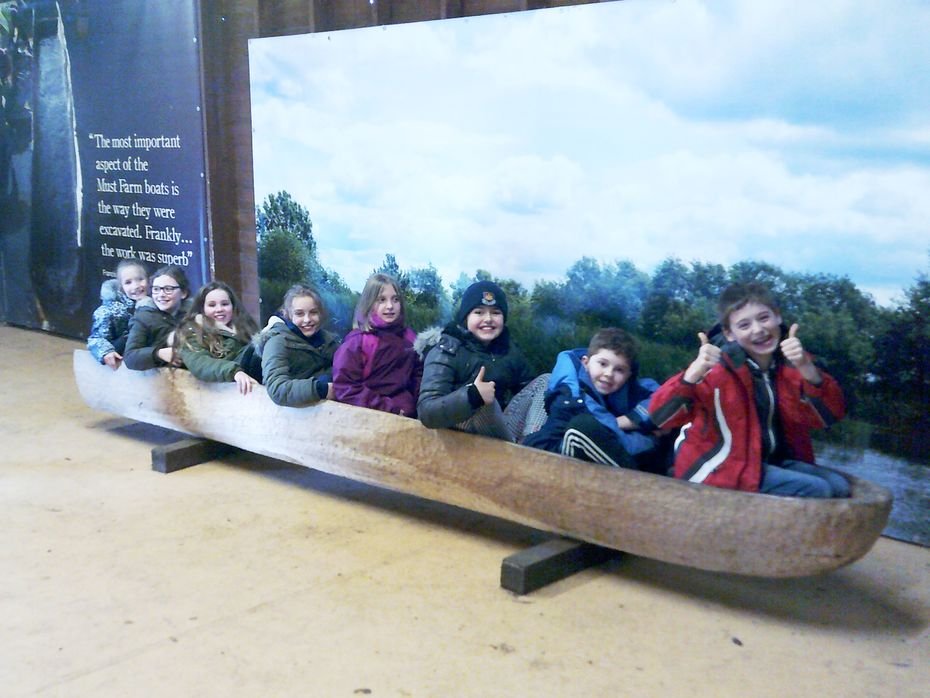 Tudor Projects
The children in Year have worked very hard and created some amazing projects based on the Tudor period which they have been covering in class.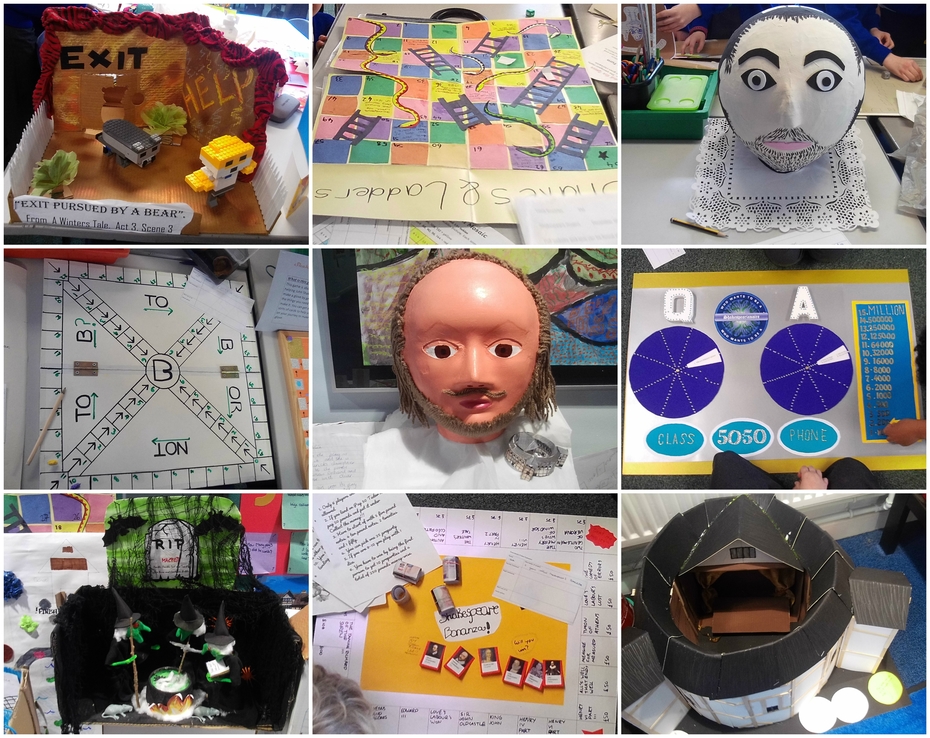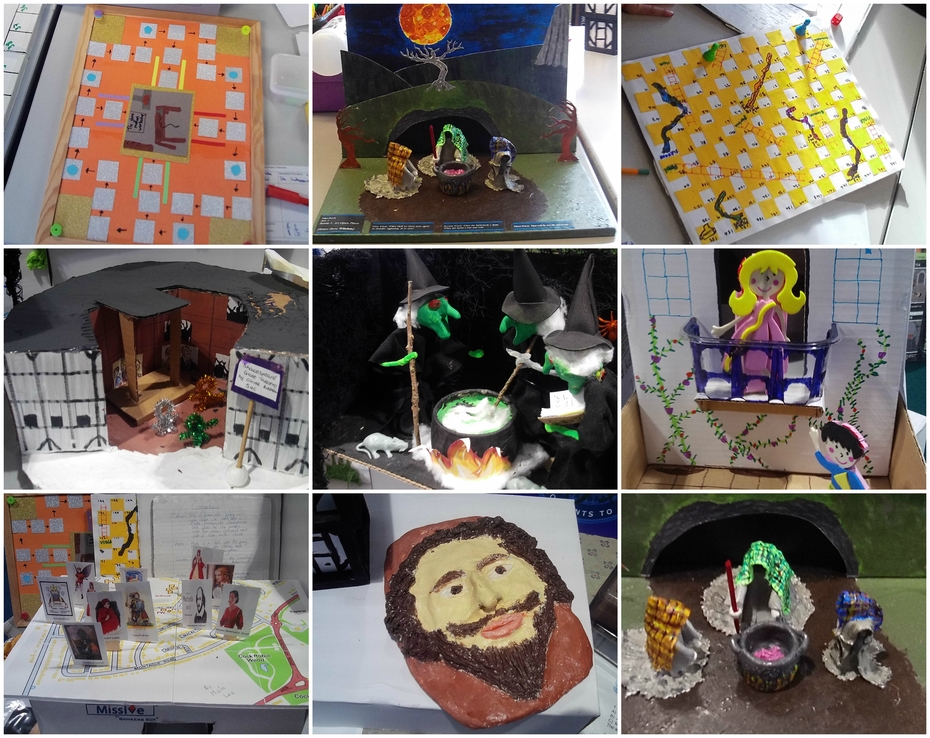 Warwickshire Fire and Rescue Visit - Monday 30th October 2017
Year 5 had a visit from the Fire Service on Monday. They came into school as part of their Fire Safety Education Programme to recap key messages delivered in Year 2, such as 'Stop, Drop and Roll' and also extend their knowledge further. They discussed fire escape plans, the importance of smoke alarms and also how to make a 999 call. The children received information booklets and other goodies. They have also been given a fire escape plan checklist to complete at home and return to school. If they return it they will get a bookmark and be entered into a prize draw.
3D Shapes - October 2017
Mrs McMahon's maths group had a fantastic maths lesson applying their knowledge of 3D shapes by completing a number of challenges, which involved constructing shapes from marshmallows and cocktail sticks!
Trip to Stratford - 3rd October 2017
To enrich the teaching of Literacy, History and Design Technology Year 5 headed over to Stratford on Avon to take part in a number of workshops at Shakespeare's Birthplace. They also had a guided tour of the town to look at the historic architecture, which will inspire their DT project of designing and making Tudor houses.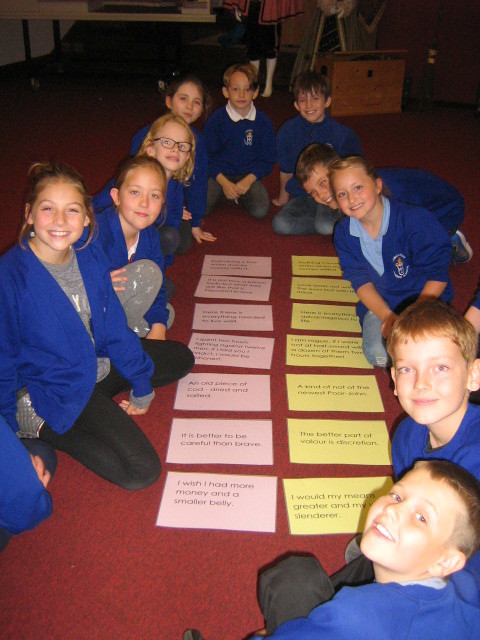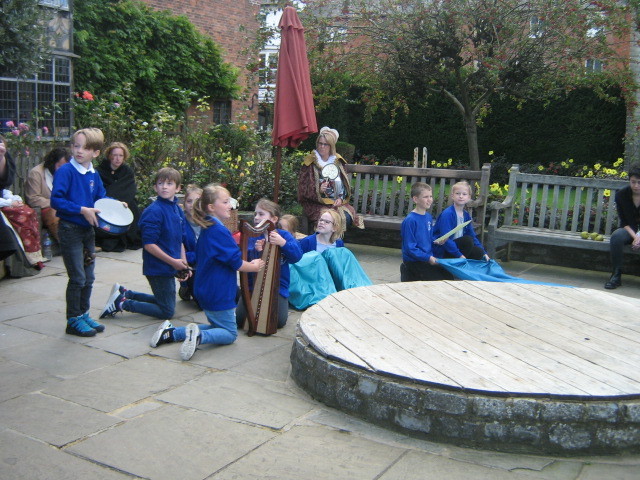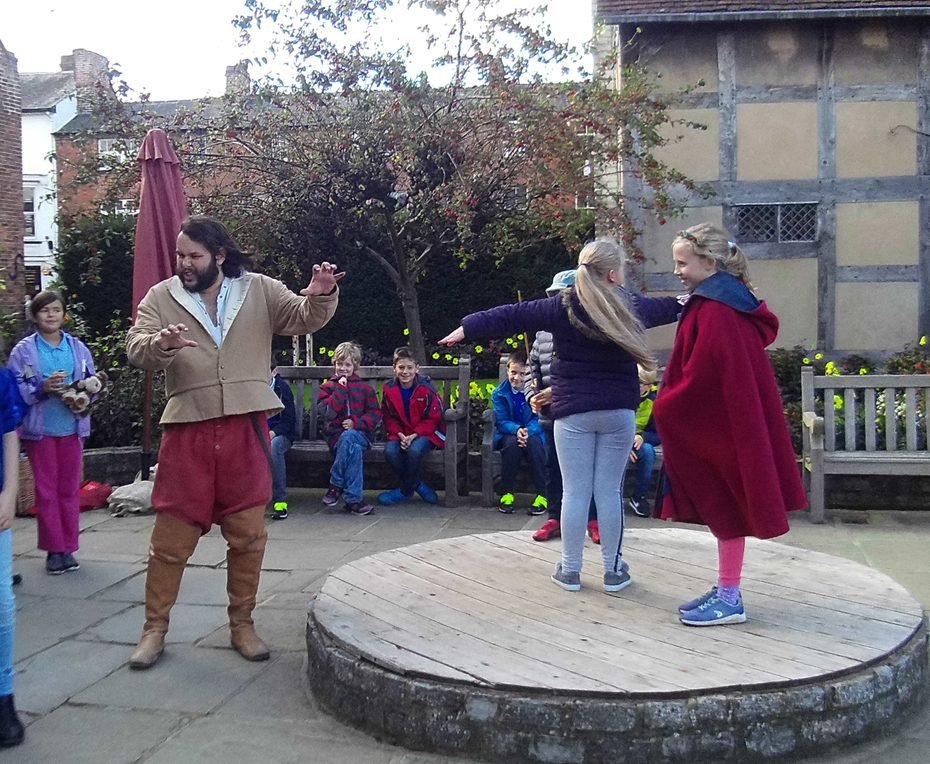 Highwayman Drama - September 2017
In Literacy the children have been enjoying reading The Highwayman by Alfred Noyes. They have had the opportunity to read, recite, freeze-frame and act out the famous poem, before attempting to write their own verses for poem.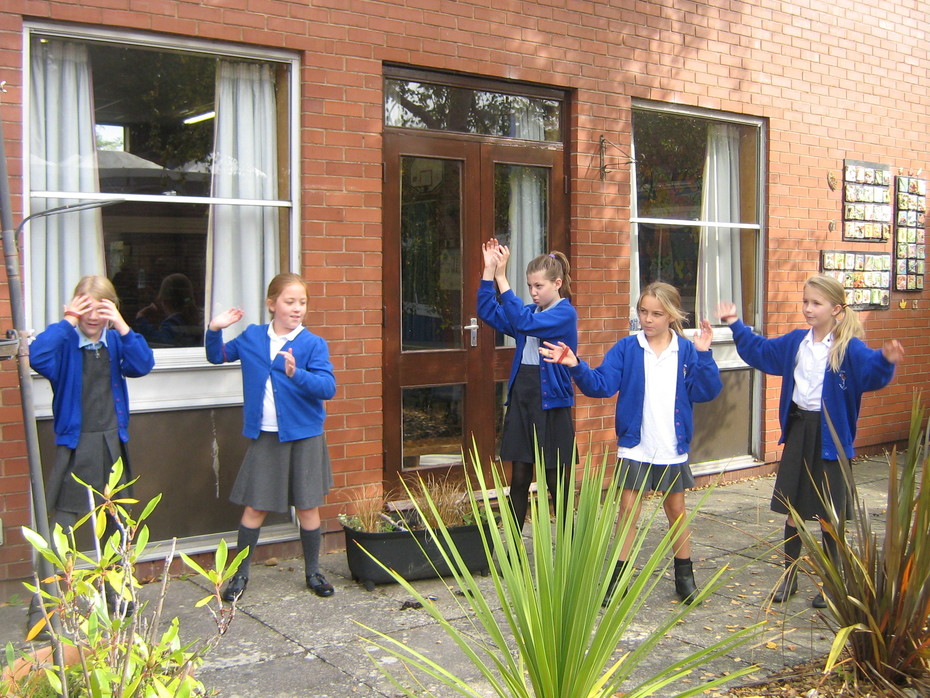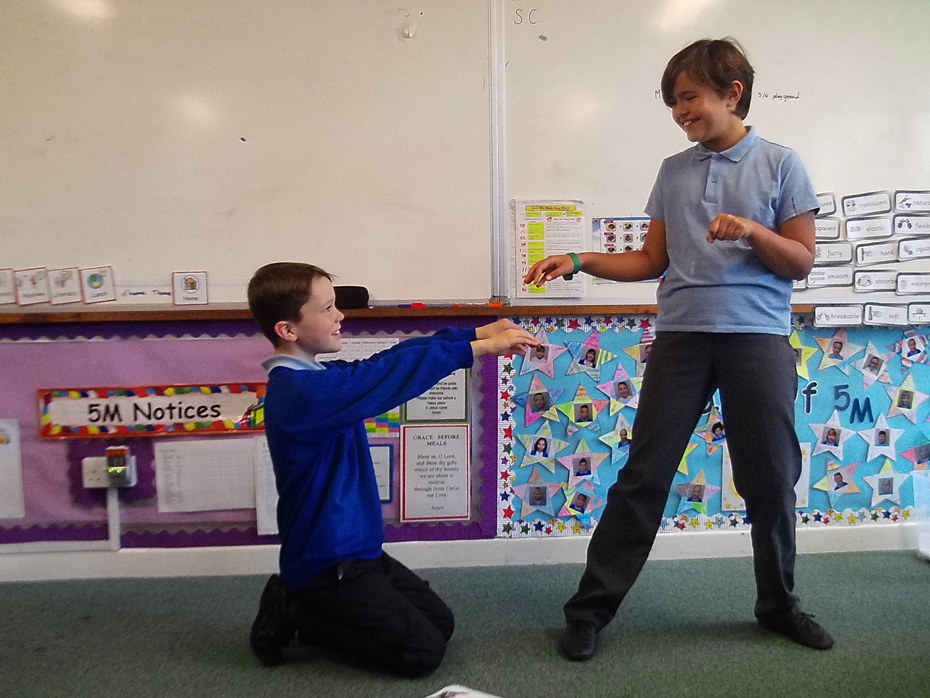 Science Investigations - September 2017
Children in year 5 have been putting their science knowledge in to practice by designing a filter to clean muddy water. The children worked in groups, to try and remove a range of material from water.
----------------------------------------------------------------------------------------------------------------------------------------------------------------------------------------------
'Rocket Science' / Space Seeds Project – Year 5
As part of their Space Science topic, children in Year are taking part in the RHS Campaign for School Gardening/ UK Space Agency Rocket Science educational project. Rocket seeds were kept on the International Space Station for several months and have been brought back to Earth and sent to participating schools. We have also received seeds which have not been in space, which we are also growing so that the children can measure and compare the seeds that have been in space with those that have not. They will then enter the results into a national online database. The aim of the project is to inspire pupils to think scientifically and to see the potential of future careers in Science, Technology, Engineering, Maths and Horticulture. For more information click here (RHS School Gardening website)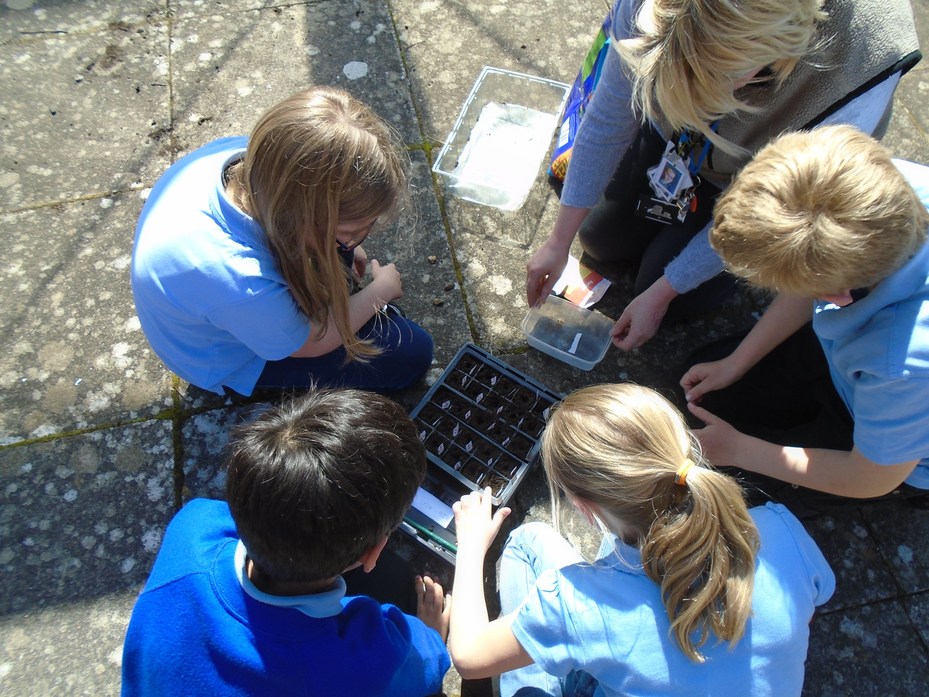 March /April 2016
In Science Year 5 have been studying Space and the Solar System. The children were asked to produce a project at home based on an aspect of this topic. The children decided what sort of project they would produce and these included PowerPoint presentations, models, board games and quizzes. The projects are on display in our entrance hall.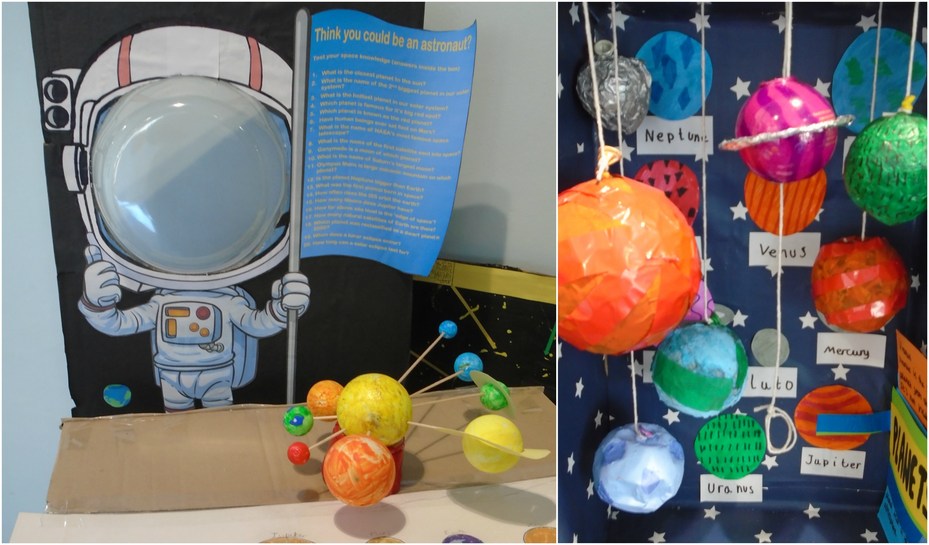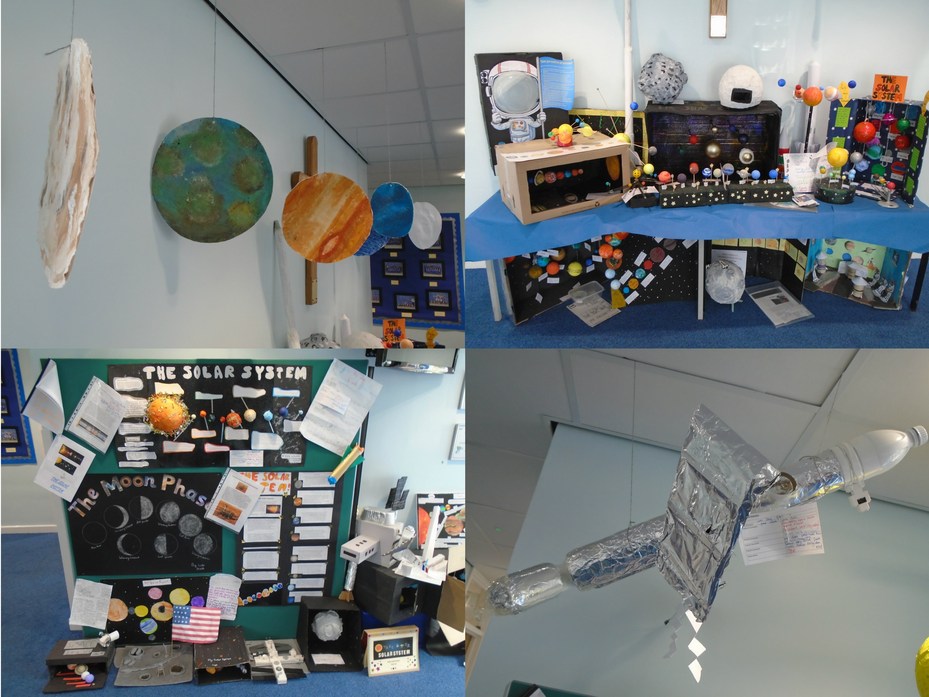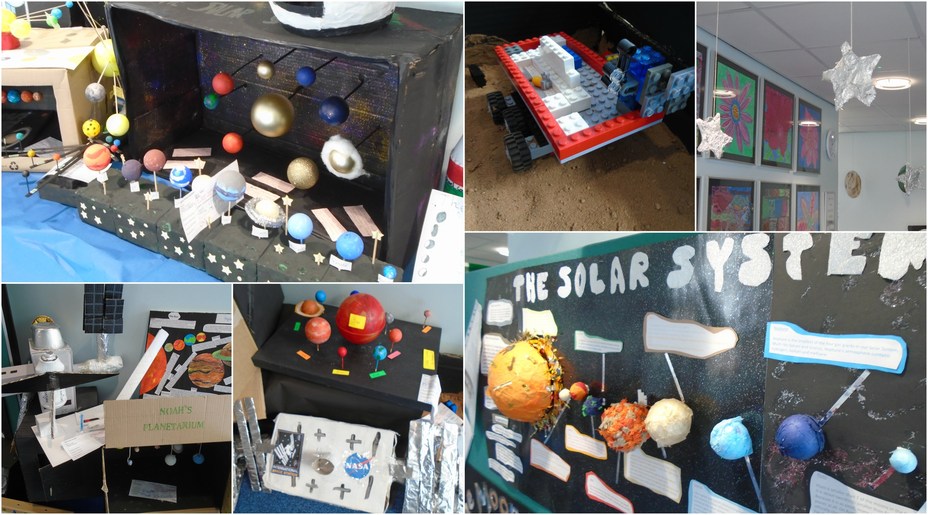 Stone Age to Iron Age - 25th (5G) / 26th (5Y) February 2016
The children in year 5 took part in a Stone Age to Iron Workshops this week. The workshops were run by staff from St Johns Museum. The children enjoyed the various activities which included creating timelines, excavating round houses, sorting food into hunted, gathered or farmed, handling artefacts where they had to guess the difference between the real and modern ones. They also did some craft work including drawing and then making their own pot which they will bring home next week. The children enjoyed the workshop and learned a lot of interesting facts. The cost of this workshop visit was funded by school.
Pancake Races - 9th February 2016
Children in Year 5 took part in pancake races. They ran relays, trying different ways of tossing the pancakes to see which way was the most successful. The children really enjoyed the activity, finding it surprisingly challenging to catch the pancakes in one piece!
5G Brass Assembly - Tuesday 2nd February 2016
On Tuesday 2nd February the children in 5G showed their parents the new skills they have learned during their UpBeat lessons. They played with their brass instruments with obvious enjoyment, thank you for being an appreciative audience.
The children in 5Y will be learning brass instrument in their music lessons this term!
Space Centre - 29th January 2016
As part of their Science work, children in Year 5 have been learning about the Solar System. As part of this work they visited the National Space Centre in Leicester. They watched the Planetarium show 'Astronaut' and took part in the Great Rocket Challenge workshop. They children very much enjoyed the day.
Mud Masks - 26th January 2016
In History Year 5 have been studying the Mayan civilization. They looked at Mayan masks, and to link with this they used natural resources to make 3D masks. They also looked at markings on trees and leaves and noticed how some markings look like facial features such as eyes.
Tudor Houses
Year 5 have constructed Tudor Houses out of wood and cardboard as part of their local History project on Stratford Upon Avon.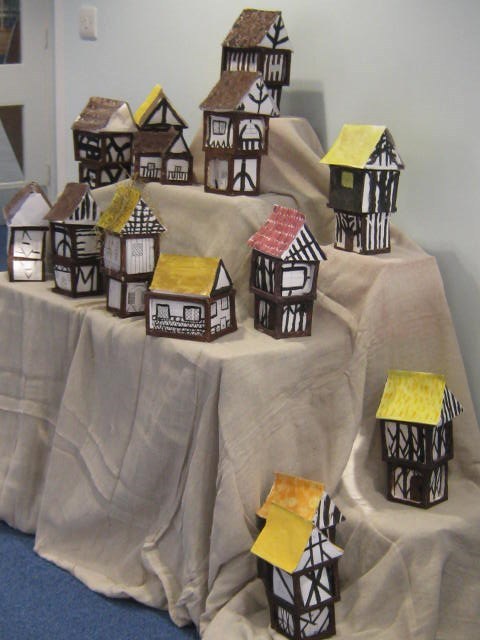 Visit to Stratford- 29th September 2015
The children in year 5 visited the Shakespeare Birthplace Trust in Stratford. During the visit the children enjoyed a guided town walk looking at the architecture of Tudor buildings, they took part in a drama-based workshop entitled 'The Play's the Thing' and had an interesting visit to the visitor centre.