News 2017-2018
Year 6 Leavers Activities
To celebrate the end of their time at Dunchurch Junior, our Year 6 children have had a busy and exciting last week of term. On Tuesday evening they performed their show to family and friends. They performed brilliantly and the show was enjoyed by all. Thank you to the parents for providing such authentic looking costumes, the Teaching Assistants for the quality of the stage set and to Mrs Blezard, Mrs Miller, Mrs Tildesley and the actors and stage hands for bringing it all together. On Wednesday they had their leavers BBQ and disco which was a very enjoyable evening. The event was organised and funded entirely by the PTA who did an amazing job in making it such a successful evening for the children. Yesterday the children went to Wicksteed Park. They all had a wonderful day. Thank you to the parents who accompanied the children on their day out, your help is greatly appreciated.
Year 3 Farm Visit
On the last week of term the children in Year 3 visited a local working dairy farm, where they will have the opportunity to see cows and a dairy farm in operation, as well as other farm animals. They thoroughly enjoyed their trip. Thank you to Mr and Mrs Jeyes for allowing us to visit their farm once again this year.
Sports Events
Following their success in the Tennis competition at Harris School in May, our school's Year 3/4 team qualified to represent the School Sport Partnership at the Level 3 School Games which took place at the University of Warwick last Friday, 6th July. They did fantastically well, finishing in second place. Well done to Oliver, Will, Charlotte and Lexie! On Tuesday, 10th July, a team of Year 4 boys went to Paddox Primary School to take part in a football tournament. The boys did extremely well, winning the tournament! Congratulations to all and thank you to Mr James. Thank you to the parents who helped with transport, your help is greatly appreciated.
Sports Day - 12th July 2018
Many thanks to all of those who came to watch our sports day this year. It was great to have so many spectators there to make it a memorable occasion for the children. Anyone who has visited the corridor to the left of the main entrance to school will have seen the exceptional collection of trophies that children from this school have won in competition and there were some great examples of athletic excellence during yesterday's event. Perhaps more impressively were the way all children had the chance to compete and be part of a team and also the way children conducted themselves. It is important that children know how to cope with the disappointment of losing as well as win graciously and our sports day showed how well our children do both. Thank you to all the staff who helped run the event, particularly Mrs. Tildesley.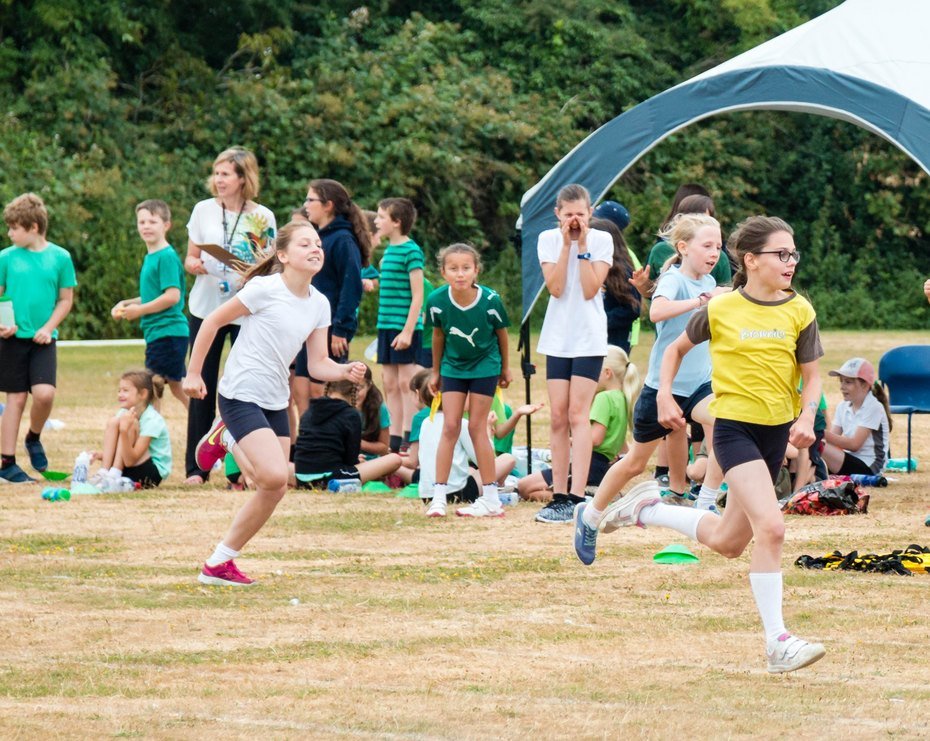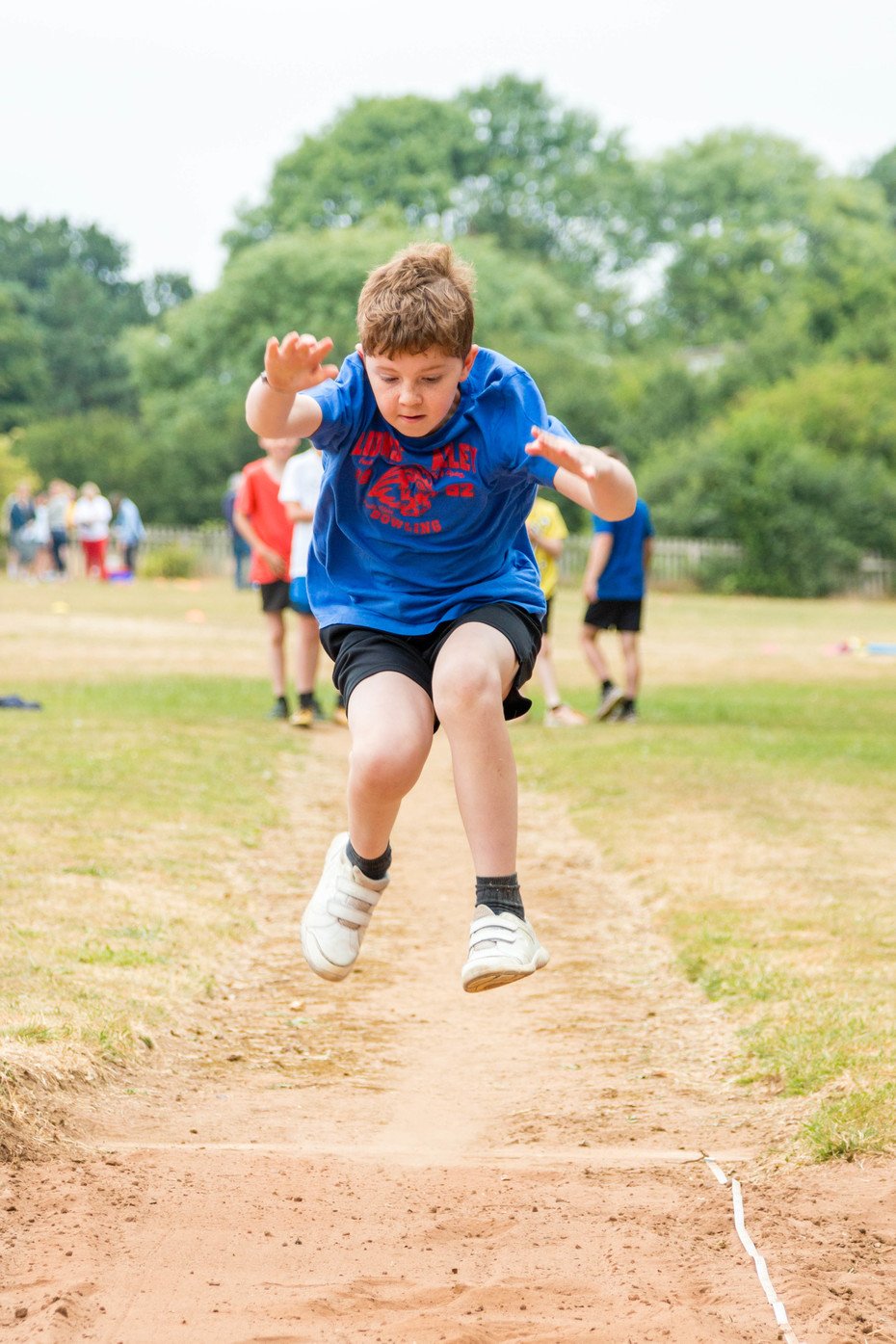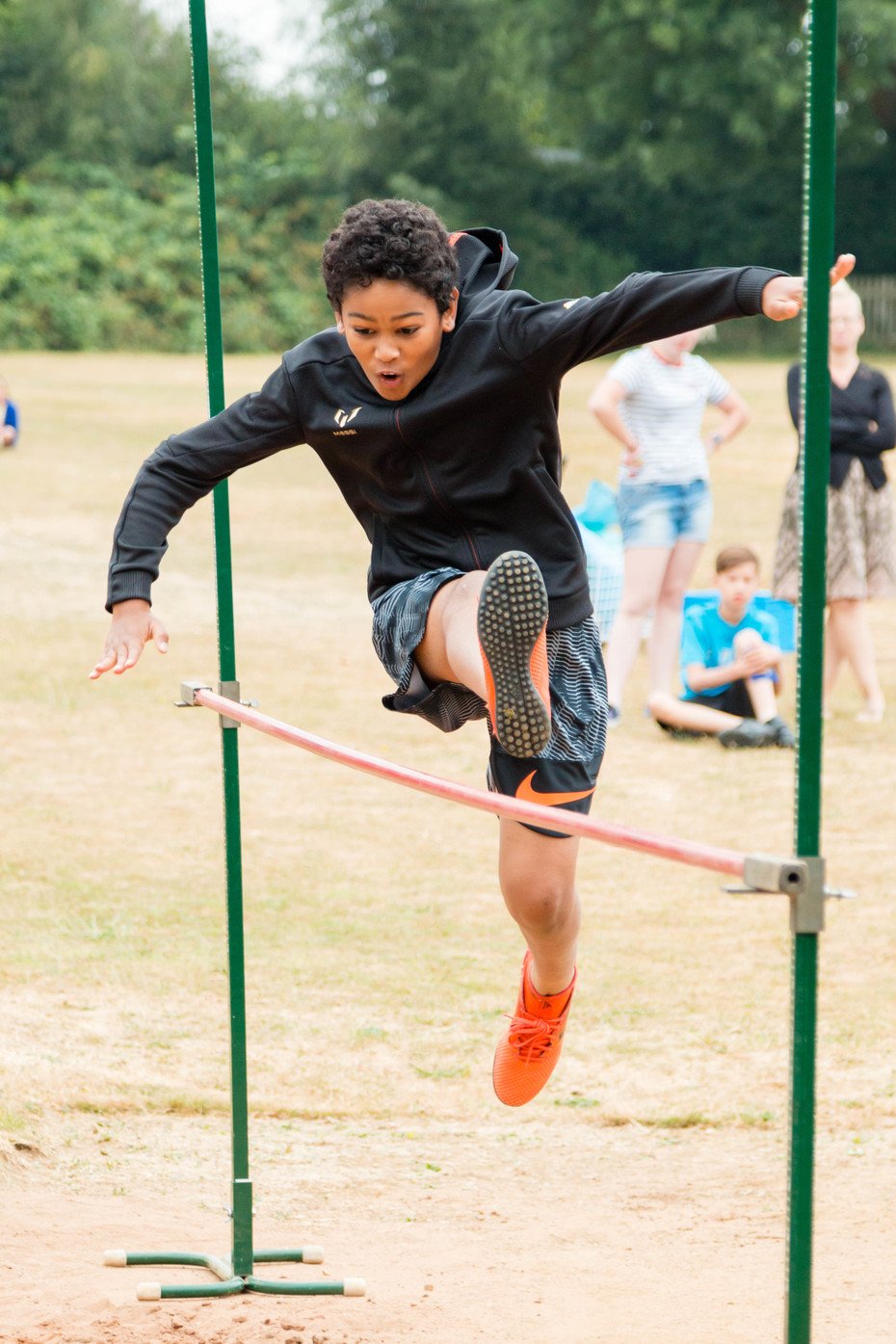 Year 6 Residential to Castleton
The Year 6 children who were in Castleton at the start of July had a fantastic, fun-filled week! The children took part in outdoor activities such as caving, walking, canoeing and weasling. Well done to the children who were so well behaved, it was great to hear that they had a lovely week. Thank you very much to the staff who ensured the children were kept safe and made sure that the children had an enjoyable week.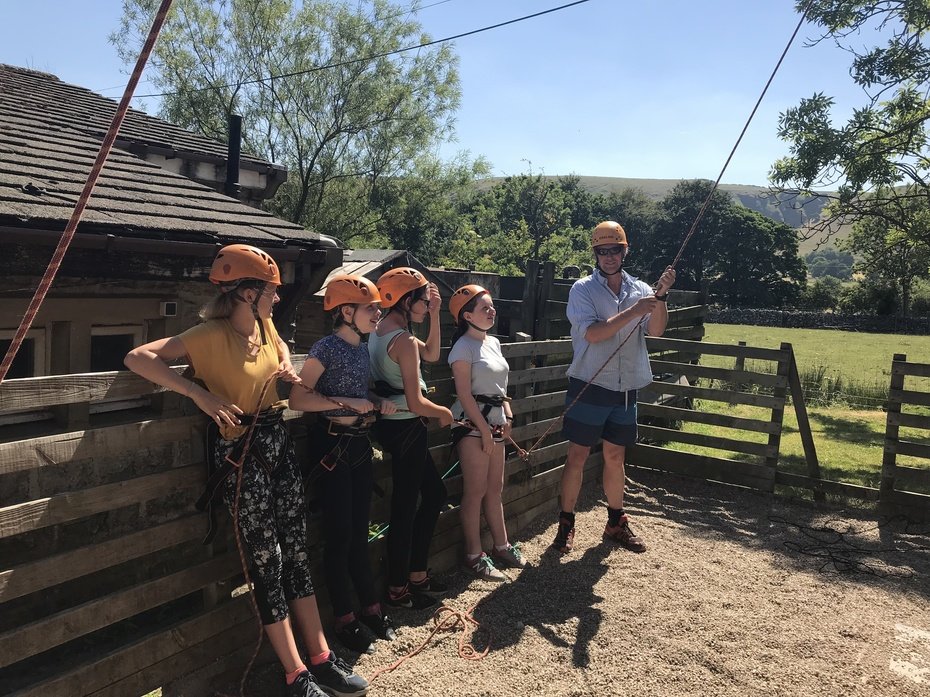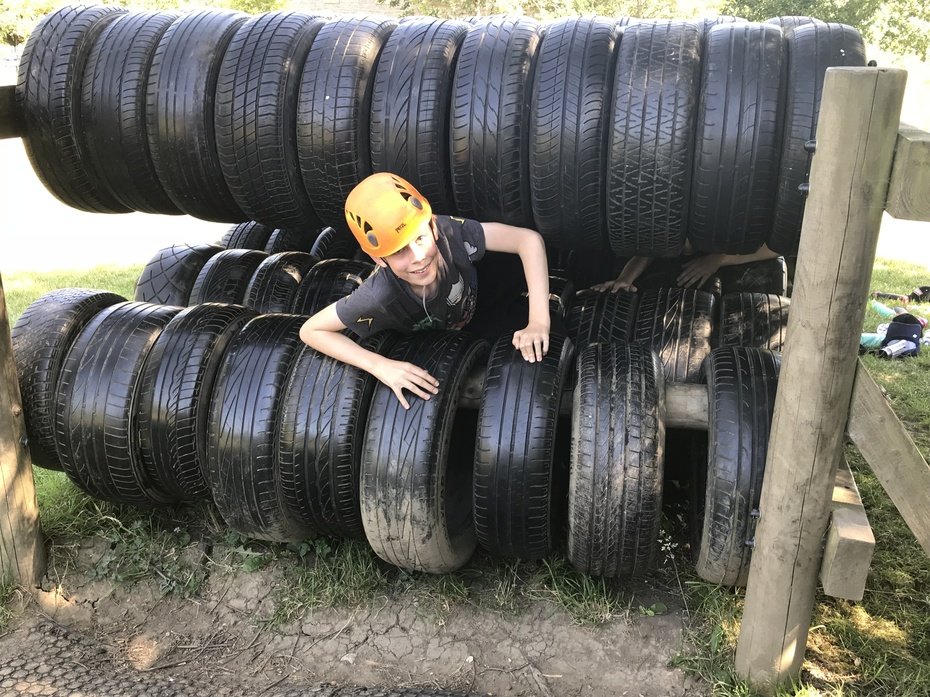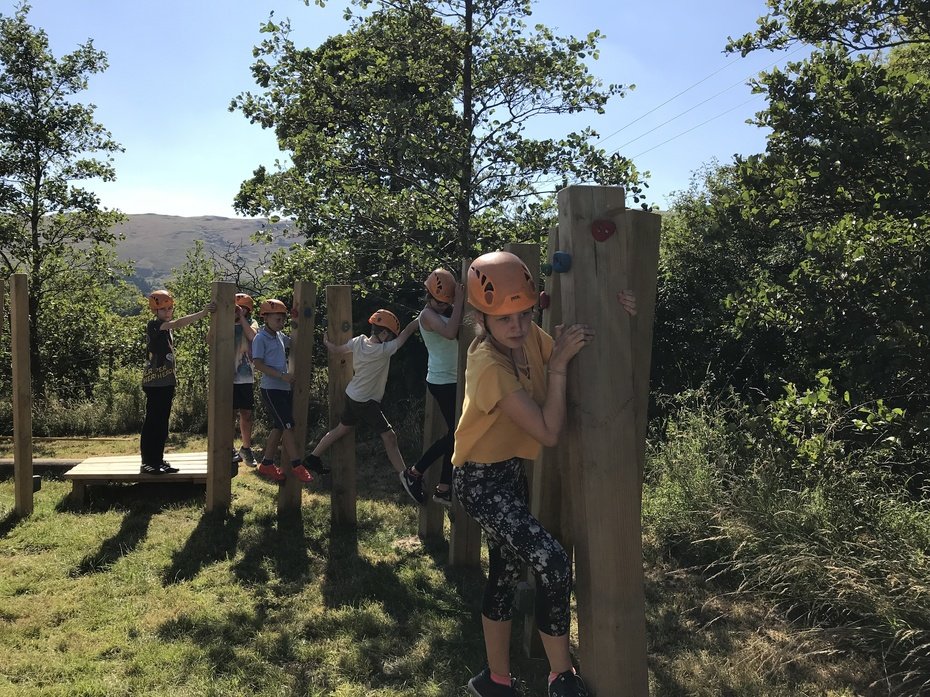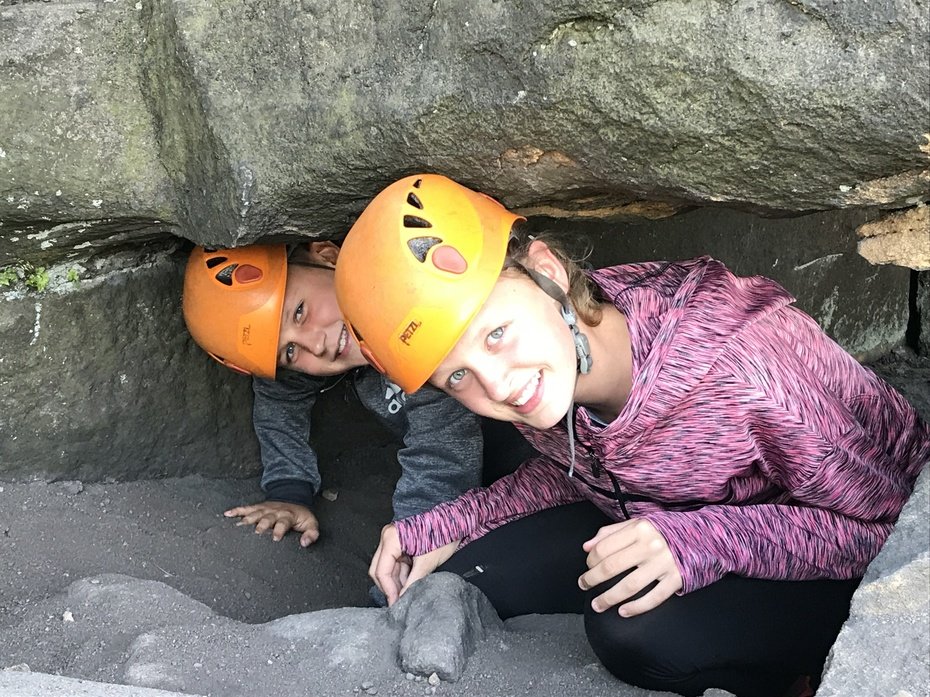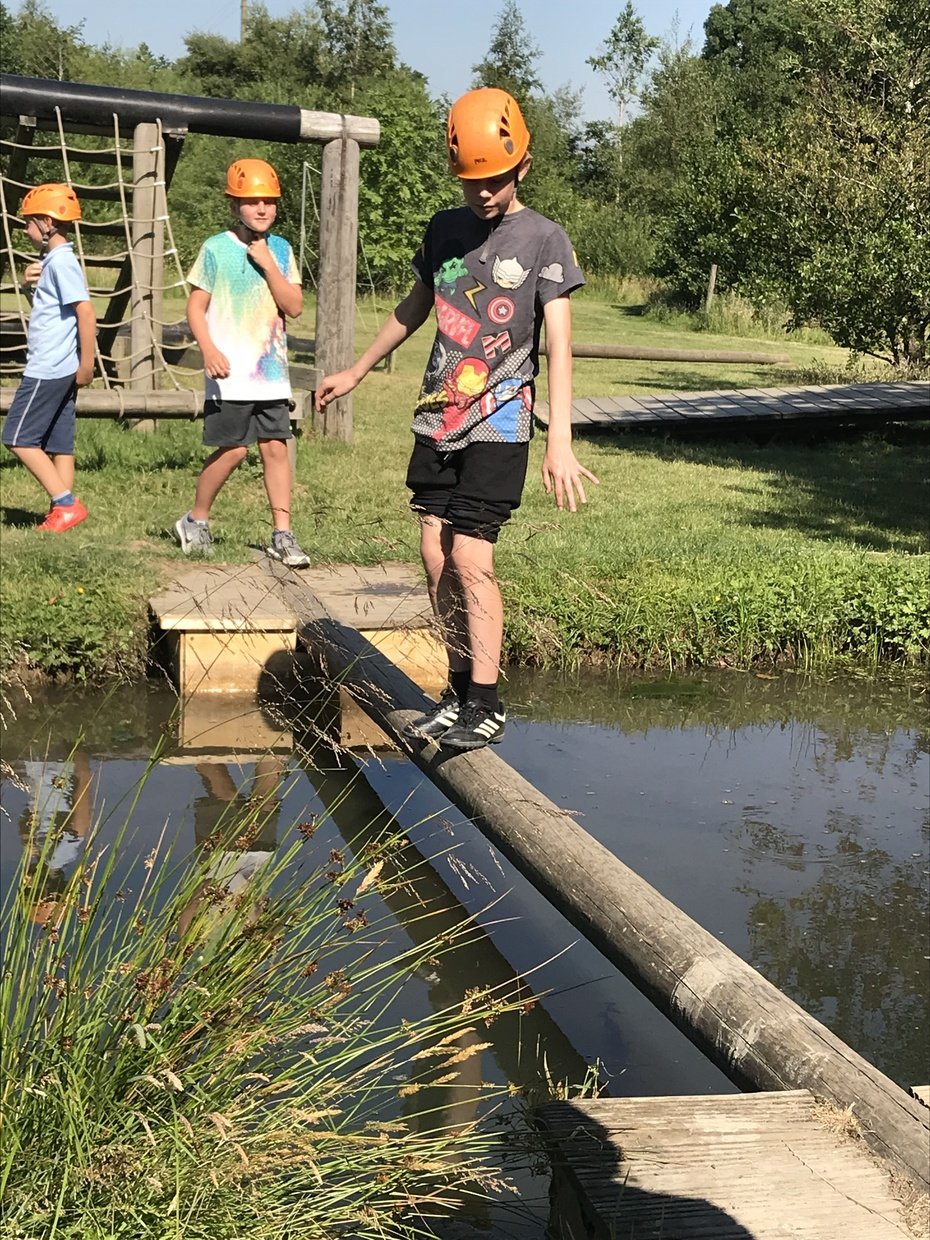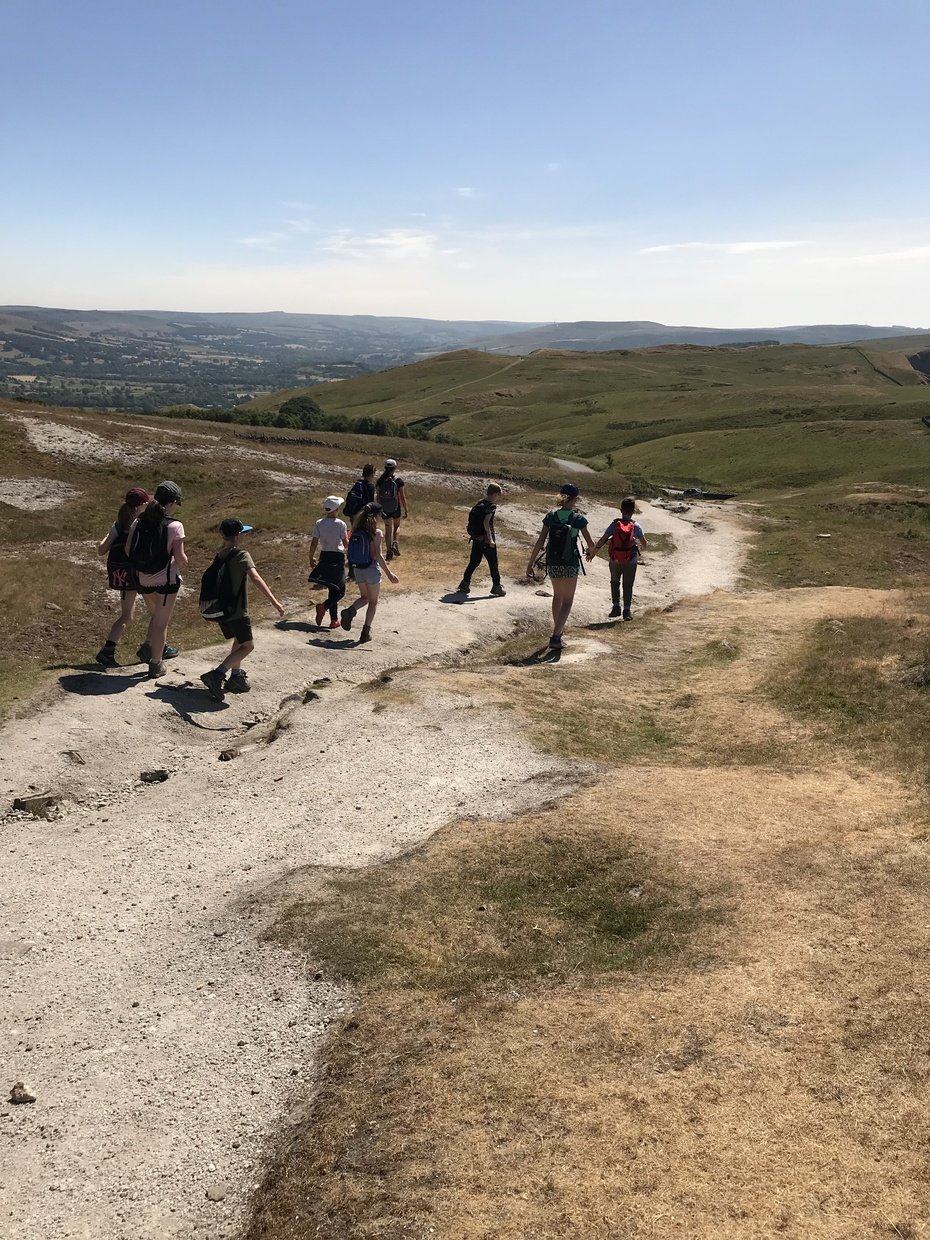 Sports events - week commencing 11th June
The week commencing 11th June was a very busy week with lots of sport events taking place! On Tuesday, a mixed squad of 10 children from each year group went to Leam Valley Golf Club for the L2 School Games Tri Golf competition. The club very kindly hosted the competition, donating the use of their grounds and they organised the competition. The children all had an enjoyable morning and all played extremely well. Congratulations to the year 4 children who won their year group competition and have been invited to the next round. We are awaiting details of the final.
Also on Tuesday, a team of girls went to Leamington for the Kwik Cricket competition. Congratulations to all that took part; they were the overall winners! On Wednesday, a team of boys went to Leamington for the Kwik Cricket competition. They played brilliantly and came first out of the Rugby schools and finished 5th overall. Well done to all. On Thursday after school, a mixed team of year 5 and 6 children went to Rugby Town for the Future Pro's schools tournament. They played really well and got through to the semi-finals, when they were defeated by the eventual winners of the competition.
Mini Football World Cup
Mrs Clusker organised a mini football World Cup, which took place at lunchtimes in the last few weeks of term. Well done to everyone who took part, it was a brilliant tournament. The final was won by the England team. Well done England!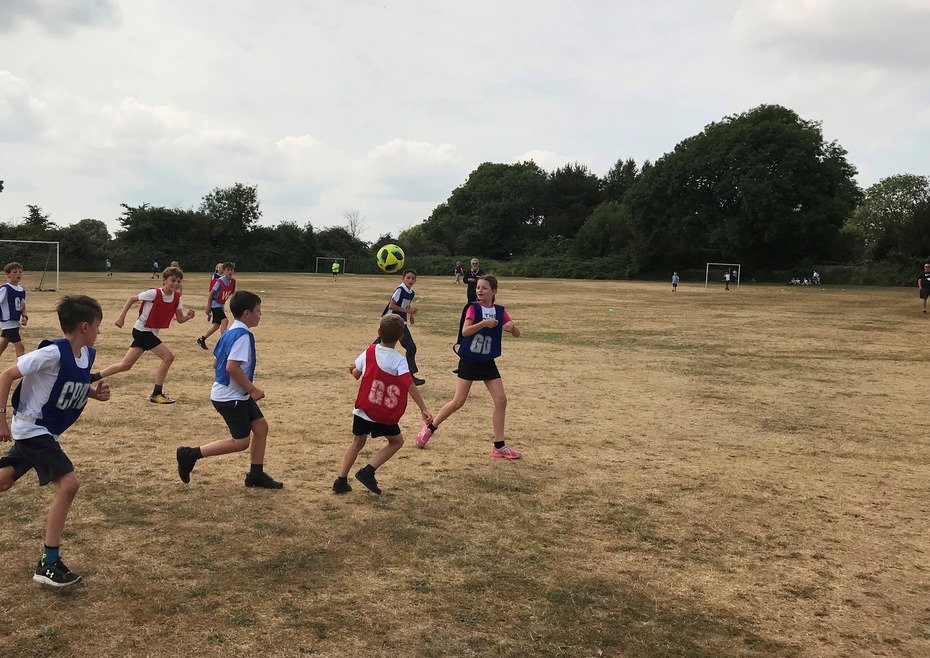 Biscuit Sale - Year 6
Year 6 made biscuits, and held a sale for their chosen charities. They raise a total of £60.52. Well done Year 6!
Dunchurch Fete
Thank you to all of the children who came along to the Dunchurch fete this year and took part in the procession. The theme was 'All Creatures Great and Small', and it was lovely to see so many excellent costumes. The choir song wonderfully and the cheerleaders performed very well.
Leamington Festival
Congratulations to all the children who competed in Leamington Festival on 14th June. You were all amazing! Special congratulations to the Brass Band who placed third in the instrumental group category and a fantastic well done to the school choir who came in first and won a cup! Mrs Blezard is very proud of all of you and you all did our school proud. Many thanks to the parents who came along to help. It is lovely to have such wonderful support.
Forensic Science Morning at Rugby High School
On Monday morning, a group of randomly selected girls from year 5 went to Rugby High School to take part in a Forensic Science morning. A huge thank you to Mrs Goodwin who organised and led this exciting event for the children to take part in; it was thoroughly enjoyed by all. The girls were a credit to DBJS - they were all engaged and enthusiastic throughout and made some super contributions to the discussions. They also successfully identified the culprit. Poppy wrote a fantastic review following the visit:
" n the morning of 11th June, 19 year five girls and I went on a trip to Rugby High School for a forensic science morning. When we arrived we were surprised to see police tape on the science lab door, saying 'do not enter - crime scene'. As we walked into the lab, we met Mrs Goodwin, our teacher for the morning, and Steve, the technician. The story was that someone had broken into a cupboard and stolen trophies, laptops and ipads. There were four suspects, and we were given evidence from the crime scene, and samples from the suspects' houses. We did ink tests, examining finger prints, and many more exciting science activities until we had cracked the case. We were kindly provided with delicious home-made cookies and squash for breaktime outside. The staff running the morning were extremely kind and helpful and they explained the instructions brilliantly. We were proud that we all solved the crime by choosing the right suspect".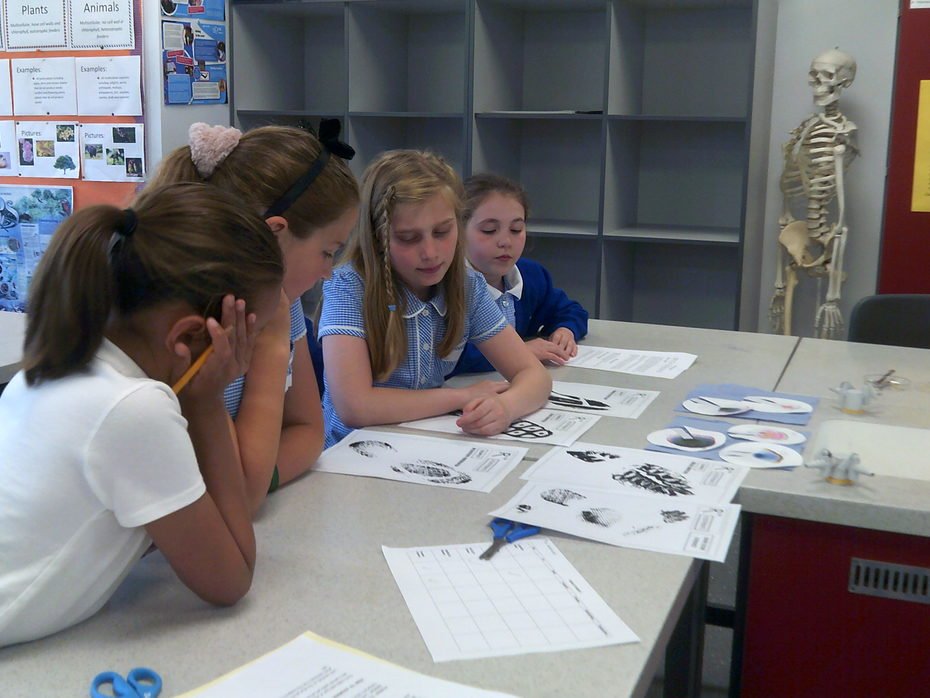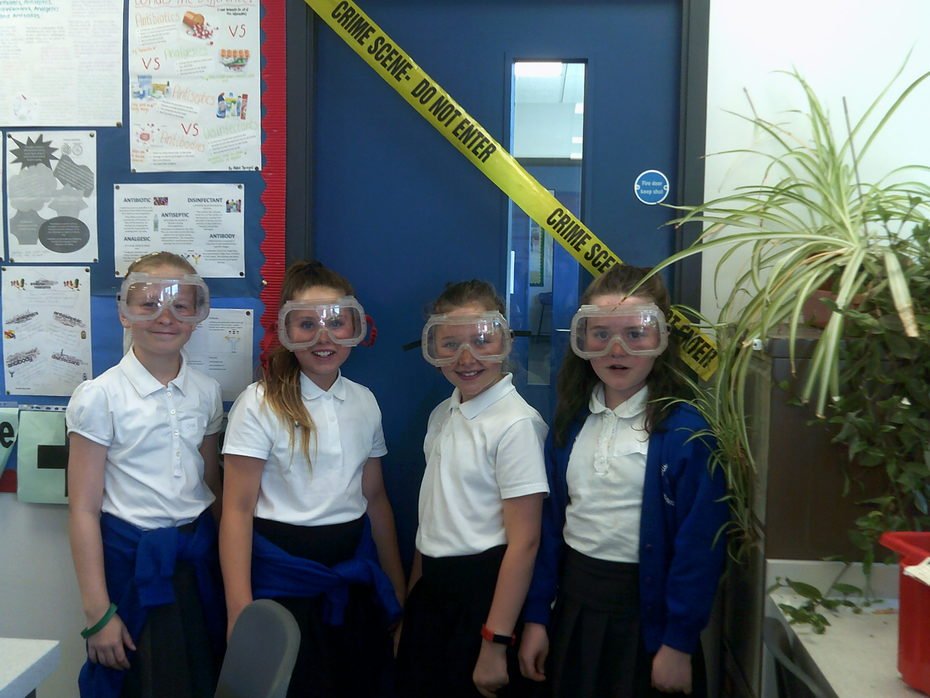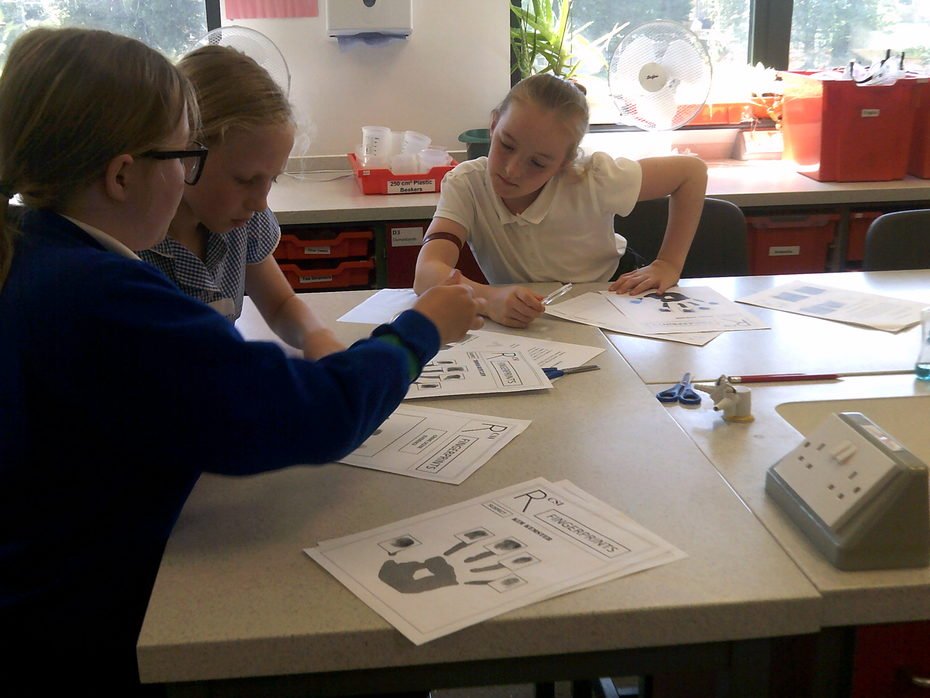 Girls Football Tournament
On Wednesday 23rd May, a team of Year 5 and 6 took part in the annual 6-a-side Premier League Girls Football tournament, run by Sky Blues in the Community. The tournament took place at Blue Coat CofE Secondary School in Coventry. Congratulations to the girls who won the tournament without conceding a goal! Well done to Aimee who won player of the tournament!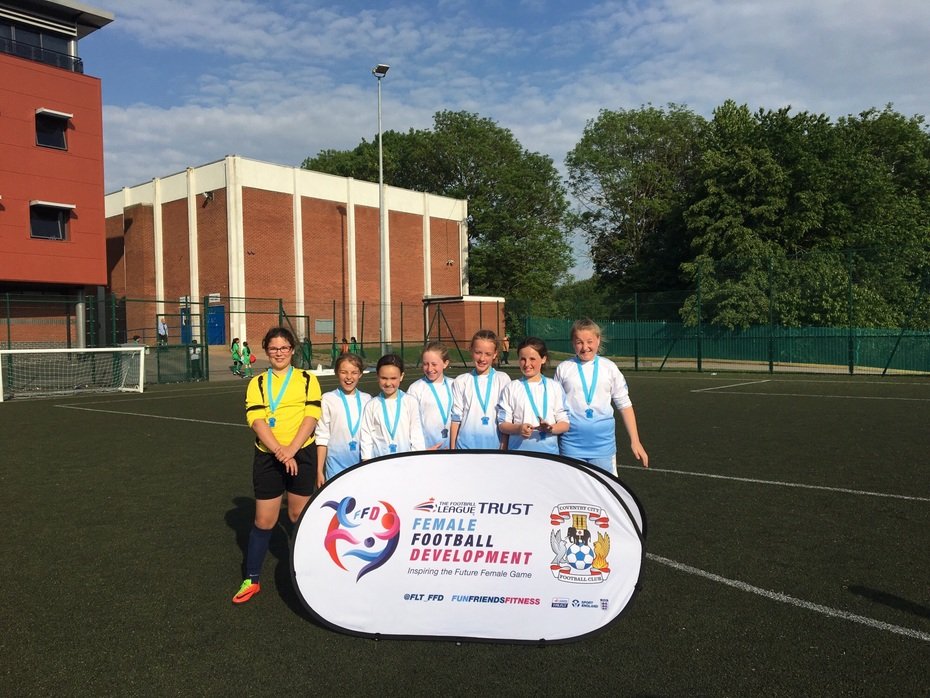 The Year 5 and 6 team also played a home match against Long Lawford Primary School on 24th May. They played fantastically well, winning 24-0! Congratulations!
Summer Concert - Wednesday 23rd May 2018
Well done to all of the children who attended the summer concert on Wednesday. It is testament to the commitment of children and their families, as well as the music provision in the school, that over 100 children performed. My thanks to Mrs. Blezard for the organisation of the concert and for all that she does for music at the school. Thank you very much to Mrs Page for the fantastic photos!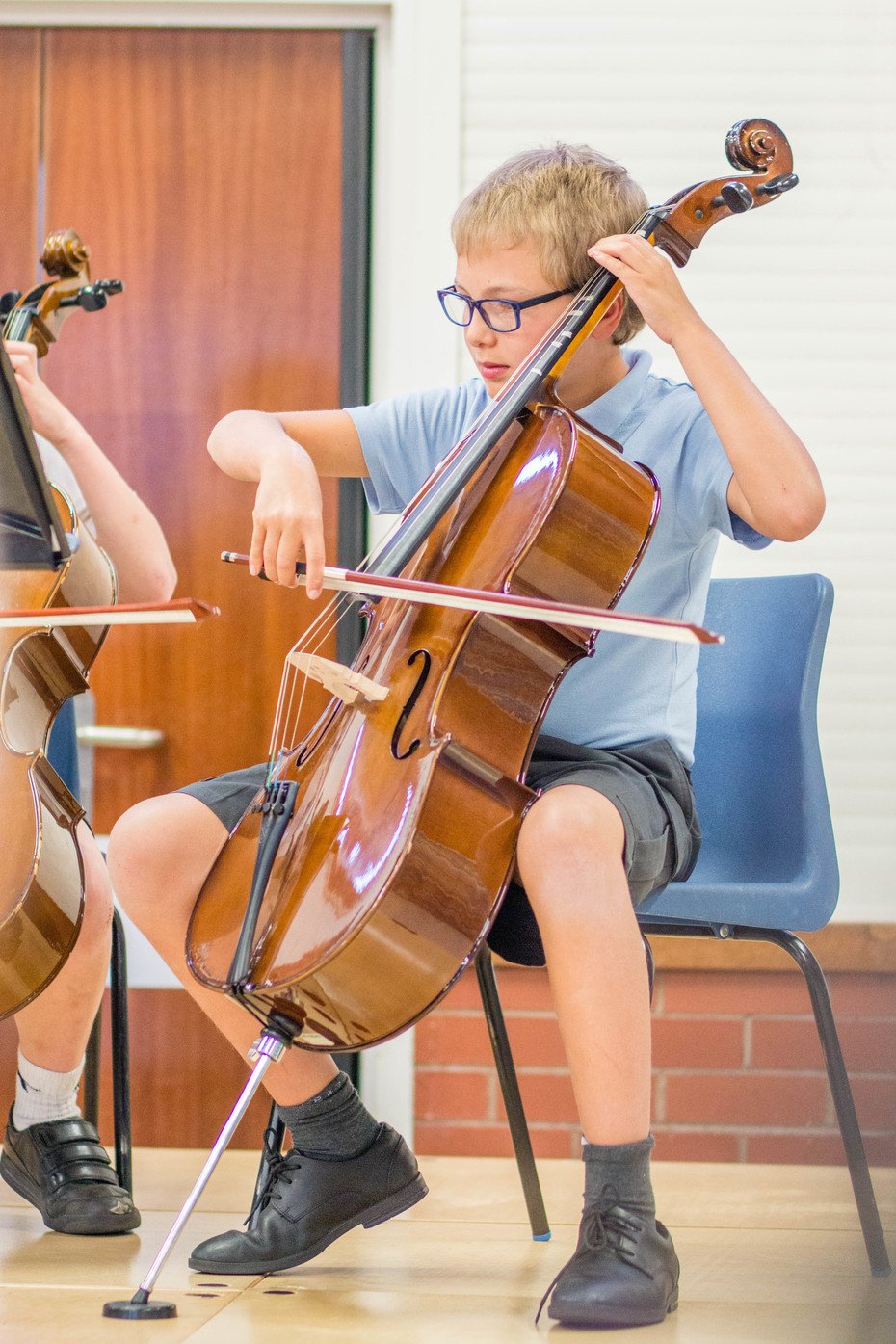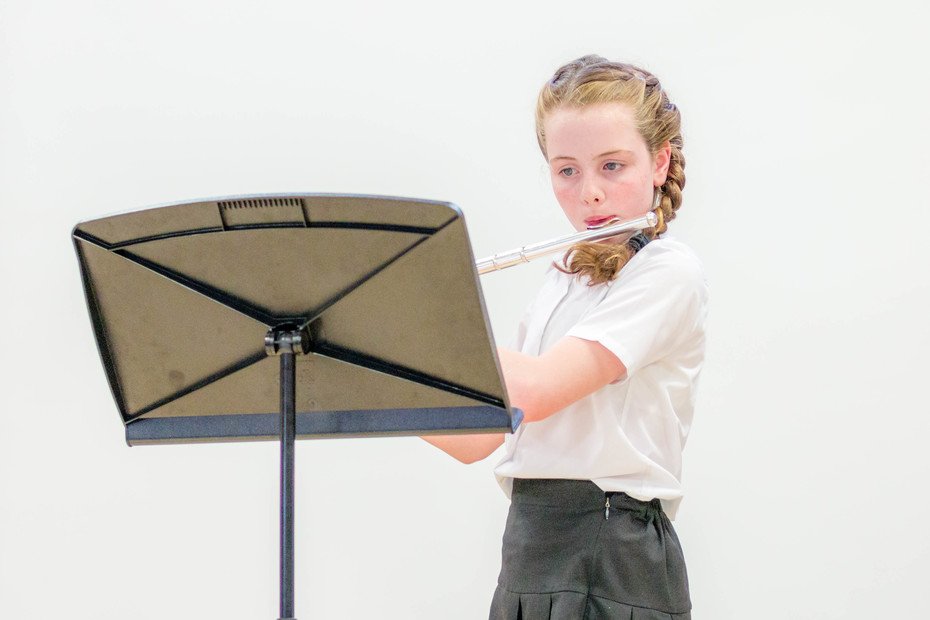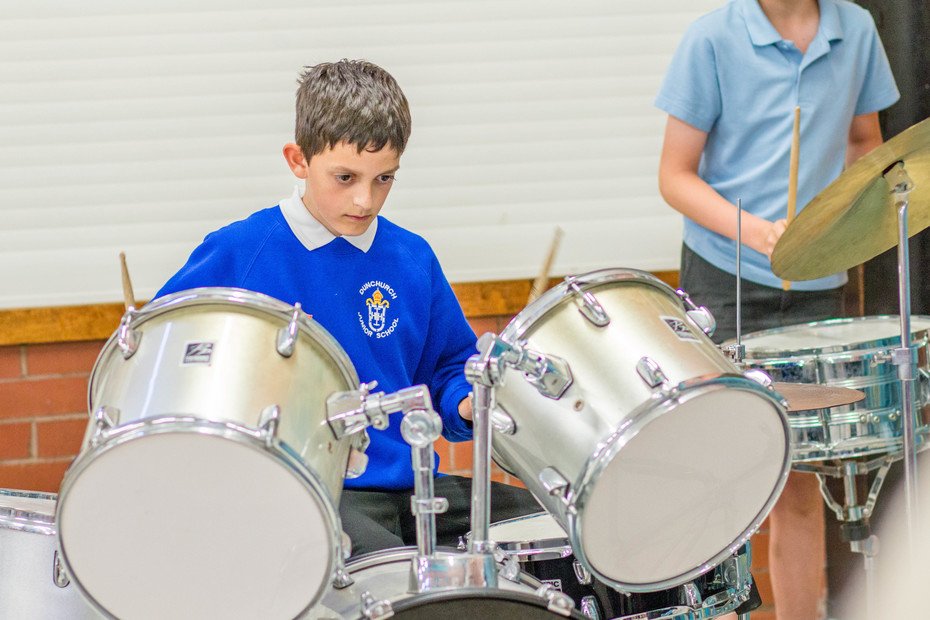 Sponsored Walk
On 18th May, the whole school took part in our annual sponsored walk, as part of promoting healthy lifestyles. The weather was perfect for walking, and the children were very well behaved. Thank you to those who sent in sponsor money, which totalled £769. This will be used to buy items for school.
Hedgehog visitor - 16th May 2018
Children in Year 3 were visited by Lynda Harris, who works for Warwickshire Hedgehog Rescue. She talked to the children about Hedgehog conservation and brought a hedgehog for them to meet. This tied in with the Roald Dahl book Hodgeheg, which the children have been reading in class.
Year 5 Residential Visit to Wales
The Year 5 children who were in Wales last week had a fantastic, fun-filled week! Well done to the children who were so well behaved, it was great to hear that they had a lovely week. Thank you very much to the staff who ensured the children were kept safe and made sure that the children had an enjoyable week.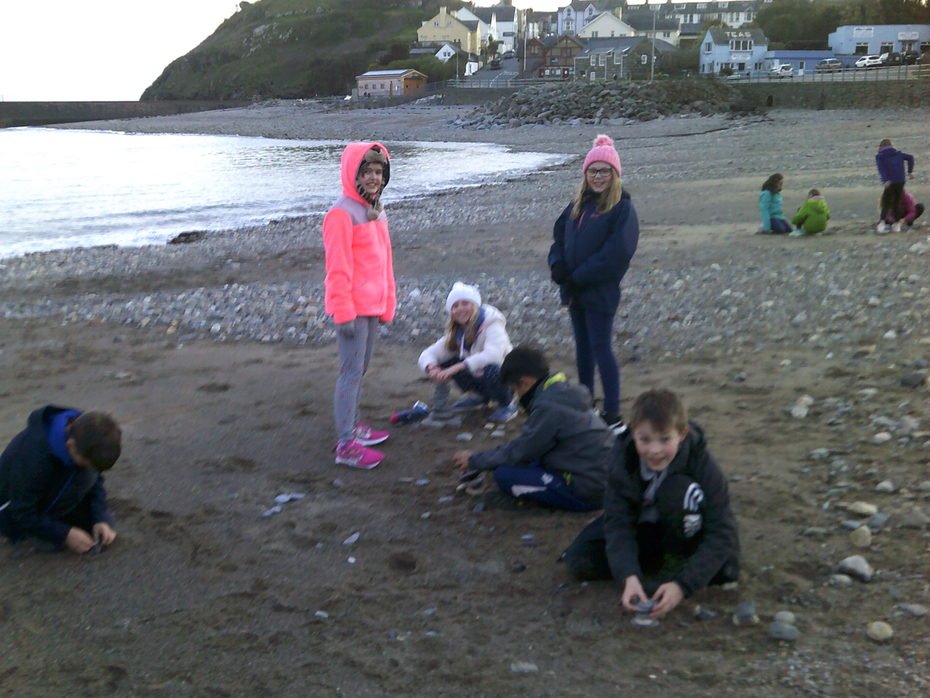 School Games - Tennis competitions
Two teams (one Year 3/4 and one Year 5/6) took part in the School Games Tennis competitions this year. Both teams played very well and the Year 3/4 team won their event, qualifying to represent Eastern Warwickshire in the Coventry, Solihull and Warwickshire School Games final.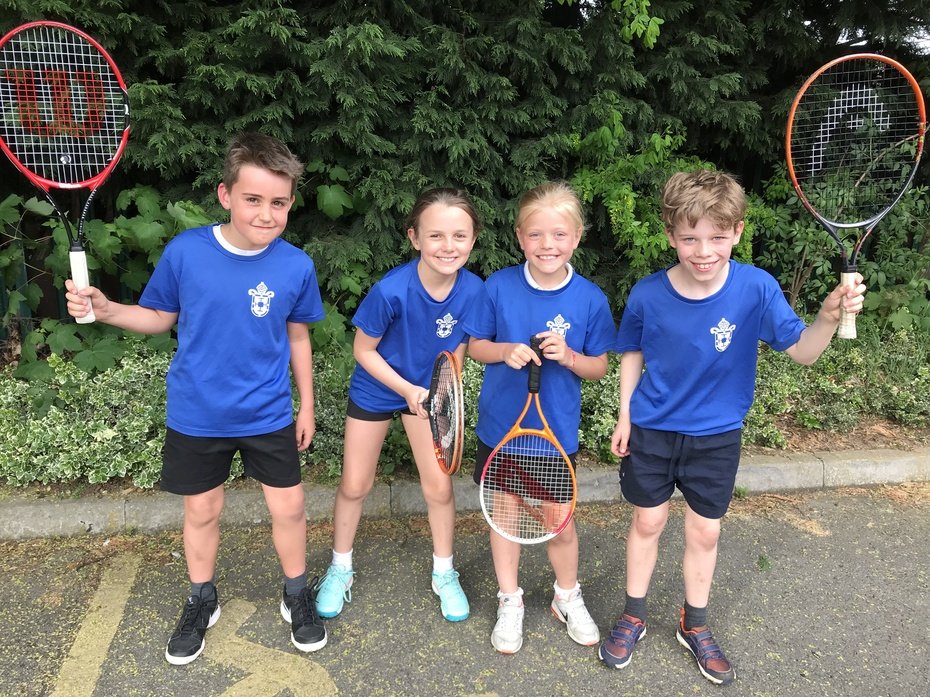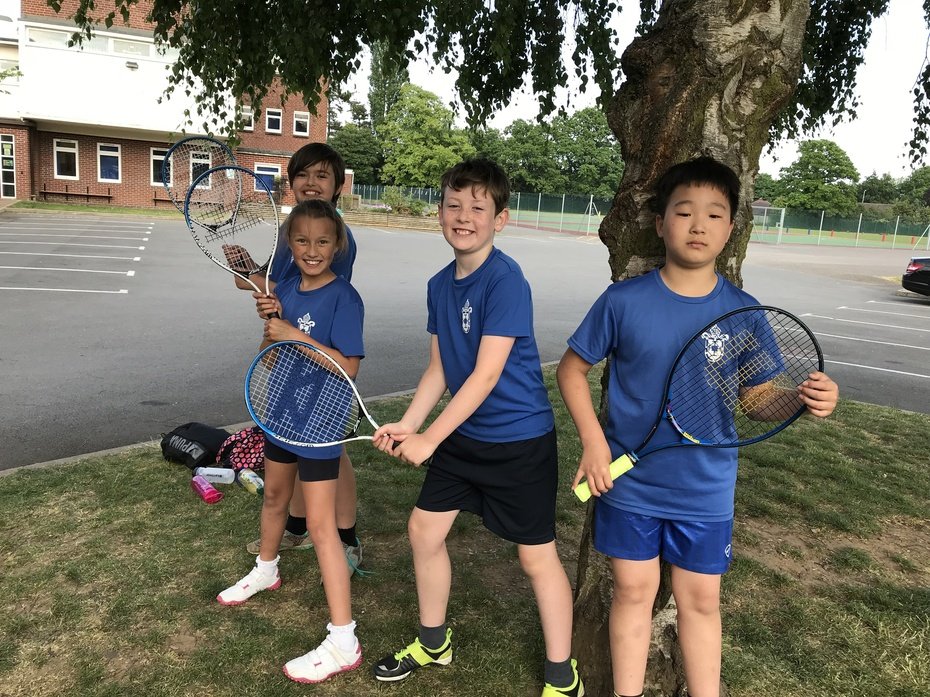 Year 5 Athletics Festival
Our Year 5 pupils went to Harris Academy on Tuesday 8th May to take part in the Rugby School Athletics Festival. They were able to take part in a range of activities based around athletics skills. The children had an enjoyable afternoon.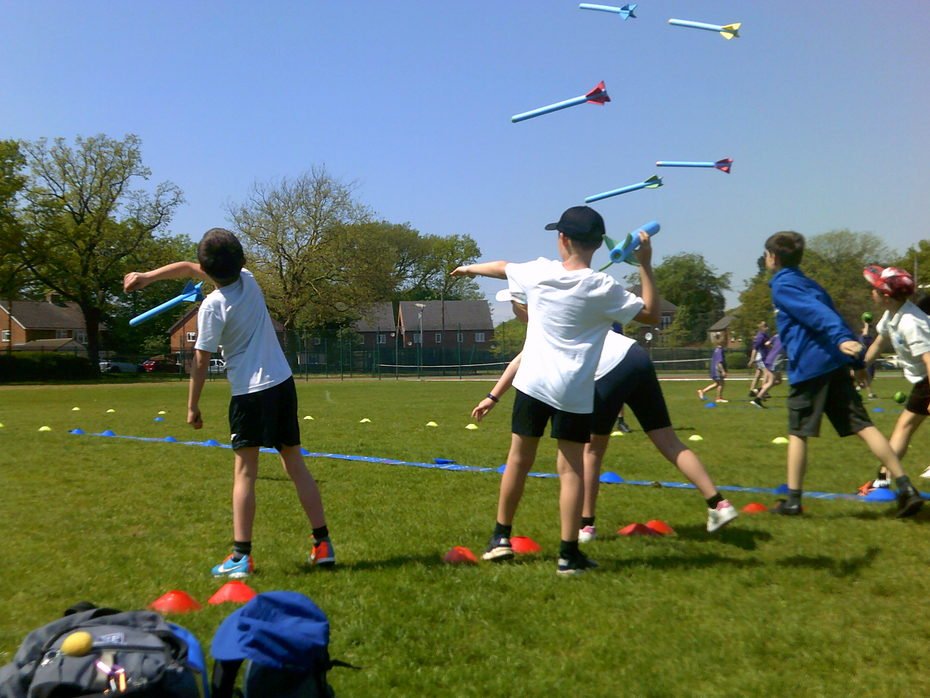 Year 3 and 4 Football Tournament
On Saturday 28th April, a team of Year 3/4 and Year 5/6 girls took part in a Football competition at Rugby Town FC, Kilsby Lane. They all played really well, with the Year 3/4 team finishing in second place and the Year 5/6 team finishing in first place. Well done to all!
Year 4 School Games Football Competition
A team of boys from Year took part in the School Games Football competition at Bilton School. They played extremely well, winning the event and qualifying for the final later in the term.
Space Projects
The children in Year 5 worked on Solar System themed homework projects. They worked very hard on their projects, which were displayed in the entrance hall.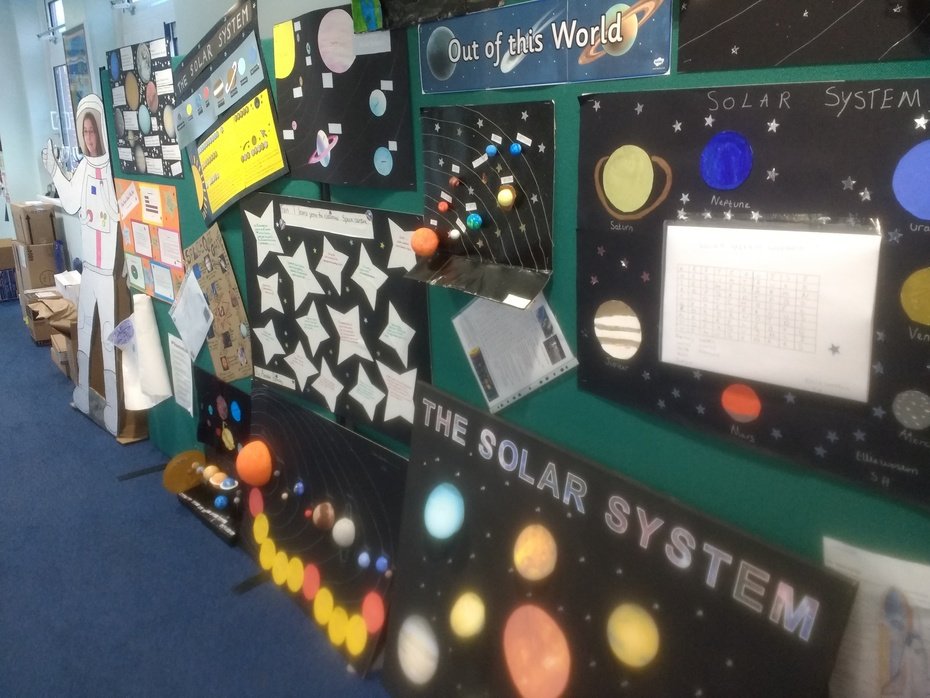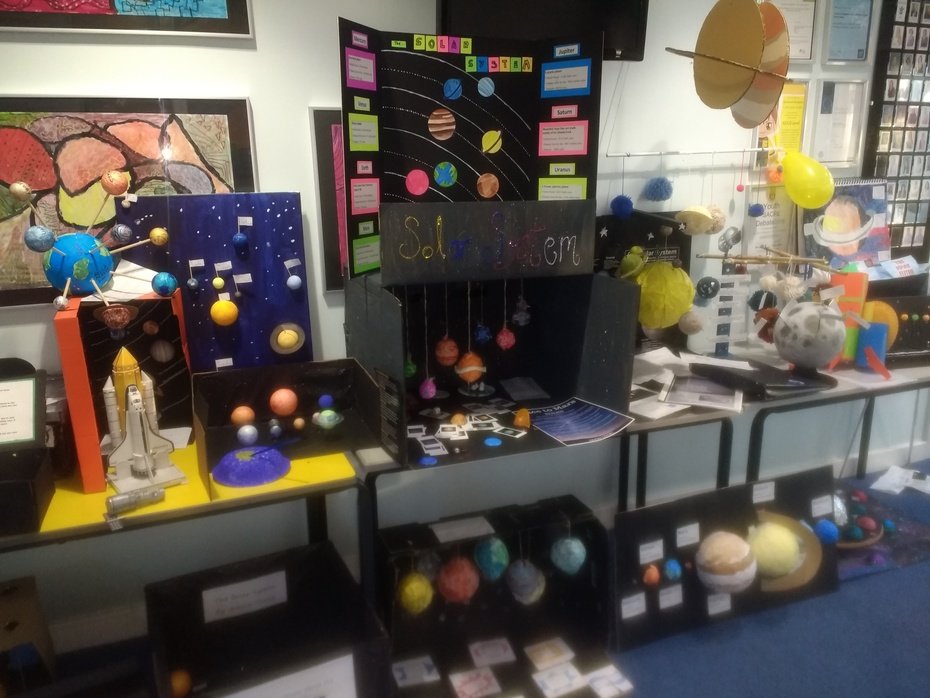 PTA Egg Drop
On the morning of 29th March, the annual PTA Easter Egg drop took place. This is a fun, free event where children use their D&T skills to secure a raw egg in a padding of their choice, decorated if they wish. The class with the highest percentage of successfully dropped eggs and the class with the most entrants won a DVD afternoon. There was also a prize for the best designed in each class. Lots of children spent time and effort in perfecting their designs and they had a lot of fun seeing how well they did when dropped from the roof of the school. Many thanks to Mr. Bell for dropping the eggs and the PTA for supporting this fun (though a little messy!) event.
Talent Show
On the afternoon of 29th March, we held a talent show, which the whole school enjoyed watching. This was organised by the school council, with children auditioning then performing in front of the school. There was a wide range of acts, with singing, jokes and even a puppet show. Well done to everyone who took part.
Sport Relief
On 29th March, for a donation of 50p, children came to school in sporty clothes. Each class also completed a sporting challenge. A fantastic £132.64 was raised, thank you for your donations.
Tearfund - loose change collection
The children in Year 6 collected loose change, hoping to reach 5.5m of coins (roughly representing the distance from here to Brazil). They raised £12.40 for the Tearfund charity.
Year 3 Visit to Ryton Pools
The children in Year 3 visited Ryton Pools in March. They had a great time experimenting with different types of rocks and exploring the properties of the different soil types.
Year 5 Visit to Flag Fen
On 16th March, the children in Year 5 had a fantastic day at Flag Fen in Peterborough. During the visit the children explored pre-historic life by looking at and handling artefacts, and used sources to find out information from the past. They also walked around a Bronze Age Archaeological site. It was a very enjoyable day.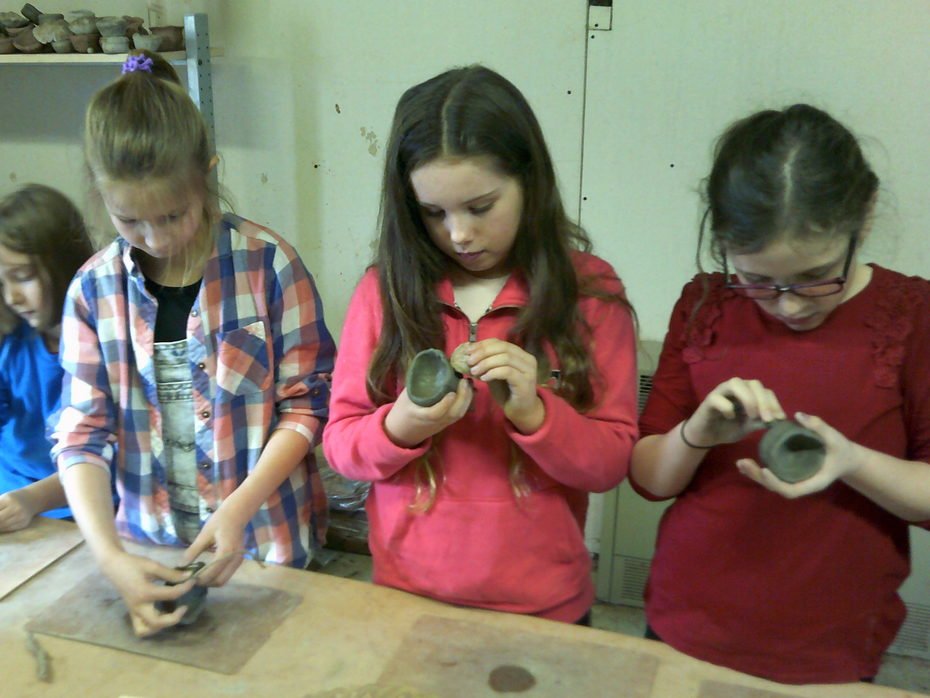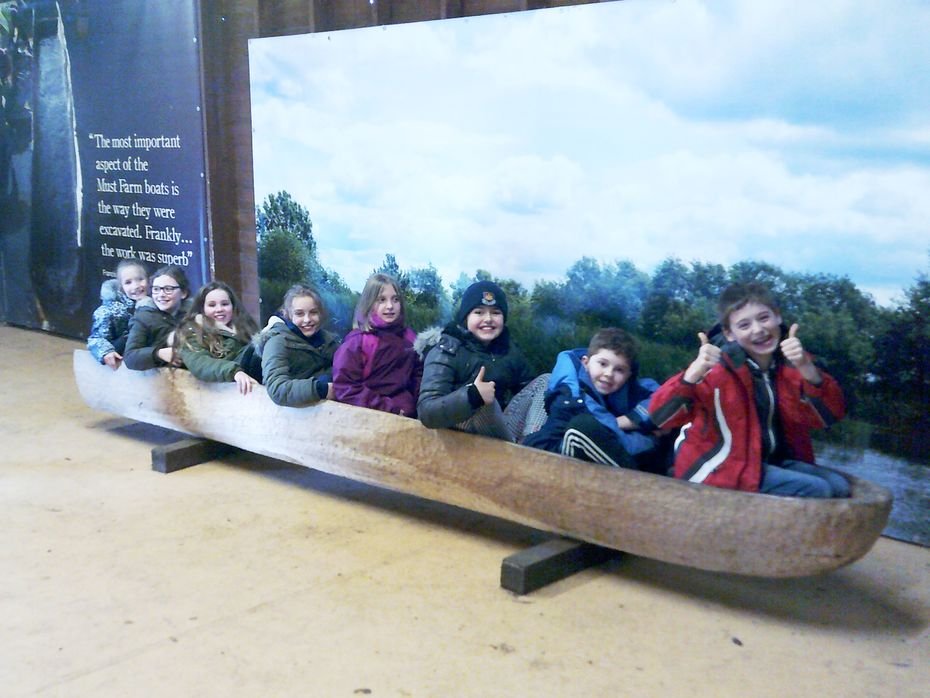 Swimming Galas
On Wednesday 14th and Wednesday 21st March, a number of children represented Dunchurch at the Rugby Schools Swimming Association galas at the Queen's Diamond Jubilee Centre. On both occasions, not only were the children fantastically behaved but we also did extremely well in both individual and relay events.
At the year 5 and 6 gala, we won 3 silvers and 3 golds in the individual events and in the relay we achieved a bronze in the year 6 Girls' Open Medley Relay, silver in the year 6 Boys' Medley Relay and gold in the year 6 Girls' Freestyle Relay.
At the year 3 and 4 gala this week, we had an equally successful evening with 1 bronze, 2 silvers and 4 golds in the individual events. In the relays we had an amazing evening winning gold in 3 of the Freestyle Relays.
Well done to all those who swam, and also to the members of staff who helped at the gala.
Year 6 visit to Coventry Cathedral and Herbert Art Gallery
Year 6 had a marvellous trip on 13th February. They learnt lots about the Coventry Blitz and Peace and Reconciliation. They heard a real WW2 Air Raid siren and enjoyed sitting in an old Anderson shelter.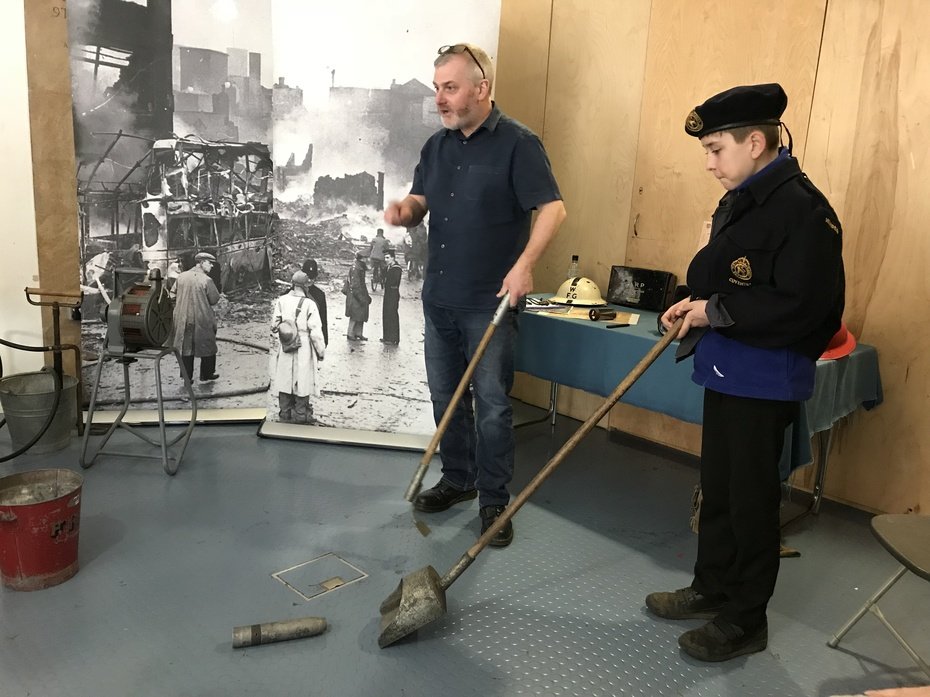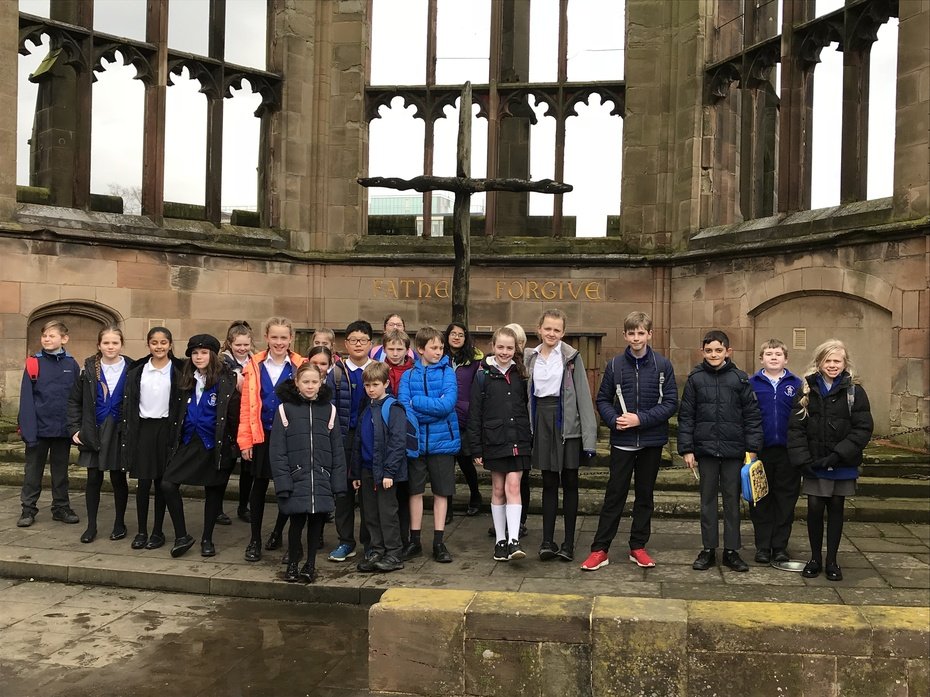 Cross Country
A group of children took part in the neighbourhood Cross Country races this year. Both teams did fantastically well, finishing in the top 20. A special mention to Ava in Year, who won the girls race. Several of our pupils qualified for the county final, but this race was unfortunately cancelled due to the weather.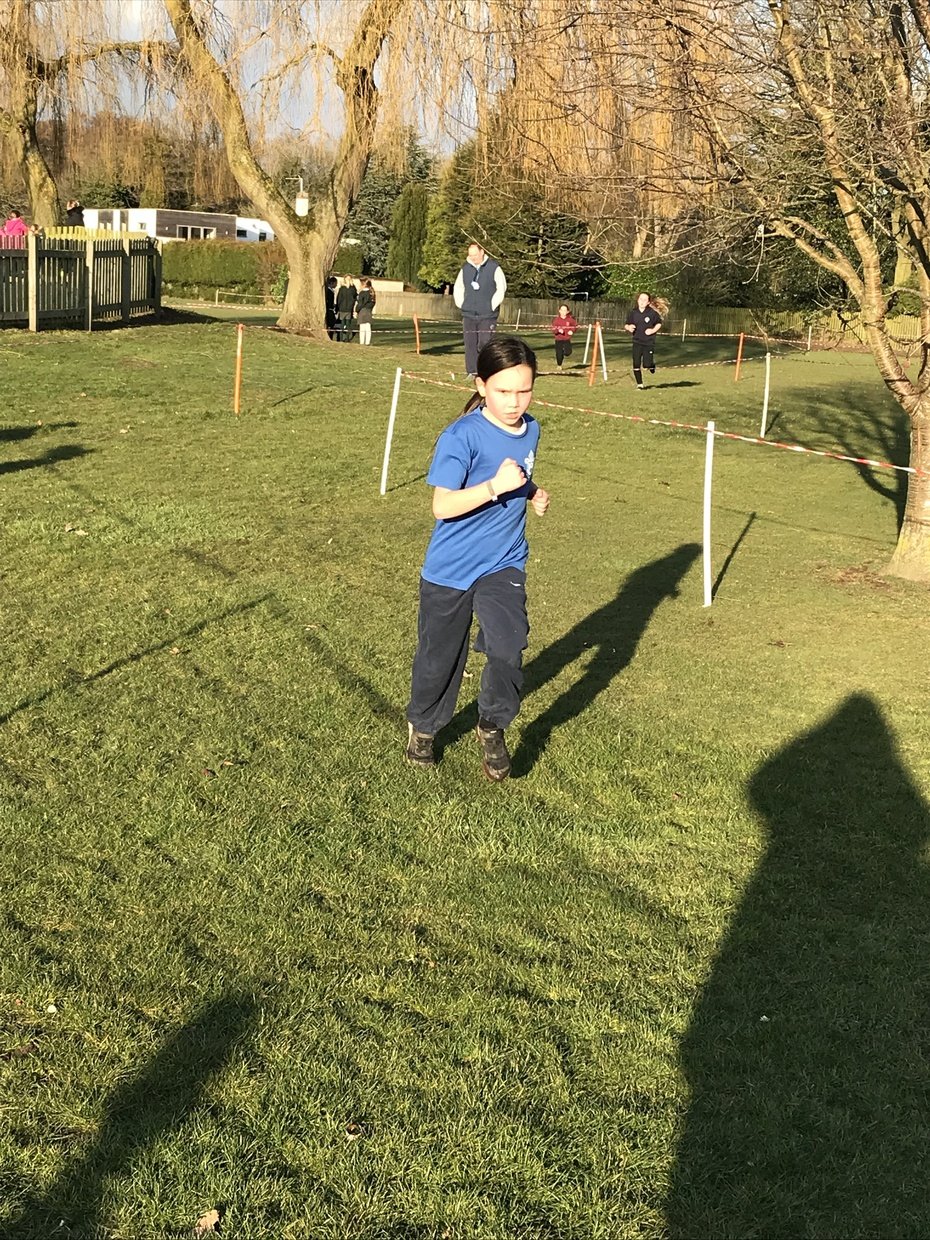 Space Camp - Year 5
As part of their Science Unit, the children in Year 5 took part in a Space Camp. They camped in the school hall, sleeping in pop-up tents. The evening involved a range of exciting activities to support their learning about Astronomy and our place in the Universe. During the camp, the children had the opportunity to use the school partnership telescope and binoculars to make observations of the night sky, and took part in other active learning tasks including making and launching water rockets and toasting marshmallows around a campfire. The evening ended with a space themed film and hot chocolate.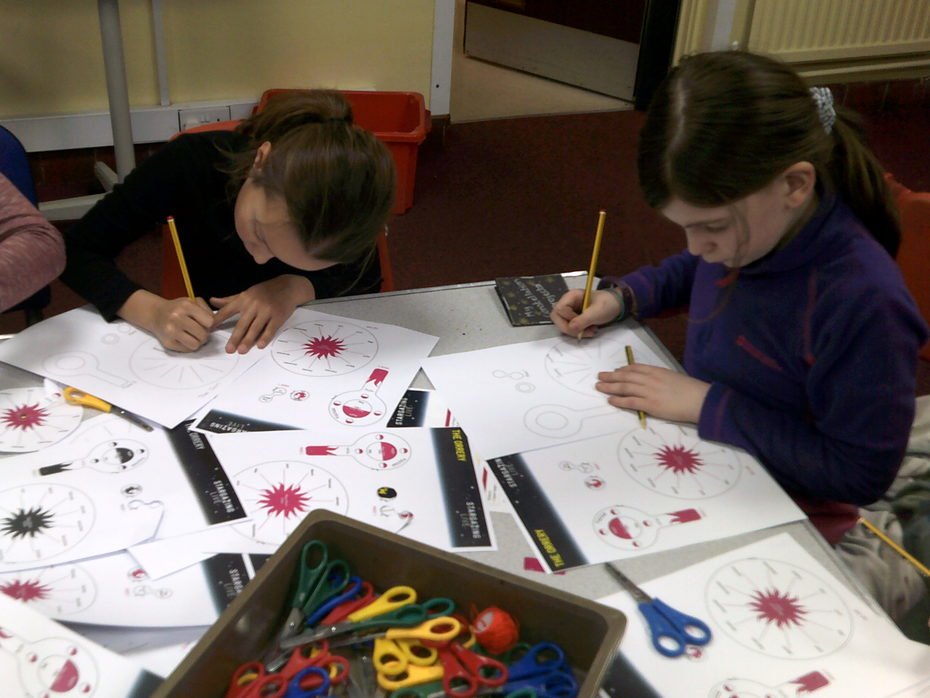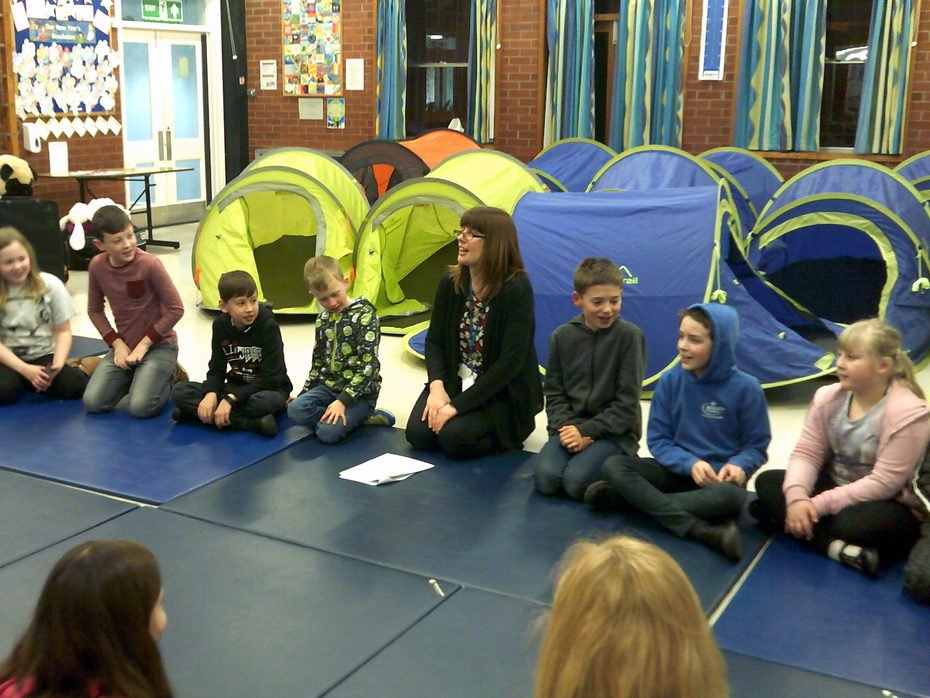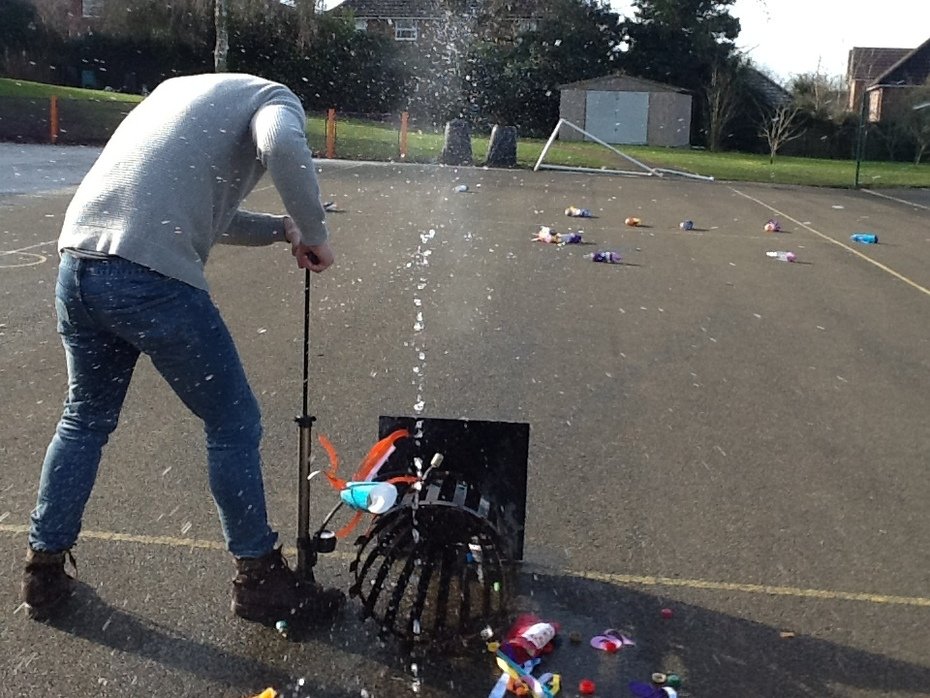 Year 3 Egyptian Day
On 7th March, Year 3 took part in an exciting Egyptian Day, as a fun way to finish their unit on the Ancient Egyptians. The children made artefacts and accessories, which they wore on the day. They also did some painting, made Egyptian death masks, and they mummified a toy rabbit! They had a very enjoyable day.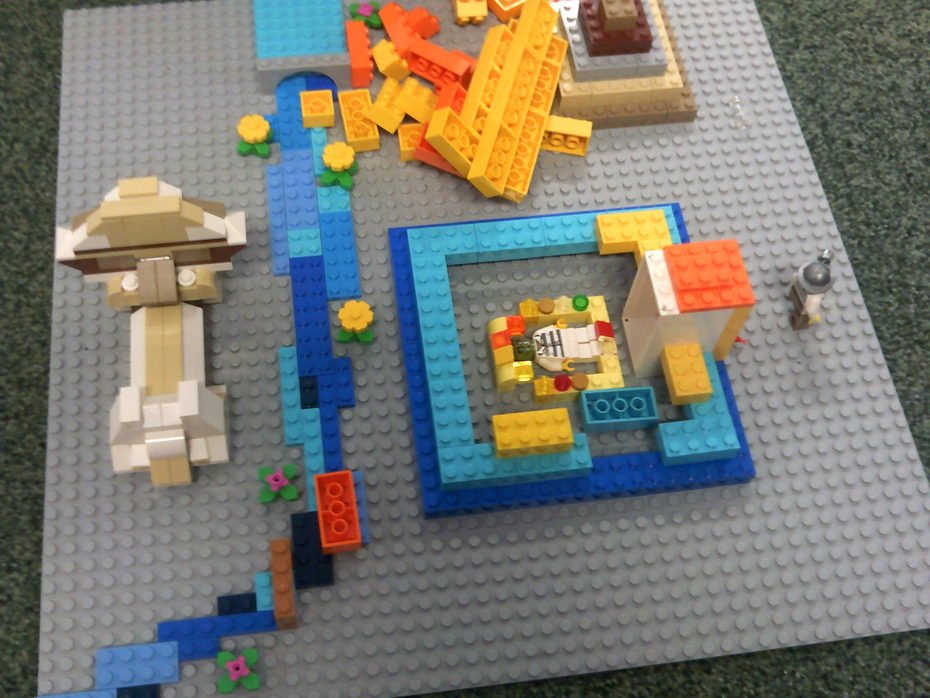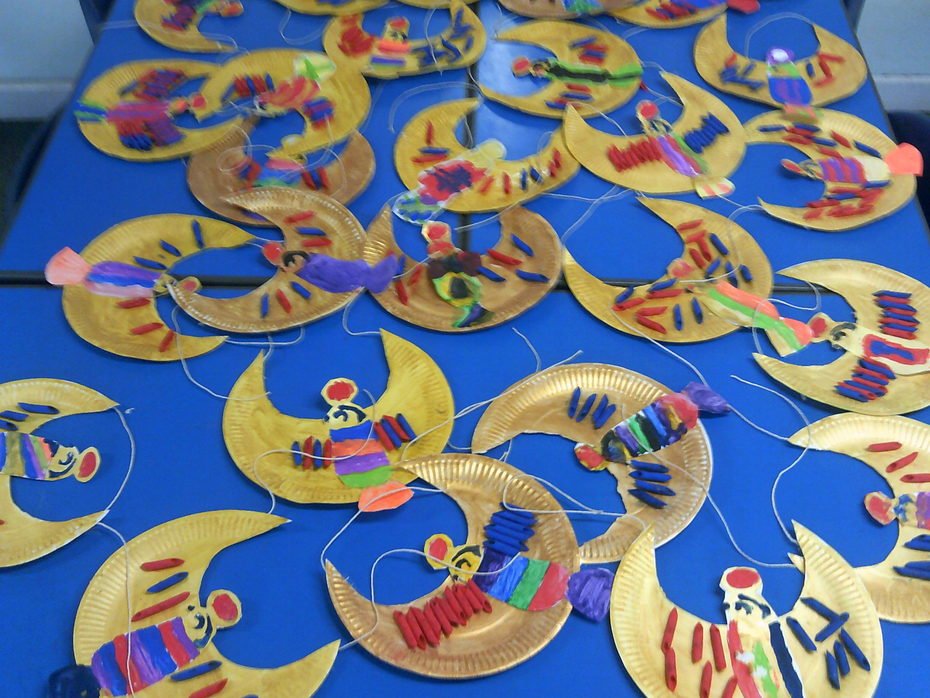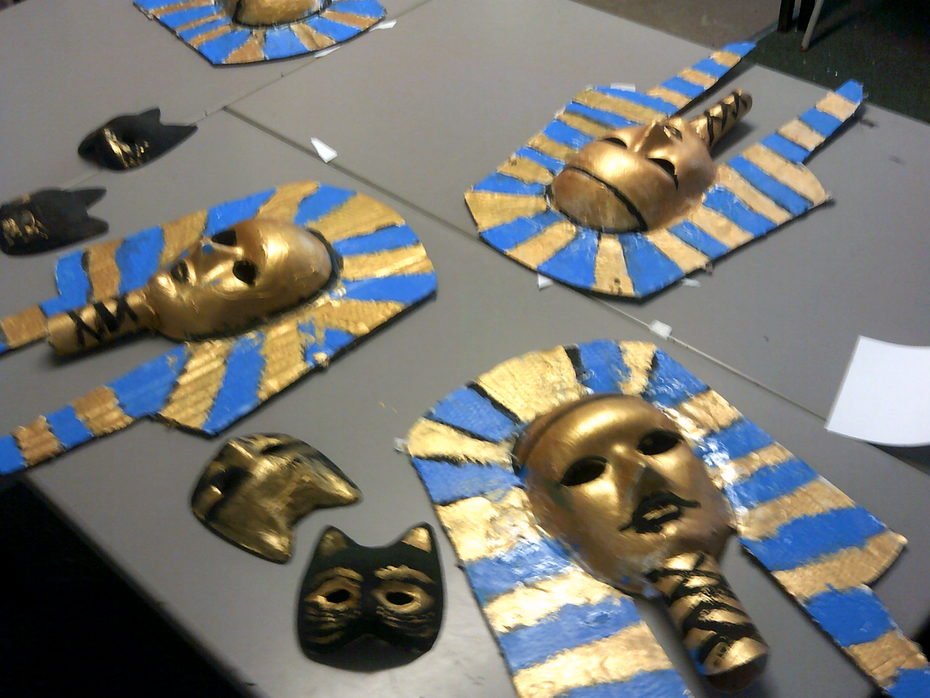 World Book Day 2018
On Thursday 1st March we held a number of events to raise the profile of reading and encourage children to develop a love of books. We had a whole school dress up day, where the children and staff came to school dressed as their favourite book character. It was lovely to see so many excellent costumes. The children in Year 6, with Mrs Gooch, led an excellent assembly. They had produced interesting posters linked to their books. The children read extracts from books and ran a quiz. We also launched the sponsored 'reading challenge', in partnership with Usborne, who topped up the money raised by 60%. This meant we were able to spend almost £1000 on new books for school. Thank you so much to all those who sponsored a child.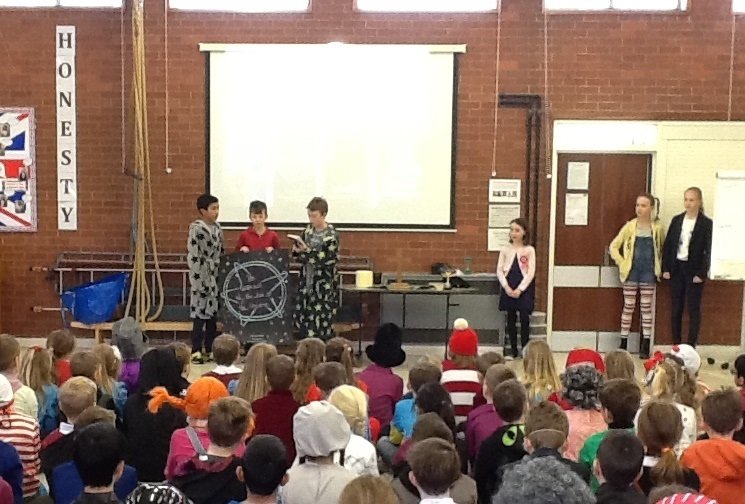 Visit to the Dentist!
On Wednesday 24th January Year 3 visited the dentist in Dunchurch as part of their Science topic on teeth. She was impressed by how much they already knew, but built on their learning about how to look after our teeth, and answered lots of their questions. Thanks Alexia!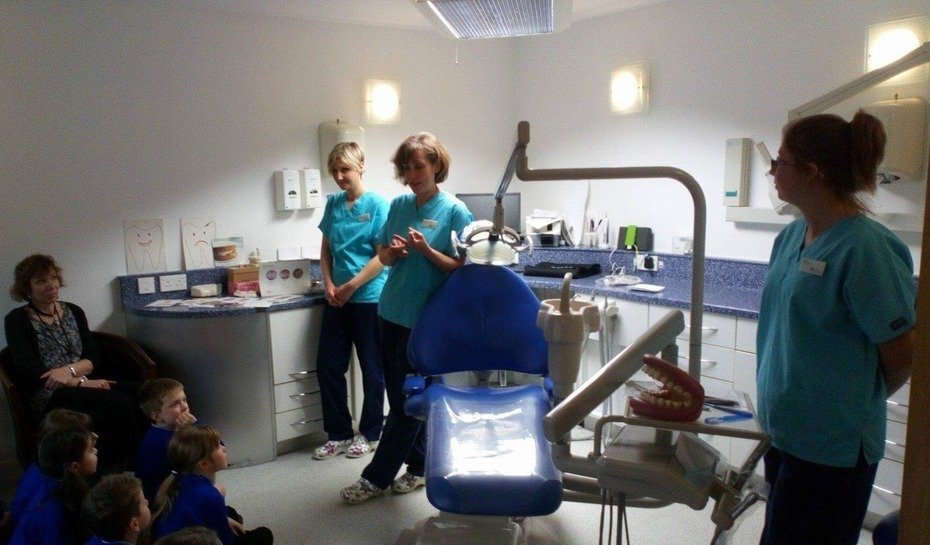 Sign2Sing
Our pupils, joined by children from Dunchurch Infant School, took part in Sign2Sing on 7th February. They learnt 'Friends Forever' in sign language and sign on the day. We also held a cake sale to raise money for the Deaf Awareness charity, and raised £204.22!!
Staying Safe
In the week commencing 5th February, in assembly the children thought about staying safe. They learnt about Safer Internet Day.
Woody the School dog
On Thursday 1st February, Woody the School dog met the children in assembly. Mrs Beech shared some photos with the children and explained all about Woody's training and the different jobs he can do around school. The children were very impressed by his dancing skills and are looking forward to working more closely with him.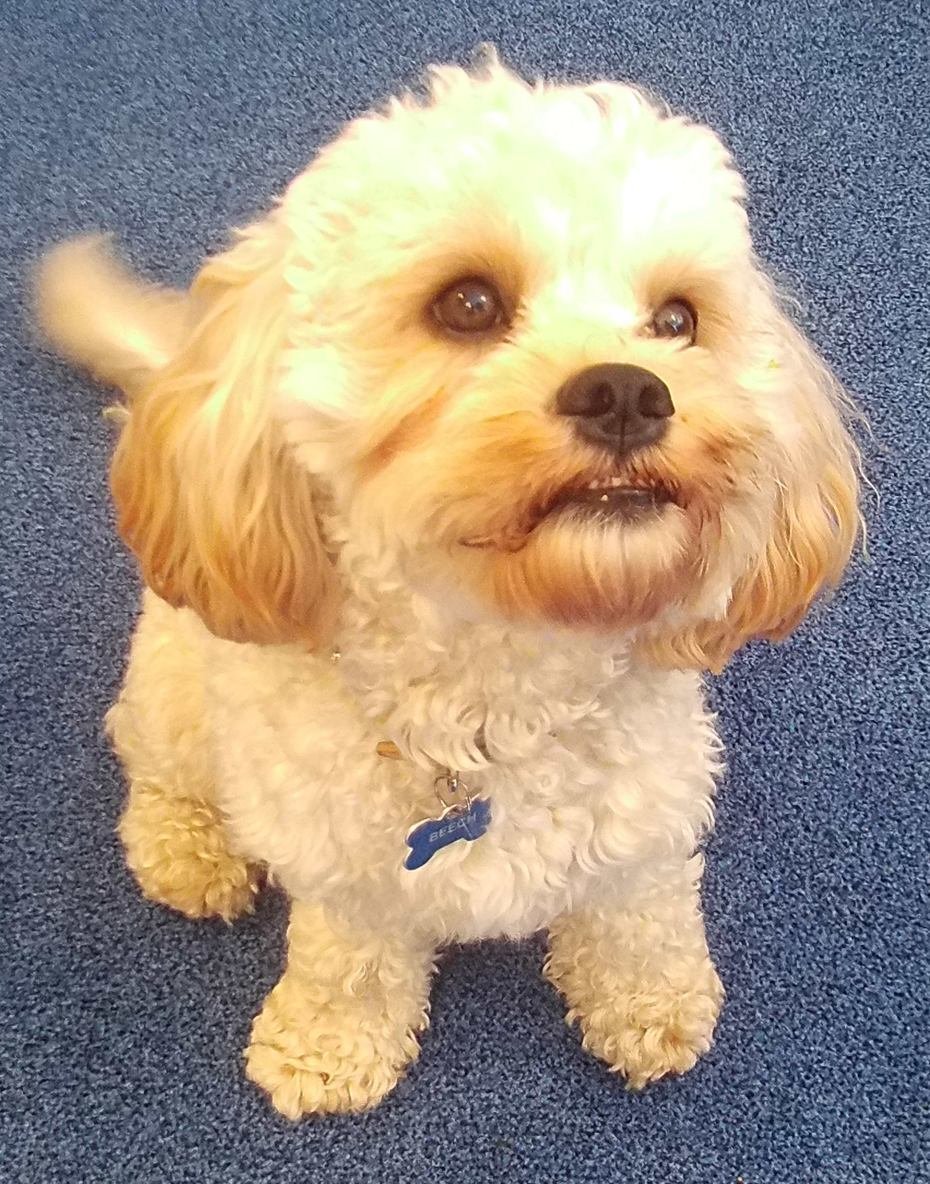 The 'Den' Official Opening
On 31st January, Mrs Garcia the Mayor came to school and following an assembly led by some of our children, she officially opened The Den. The Den has been running since September offering a number of children across the school an opportunity to discuss feelings, share stories and take part in nurturing activities.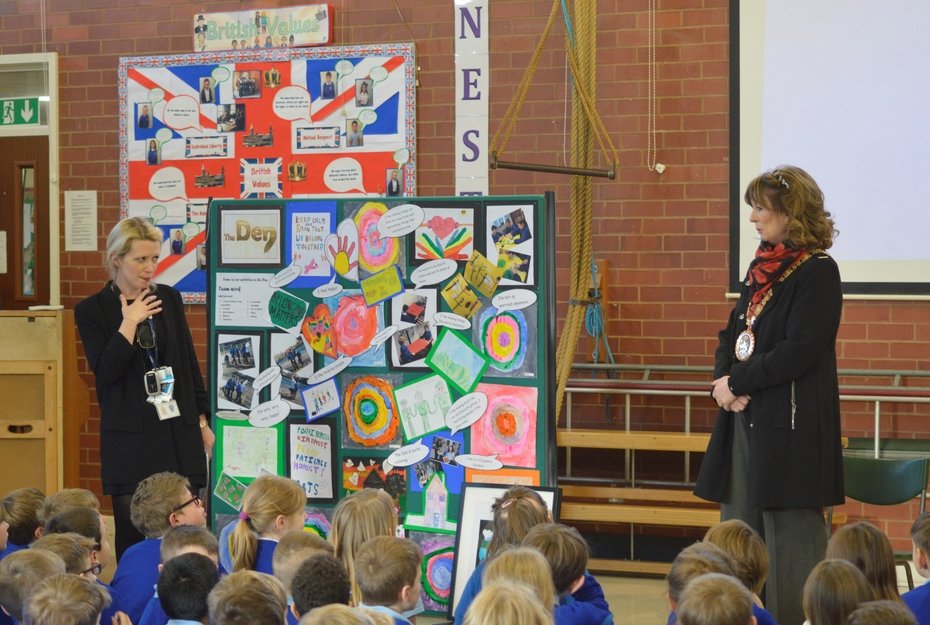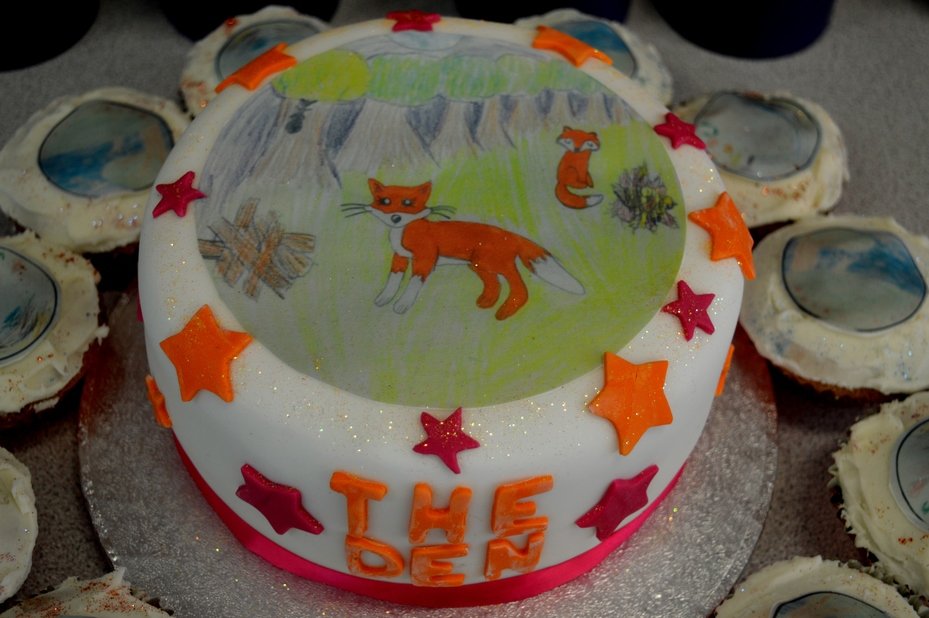 Coventry Diocesan Centenary
As part of the Coventry Diocesan's 100th anniversary celebration the Cross of Nails is again completing a pilgrimage of Church of England Schools in the area. Today, during a special assembly our school received the cross from Clifton-Upon-Dunsmore Primary School. Lead by Rev. Pat Townshend, the children recited a special litany, then said a prayer and finally heard from the Clifton children about the history of their school. They also sang Make me a Channel of your Peace. On the Thursday Mr Dewes and four of our pupils took the cross to the Revel Primary School. The Cross of Nails will continue on its journey until it reaches Coventry Cathedral in November. There will then be a special service with a selection of our pupils attending.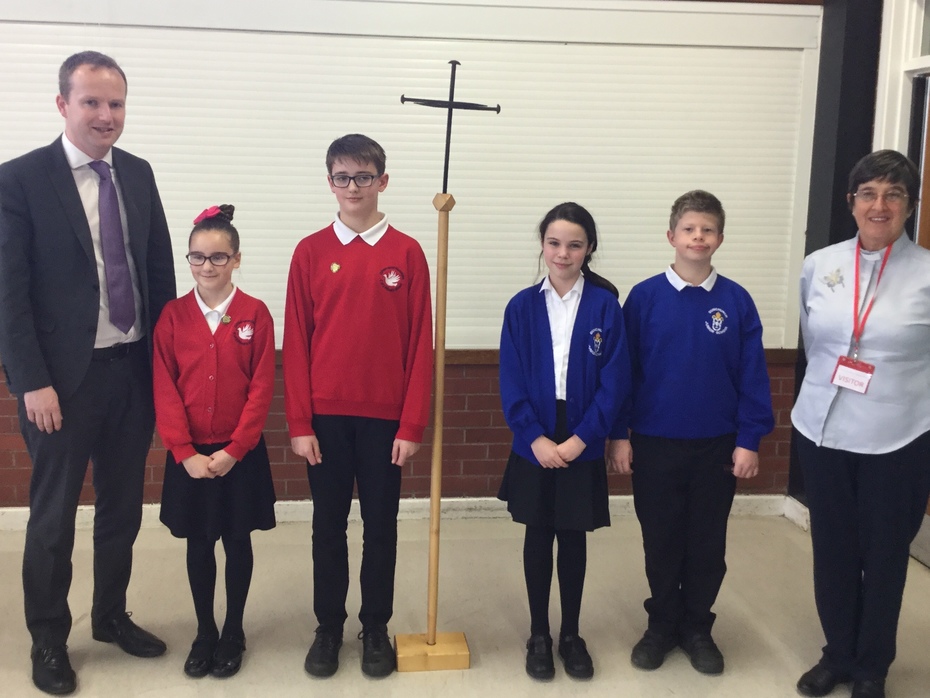 Christmas Plays
This year, the Year 3 and 4 children performed 'Stable Story' and the Year 5 and 6 children performed 'Scrooge'. We are all very proud of their achievements; the singing was beautiful, the actors and narrators were loud and clear and the children who helped behind the scenes were wonderful. Thank you to the parents for supporting the children learning their lines, watching the performances, buying raffle tickets and providing the costumes; they all looked fantastic on stage!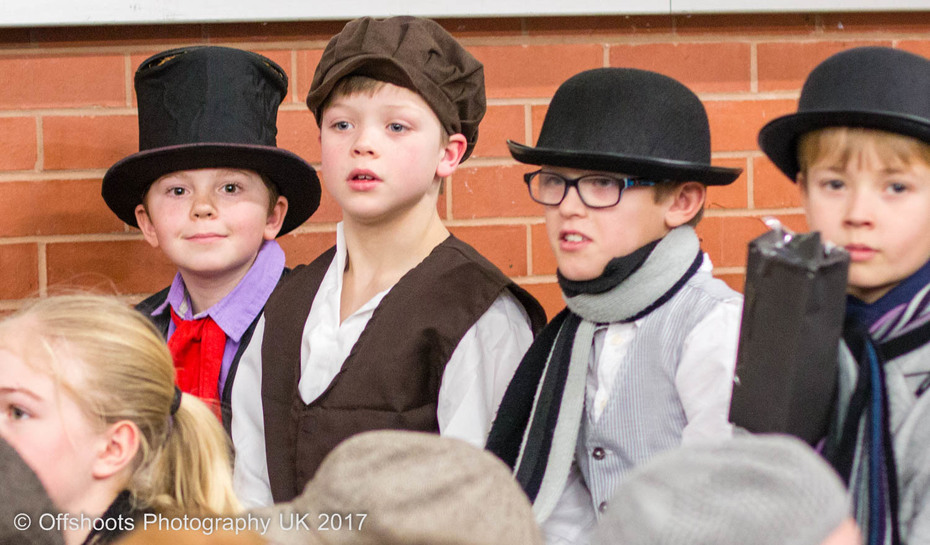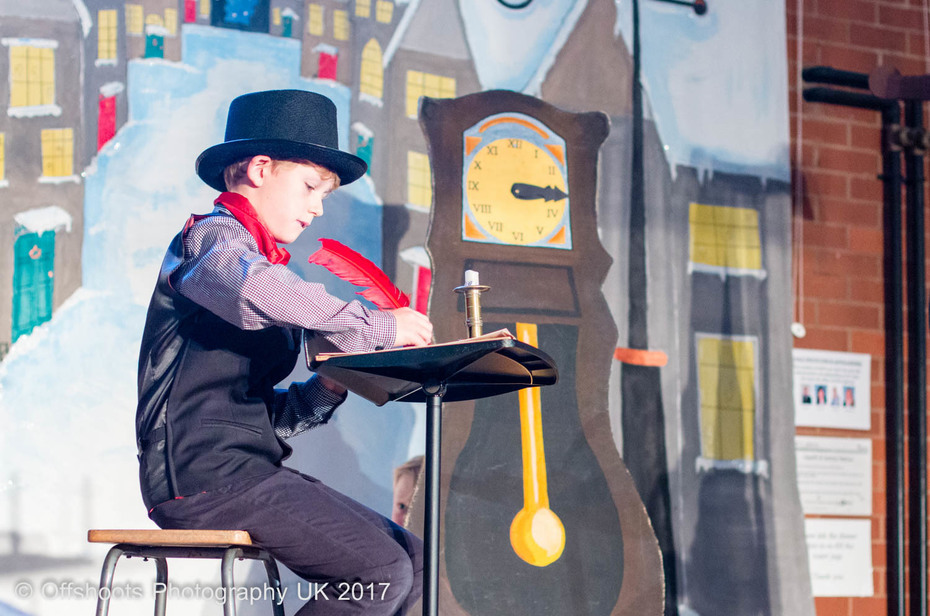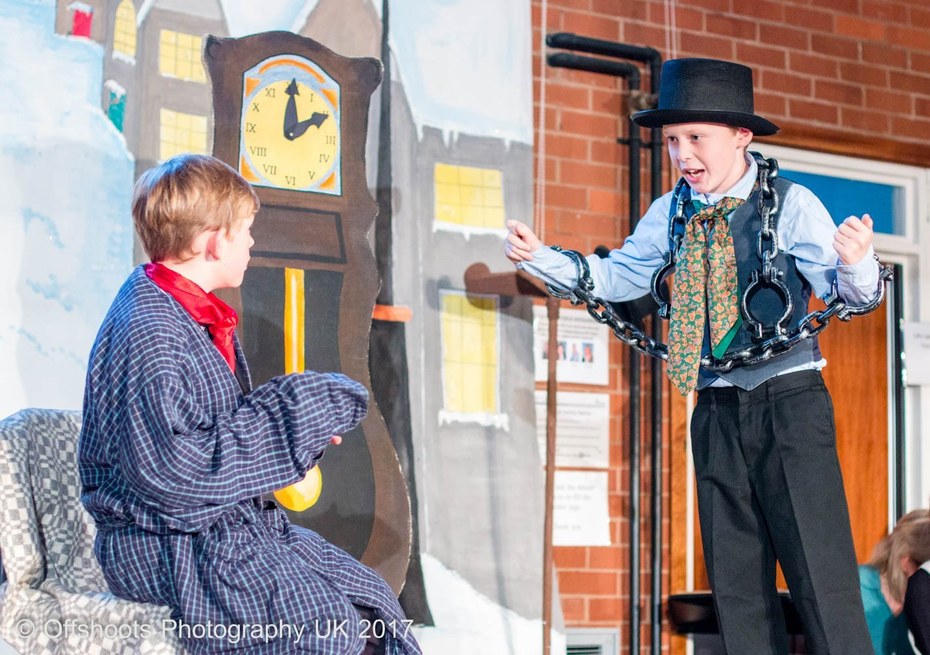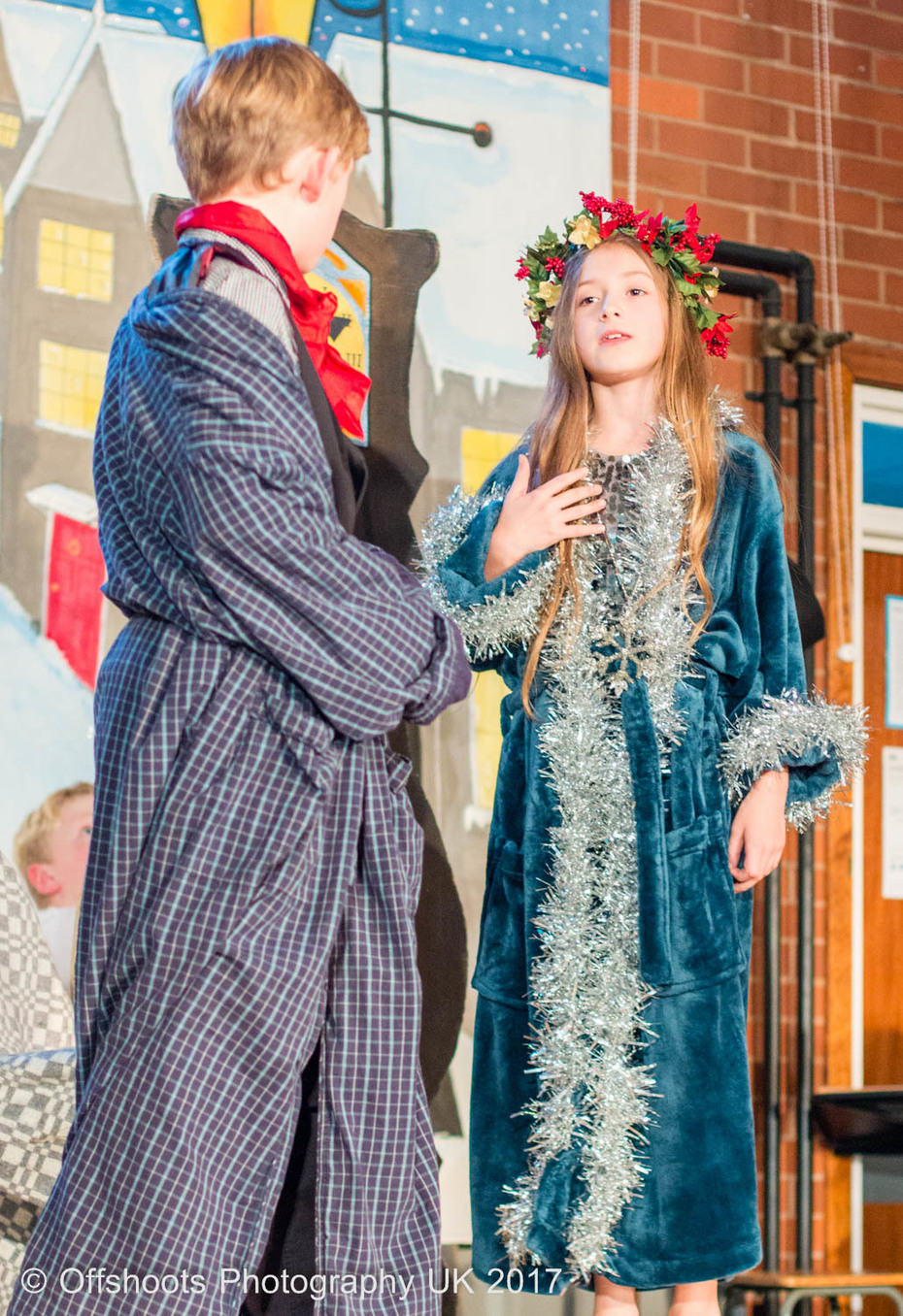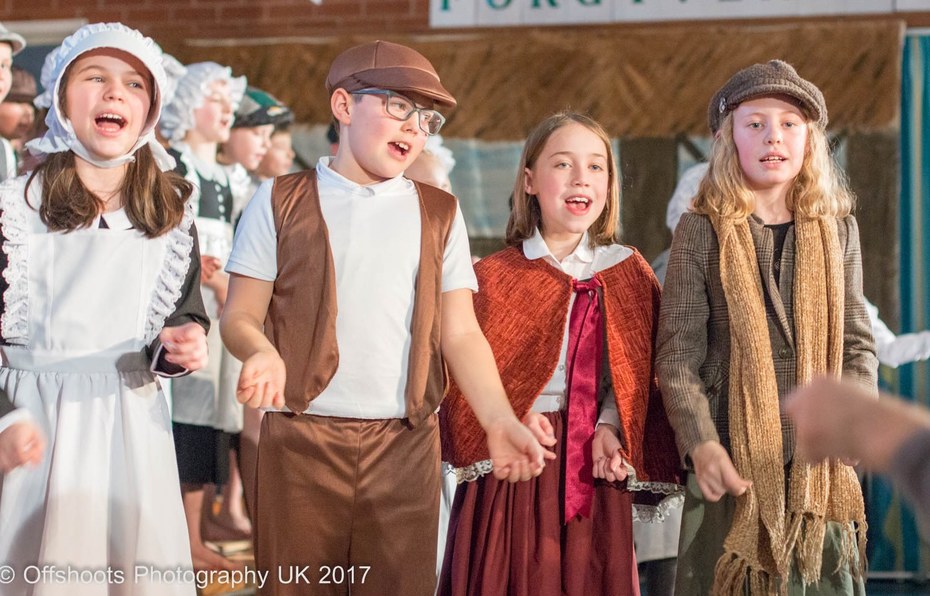 Golden Table
The children eating at this month's golden table are Imogen, Leah, George and Toby. This is for outstanding behaviour at lunchtime.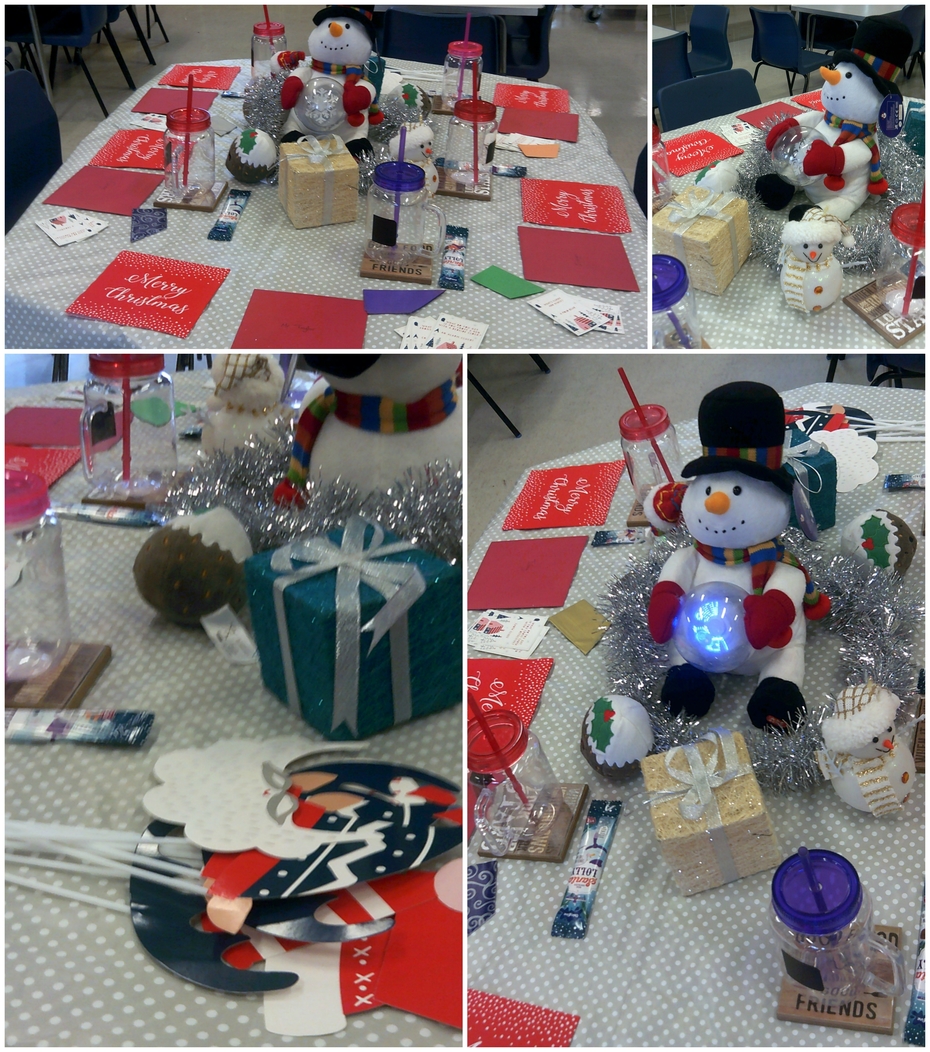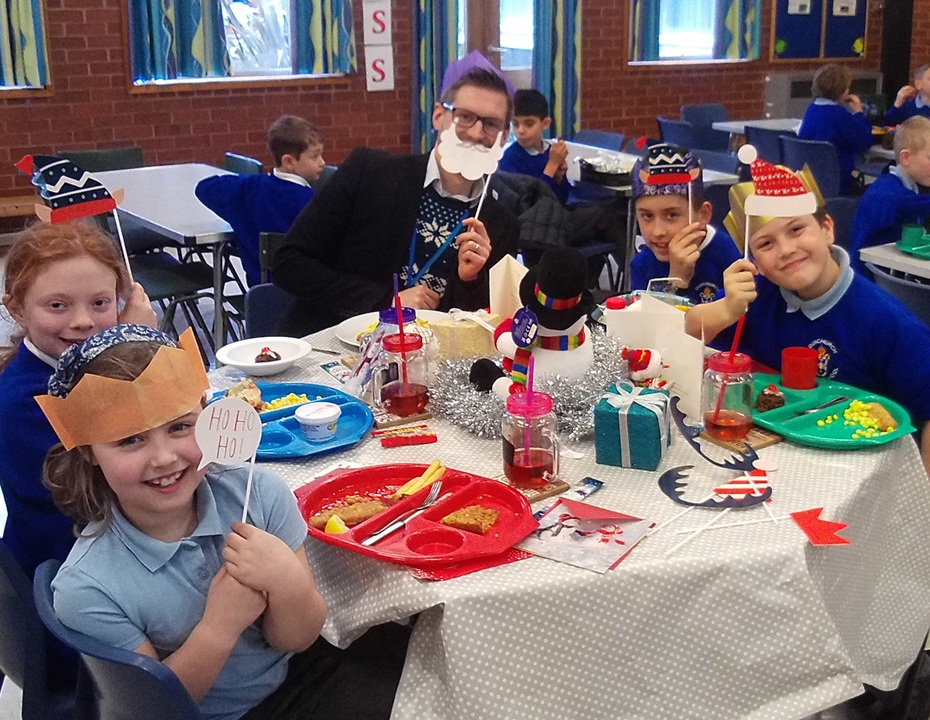 Christmas Dinner
The children and staff enjoyed a lovely Christmas dinner on Thursday 21st December, prepared by Mrs Freeman and her staff.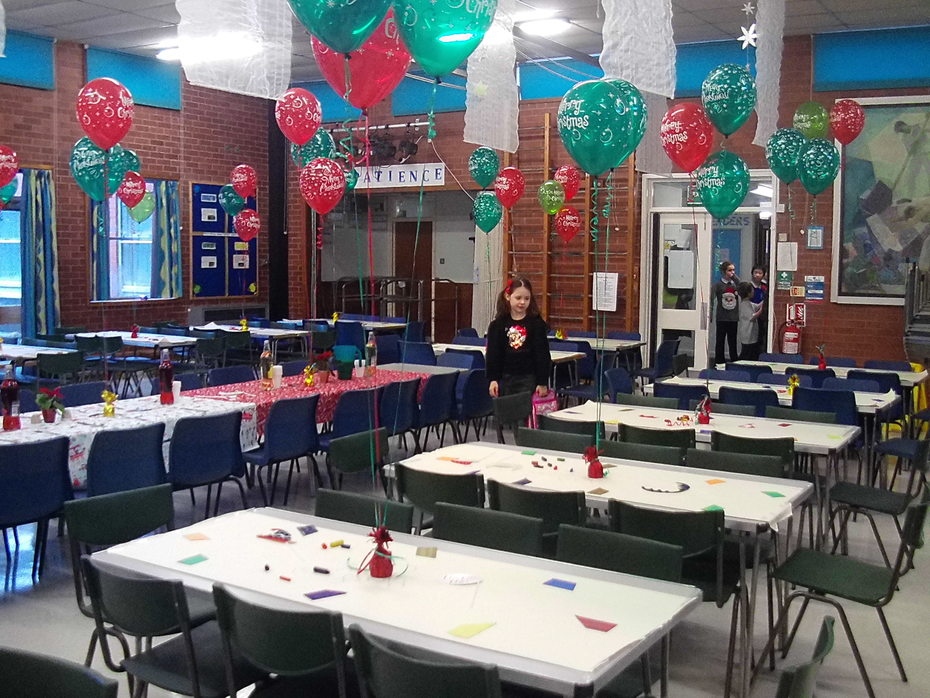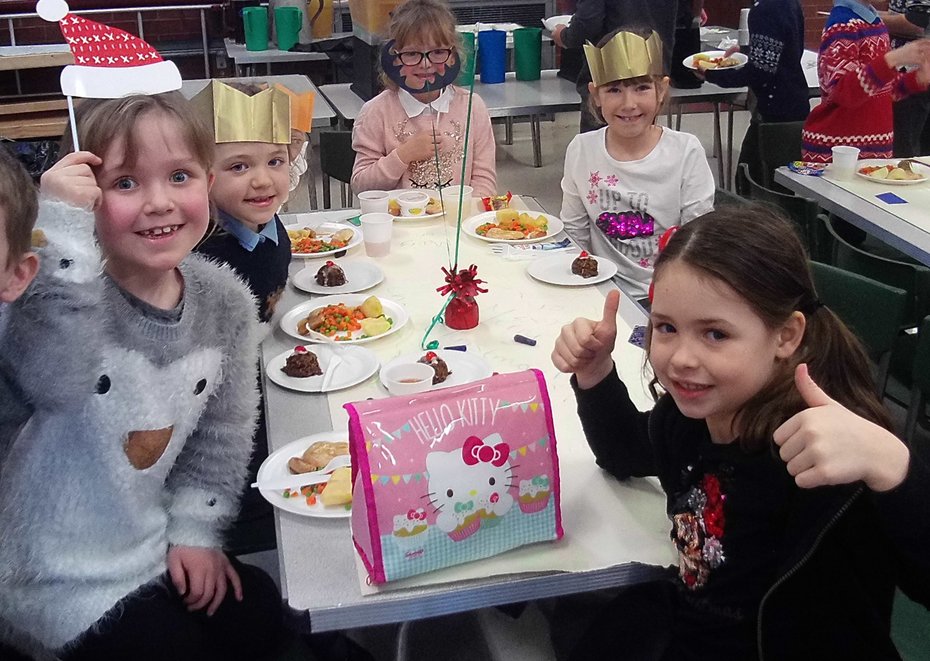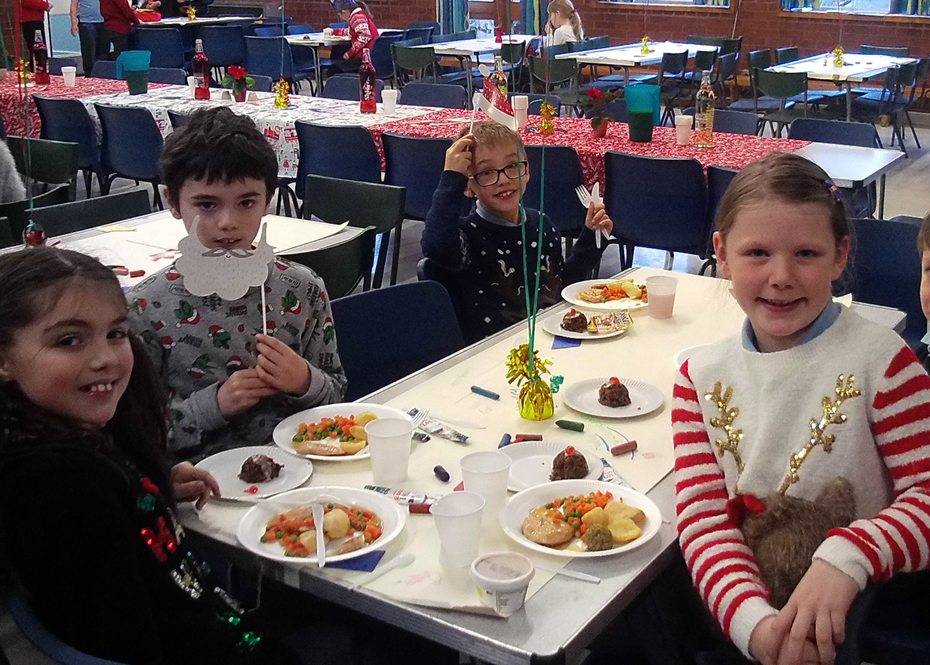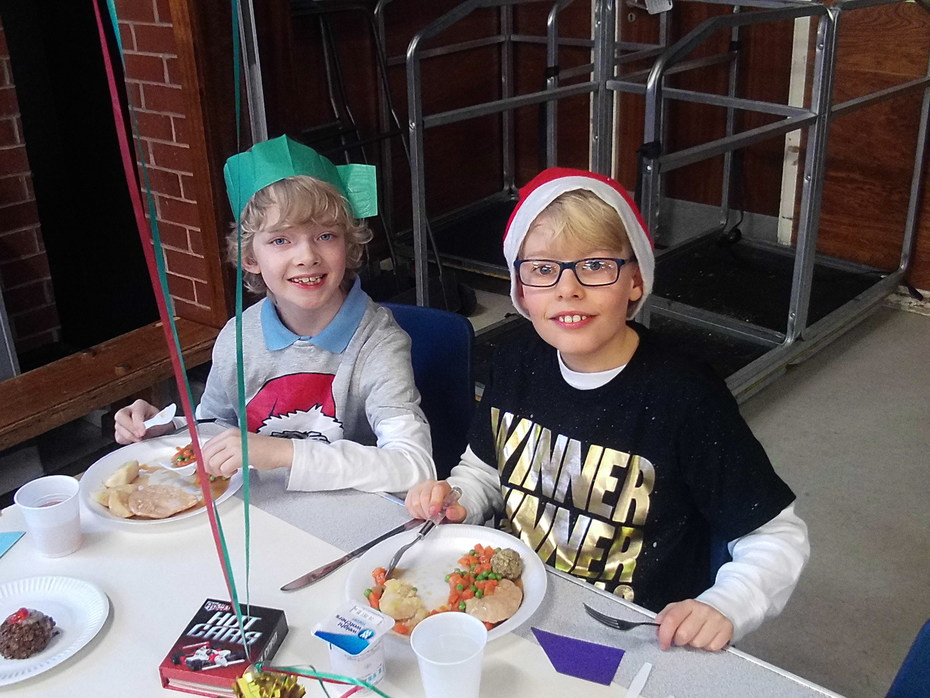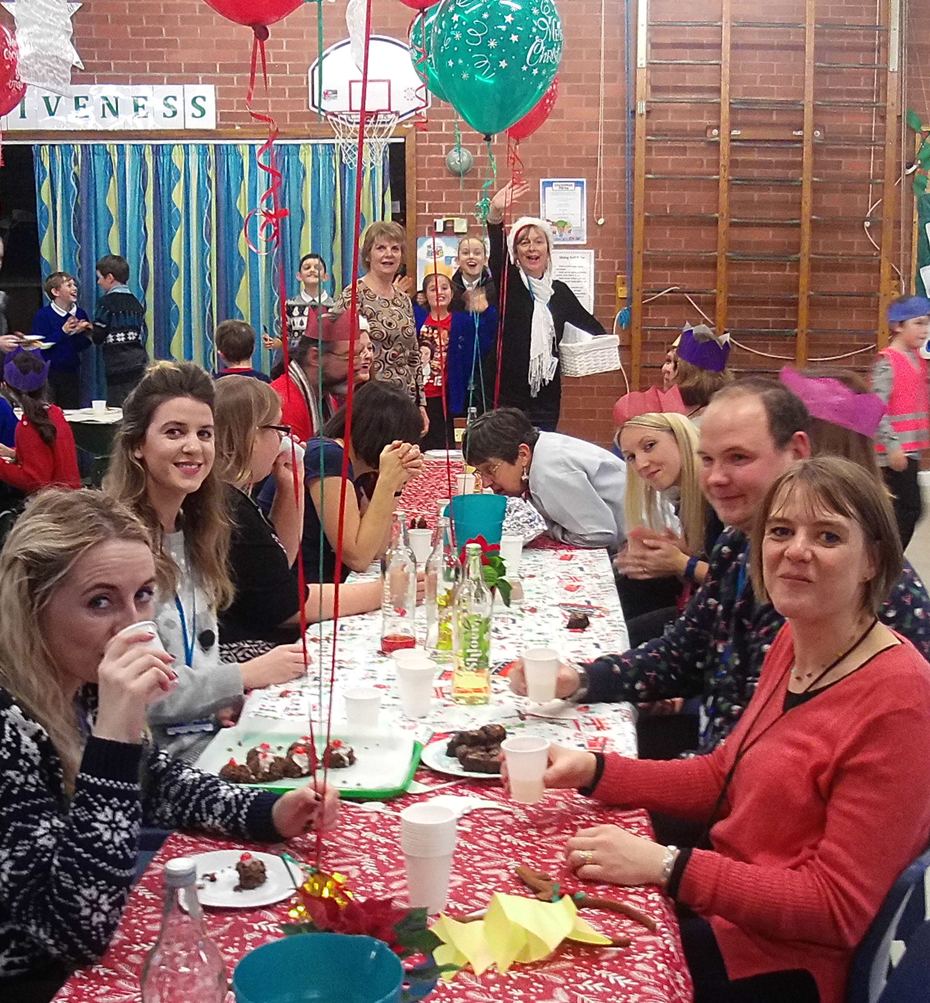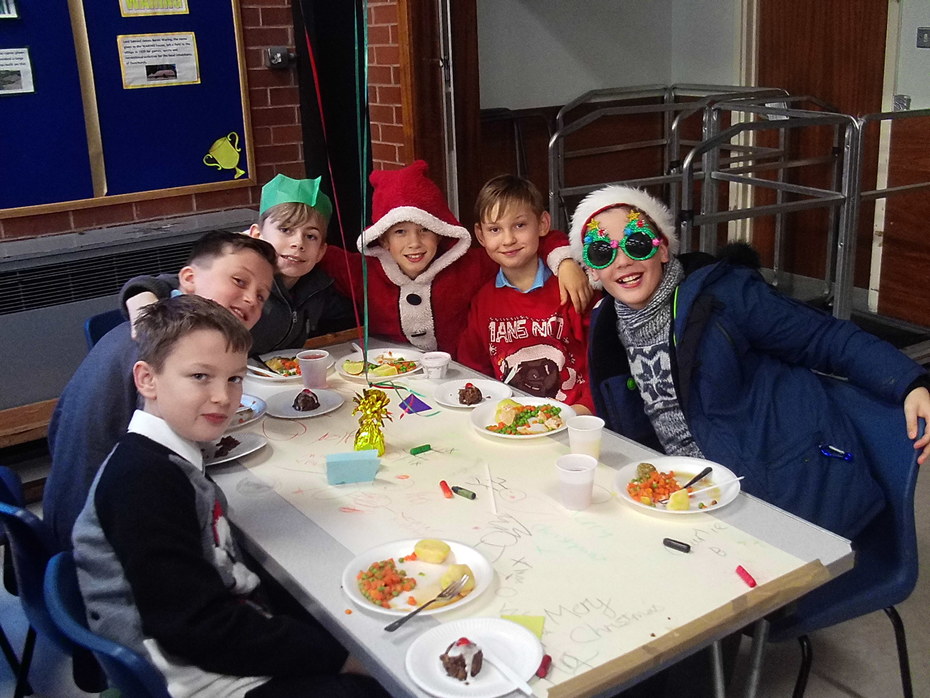 Christmas Church Service
On Thursday 21st December the children went to St Peter's Church in Dunchurch for a church service. The service was lovely; the members of the orchestra and band played very well, the children who gave readings did so with confidence and the choir and everyone else sang enthusiastically. Thank you to all involved.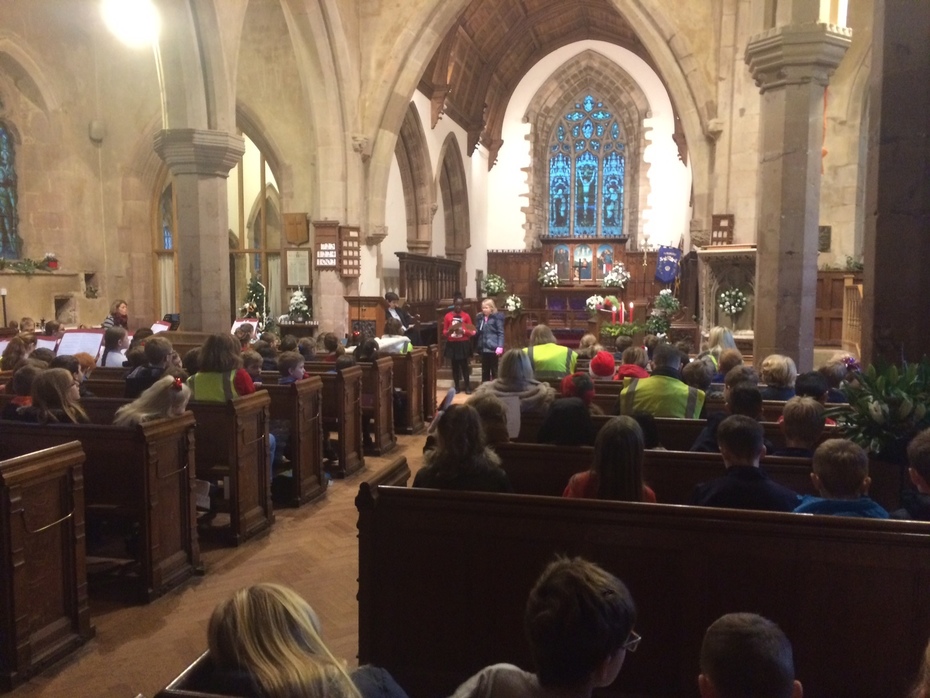 Year 6 visit to Cemex
As part of the Geography curriculum, Year 6 visited the Cemex plant in Rugby on Wednesday 6th December. Children had a guided tour, including a visit to the control room, and ascended the tower by lift. The tour was followed by a question and answer session.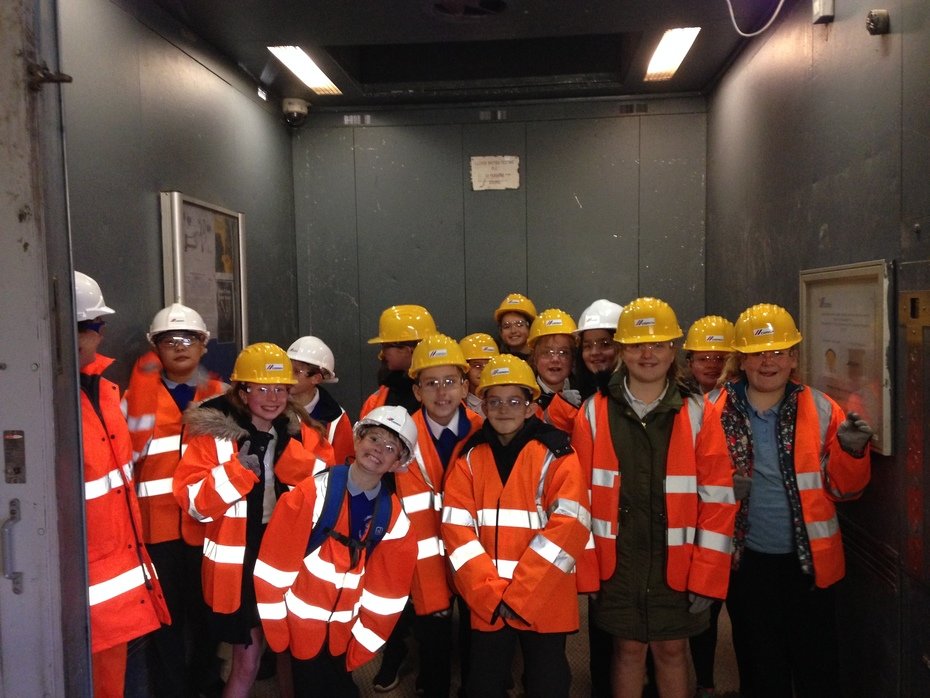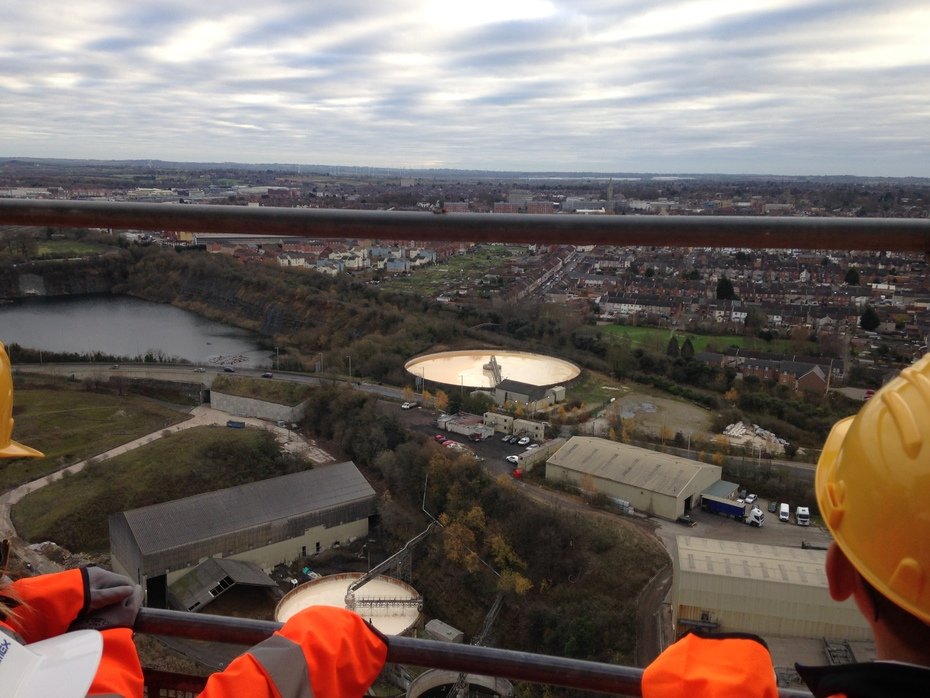 Rowing Competition - 6th December 2017
Two teams of children from year 6 took part in a rowing competition at Harris on Wednesday 6th December.
Both teams of children rowed extremely well completing over 800 m in their 4 minute relay (1 minute rowing time each).
The boys finished 4th with a total of 813m, while the girls finished 3rd after rowing a total of 848 metres - only missing out on first place by 11 m!
Well done to both teams an amazing achievement with just a little practise time.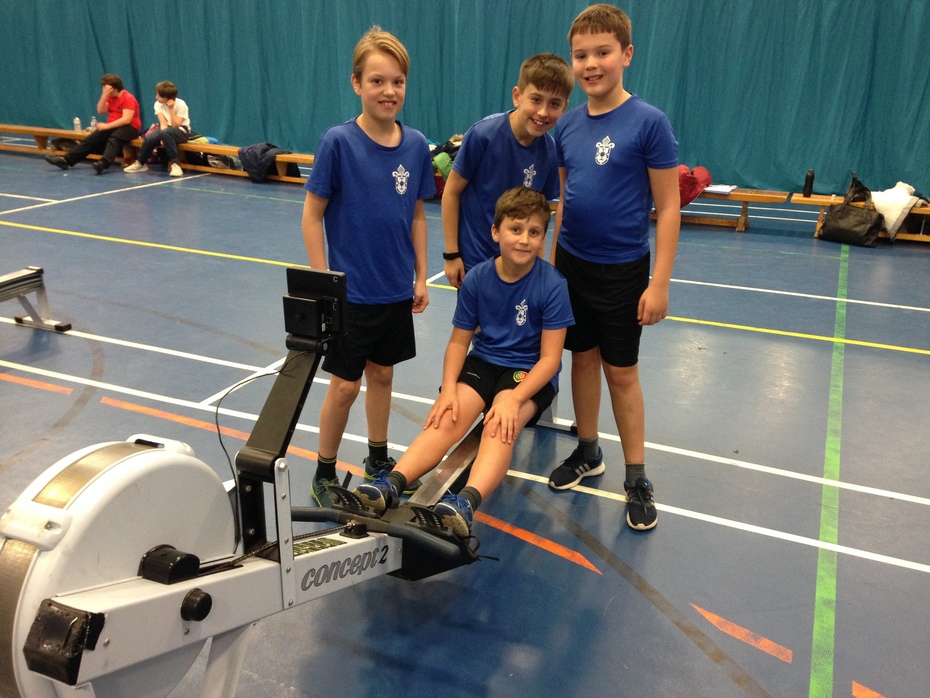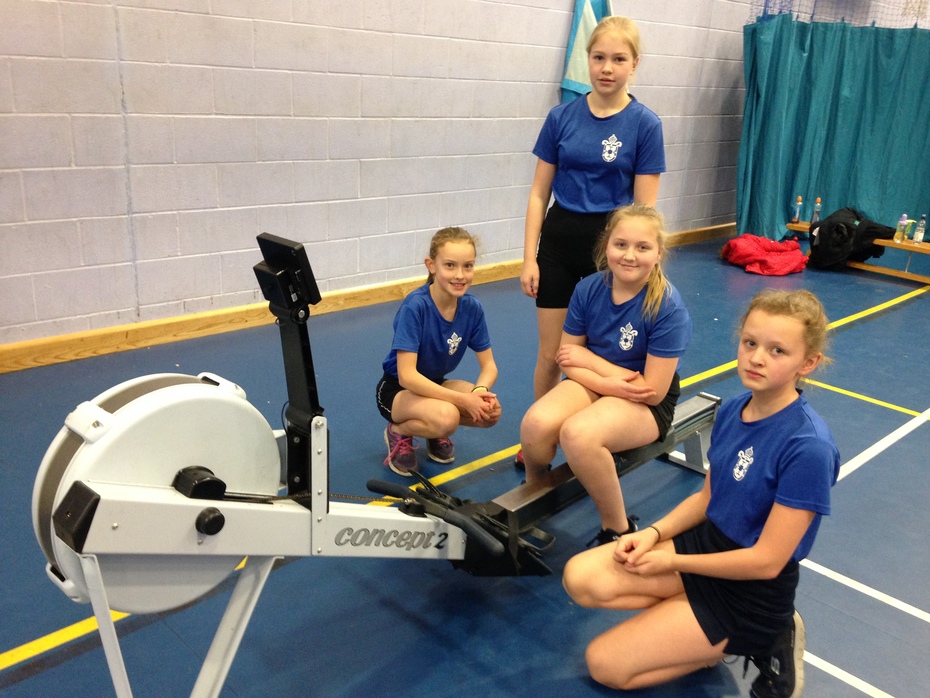 Snow Days - 11th and 12th December 2017
Apologies that the school was closed on Monday 11th December due to the snow - obviously keeping both the pupils and staff safe is our most important consideration and we never take the decision to close the school lightly. We hope the children had time to enjoy the snow on Sunday and Monday; it has been fascinating to hear about all the things the children got up to, from building igloos to creating snow sculptures - we'd love to see some photos.
After much hard work from Mr Bell in clearing the paths yesterday, we were pleased to be able to re-open today and thank the parents for getting the children to school safely. As the temperatures are so cold and the playgrounds icy the children will stay indoors at break and lunchtime, however we hope to be able to take any children wanting to, on the field to enjoy the snow at 3pm.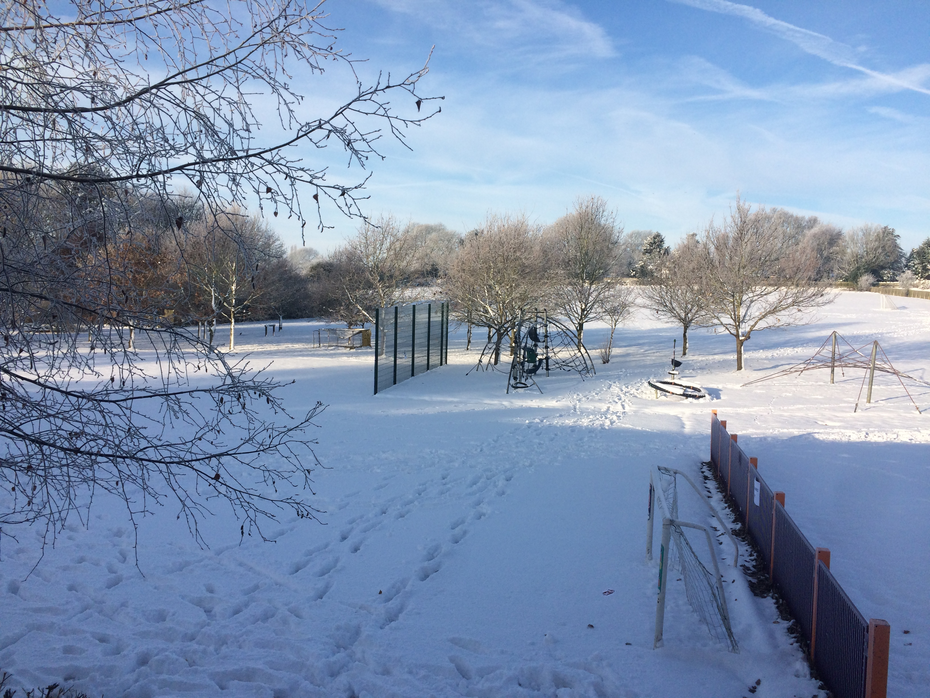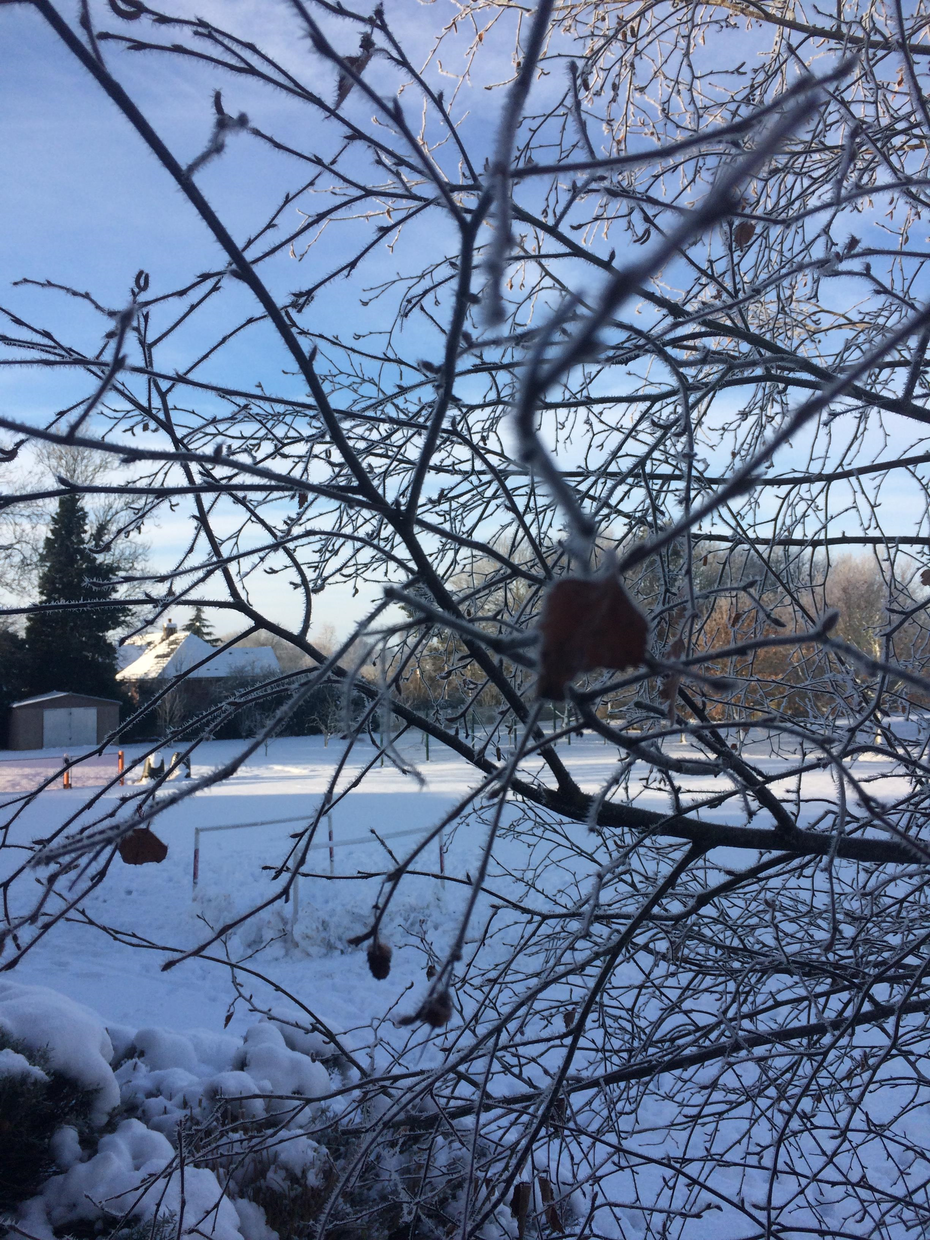 Golden Table - 22nd December
As a reward for outstanding behaviour at lunchtime, Leah (3J), Toby (4S), Imogen (5HC) and George (6T) will be joining Mr Taylor at the 'Golden Table' on the 22nd December. Well done to those pupils for setting such a good example to the other pupils.
Online Safety Competition Win - 28th November
On Tuesday 28th November, Philip Selcombe, Warwickshire's Police and Crime Commissioner, came into assembly to present Sophia Dixon with a trophy for designing a winning Online Safety poster. Last year a PCSO visited 10 local schools to talk about Online Safety and launch the competition. We are delighted that Sophia's informative poster was picked from all the entries as the winner and this reflects the ongoing work we do to keep the children informed and allow them to keep themselves safe online.
Link to Rugby Police's Twitter

Maths Competition - 9th November and 29th November 2017
On the 9th of November 2017, Sophia, Oliver, Zac and Millie visited Sainsburys to compete in an Explore maths competition against other schools. They had three challenges to complete and were also judged on how well they worked in a team.
We were delighted that the team made it through to the regional final of the competition, which consisted of the top 3 schools in the Rugby area!
Again, the team of four performed fantastically in the regional final and were awarded runner ups. A representative from Explore learning came into assembly to congratulate the children and present them with medals and certificates. Well done!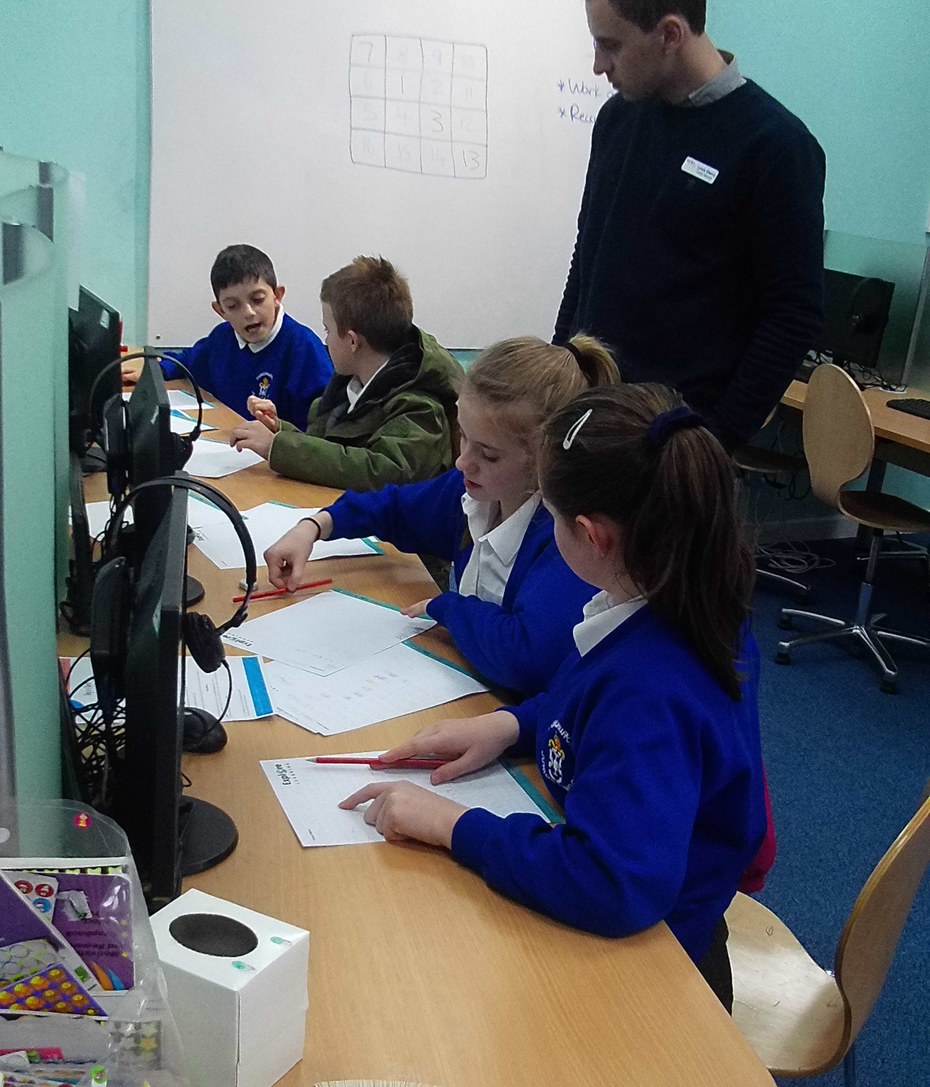 Chedworth Visit - Year 4
As part of their history syllabus, children in year 4 are studying the Romans and, to link up with this, they visited Chedworth Roman Villa in Cirencester on Tuesday 14th November. An enjoyable day was had by all.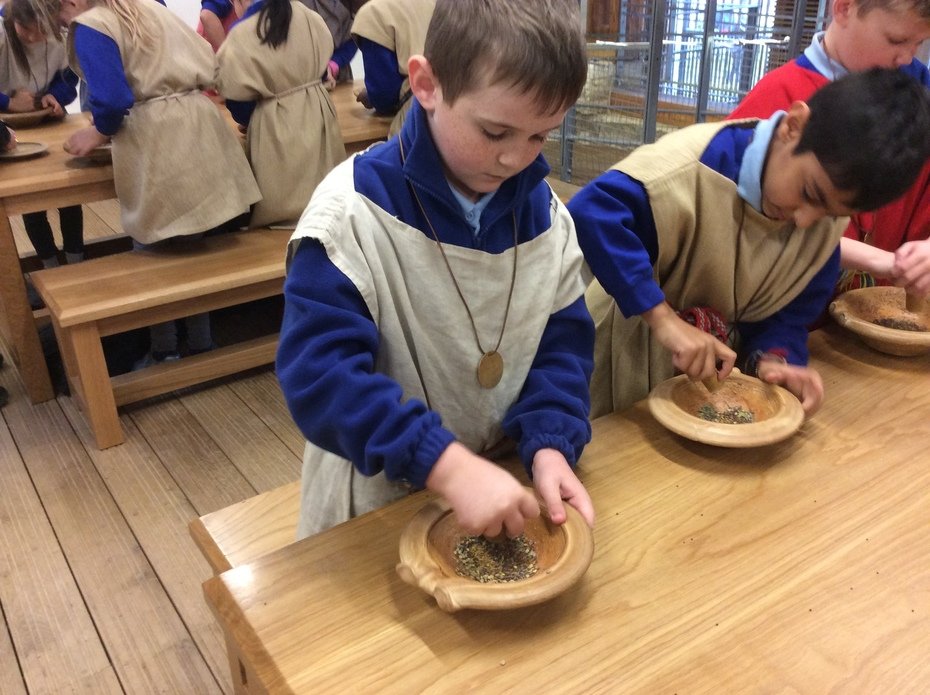 Trip to Buck's County Museum - Wednesday 1st November
On Wednesday all the children in Year 3 headed off to the Buck's County Museum to feed into their learning on Roald Dahl. They had a whiz-popping day exploring the artefacts in the museum which inspired them to write dreams and make dream jars. They also learned about the life of Roald Dahl which linked in nicely with some of their science topics.
Remembrance Assembly
In this week's assemblies, the children have been thinking about 'remembering'. Each child had the opportunity to think about a loved one they missed and make a poppy to remember them. In a special assembly on Wednesday 8th November the children thought about the First World War and all the people who lost their lives. They sang 'Make me a Channel of your Peace', held a two minutes silence and children from each year group laid poppies at the front of the hall.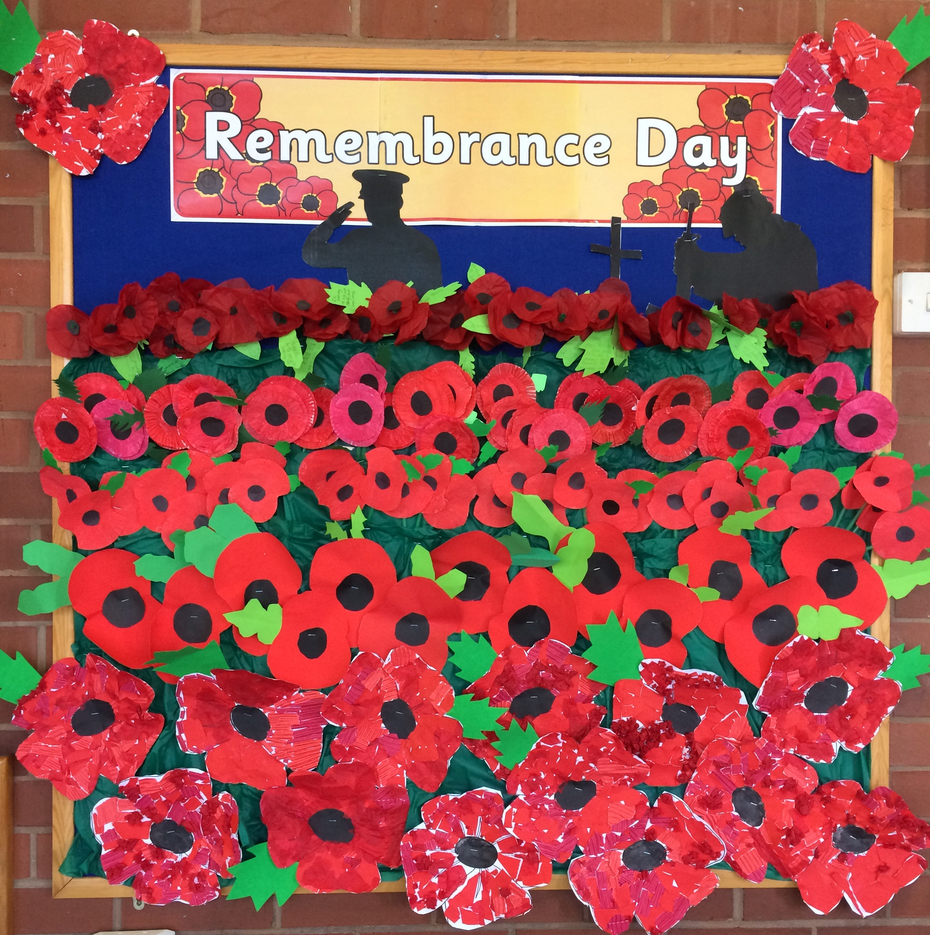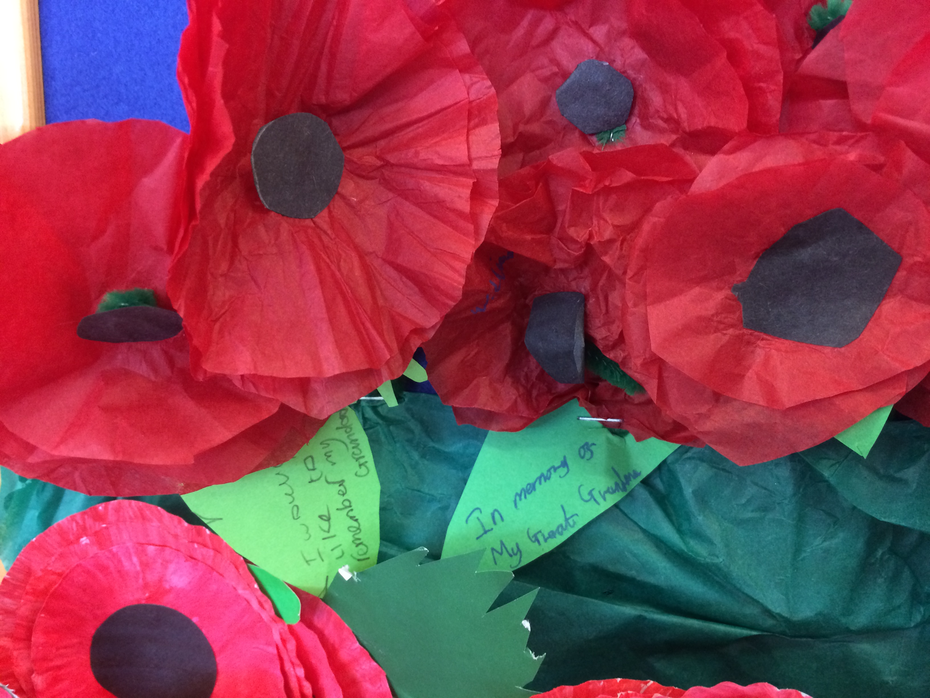 Visit by Rev. Patricia Townsend
On Wednesday 1st November we had another visitor in school. Rev. Patricia Townsend led the assembly and toured the school leading prayers in each class. The children prayed for a range of issues, including peace from war and snow at Christmas.
Rotary Club Bulb Planting
On Tuesday 31st October Mike Beck from the Rotary Club led our school assembly and told the children all about the work that they are doing to help raise awareness of Polio. He explained to the children that this very nasty disease is on the verge of being eradicated, with only handfuls of cases being reported in places Afganistan. For the past few years the Rotary club assisted by other local community groups and schools have been planting purple crocus bulbs to raise awareness of Polio. They use purple as when children in other countries receive the polio vaccination their finger is marked with a purple spot. Following the assembly children from 3KB went to the green in the village to help plant 5000 bulbs, which should create quite a display in the spring. The Rotary Club also kindly donated 1000 bulbs to school, which we hope to get planted soon.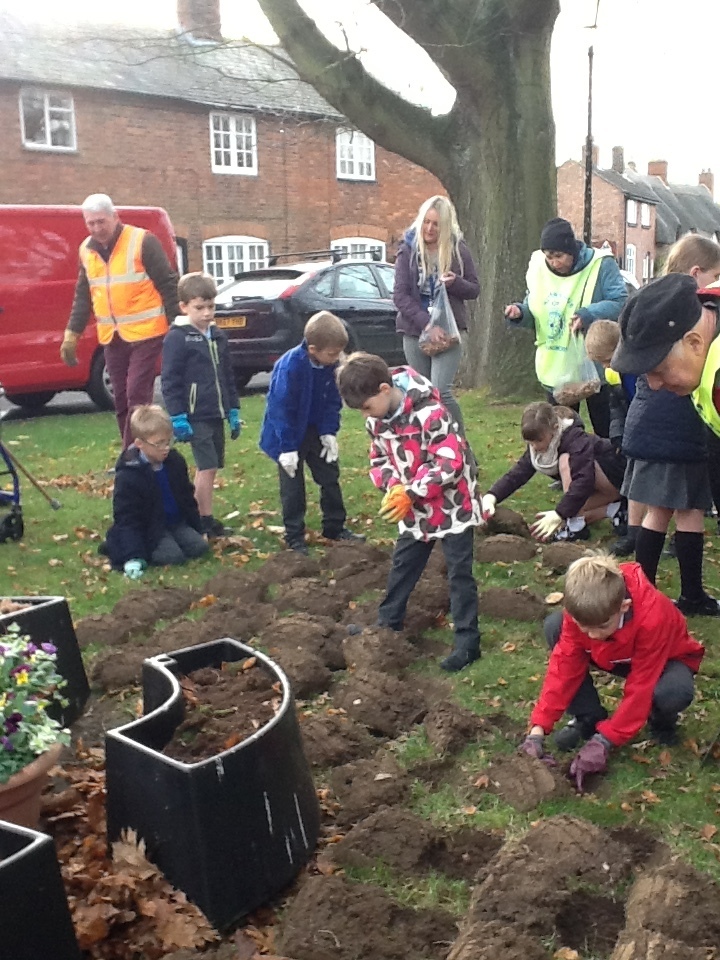 'British Values' and 'Maths and Art' days - 19th and 20th October
To end a very successful first half term back in school, we held two exciting off timetable enrichment days. The children we arranged into mixed age group sets to take part in a whole range of activities. The first day followed the theme of British Values, with different sets exploring different aspects. Miss Guy's group created portraits of Lady Justice in the style of Picasso, while children working with Mrs Miller and Mrs Tildesley focused on the Queen.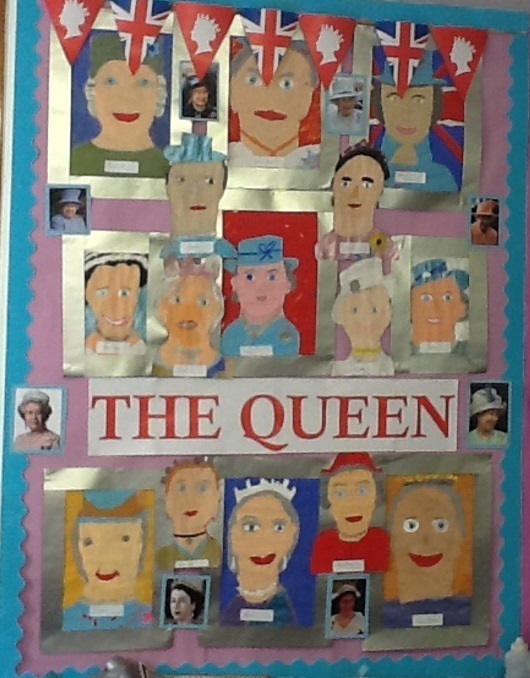 During the second day, we shifted our focus onto exploring maths through art. Again the children were extremely engaged and produced some amazing work. Children with Mrs McMahon created intricate parabolic curves and Mrs Hargreaves lead an art activity based on probability.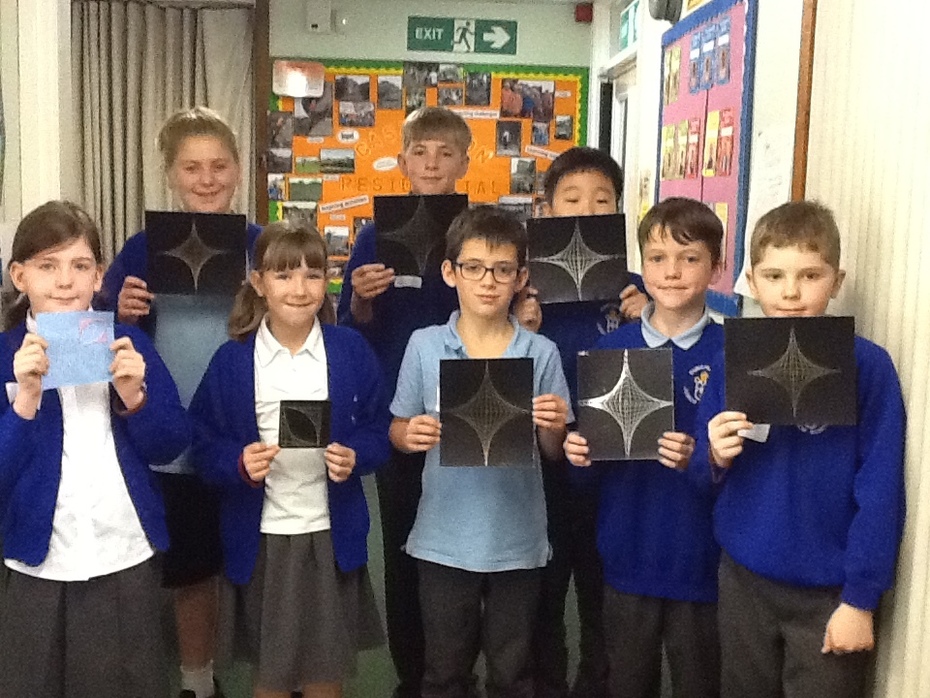 Trip to Stratford - 3rd October 2017
To enrich the teaching of Literacy, History and Design Technology Year 5 headed over to Stratford on Avon to take part in a number of workshops at Shakespeare's Birthplace. They also had a guided tour of the town to look at the historic architecture, which will inspire their DT project of designing and making Tudor houses.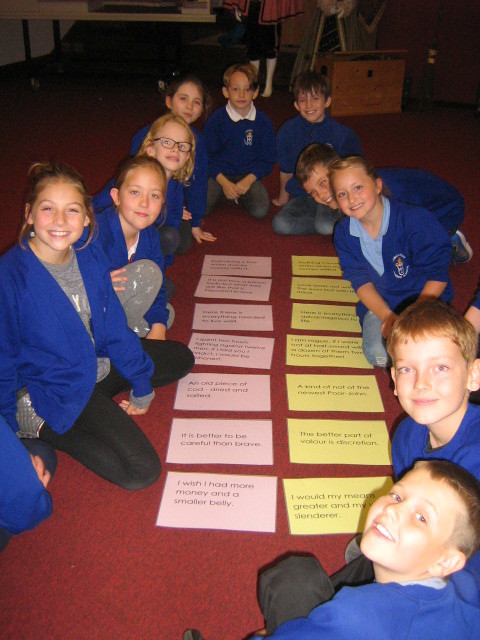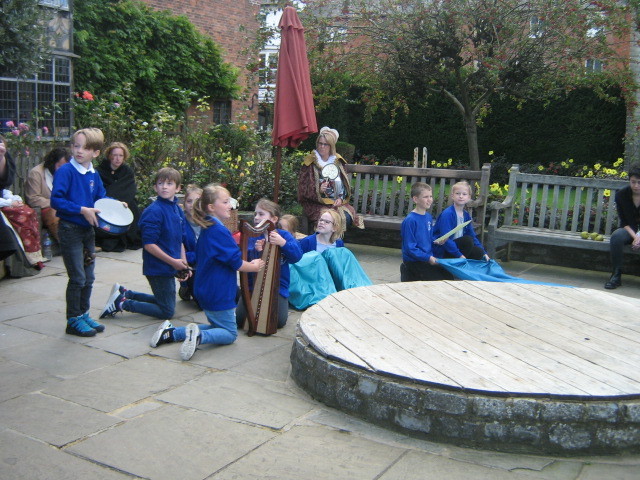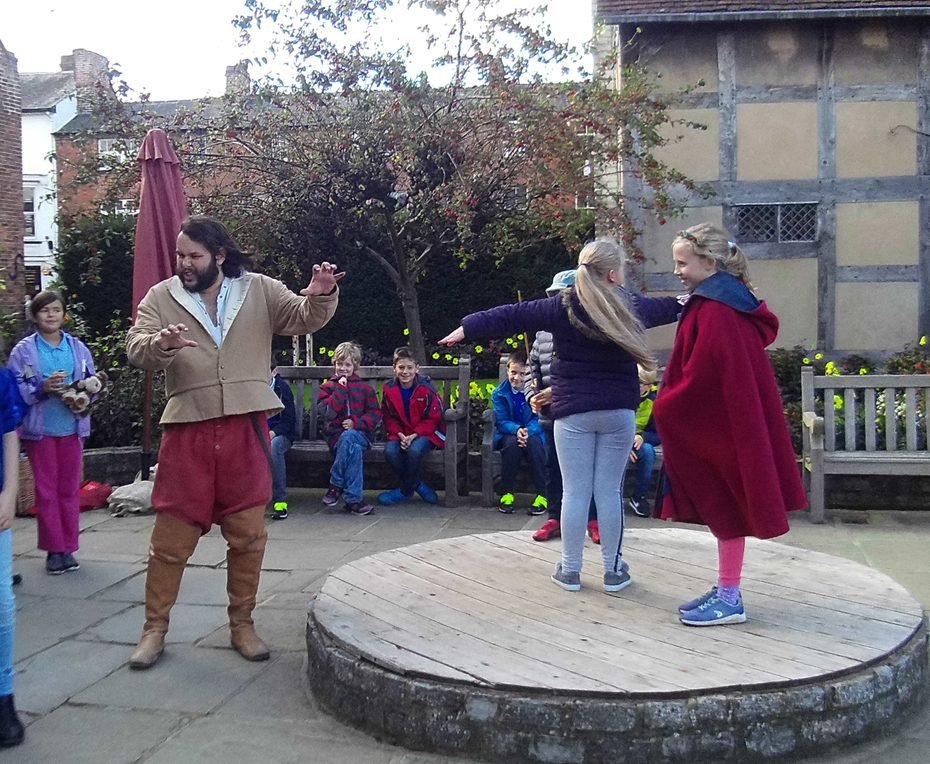 Orchestra Assembly
The orchestra (who rehearse on Tuesdays after school) performed in assembly. They played very well and their parents and the other children very much enjoyed their performance.