SPACE
Bush Craft - July 2021 - Year 3, 4 and 5
Year 3, 4 and 5 have had an amazing time learning some bush craft skills, including shelter building and fire lighting. They also made their own flat bread and cooked it on the campfire!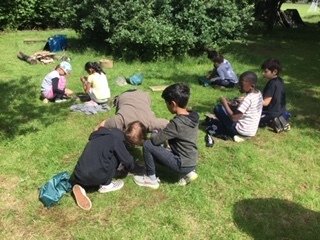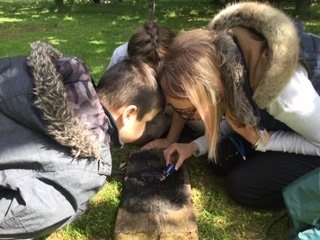 Go Ape and Coombe Abbey - 5th July - Year 6
Year 6 spent the day at Coombe Abbey Country Park, including a one hour tree top adventure at Go Ape, with the finale on the zip wire. The children thoroughly enjoyed their day, and the teachers were very impressed with how the children met the challenge of being at height and navigating the crossings.
Trip report from year 6:
Go Ape was an exciting challenge; we climbed up high and faced obstacles that looked scary - but were enjoyable when we were on them. There were high and low sections that tested our nerve. It ended with a long and steep zipline that was really enjoyable. We also took part in team building exercises such as: splat, moving planks, blindfolded activities and crossing an imaginary river. In conclusion, everyone enjoyed it and participated in the difficult challenges.
Equality and Diversity Day – 2nd July 2021
We celebrated Equality and Diversity Day, with children coming to school wearing something that showed either their interests, personality or culture. The children created work that will be used for the "RACE SPACE" board which the Equality and Diversity group want to create. We had a visitor come to school who led a workshop for each class on bullying. The children in Year 3 and 4 also read a book called 'Pirate Mums'.
space
Festival on the Close – 1st July 2021
As part of Rugby School's Festival On the Close, which was unable to take place at Rugby School this year, we had visitors come to school. The Royal Birmingham Conservatoire performed to all year groups in our quad. It was such a treat for the children to watch and enjoy a live cultural event again in school. In the afternoon, the Year 5 children had super, fun workshops with professional ballet dancers from Birmingham Royal Ballet. Thank you to Rugby School for funding this event.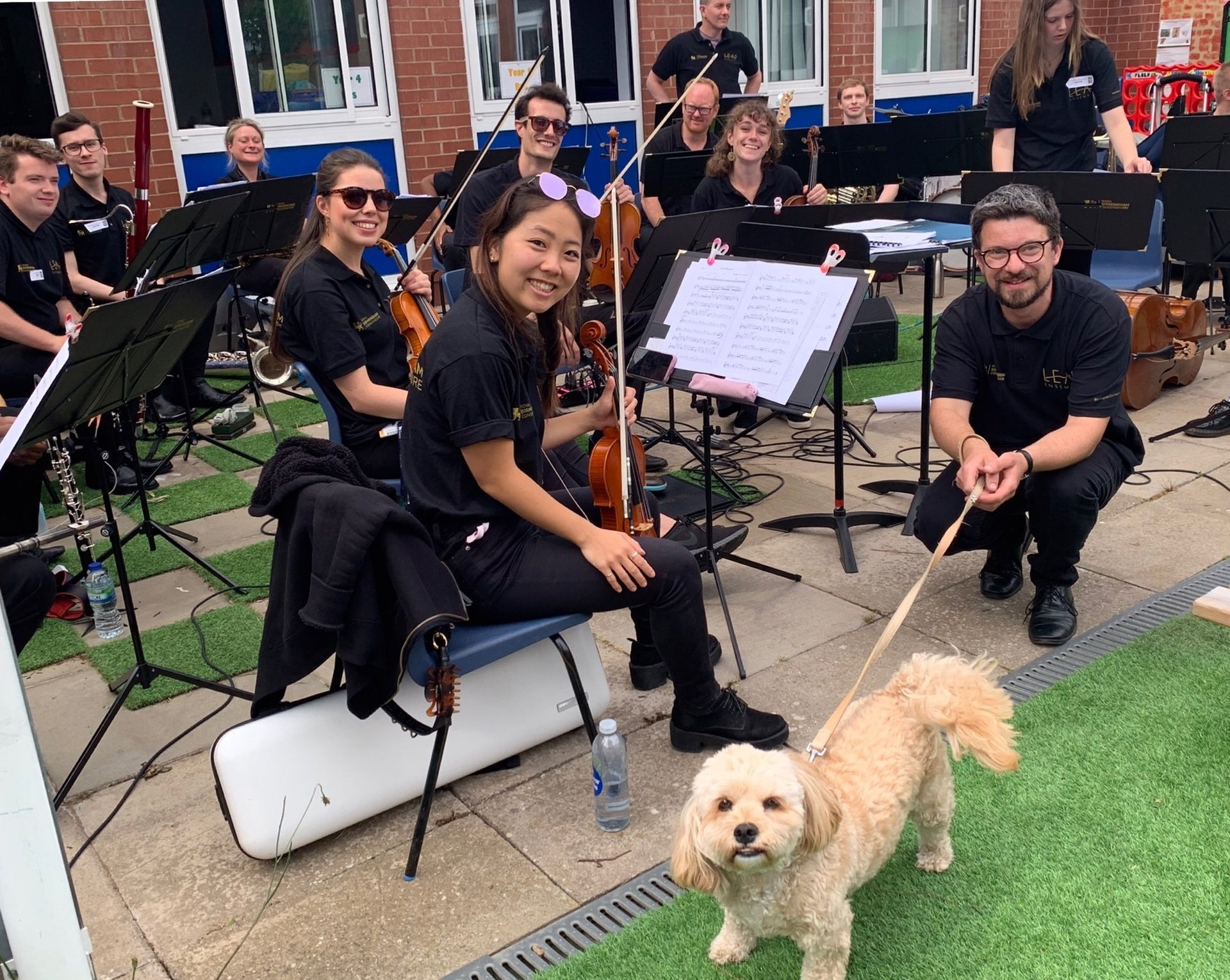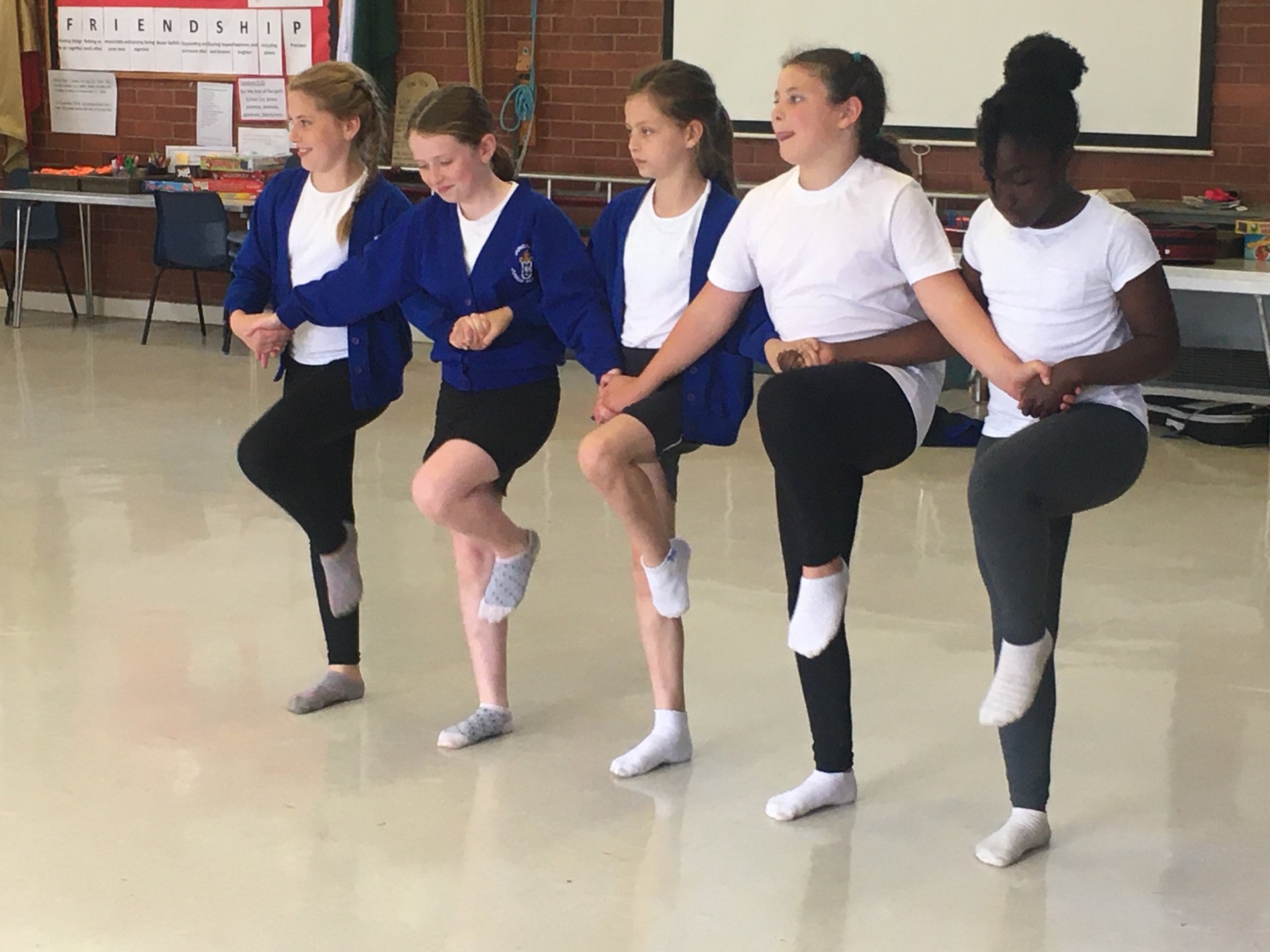 space
Conkers - 28th June - Year 6
Year 6 visited 'Conkers' in Moira, near Ashby-de-la-Zouch. They experienced team building activities, a 'Bare-foot' walk challenge and a 'Construction Derby'. They also had the opportunity to try 'Kata Canoeing'.
Trip report from year 6:
Conkers was so much fun; we enjoyed doing all three activities.The first activity we did was Kata-canoeing and we competed in races and everyone really liked it. Our second activity was scooter making. Creating the scooter was challenging but once we made them, we had so much fun riding them.The last activity of the day was the barefoot walk and it was the most challenging. We tested people's trust, when someone was blindfolded. We went through: water, hay, stones, pebbles and many more objects. In conclusion, everyone enjoyed it and thought it was an amazing experience.
Art Exhibition - June - Year 4
The pupils in Year 4 have been studying the work of the famous American artist Georgia O'Keefe. In response to her iconic artwork, the children produced a range of artwork such as these oil pastel images where the children had to consider their use of composition, tone and blending colours to create a range of textures. In addition, the children also created sculptures in clay based on flowers, which Georgia O'Keefe is probably most famous for. Again, they had to think about the composition, but in 3 dimensions this time, as well as the effect of different textures. Then, after creating and firing their sculptures, the pupils applied coloured glazes to create their completed sculpture. Examples of their art work were exhibited in the village as part of the Art in Dunchurch event.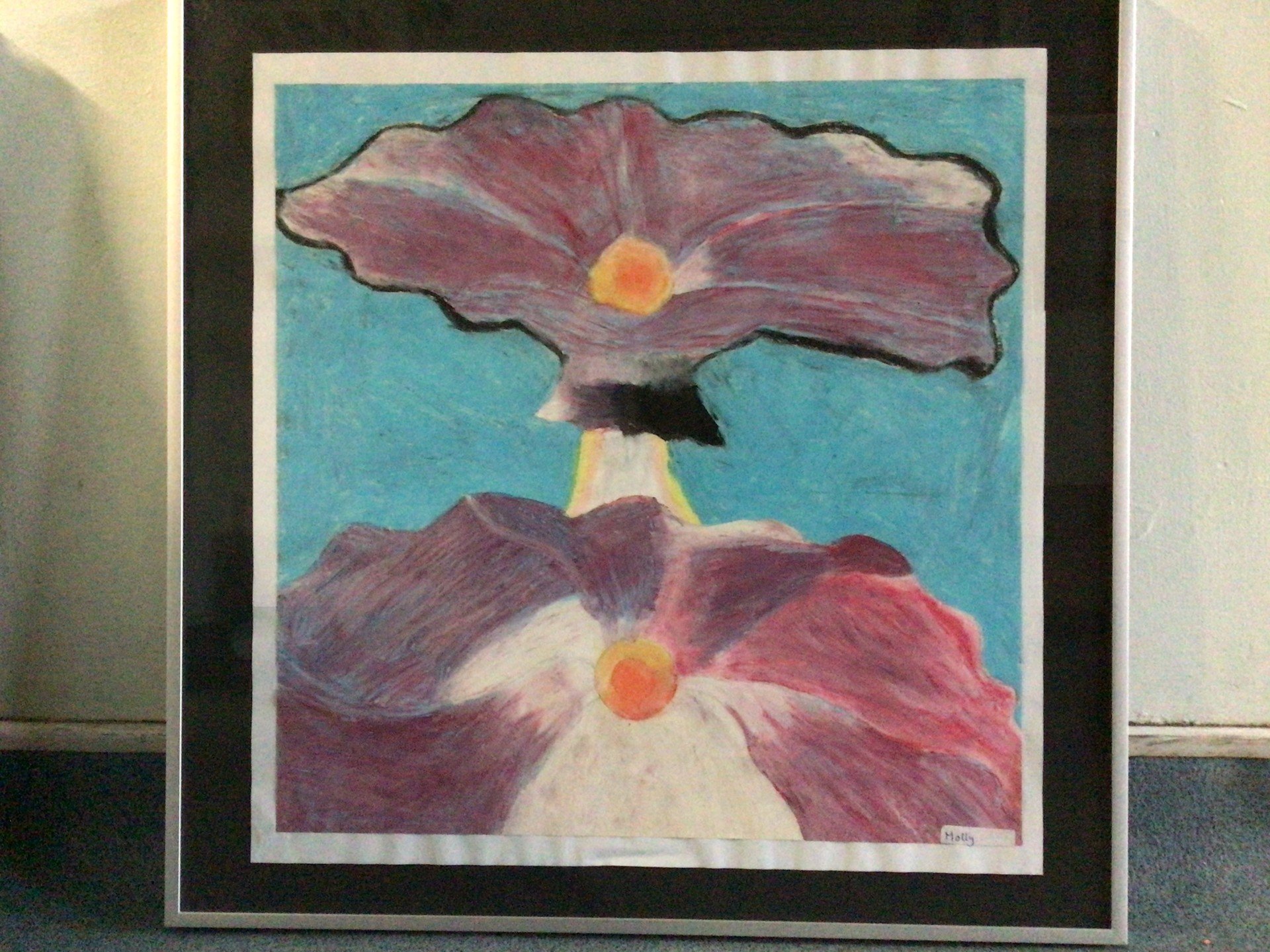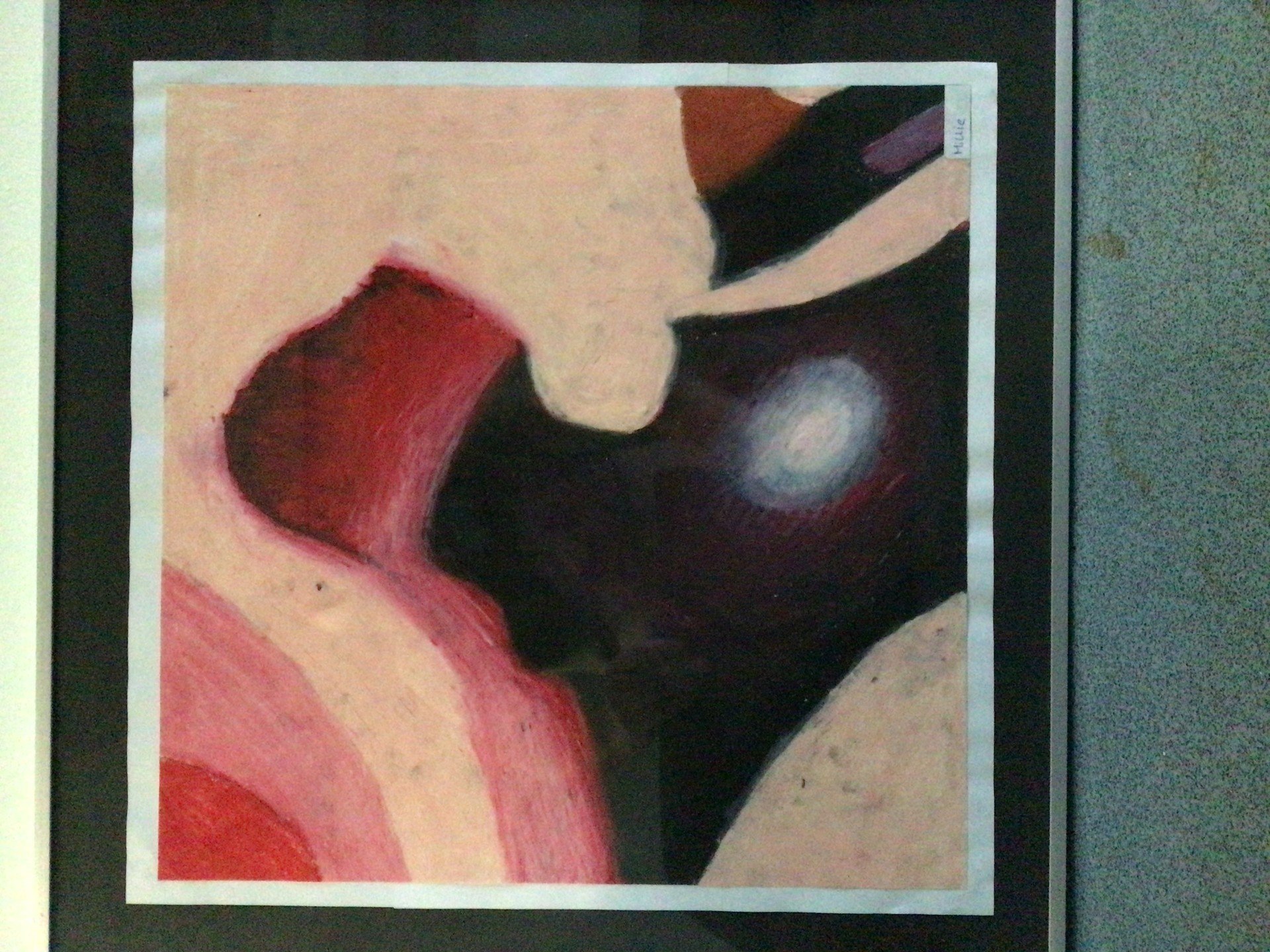 Fifteen Year 5 pupils have recently been working very hard to rehearse and record two South African songs – Thula Mama and Freedom is Coming – as part of a Warwickshire Music singing project. The group met for five consecutive Wednesday lunch times to rehearse and learn about apartheid in South Africa. Mothers would sing the gentle lullaby "Thula Mama" to provide comfort in times of separation, and the Year 5 vocal bubble learnt to sing the words in the South African language of Xhosa.
The second song was called "Freedom is Coming", and although also South African, the words are in English. This song provided a jubilant contrast.

Our two recordings are above, and the final video can be viewed using the link below.
Warwickshire Music Singing Project
Mrs Fairbrother would like to extend her heartfelt thanks to the Year 5 pupils who participated in this project. The girls achieved a high performance standard in only a few rehearsals. Well done!

Draycote Water Sponsored Walk - 22nd June 2021
Thanks to all the volunteers who accompanied the children from the junior school on the walk. The weather was perfect and the children did well. Thank you for your sponsorship money, which is to be split between the Diabetes charity and school fund... we have raised over £1000!! School Council will be meeting to discuss how this money should be spent.

Space Projects - Year 5 - Summer 2
Finally, after almost a year of the entrance hall looking empty, it is again filled with the most amazing space projects from year 5 - they are out of this world!! The projects included mobiles, painting, projects, games and models, and as always the standard and creativity were amazing. Well done to all of the year 5's.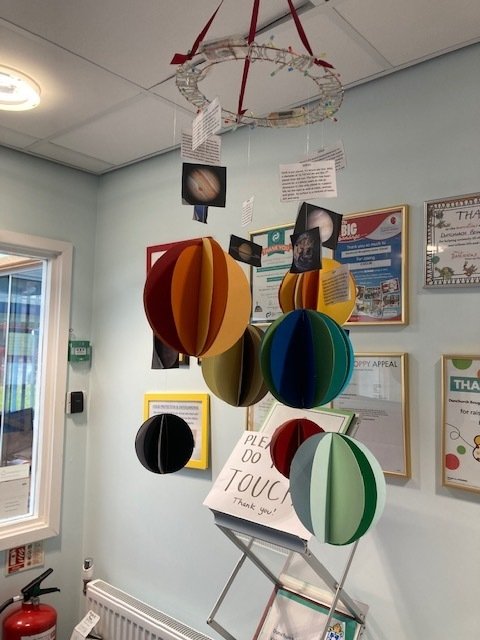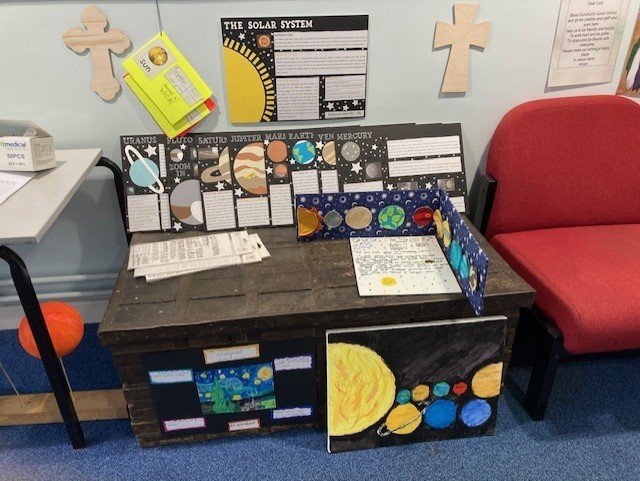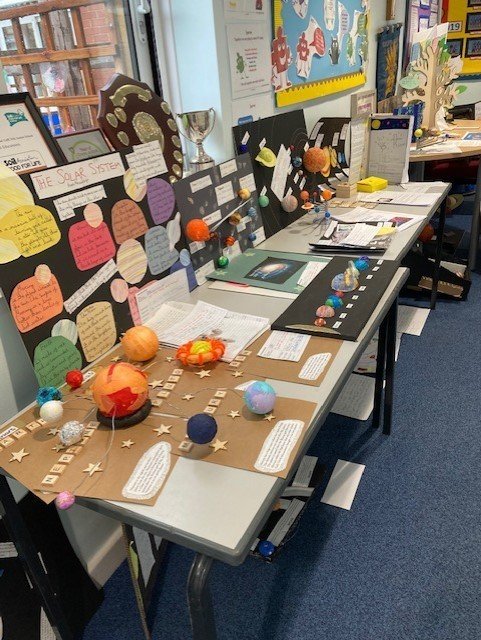 Hedgehog Visit to year 3 - June 16th
Year 3 had a very special visitor this week. They are reading the story "The Hodgeheg" by D King-Smith and to see a real one was such a treat. They listened really attentively to the lady who told them all about her work to rehabilitate poorly hogs and to also encourage people to have more hedgehog friendly gardens. The children will now use this experience to write non-chronological reports.

Hoop Guy - 13th and 14th May
We were visited by Hoop Guy, a professional Hula Hooper, who reached the semi-final of Britain's Got Talent in 2017. Each class enjoyed a fun and active hula hoop session, developing their hula hoop skills and learning fancy moves and tricks. A big thank you to the PTA for paying for this.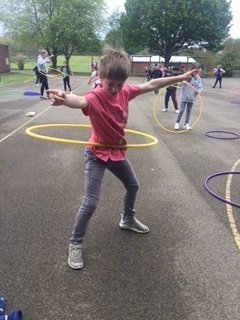 SPACE
Space Camp - Year 5 - May 2021
The original space camp was delayed due to COVID and although the children couldn't sleep over, they still had a fantastic evening of activities. First they created rockets to launch, designed constellation booklets and constructed orreries. Then they headed outside to play parachute games, create a scaled map of the planets and complete astronaut training. The final activity was a much needed toasted marshmallow and hot chocolate!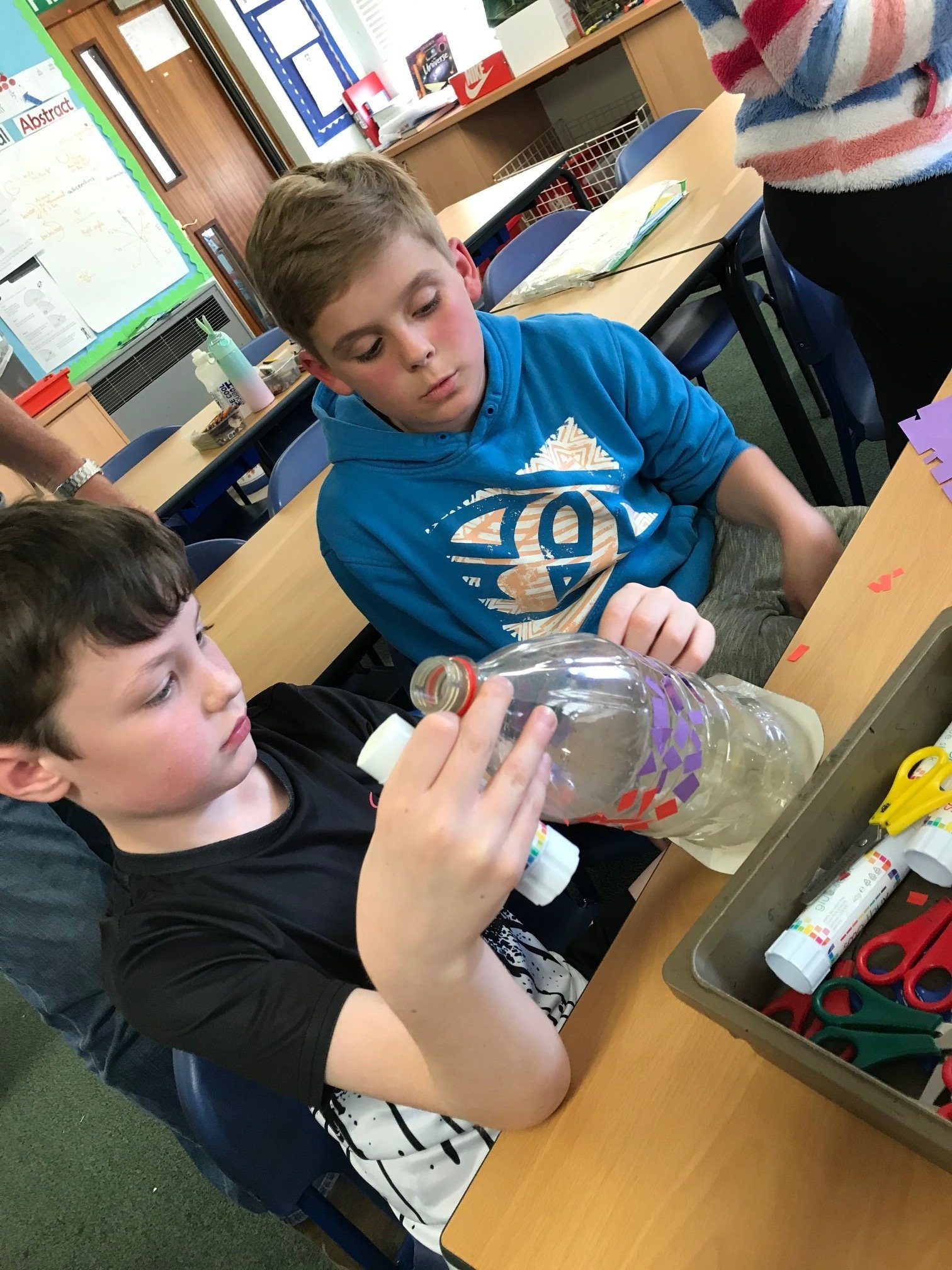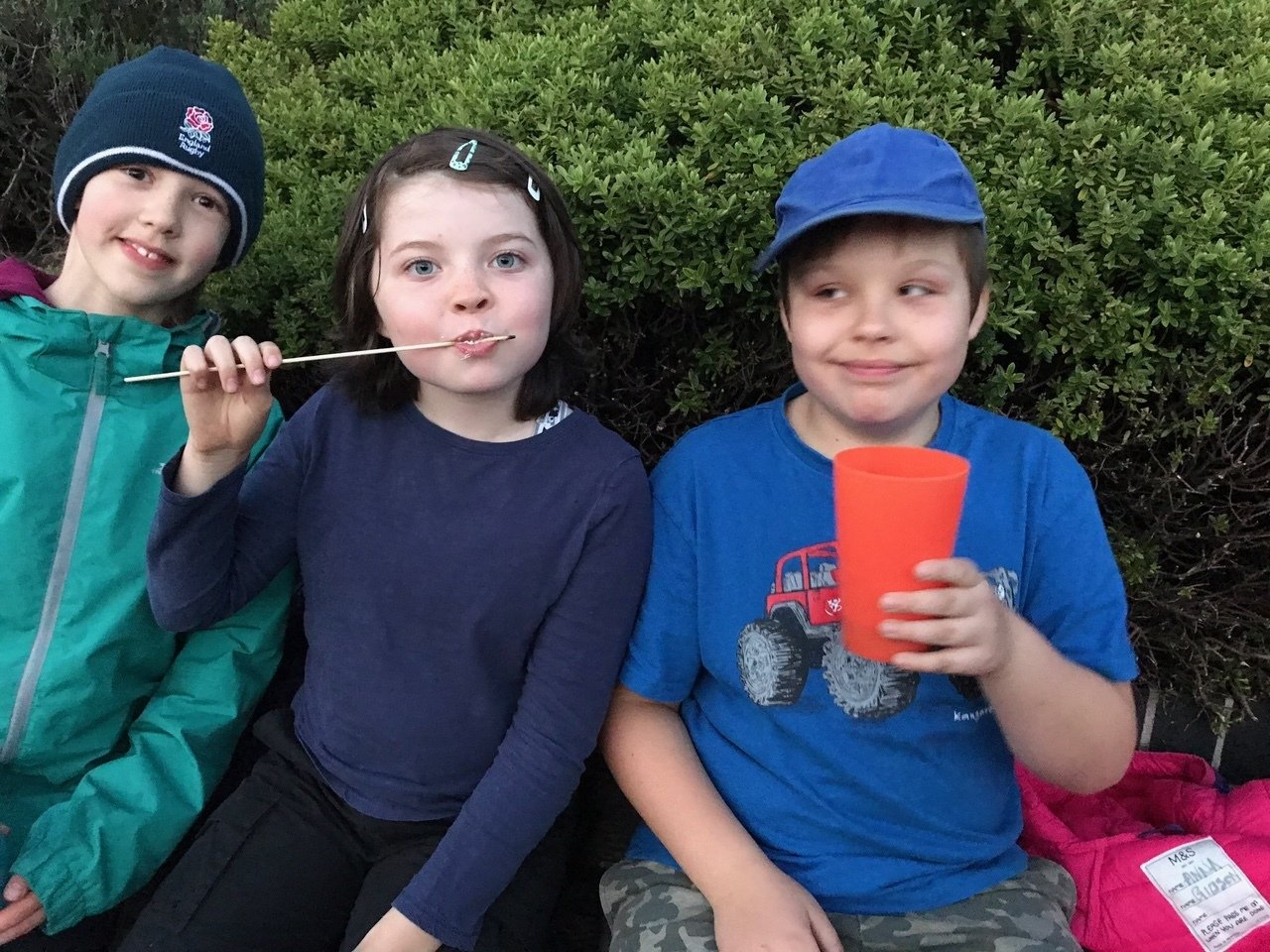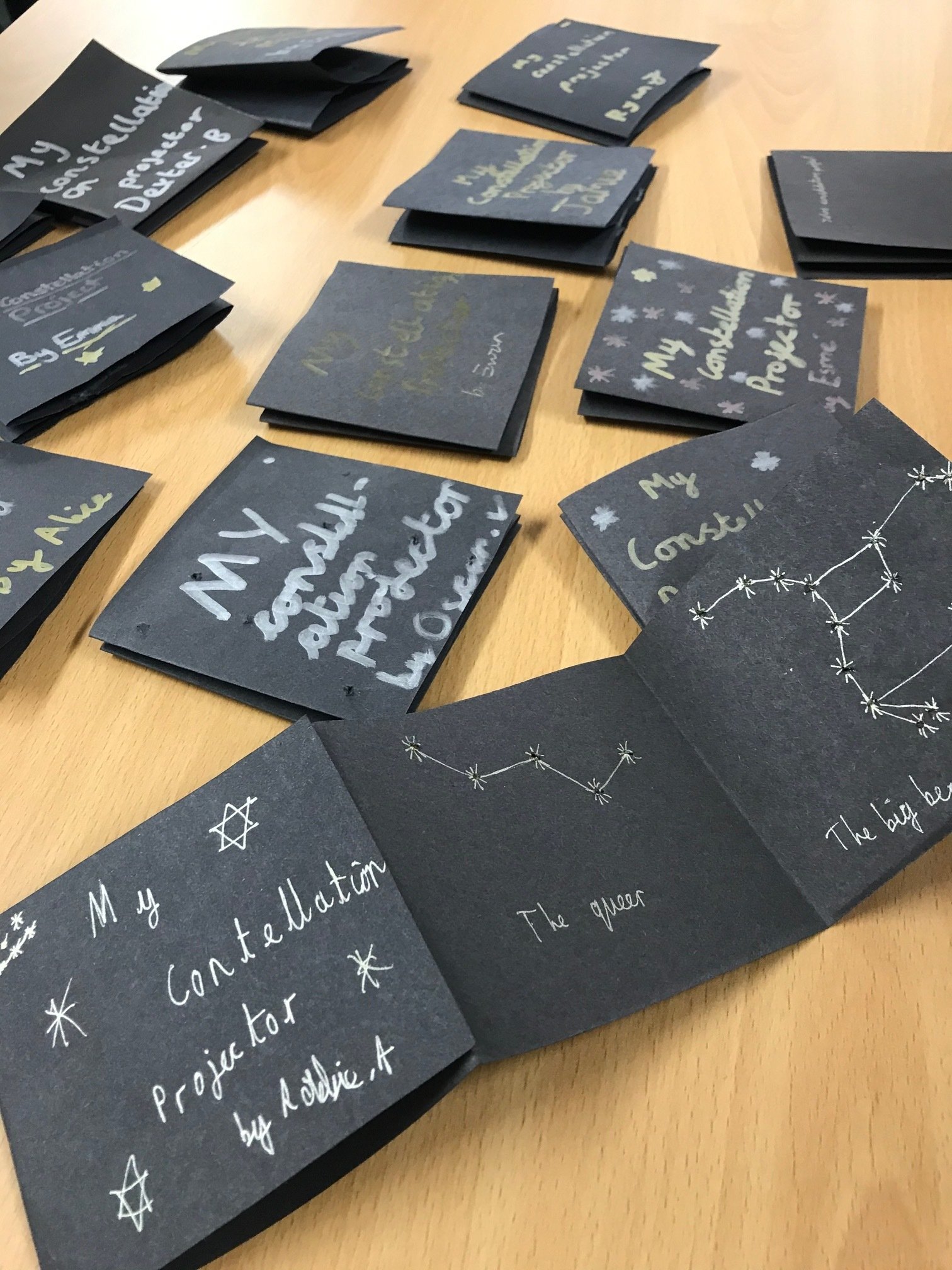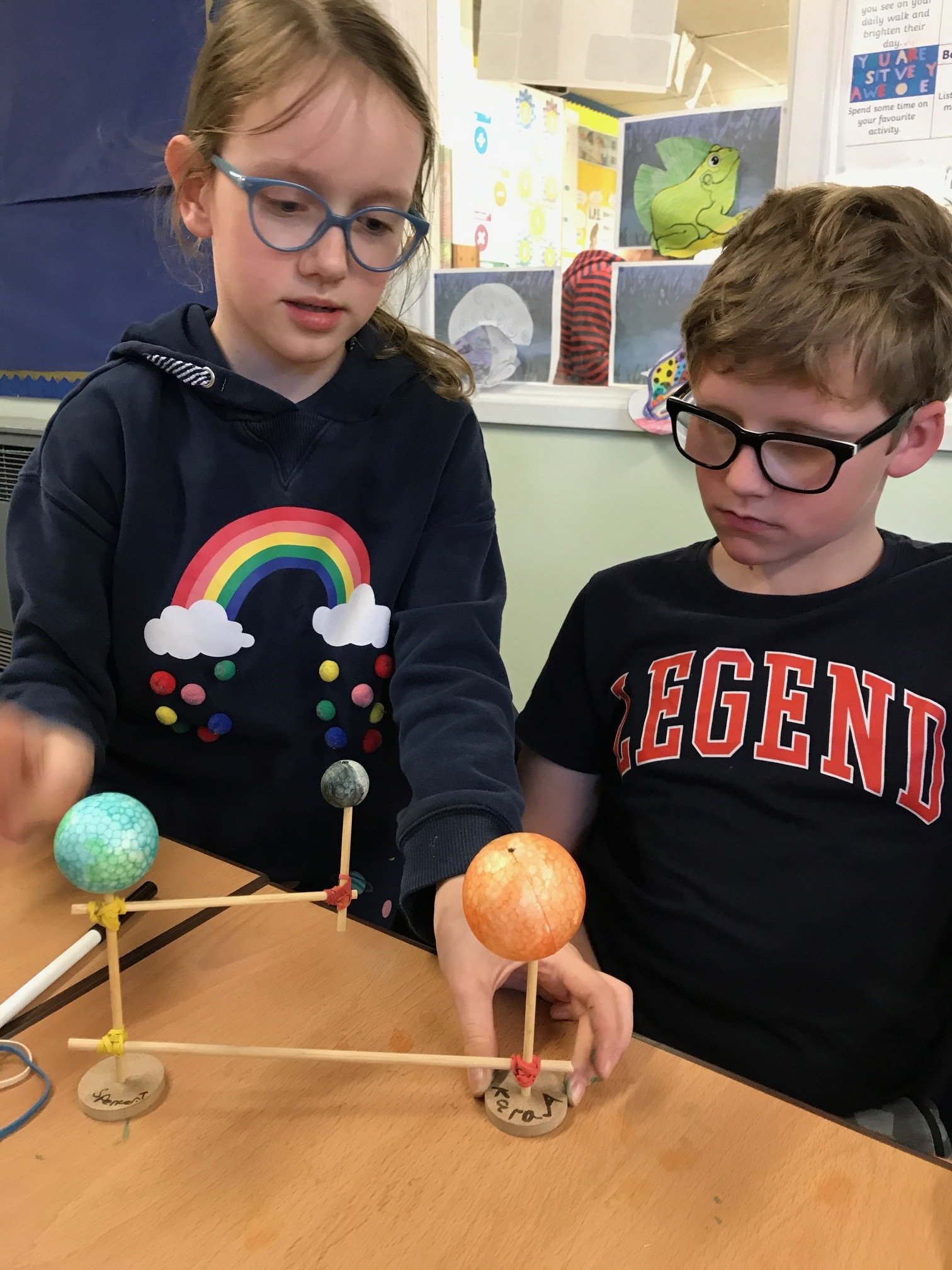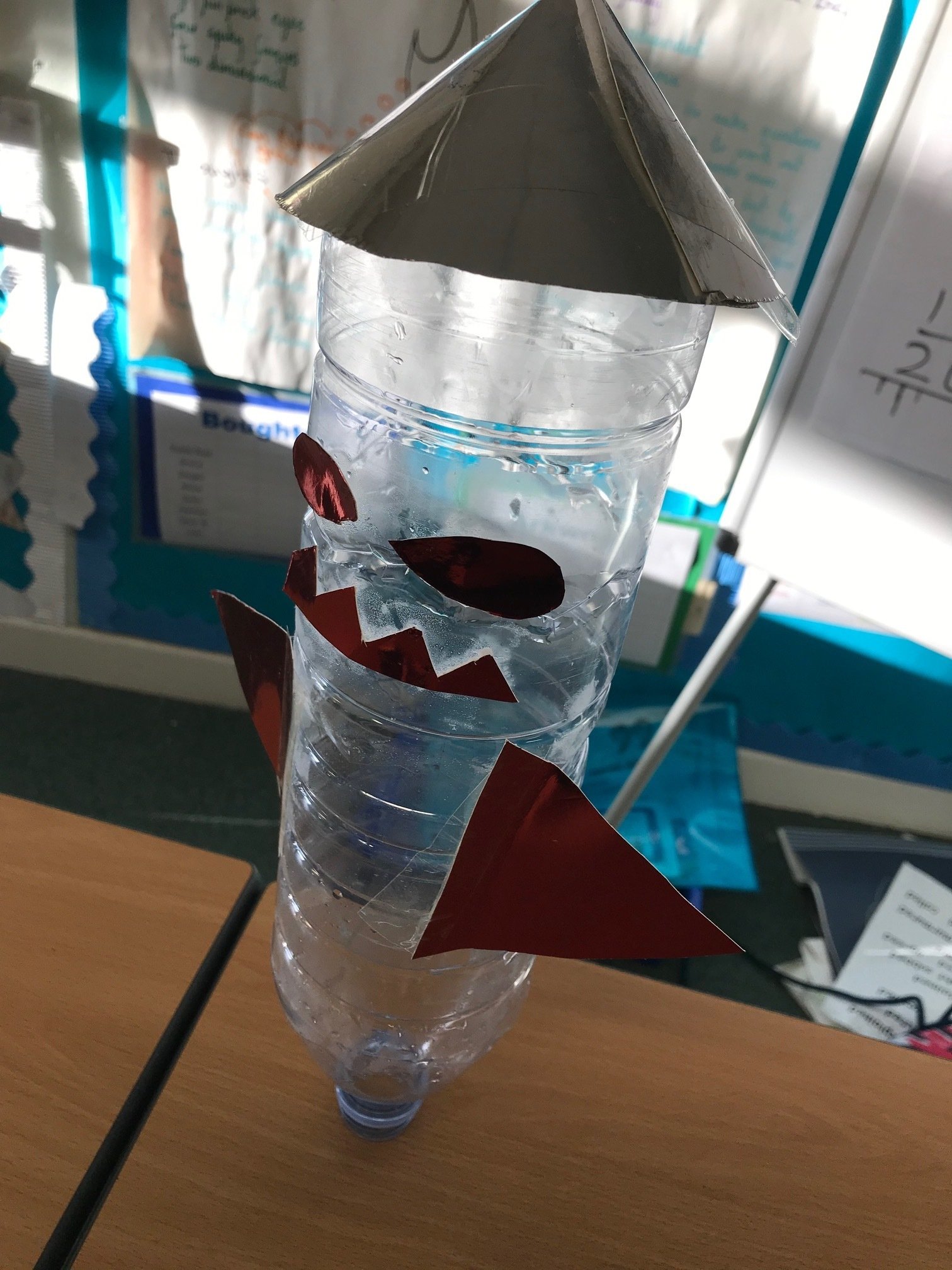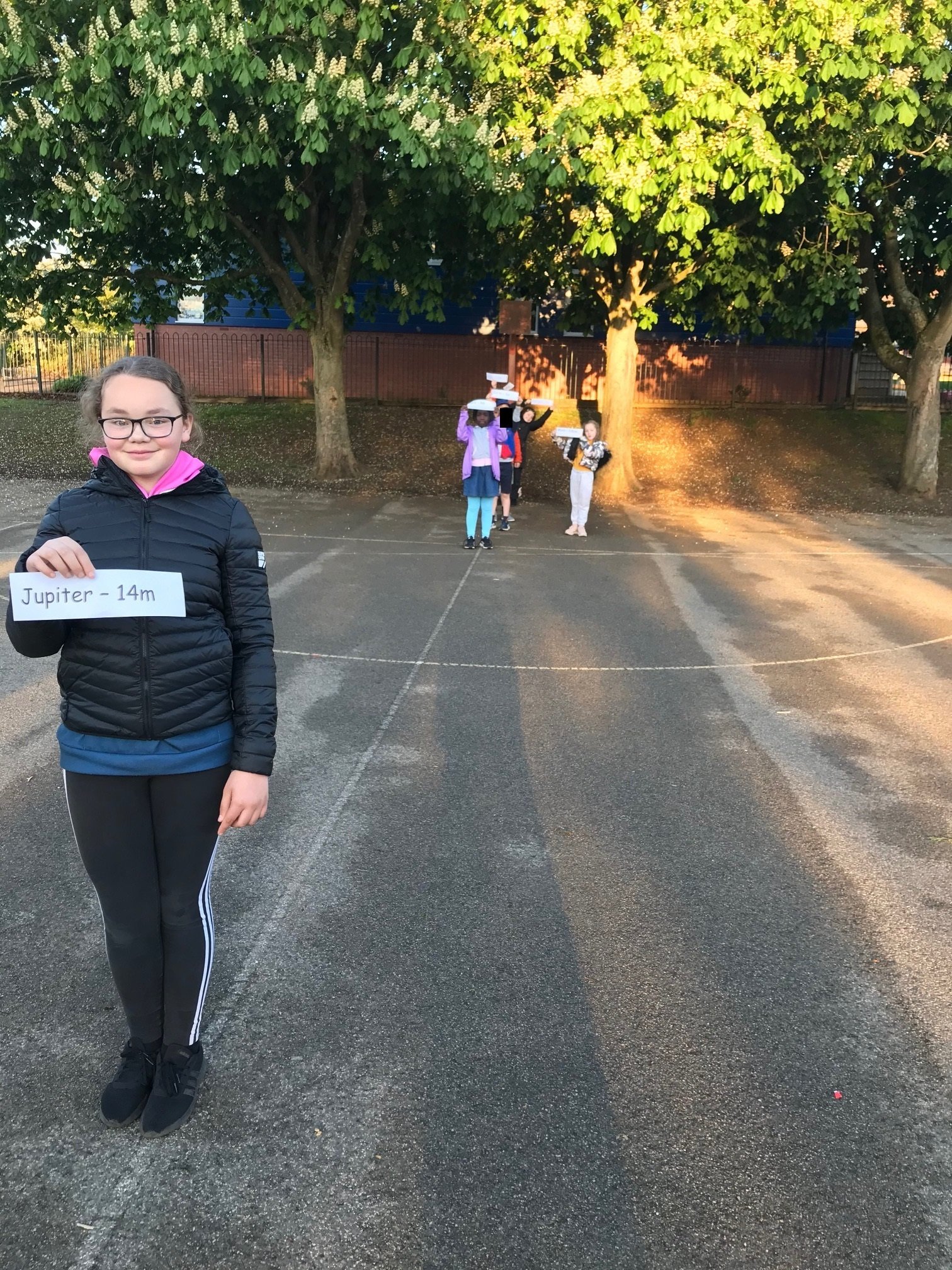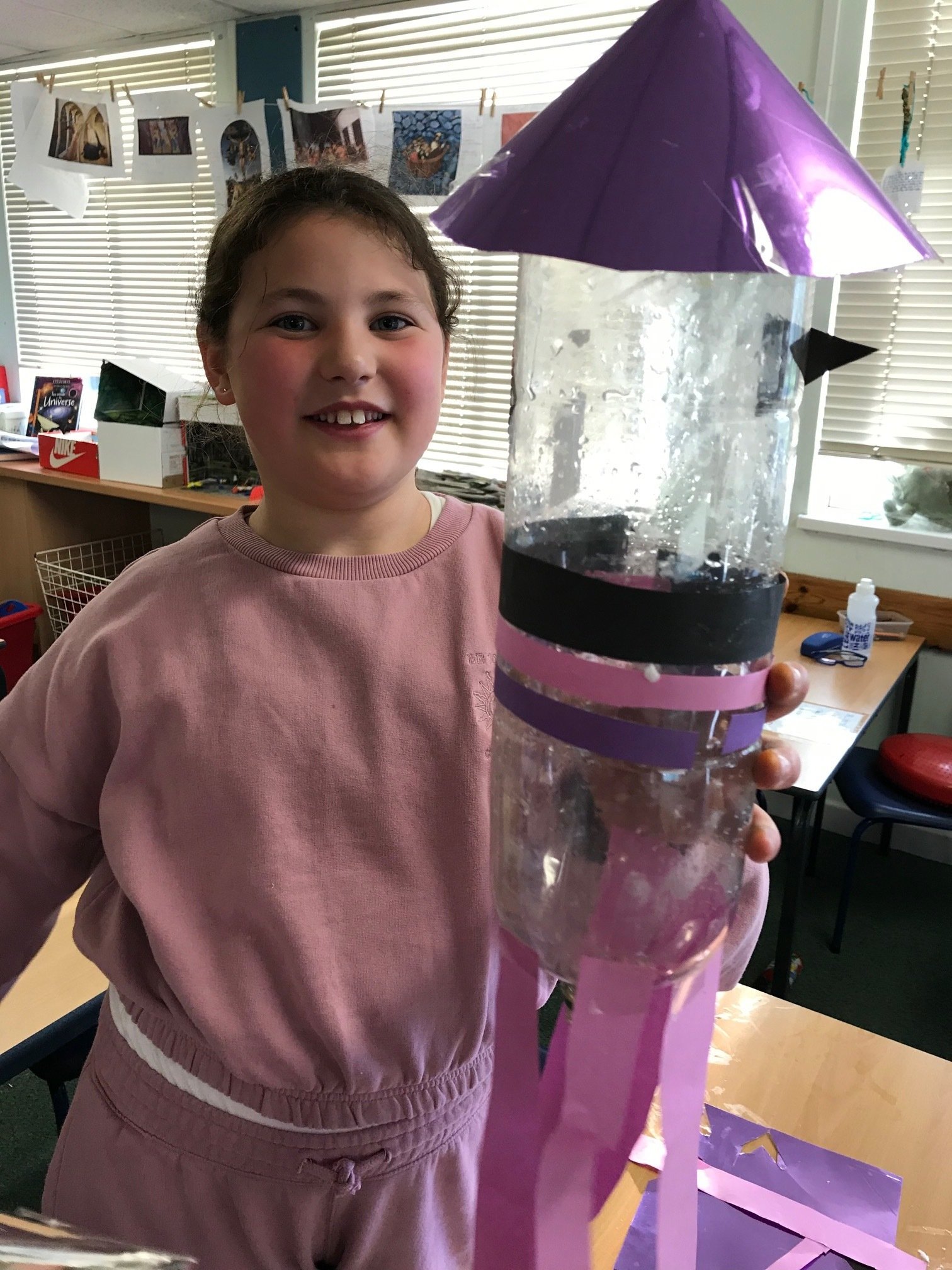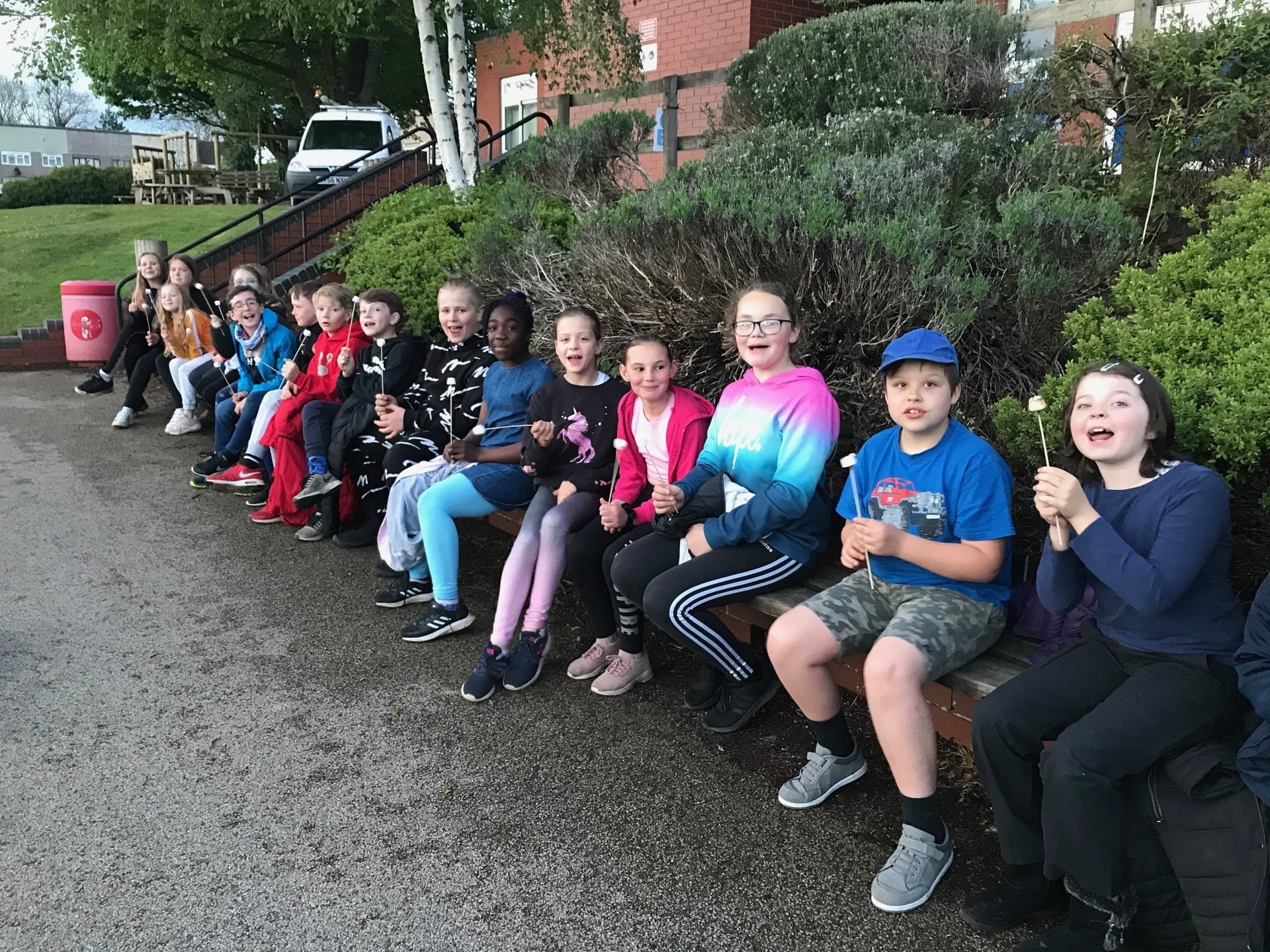 Science - Chicks - April 2021
Year 5 have welcomed 10 chicks to the DBJS family. They arrived on Monday as eggs and the pupils have been able to observe them hatching and growing. They are currently in an incubator outside the year 5 classroom, so that the children can keep a close eye them. The chicks are helping the children to learn about lifecycles first hand.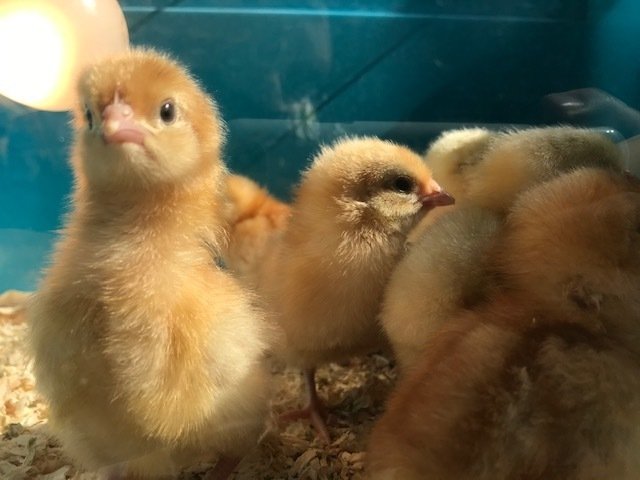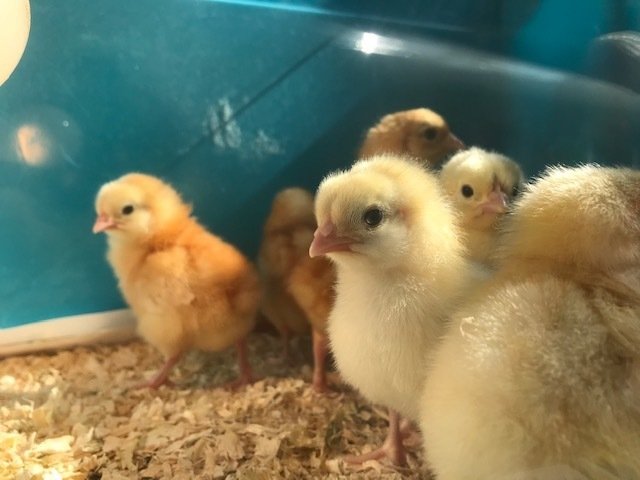 Walking the way of the cross activity - 27th March
St Peter's invites you to walk the way of the cross through their churchyard. From the 27th March till Easter there will be 15 pictures placed in the churchyard for you to find. Each image has a QR code for you to scan which will take you to a page of readings, reflections, prayers and questions to help you ponder the Hope of Easter. Click here for more information.
Whole school Church visits - Wednesday 31st March
Keeping within the COVID restrictions, we were delighted to be able to take all the children to St Peter's Church to hold our annual Easter service. Jenny, from year 6, played her violin beautifully at each service and the children listened to Rev. Pat and Steve talk. Children from each year group did reading to tell the Easter story.
Welcome Back - 8th March
We are delighted to have all the children back in school this morning. I was greeted by a sea of smiling facing and children skipping back through the doors. We understand that some children are feeling nervous about returning but we have lots of activities in place to help settle them back in.
World Book Day - Thursday 4th March
This year, following a school vote, we based our WBD activities around the picture book Tuesday by David Wiesner. Children complete a range activities including art and writing.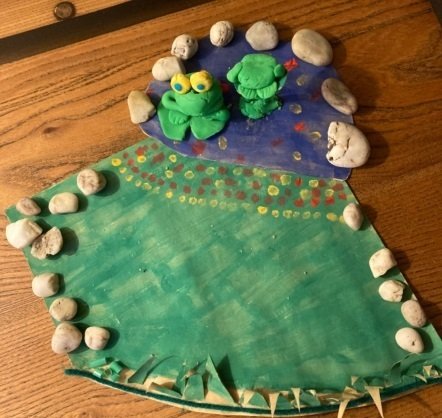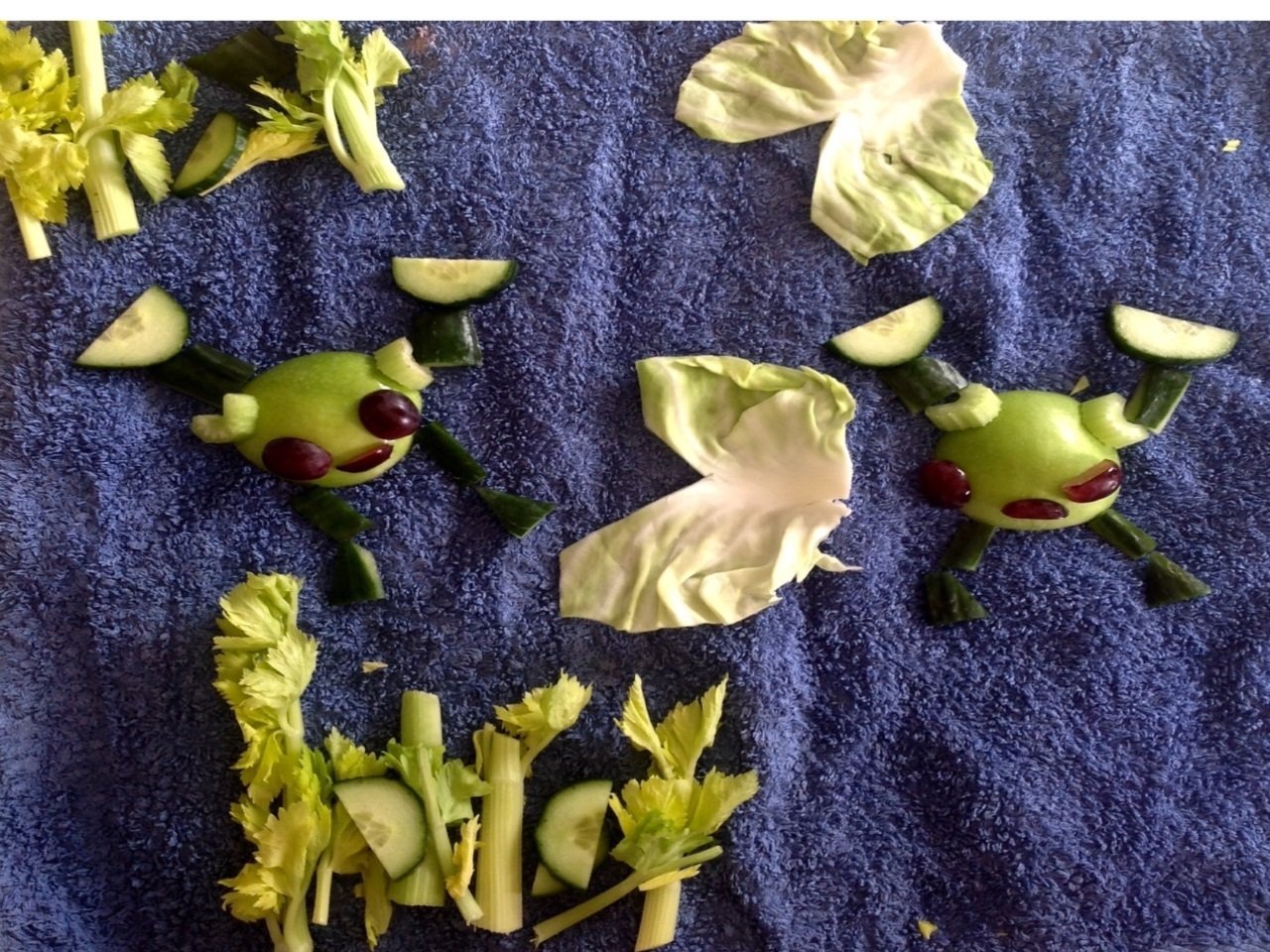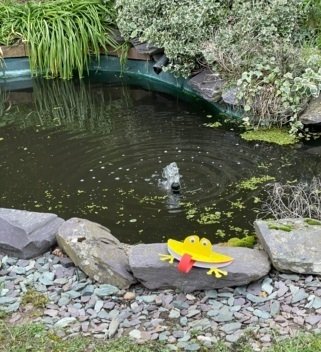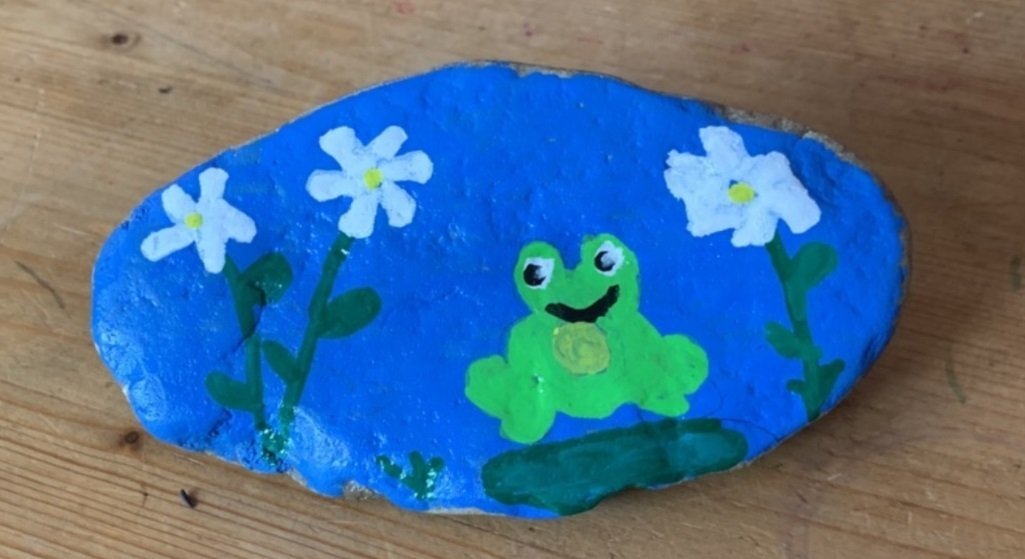 School Sports Partnership - A-Z Challenge
space
January - Year 6 RE - Strong Foundations
Year 6 spent an RE lesson exploring the importance of Foundations for Christians after reading Matthew 7:24-27 'The Wise and Foolish Builders'. Children in school tried to construct the tallest towers with classroom objects. It was great to see children joining in from home as well.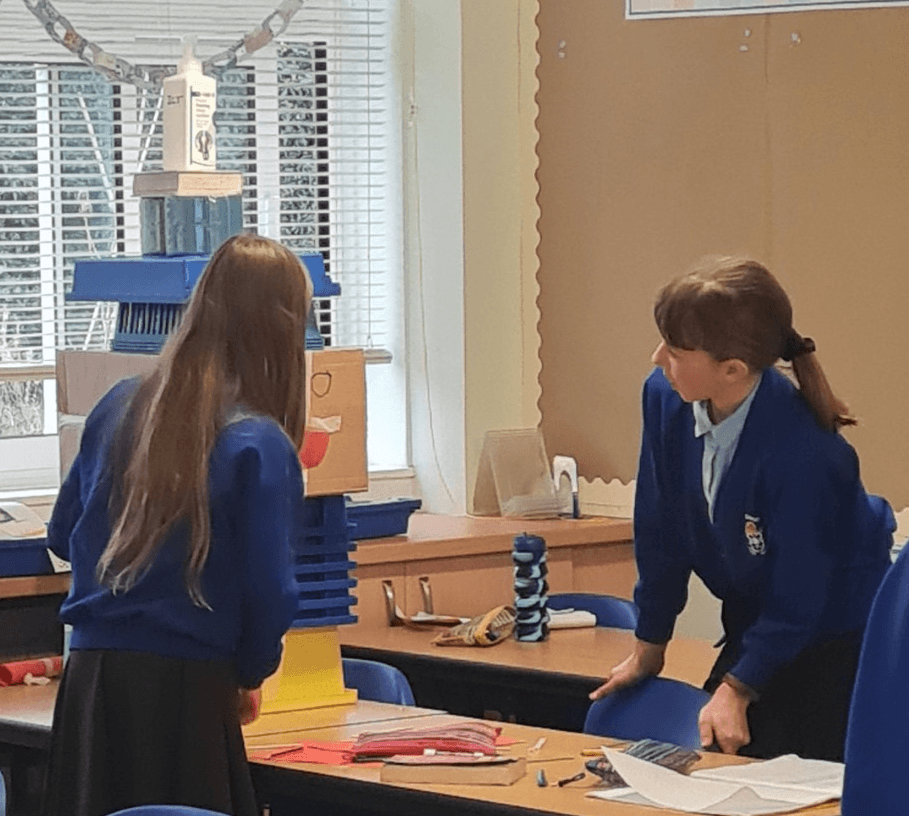 Hearts for Homes
Virtual Christmas Dinner - Wednesday 16th December
Children in school enjoyed a Christmas dinner with a twist this year. Instead of the traditional turkey Christmas dinner, they tucked into a pigs in blanket hot dog! We were very sad that some children and staff in year 3 were isolating, but luckily many of them joined in the festivities from home.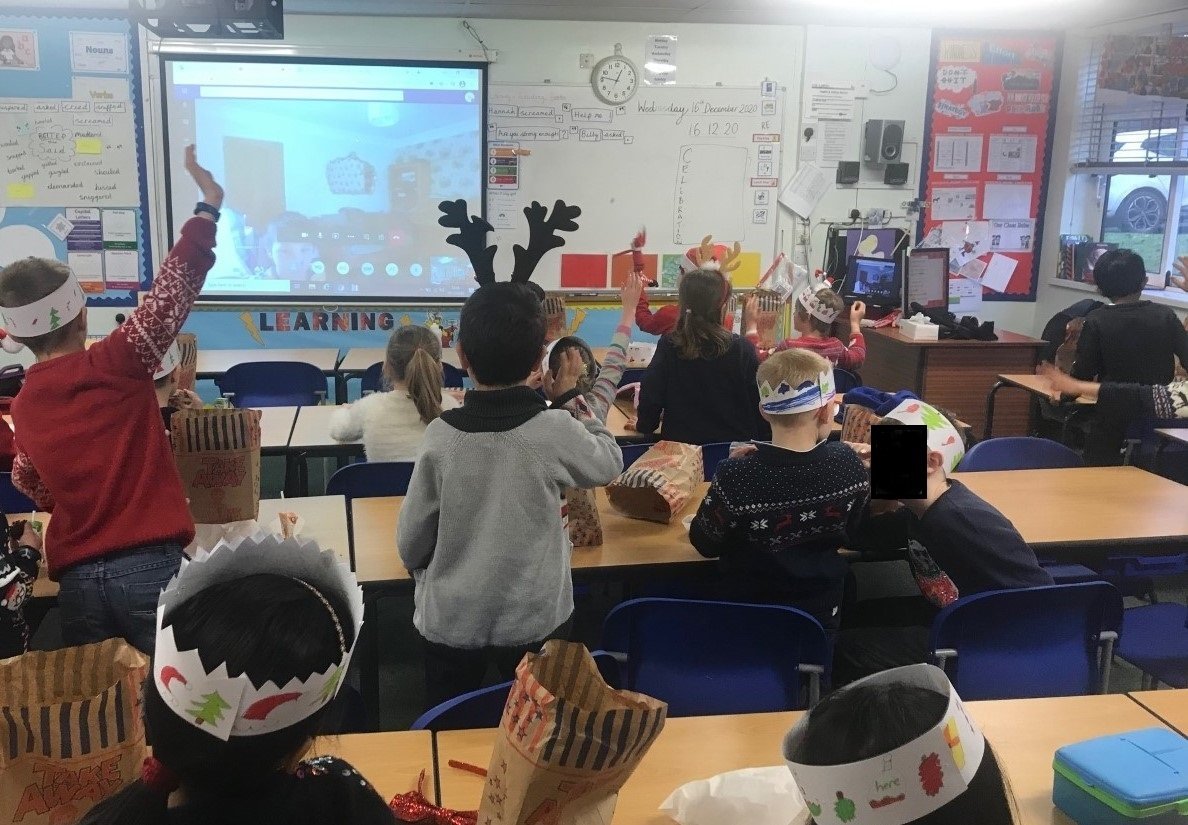 Church visits on 16/12/20 and 17/12/20
Thank you to Mrs Fairbrother, Mrs Broderick and Reverend Pat for organising our church service. Although, we could not sing, it was a special time for everyone. Thank you to all the readers and Jenny for playing the violin. Also, a big thank you to those parents who helped.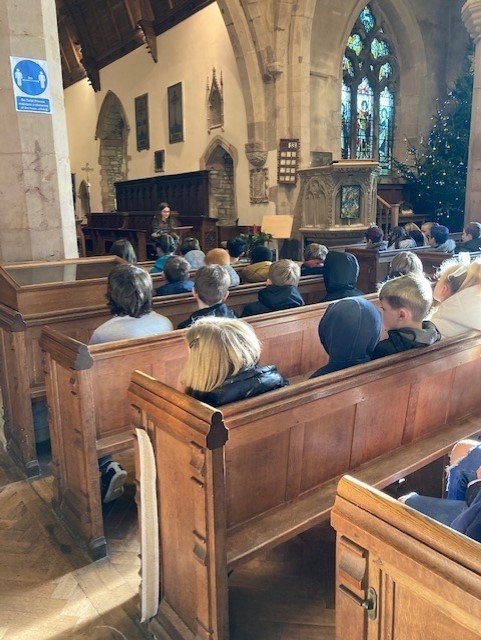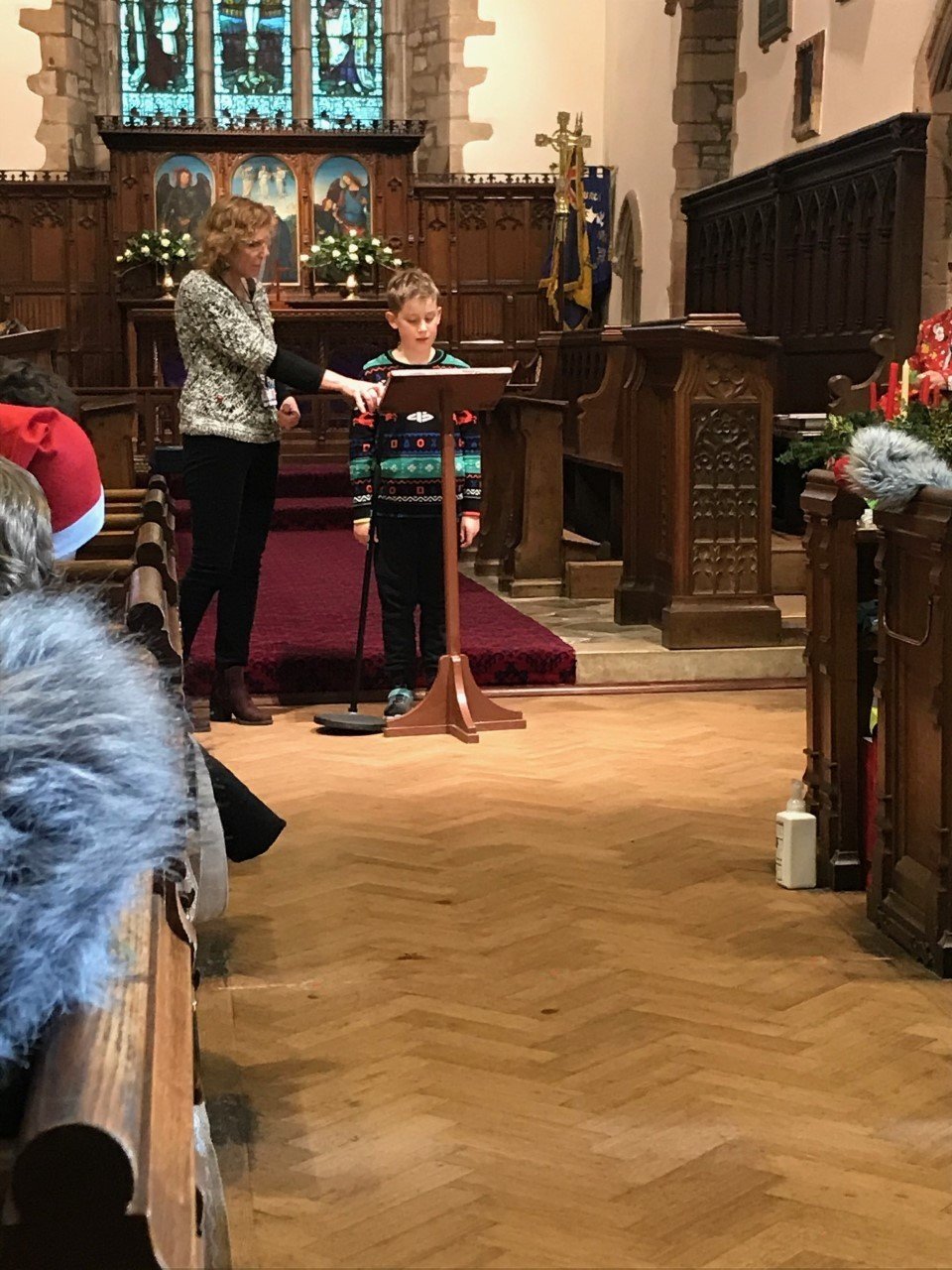 Here is the link to donate money. https://www.justgiving.com/fundraising/shortsandhoodies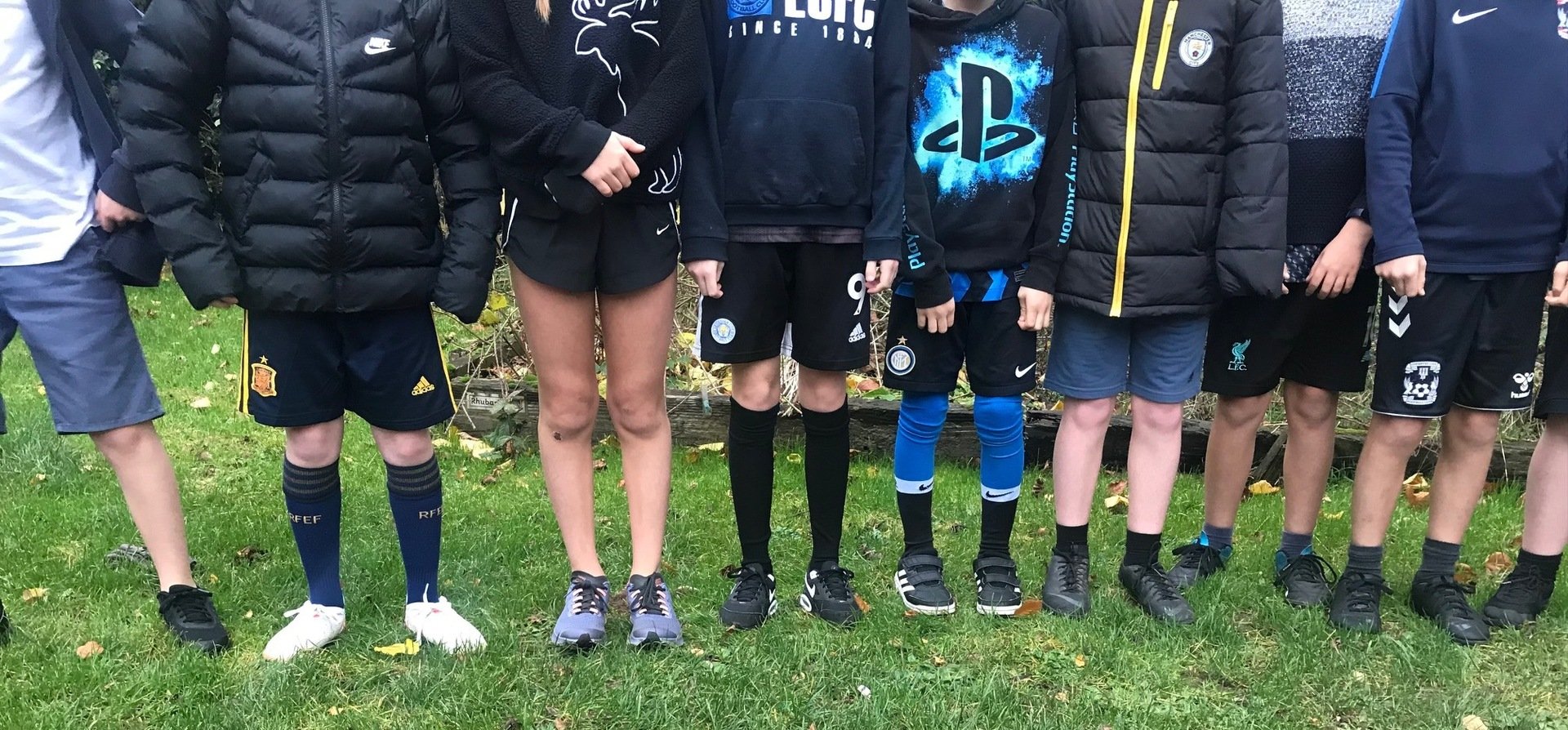 November 6th 2020- Midsummer Night's Dream performance
Year 5 have worked very hard to put on a performance of "A Midsummer Night's Dream" by William Shakespeare today outside. The children have worked hard to learn lines and stage directions. In music, they have added some motifs to compliment the drama. Mrs. Miller really enjoyed watching part of this today. Well done to all the children and teachers who prepared this.
------------------------------------------------------------------------------------------------------------------------------------------------