Latest News - 2021-2022
SUMMER TERM 2022
SPACE
The Haven
We are excited that work has started to create The Haven, the Federation's brand-new outdoor learning area. Some of the highlights include: an outdoor classroom; storytelling area with fire pit; spiritual garden; den building zone and pond with pond dipping platform. The build is being funded by Dunchurch Boughton Trust, along with contributions from Dunchurch Parish Council and the Dunchurch Festival Group. We are extremely thankful to these groups for enabling us to create such an amazing area, which will benefit everyone in our community. Further information is attached below and the full design can be viewed here:
https://online.flippingbook.com/view/223368604/
It is expected that the project will be complete within 6 weeks (from 09/05/2022)
The Haven Publicity Page 1.pdf
The Haven Publicity Page 2.pdf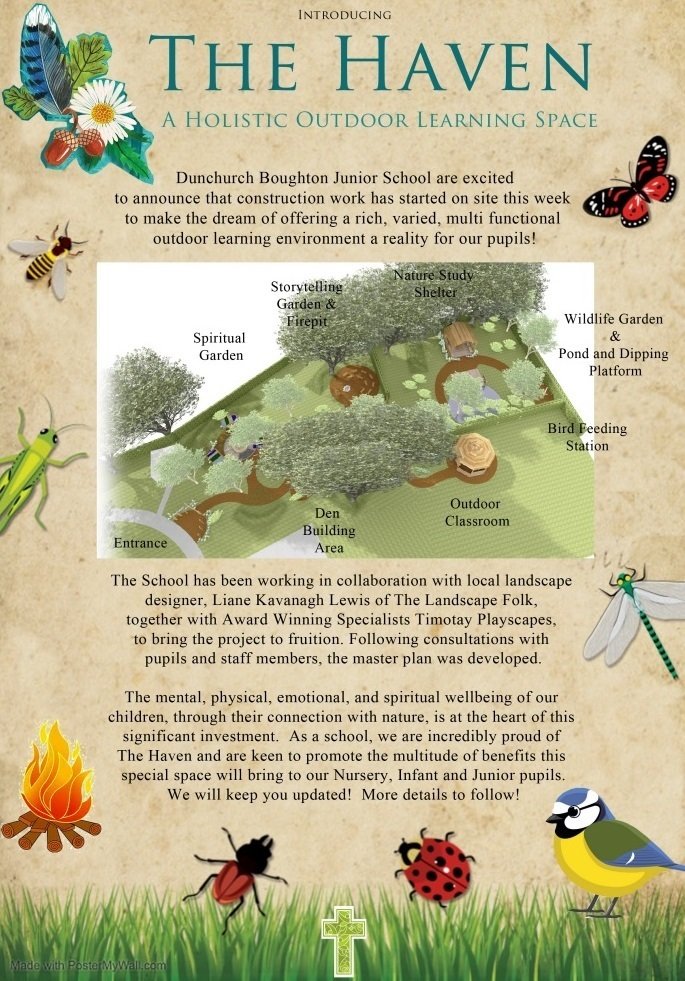 Week commencing 18th July/ School Year Highlights
A message from Mr Andrews:
What a year it has been across the Federation. I can't quite believe that 12 months has nearly passed since starting in the role.
Firstly, it has been a real pleasure and privilege to start learning about the schools and the wider community. Pupils, families and staff continue to be extremely welcoming to those new to the schools and this makes it all the more special to be part of. Family support is key to any successful school and we are blessed to continue to receive yours.
There have been many highlights, from trips and assemblies to seeing the children thriving in the classroom. All of this has been made possible by the fantastic staff we have. Today we have said goodbye to our Year 2s and year 6s, as well as a number of staff. While some are moving onto further learning/roles in the Federation, others are leaving permanently and we would like to wish every pupil and child the very best as they continue in their adventures.
While I'd like to spend further time reflecting and sharing thoughts, a break is now very much needed. Firstly to recharge and then to go again from September. We have much to look forward to but for now, it's time to rest a little.
Wishing you all a wonderful break – whether you get away on holiday or spend time together as a family, we wish you all the very best.
Courageous Advocacy
This team of Year 6 pupils raised money to buy and make pencil cases for children who are refugees and who are living at Dunchurch park Hotel. They also have sent letters and cards to the families. Today, the refugees visited our school and met our children. This project was supported by Mrs. Carvell and we are very grateful for her encouragement and guidance. We are very proud of these pupils, who have shown Courageous Advocacy and worked with our local community.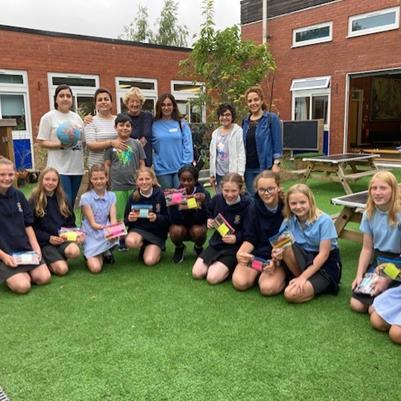 Summer Term Sports Round-Up
After a long two years, it has been great to finally have sporting events back up and running again. This term, the children have had lots of opportunities to compete in a variety of sports and we certainly have lots to celebrate!
Rugby Schools Athletics
Children from Years 4, 5 and 6 competed against different school in Rugby at The Queen's Diamond Jubilee Centre. Events included, the 85m sprint, 600m, high jump, long jump and throwing. Dunchurch performed incredibly well and won lots of medals included many golds! It was amazing to see great determination from all children involved.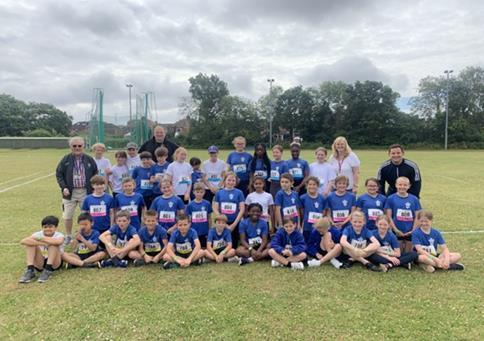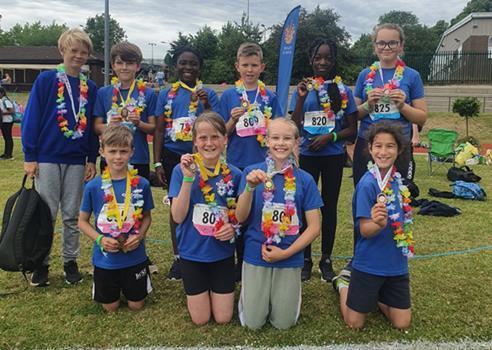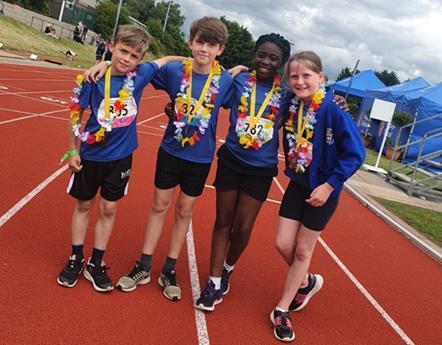 Year 4 Quad Kids
Thirty Year 4 children did incredibly well to win the district Quad Kids Athletics Championship and qualified to represent Eastern Warwickshire in the county finals. We travelled over to the Pingles Stadium in Nuneaton for the event and the children absolutely loved competing at such a top athletics arena. Every child competed in the 60m, 400m, long jump and javelin as part of the team event. Well done to everyone involved!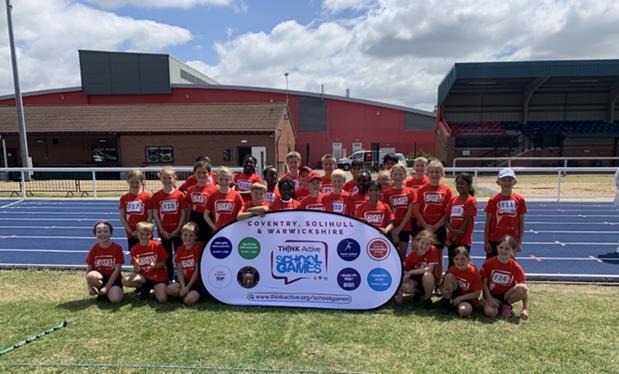 Warwickshire County Cricket
The Dunchurch Junior School Year 5/6 cricket team made it through to the county finals. They travelled to Edgbaston on Friday 15th July to compete. They played some really good cricket, winning all but one match in the group the stages and cementing their place in the final. Unfortunately, they fell short in the final losing by just a few runs. Nevertheless, this really was an amazing achievement to pick up the silver medal finishing second in the entire county. Myself and everyone at Dunchurch are immensely proud of the cricket team for their fantastic effort! All the best to the Year 6 children on their sporting journeys in their new schools - I know you will all be amazing! - Mr James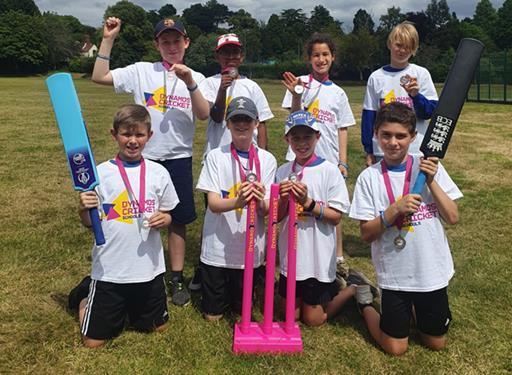 Sports Day
It was great to be able to get the children out for a last minute Sports Day yesterday morning! Every child competed in at least one race and the children had a great morning out on the field cheering on their friends in much-improved weather conditions!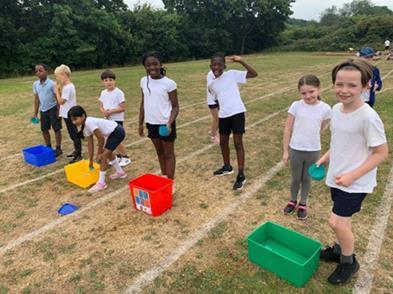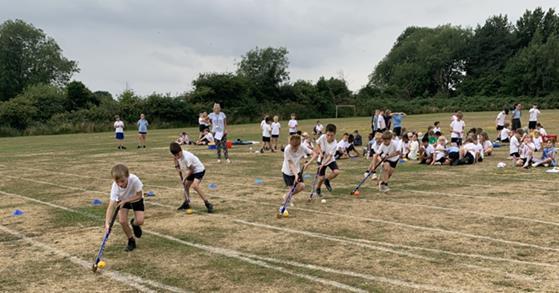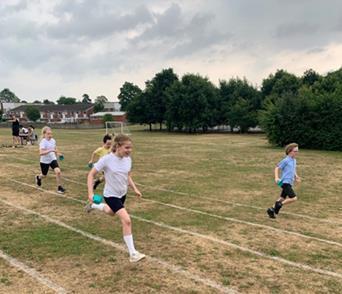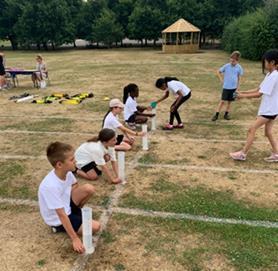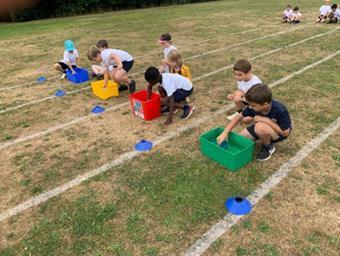 Music Round-Up
2021 – 2022 was the year we were all meant to be "getting back to normal", and for a discipline like music, which had been heavily impacted by COVID-19 restrictions, our achievements this year seem all the more sweeter. It's hard to remember that we were still navigating various limitations in the Autumn term, but the first time I heard children singing in assembly again genuinely brought a tear to my eye! It has been so wonderful to have weekly lessons back in the Music Room, and our focus has been very much on developing positive growth mindsets and being open and honest about dealing with performance anxiety.
Year 3 really seemed to blossom during the Ode to Joy topic, and Year 4 have once again had the opportunity to engage in weekly Upbeat brass lessons. A standout project for Year 5 was their 12-bar Blues scheme, where they delved deep into the history of this landscape-changing genre. Year 5's engagement in both the practical tasks and serious discussions on the impact of the slave trade was truly incredible. As for Year 6, well, what can I say? I have had the pleasure of teaching you since you were in Year 3, and I will honestly miss you all. Thank you for your curiosity, enthusiasm and for many, your unfailing commitment to extra-curricular activities over the years. Oh, and to the current Year 6 pupil who once referred to a bassoon as a "baboon" when they were in Year 3 (you know who you are), please know that this will continue to make me chuckle for years to come!
This year's musical highlights have been:
- Singing in assembly and Collective Worship.
- Dunchurch Nativity – original music composed and performed by our Year 5 & 6 Music Ambassadors.
- Christmas and Easter church services – various performances by Year 4, 5 & 6 Music Ambassadors (again, with specially-arranged/composed music).
- Christmas productions – Year 3 & 4 Stable Story and Year 5 & 6 Scrooge – our best festive shows yet!
- Guitar Showcase (April)
- Late Spring Music Concert (60+ pupils involved from Year 3 – 6)
- Rugby School Festival on the Close – Year 5 & 6 attended a variety of creative workshops
- Year 6 Leavers' Production – Robin and the Sherwood Hoodies.
Have a great summer! Best wishes - Mrs Fairbrother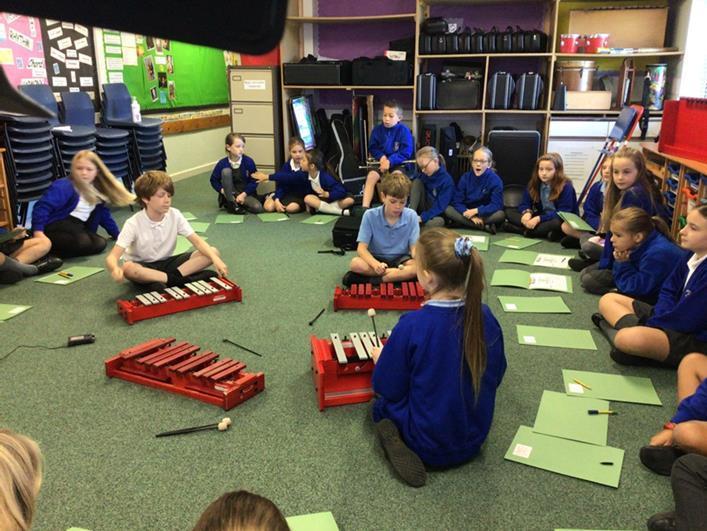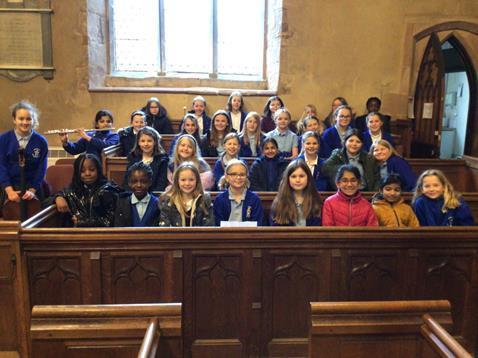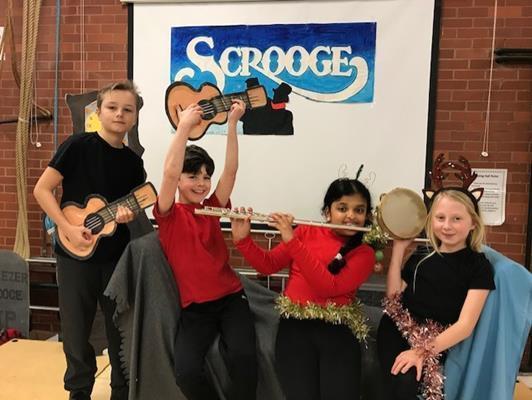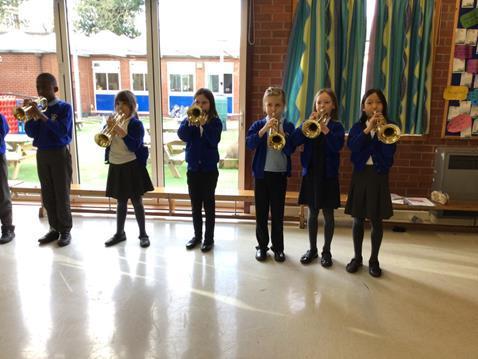 Year 3
Year 3 have had an amazing three terms! The start of the year saw the children welcomed into Dunchurch Junior School with some excellent Art and Science, as well as using Roald Dahl's The Enormous Crocodile to generate some excellent writing.
The Spring term saw both classes continue to develop their skills and abilities by examining the life and work of Mary Anning, as well as producing some superb non chronological reports on human teeth.
The Summer has seen us focus on History as we travelled back in time through the Iron, Bronze and Stone ages in Britain, with a side trip to the River Nile once we had finished our text of The Egyptian Cinderella. Some brilliant fiction has been produced, with the children writing alternative endings and retells of our class texts. In Maths, the children have built on their Key Stage One foundations by learning more about fractions, money, time and capacity. The children have also continued to build upon their arithmetic ability and it has been brilliant to observe the resilience shown by many as they mastered the formal column method. In Art, we have seen the children improve their observational sketches and watched them carefully draw self-portraits of the correct proportions before meticulously trying to mix the correct skin colour and tone. It has also been fantastic to spot some budding clay sculptors when we made the canopic jars. Outside of the classroom walls, P.E and games lessons have had the children play football, cricket, tennis and dodgeball, as well doing gymnastics and athletics.
All three class teachers, and other members of staff, have commented on the creativity shown by this year group. Both classes are always keen to immerse themselves in a good story and use it as a springboard for their own creations. Our unit on Pizza, which saw the children entering the competitive world of Italian cuisine, showed them at their best as they collated and shared ideas for company names, invented (interesting) combinations of toppings and made packaging. The end results were, by all accounts, colourful, thought provoking - and delicious!
From getting their hands dirty making fossils and pictures, to quietly focussing on producing quality writing, the children of 3JM and 3R/C have thrown themselves into the world of DBJS with kindness, humour and endless curiosity. We are all very proud of their achievements!
We wish you all a safe and healthy break and look forward to seeing the children around school in September -
Mr Coppillie, Mrs McMahon, Mrs Jenks and the Year 3 team.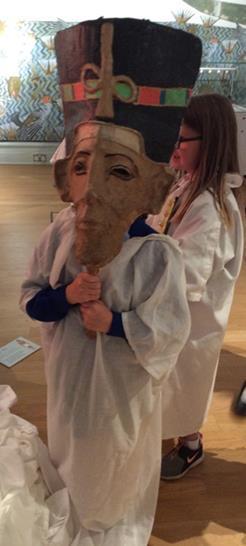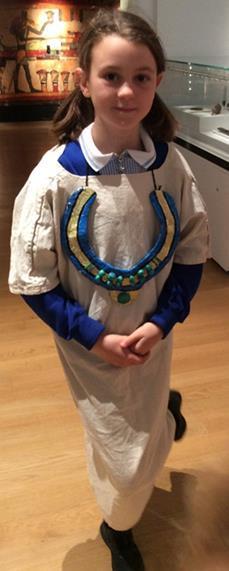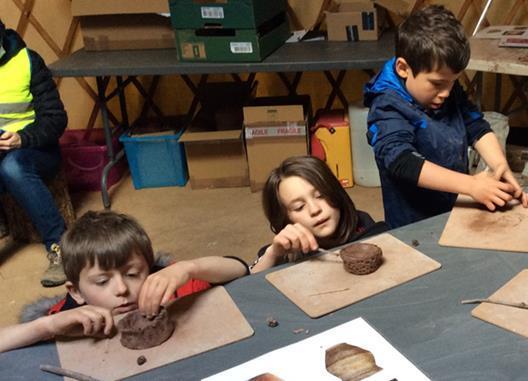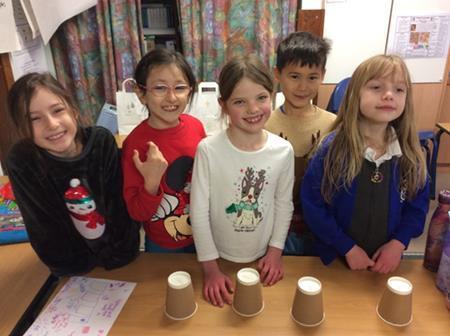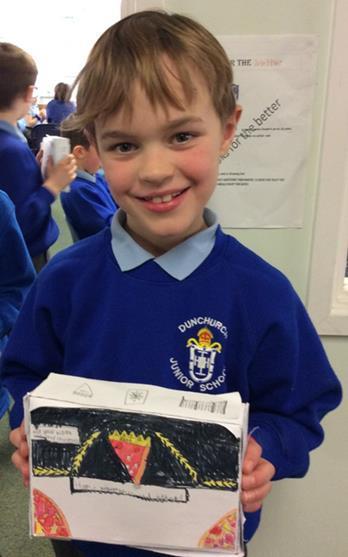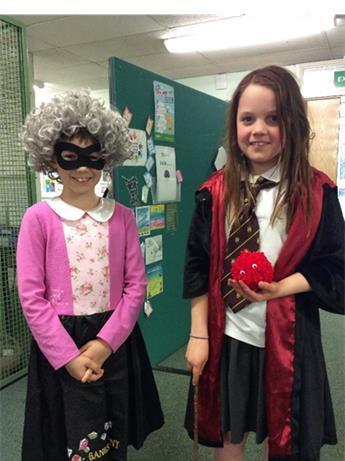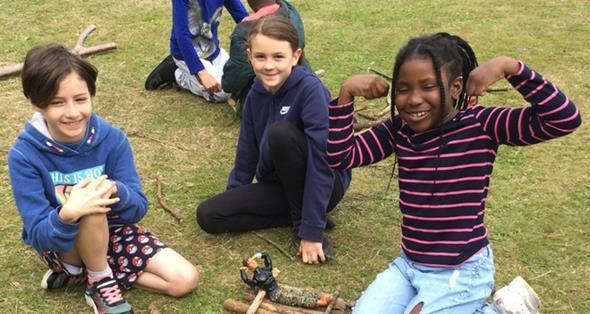 Year 4
What a year it has been! Year 4 have worked incredibly hard and Mrs Cooper and Mr Beasley have been so pleased with everything 4B and 4C have achieved. There have been so many wonderful moments to try and capture but below are some of the highlights….
Brass
The children have absolutely loved learning brass instruments this year. They have impressed both their brass teacher and Mrs Fairbrother with their determination, effort and excellent ears for picking up rhythms and tunes.
Fundraising
Throughout the year, the children have shown how much they enjoy the extra excitement we have had when raising money for both school and charities. The Christmas fair was a highlight for many of the children as was walking around Draycote. It has been lovely to see the children so eager to raise money for worthy causes. Thank you also to all the parents and carers who have helped support the children in this.
Trips
When we asked the children what they had enjoyed the most, it was most definitely the trips! Due to lockdown, it had been quite a while since the children had managed to get out and about. This meant that they thoroughly enjoyed our Autumn trip to Lunt Fort and to the many sport trips we have been on throughout the year. We were particularly impressed with the exceptional behaviour displayed by the children on their trip to York. They were well mannered, respectful and eager to learn throughout the trip and were a real credit to the school.

On a final note, Mrs Cooper, Mr Beasley and the whole Year 4 team would like to take the opportunity to thank you for the cards and gift we have received. We certainly do not expect such generosity but we are all very appreciative of this.
We wish you all a happy summer break!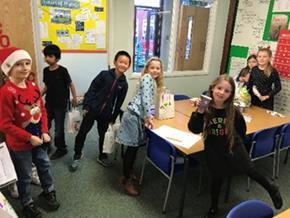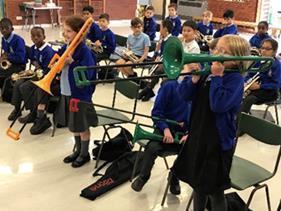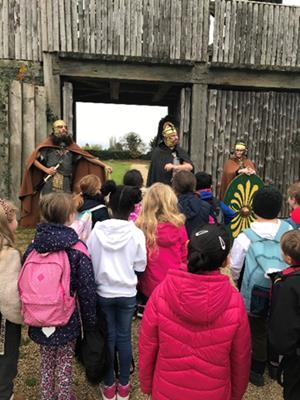 Year 5
It's time to sum up some of the highlights this summer term and this year. Throughout all the activities we have managed to do, the year 5 teachers have been so impressed with how Year 5 have maintained our school values and their typically, tremendous positive attitude. They have been a wonderful group of children to work with and it has been a brilliant year. Thank you Year 5 class of 2021-2022!
Within the past couple of weeks, we have been involved with a dance session with some real star dancers showing their stamina and fun moves. We have taken part in an athletics event, in which children showed their own determination, skill and enthusiasm for doing athletics with other schools. Some children have competed in a cricket event at Edgbaston and achieved a fantastic 2nd place with great sporting spirit!
Within the classroom, moving toys with cams and follower mechanisms have been taking shape, with careful use and sharing of tools and working mechanisms have been produced with artistic illustrations. Quite a feat for first time DT learners of this topic!
Since the beginning of the year we were mesmerised by the Mayans with some interesting artefacts; we have loved and been totally immersed in wonderful new literature with our class texts from the Firework Maker's Daughter, Greek myths, The Nowhere Emporium to the Wilderness War. All these texts have inspired excellent writing response and it has been wonderful to see the style and maturity children have achieved within this year. There have been amazing artistic adventures with Hokusai inspired batik, clay masks, and artistic animations of life cycles. The Pop up DT projects were stunning! There have been dramatic highlights with the Shakespeare performances of a Midsummer Night's Dream, the Christmas performance of Scrooge and some brilliant musical entertainment and performances in school and at church. We loved the Lego learning experiences we were able to have in school and at the library. There was Bushcraft and our first taste of the new Haven area, which was great. The science highlights have included learning about materials, investigating forces, and exploring knowledge about space with the brilliant star gazing experience in a planetarium and a fun space evening. We were captivated by the STEM space afternoon with big bangs and rockets and our trip to Rugby school gave the children an experience of a broad variety of very interesting subjects – a wonderful tropical bird was brought home and the story and poetry performance with Michael was well ….Nice!
This year the highlight was definitely the trip to Wales where children bonded with each other and new staff members, learnt new skills of the countryside and showed their resilience and great zest for adventure.
So once again; Thank you so much for this amazing year and being the most delightful year group.
We hope you all have a restful and summer break and we look forward to seeing you sometimes in your new year 6 roles!
From your Year 5 teachers; Mrs Coupe, Mrs Fairbrother, Mrs Hayward, Mrs Keffler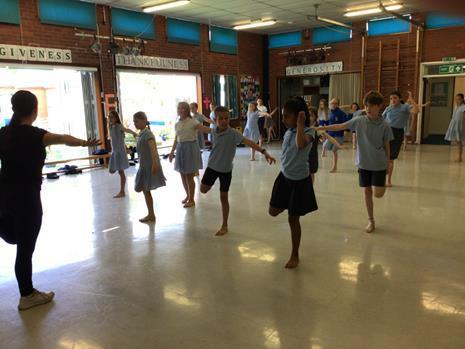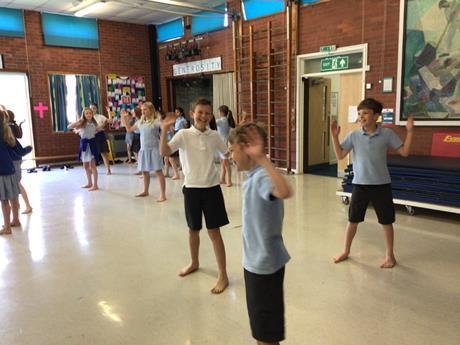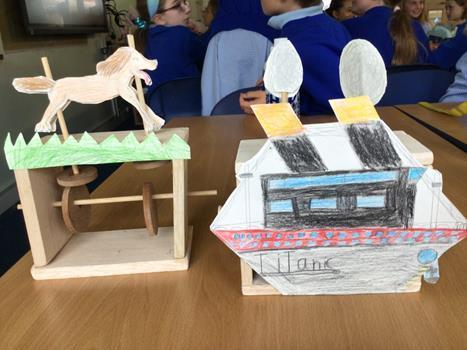 Year 6
What a year – and what a year group!
It only seems like yesterday when we were foraging for blackberries to use in our delicious blackberry and apple crumble. Unfortunately, after a brilliant start to the year, the spectre of Covid outbreaks meant the autumn term was rather disjointed. However, the resilience and flexibility you all demonstrated meant that your education wasn't too badly affected – as proven later in the year! In addition, those disruptions didn't stop Year 6 from putting on a fantastic performance of Scrooge that set us up for a much-needed festive break.
Thankfully, there were very few disruptions in the spring term which meant that we could focus on working hard to do our best in the upcoming SATs. However, it wasn't all work – we spent a wonderful and inspiring day at Coventry Cathedral learning about the devastation that war unleashes but, more importantly, that the power of reconciliation can help heal us all – an important message to remember in these troubling times. Due to all the hard work and determination exhibited all year, the SATs went really well and you all achieved results that you should be proud of, especially after a couple of years of disrupted education; we were incredibly proud of every single one of you and know you will go on to achieve even greater things in future.
Finally, the summer term was memorable for so many reasons: we had a very amusing trip to Rugby School to watch a Horrible Histories performance and, most memorable of all, our residential to Castleton. Whilst there, you showed such maturity, camaraderie and bravery and achieved things we suspect some of you didn't think you were capable of: from climbing rock faces to making the 'leap of faith' at 10m above ground level! You all rose to these challenges and this will, hopefully, inspire you to face future challenges with the same qualities you demonstrated in that amazing residential. And then, last of all, the way you all worked hard and contributed to your performance of 'Robin and the Sherwood Hoodies' was exceptional and, considering the lack of time to perfect it, you all put on a performance to remember! And that performance epitomises everything that is exceptional about this Year 6 – the way you work hard, help each other and raise to any challenges put before you.
Thank you all for an exceptional year and all the very best for the future!
Thank you to the children and parents for their lovely and thoughtful gifts we have received.
Mr Rattue and Mrs Andrews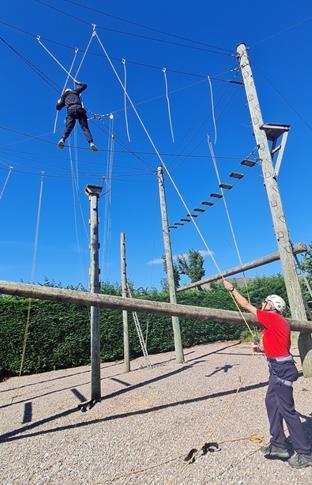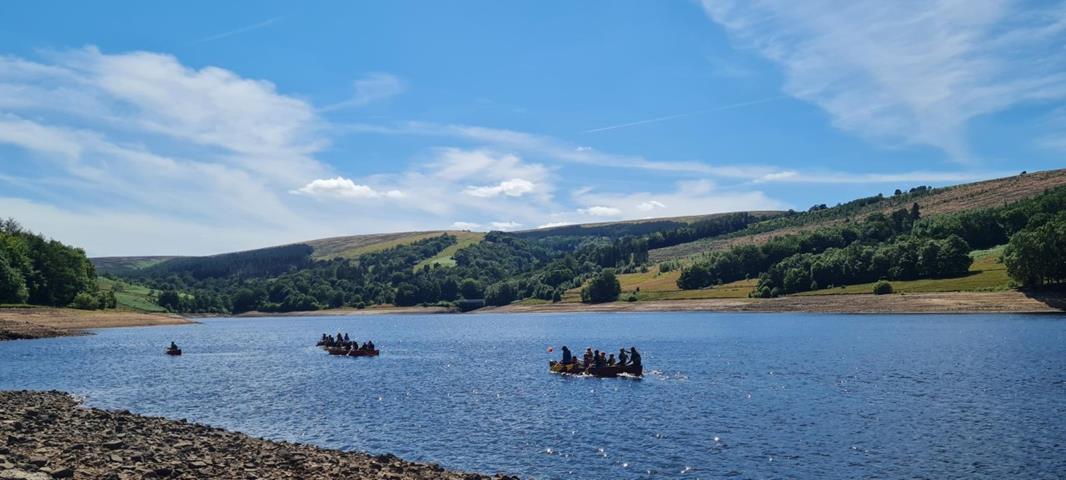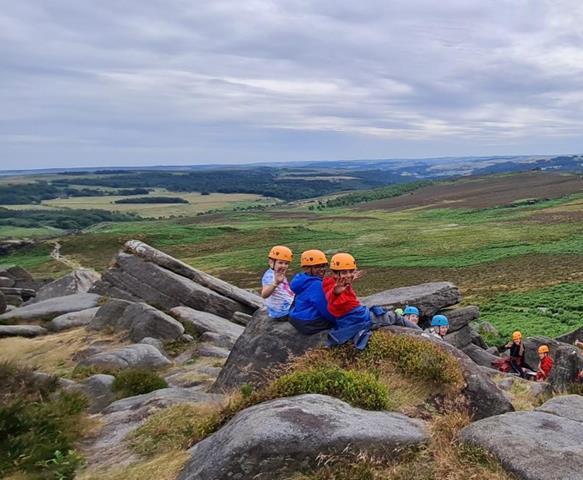 Week commencing 11th July
Message from Mr Andrews:
We've made it to the final Friday and there are just four days left until the end of term.
It's been a great week overall – Year 6 enjoyed an amazing time in Castleton. Across school, the good weather has allowed much learning to take place outside, which has been fantastic.
Unfortunately, we have been dealt with another challenge to manage, this time in the form a heatwave. Despite our intentions of wanting to keep everything going, we rightly need to adhere to Government and Public Health guidance, and have made the decision to cancel/postpone specific events.
Information was sent to families across the Federation yesterday. School leaders and I will continue to monitor the situation and assess provision at specific points across the day on Monday and Tuesday, with further correspondence sent where required. At this stage, we have received no guidance around closing either school and there is nothing nationally enforcing us to do so (at this stage). We will endeavour to keep as much planned as possible but would welcome flexibility and understanding from all that some elements are not in our control.
We are making changes to planned events to ensure that our Year 6s in particular are able to enjoy their final week with us as much as possible and will hope to run end of year assemblies as the weather cools on Wednesday and Thursday.
End of year reports are also going out today – Mrs Miller, Mrs Read and I have thoroughly enjoyed reading them and we hope that you will enjoy them too.
The Haven
Our children have been enjoying the new Haven area in school.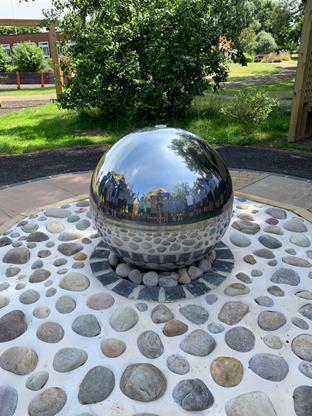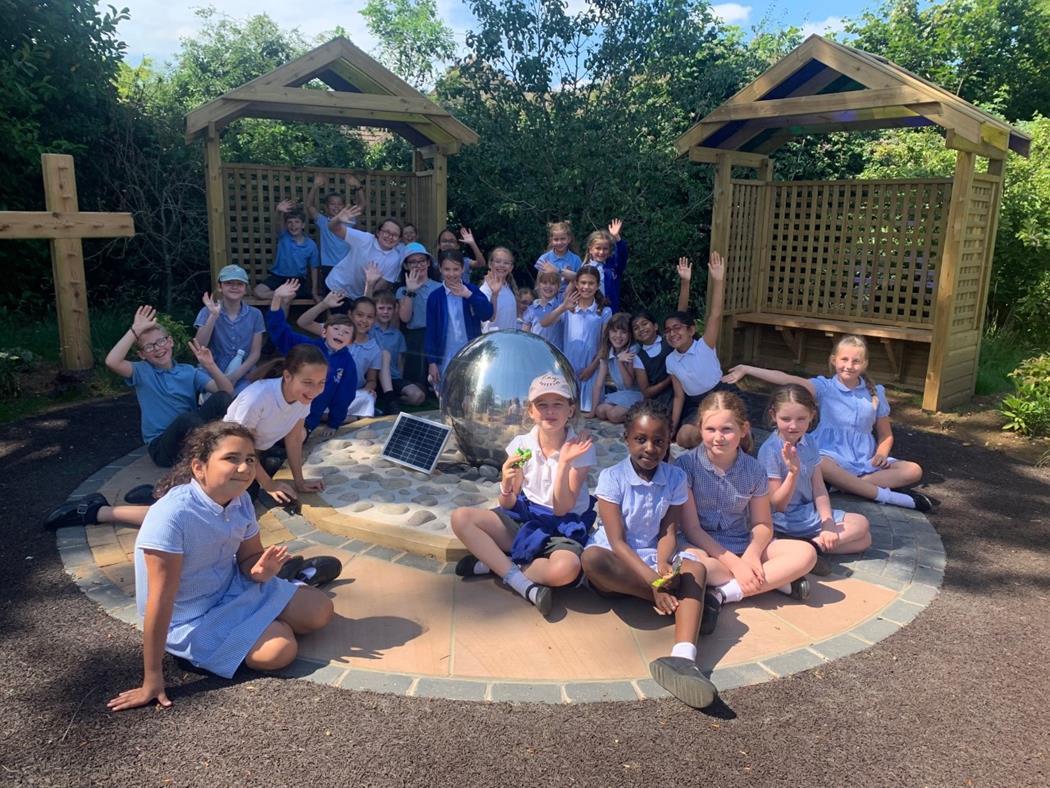 Thank you
Thank you to everyone who supported our cake sale and raffle last week. In school.
Together we raised £287 for Unicef's Emergency Appeal for Ukraine and Care4Calais.
Week commencing 4th July
Message from Mr Andrews:
9 days to go and so much to fit in!
This past week has been a great one to be able to celebrate life at Dunchurch Juniors. Once again, we have had children attending sports events (congratulations to all those who took part), cake sales for charity and of course, our transition day.
The transition day provided everyone with a fantastic opportunity for pupils to meet their new teachers, classmates and experience life in their new year group. Teachers felt really positive about the way children engaged and managed to cope with the changes. Congratulations goes to Year 6 particularly for navigating their first experience of secondary school – very well done! Next stop, Castleton for your residential next week.
Despite there being just a few days until the end of term, we have much to 'cram in'. Sports day, reports and open evenings and end of year celebrations are all imminent and I would ask that you look at the diary section of the newsletter to check when these events are happening.
Wishing you all a sunny weekend!
Assembly and Worship
This week Mrs. Keffler talked to the children about her own Courageous Advocacy and her trip to Calais in the summer. Thank you for supporting this. We also have enjoyed our fund-raising day for Ukraine. Well done to Year 5 for organising this.
On Wednesday, Mr. Andrews welcomed our new children and talked about our School Values. Today, we enjoyed celebrating the Stars of the Week and all our great sporting achievements in competitions over the last couple of weeks.
Refugee Week
Message from Mrs Keffler: This week we spent some time focusing on refugees from around the world - this is particularly meaningful for me at the moment as I now have a Ukrainian family living with me, so I'm hearing what they've been through first hand. We had an assembly on this theme, as well as thinking about it in our classes. We also fundraised for Unicef's Emergency Appeal for Ukraine, to help children there, and Care4Calais, which is the charity I'm going to Calais to work with in the summer holidays, as I did 3 years ago. Money raised will enable me to buy food once I'm there for us to give out, especially tea, coffee and dried beans/rice.
On Friday there was a non-uniform day, wearing blue and yellow for Ukraine
On Friday there was also be a cake sale at break in the hall run by school council.
Some children from 5K ran a raffle.
Finally, when I go to Calais, I would also like to take donations of clothes for the refugees there, who often arrive there in a desperate state with no spare clothes. Some of the items they are in particular need of are tents, men's and older boys' clothes e.g. coats, hoodies, jumpers, jogging bottoms, trainers, and sleeping bags - the full list can be found at https://care4calais.org/documents/Priority-Items.pdf. They don't want women's or children's clothes. If you are able to help with any of these, please send them into school between now and the end of term.
Thank you for your support, Mrs Keffler
Year 3
It has been a busy couple of weeks in Year 3 and the children have enjoyed a range of activities from learning about Christian worship to lighting fire.
In English, we have been reading Hodgeheg and we've had some great predictions about upcoming events as well as summaries of what we have read so far. Next week, we will be writing an alternative ending to D King Smith's story.
We've been looking at shape in Maths and making sure that we all understand the vocabulary linked to both 2D and 3D shape.
The children enjoyed creating clay canopic jars in Art and this week, the children have glazed them. We are all excited to see how they will turn out after they've been in the kiln.
Over the last two days, both classes have spent time outside making the most of the newly opened Haven. In Design and Technology, the children designed a raft and then as part of our bushcraft sessions, children worked in groups to create a raft capable of floating on the pond. The children worked collaboratively to find suitable sticks and apply their knowledge of right angles before using square lashing to make their structure. We had mixed success and unfortunately, some action figures did end up falling off the raft! We also had a session about fire lighting and survival whereby the children learnt about the fire triangle and those who wanted to make a spark using various resources were able to.
It has been lovely to hear the children talk positively about their transition day this week and we are proud of how the children made an effort to get to know the children in their Y4 class. We are also really proud of the learning behaviours shown by the children during assessment week and are looking forward to sharing your child's achievements with you in their report.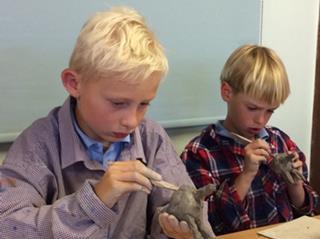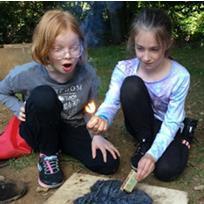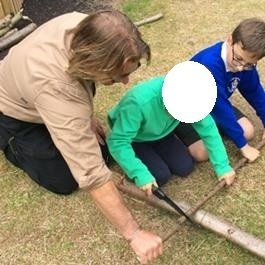 Year 5 - Design and Technology
On Monday and Tuesday Year 5 were very excited to enter the Haven for the first time, and even better, to take part in bushcraft activities. Linked to our DT project about pulleys, cogs and cams, we learned how to lash poles together to make a strong tripod, then explored ways of using pulleys, hooks and string to transport an Action Man from one tripod to another. This definitely used our collaborative and problem solving skills as well as our ability to link to previous learning - one ingenious idea came from remembering old mine workings we saw on our trip to Wales. Once we had practised our plan, we moved into the Haven to complete the challenge of moving as many Action Men from one side of the pond to the other as possible in 5 minutes - without them falling in, of course! All groups were successful in their mission, as well as some having time to do fire lighting with matches, ferrous rods and flints. We are looking forward to taking part in a lot more outdoor learning over the next few months now the Haven is complete.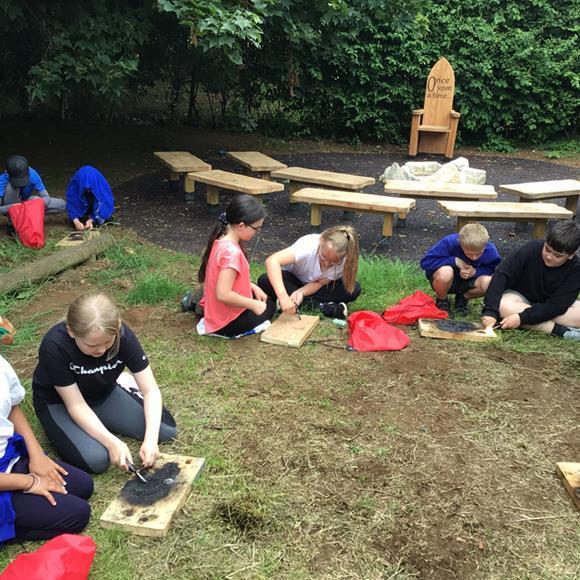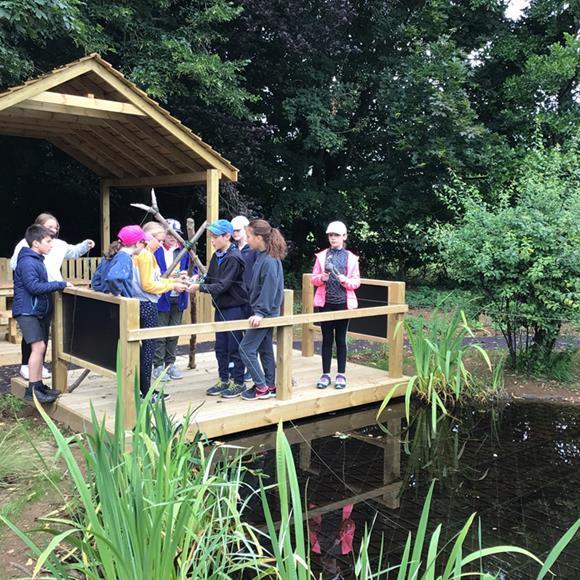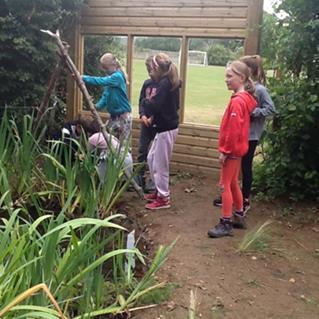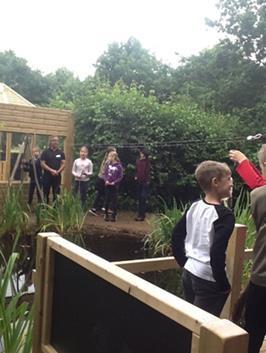 Gardening Club - Rugby In Bloom
This week the gardening club worked really creatively and hard to make a garden 'Fit for the Queen!' We were working to the theme of Queen's Platinum Jubilee with red, white and blue colours with a touch of marmalade, as we now all know that Her Majesty really likes a marmalade sandwich. The gardeners enthusiastically showed the Rugby in Bloom judge around on Wednesday afternoon and gave her a guided tour of their gardening projects; from the tomatoes and sugar snap peas, the planted pots and the wheelbarrow, the wild flower area and their own propagated succulents. I sure she was very impressed, especially as she was given a gift of a stick of rhubarb. Thanks to all the gardeners and parents/grandparents who have supported us with our planting this term.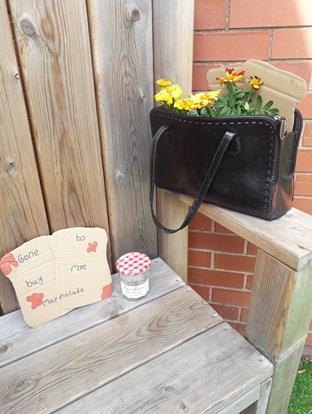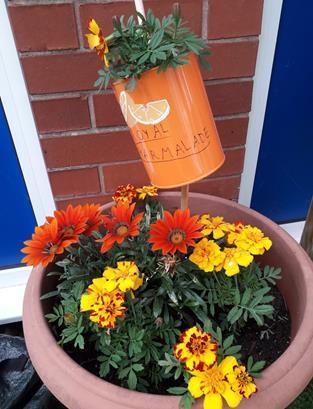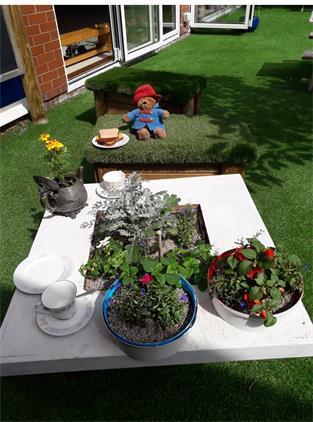 Week commencing 27th June
Message from Mr Andrews:
Here we are again – and there are not many more Fridays until the end of the school year now!
I was so fortunate to experience my first Dunchurch fete last Sunday. It was so lovely to see the community celebrating everything related to the village and to the amazing causes that are supported by the village community. A huge well done to the school group who won Best in Show for the Harry Potter float in the parade – a fantastic experience for all.
I have also spent two days this week with Year 4 on their residential trip to York. It was quite simply a brilliant trip, from start to finish. The engagement of the pupils was excellent. Their kindness and compassion shown towards one another was equally inspiring. A huge thank you to staff for giving up their time to attend and congratulations again to the pupils for their brilliant response to the challenge of being away.
Importantly, Wednesday 6th July is our county-wide transition day, where all pupils will have the chance to meet their new teachers and classes, ready for September. It is always a good opportunity to learn a little more about what will happen next year. We do however, also appreciate the anxious build up to days like this and will support children with changes before and as they occur.
Good luck to all our Year 6s for their first experience of secondary school life as well!
This year I am very excited at the prospect of welcoming a number of new teachers to our schools and they are also very much looking forward to meeting our fantastic pupils. I have written two letters, detailing staffing changes for next year which will have been sent to you today.
Assembly and Worship
This week, we welcomed Reverend Pat in on Wednesday. She talked to the children about St. Peter, as it was St. Peter's day.
On Thursday, we thought about our vision of Ask, Seek, Knock from Matthew 7:7 We thought about how we Open Doors to others and what we give to others as they Ask, Seek and Knock.
We also heard the story of how Jesus healed a leper, as we are learning about the miracles of Jesus this half term.
Year 4 - York Residential
Year 4 had an amazing time in York learning about the Vikings. The children visited Jorvik Viking Centre and learnt lots of new facts as well as sharing their own learning with the staff that worked there. At DIG, the children enjoyed being archaeologists and finding out more about how we can use artefacts to give us clues about how people lived in the past. When Mrs Cooper asked the children about their favourite part, most of them couldn't choose just one thing (although the bowling and the food at the accommodation were ranked very highly!). The real highlight though was the exemplary behaviour displayed by the Year 4 children throughout the trip. Staff at Jorvik and the accommodation commented on how well-behaved, polite and engaged they were; the children really demonstrated the school values at every moment, especially when showing patience and kindness.
Thank you to the children who stayed in school and engaged well with activities and showed our School Values too.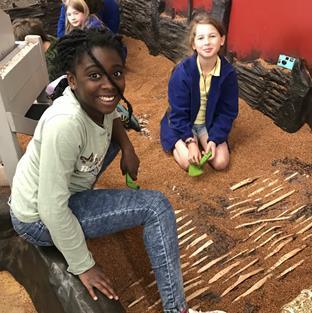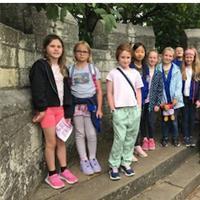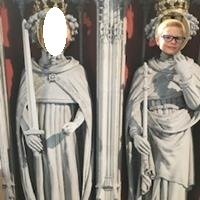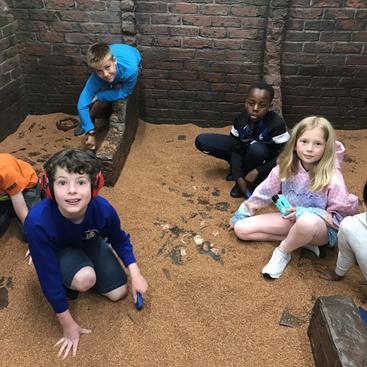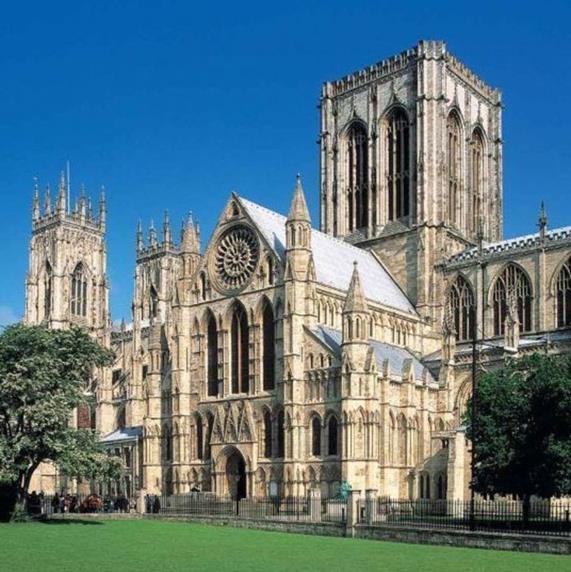 Year 5 - Festival on the Close
Yesterday the whole of Year 5 took part in Rugby School's 'Festival on the Close' - an opportunity to participate in a wide variety of workshops ably led by their students. We all started with some sport, before watching explosions and building spaghetti sculptures in Physics, creating a parrot sculpture in Art, having fun with Drama games and learning French or even Bulgarian! The highlight for many was a lunchtime performance by renowned poet Michael Rosen aka 'the meme guy' or 'nice grandad!' He was brilliant at not just engaging everyone, but also taking us through how some of his poems have come to life from first idea to final version, not to mention favourite poems such as 'Hot Food' and 'Chocolate Cake'.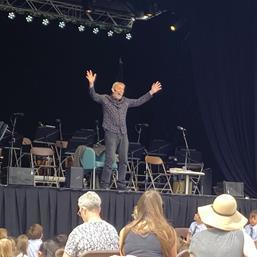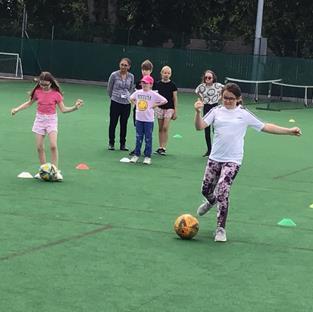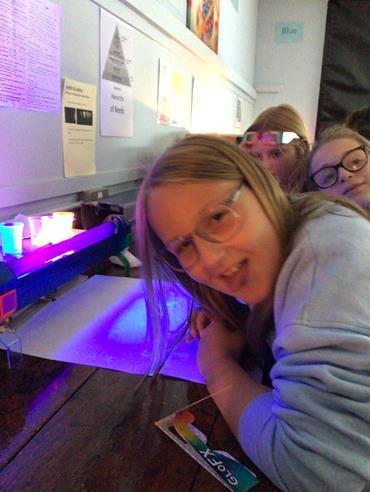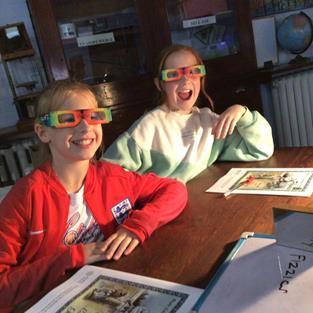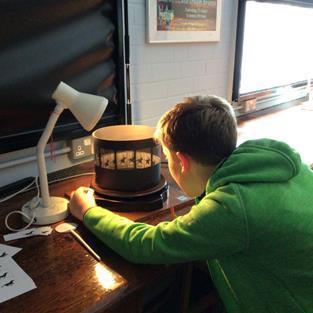 Year 6 - Festival on the Close
This week, Year 6 were lucky to travel back through 'Horrible History' to learn more about Tudor Times. Despite the rain, we had a great time and all learnt a song to help us to remember what happened to the wives of Henry VIII! It was infuriatingly catchy, as you may discover!
Also, we have been working hard to produce our slipper templates, ready for cutting the fabric which we will be sewing next week! With all the fluff and fur flying around the classroom, we have not been popular with the cleaning staff!
Some children have also enjoyed visiting their secondary schools this week, and we hope their induction day goes well next week and addresses any of their concerns/worries.
Just a reminder – there is only one week to go before most of Year 6 head to Castleton. We hope the packing is going well!
Sticker competition winners
Recently School Council held a competition to design stickers for our school values and learning behaviours. Children around school demonstrate these values and behaviours every day, and so we would like to celebrate this - all staff will be able to give a sticker whenever they see a child showing a particular value or behaviour. The winning entries are being sent to a company for printing, so should be available very soon. In the meantime, we would like to announce the winners:
School values: Honesty – Henry 4B
Kindness - Amy K 5K
Generosity - Oriana 3JM
Patience - Isaac F 4C
Peace - Serah - 4C
Forgiveness - Leila S 5HB
Thankfulness - Naomi 6A and Evelyn
Learning behaviours: Resilience - Laila 6A
Relating - Kara A
Resourcefulness - Ava 6A
Reflecting - was this Evelyn 6A and Naomi
Week commencing 20th June
Message from Mr Andrews:
The past week has been as varied as any other we have experienced so far. It was lovely to see a near 'army' of children from the Junior school walking round Draycote as part of their sponsored walks. There are certainly a few tired bodies at the Junior school this afternoon – all in the name of a good cause! Coupling this with Year 6 Bikeability, it has been quite the active week.
Next week sees Year 4 attend York. I have managed to get on this residential so am very much looking forward to experiencing the trip alongside the pupils. A big thank you in advance to staff and volunteers who are attending. Trips do not take place without you all!
We also have our Teddy Bears' picnic and sports afternoon with Year 2 and 3 coming together on the Junior school field. It will be lovely to see all pupils spending that time together with a fun-filled afternoon planned.
Please remember that Monday 27th June is our training day. Staff will be in school undertaking training around behaviour and support, and we hope it to be a really inspiring day, where discussions take place about practice and provision.
Draycote Water Sponsored Walk
Mrs. Miller and all the staff are incredibly proud of the children today. They completed the five and a half mile walk with smiles and laughter and even songs! Our youngest children particularly did well with this strenuous activity. Thank you to all the parents/grandparents and carers who accompanied on the trip. I am sure all the children will sleep well tonight.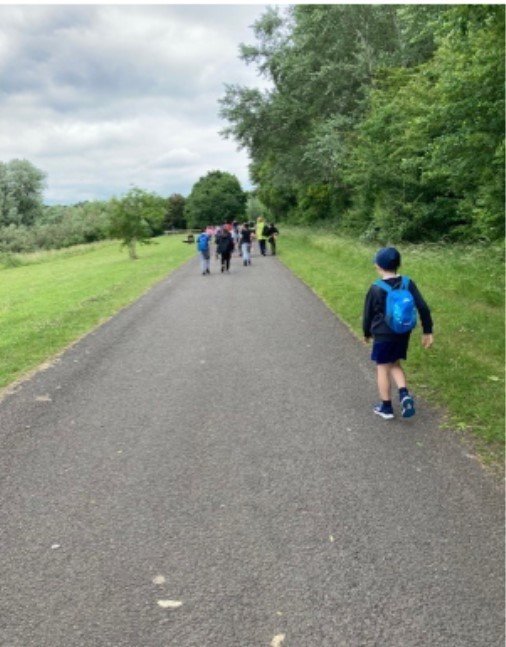 The Dunchurch Boughton School Trust
The Dunchurch Boughton School Trust has been in existence for nearly 100 years and has significant investments providing an income which can be given to Dunchurch Boughton CofE Junior School and also now Dunchurch Infant School and Nursery as it has become a Church of England school. The money is used to provide improvements to the school. Currently the Trust is funding "The Haven" development which will benefit the whole Federation and previously paid towards the redevelopment of the quad.
The Trust currently has 7 trustees, most of whom live in or near Dunchurch and several of whom had children at the school. Meetings with school officials are usually held about 2 or 3 times a year, in the evening, but can be arranged at any time to discuss issues and projects arising. There is now a vacancy for a Trustee to represent the interests of parents and children living in Thurlaston. If you or anyone you know, preferably living in Thurlaston, would be interested in serving as a trustee please let the school office know and we will pass on your details to the chairman - Chris Sarson.
SPACE
Week commencing 13th June
Message from Mr Andrews:
As we end the week with scorching temperatures, we can reflect on yet another busy week.
This week has provided a great example of what our two schools are able to provide the children, with a significant focus on the wider opportunities beyond the classroom, supporting the learning within it.
Year 2 were fortunate enough to experience Coombe Abbey as part of their work around wildlife and habitats. These outdoor opportunities will be promoted even further with the exciting opening of The Haven on the Junior school site. The area will certainly provide opportunity for further exploration.
At the Junior school, all those in attendance were able to experience a wonderful Music Concert on Wednesday evening. With nearly 50 pupils taking part, it was a fantastic opportunity to listen to our music ambassadors and those taking part in school led music lessons, perform a range of songs. All in all, it was a brilliant 90 minutes, showcasing the pupils' talents. Thank you to all in attendance and to Mrs Fairbrother for bringing it all together.
Looking ahead, with trips to York (Year 4), Draycote (all of DBJS), Great Fire of London visitors (Year 1) and other activities, we have a great deal for the children (and staff) to get excited about!
Wishing you all an enjoyable weekend. Happy Father's Day to all those able to celebrate on Sunday.
Assemblies and Collective Worship
We have continued this week to learn about The Miracles of Jesus focusing on the story of Jesus and the Wedding at Cana. We also learnt about the life of Ghandi when thinking about our school value of Kindness. The children engaged really well with the story of Joseph and his dreams.
It was great to hear all the wonderful reasons why the children were chosen as Stars of the Week this week, and there were so many children in the Golden Book too.
Year 3
Wow what an exciting time it's been in Year 3!
The children have been completing their extended writing about the River Nile in English. We have loved seeing all of their research and knowledge being transformed into an interesting non-chronological report about this fascinating body of water.
In Maths, both classes have been looking at the subject of time. Although it can be a tricky part of Maths, the children have taken to their learning with their usual enthusiasm, and this is great to see.
The year group loved going to Leicester Museum last Friday, where we looked at exhibits showcasing fossils, rocks and ancient Egyptian artefacts.
It was brilliant to see how the children could apply their learning and understanding whilst asking great questions. It was a fantastic day and all the children were very well behaved and considerate. A big thank you to all everyone who volunteered and came with us; it really helped make the day run smoothly and maintains a great sense of community between our school and local area.
Whilst we are disappointed not to be going to Draycote Water this week, we understand the need to keep safe, and look forward to going next week instead!
Mr Coppillie, Mrs McMahon and Mrs Jenks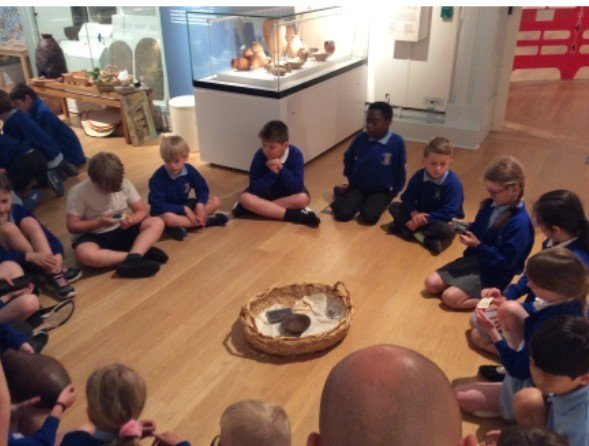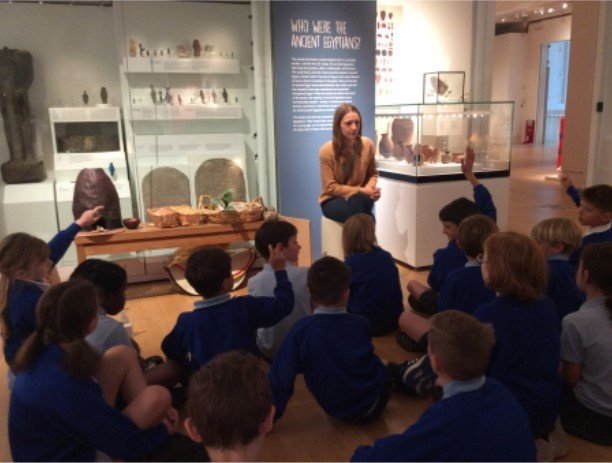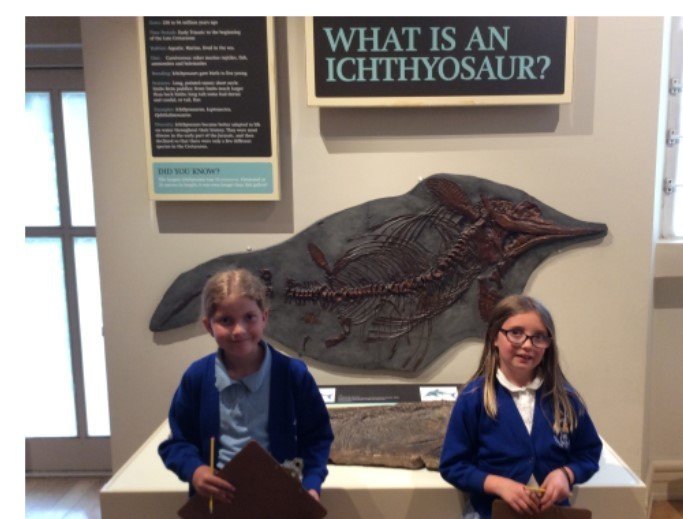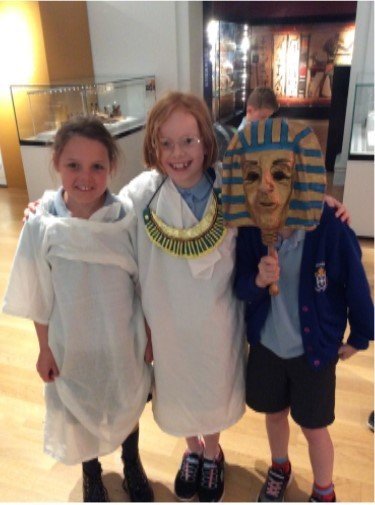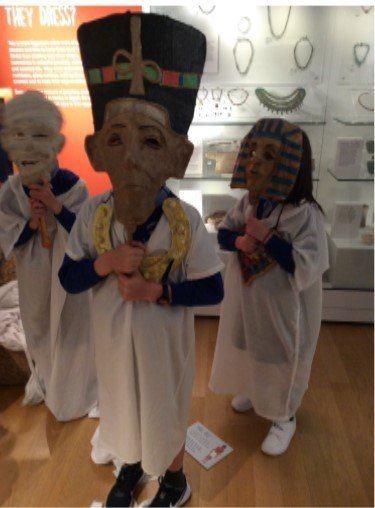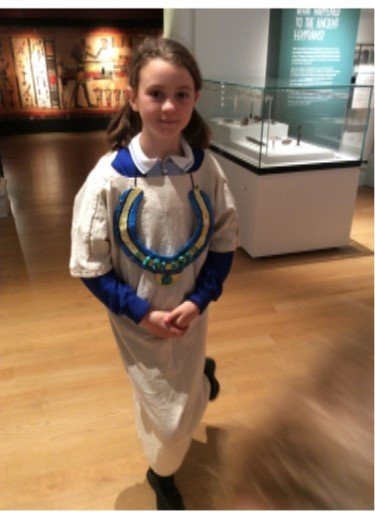 Year 6 Leavers' Play 2022
Robin and the Sherwood Hoodies
Rehearsals are now under way for our end of term production, and pupils are busy learning their lines and songs. We think it's going to be a great show!
The performance is currently scheduled for Wednesday 20th July, 6.30pm, and we will be in touch from early July with regards tickets and seating arrangements. Over the next two weeks your child will also be bringing a home that outlines costume requirements. In the meantime, pupils should focus their attention on learning their lines and songs. Actors have received a copy of the script, and in addition, all pupils have been given a copy of the song lyrics. However, please encourage all performers to access the song links on Seesaw, where lyrics have also been uploaded.
Thank you for your support.
Music Concert
A huge WELL DONE to all of the performers who took part in this week's music showcase. What brave individuals you are! You should be really proud of your achievements, as you truly embodied the concept of resilience. We hope this occasion now gives you the confidence to carry on performing in front of a live audience. What a credit you are to all of us!
Year 5 & 6
STEM Roadshow
For those of you who do not know, STEM stands for Science, Technology, Engineering and Maths, and yesterday, Year 5 and 6 were treated to an exciting show on the theme of space exploration, in which they learned about all of these via several amazing demonstrations. Who knew that an infra-red camera made Coca-Cola transparent, or that by spinning a flame, it would double in size? That you can suspend a table-tennis ball in the air above a hair dryer (the Bernoulli effect) or that you can blow giant smoke rings to visualise a shock wave? Many thanks to the presenter, Scott from Imperial College, for engaging us all so well, and hopefully inspiring many to think about careers in Science in the future.

SPACE
Week commencing 6th June
Message from Mr Andrews
Dear families,
A shorter update from me this week as I am hoping to share more extensive news next week around areas of school development, staffing changes and recruitment for 2022-23.
It has been delightful to hear the children's experiences over the Jubilee break, and the amount of picnics and family celebrations that took place (despite the weather of course!). It certainly seemed that many families were able to celebrate the best of British Values throughout the break.
Having had the opportunity to spend more time outside at break and lunch with the children on both sites, it has been great to see the development of their play and interactions between pupils from different year groups. The work of the young leaders at the Junior school is particularly impressive, and we are looking for more ways for them to support our younger pupils – watch this space.
We are also busily preparing for transition, from Nursery to Reception, Year 2 to Year 3, Year 6 to Secondary and of course, every year group in between. For those changing Key Stage, you will be receiving information in due course. We also look forward to seeing you at one of the future transition information events being planned over the next few weeks. For all children and families who require it, there will be an opportunity to discuss specific needs and concerns. All of which will be detailed in the shared information making its way to you.
Wishing everyone a very sunny weekend. And to all those rugby fans (like me), here's to a Saints win over Tigers tomorrow!
Assemblies and Collective Worship
This half term we are learning about The Miracles of Jesus. These include:
Jesus meets a Roman Soldier
Jesus calms the storm
Jesus feeds 5000 people
Jesus walks on water
Jesus and the enormous catch of fish
We will be welcoming Reverend Pat, Steve (St. Peter's Church) and Chris (Rugby Youth for Christ) in to help lead worship.
Year 3
We hope that you all had a lovely break-it sounds like the children enjoyed the various Jubilee celebrations.
This week, the children have returned with an excellent attitude to their learning. We have continued our History unit and the children really impressed us with their work on artefacts. There were lots of fantastic questions and thoughts about what the artefacts were used for in Egyptian times. We also used the iPads to research pyramids and the children taught us something new with the facts they discovered!
In English, we have continued to develop our paragraph skills and have looked at the structure of a paragraph ready for writing a non-chronological report next week.
Hopefully your child enjoyed today's visit to Leicester Museum and they will share with you some of their learning from today. We look forward to sharing highlights from our exciting day with you on next week's newsletter.
Music Showcase
We are pleased to announce the return of our annual Music Concert next week, for our school Music Ambassadors and instrumentalists.
Many of our pupils have been working really hard, in readiness for their performance (which will be a first music concert for many).
Just a reminder to parents/carers that it takes place on Wednesday 15th June at 6.30pm, but we need all performers to be in school by 6.15pm at the latest, in full school uniform.
Owing to anticipated numbers, we are able to accommodate two seats per family, and the PTA will kindly be on hand to serve some light refreshments. Thank you in advance for your support - we hope it turns out to be a great performance!
Books for Rwanda - Thank you
Many thanks to those who sent books for the Path to Success school in Rwanda where they had so few - Jane Cook has now delivered the first half to their library, where as you can see, children are already enjoying reading them. They particularly enjoyed seeing the labels which we stuck inside, saying who the book was from and why they enjoyed it.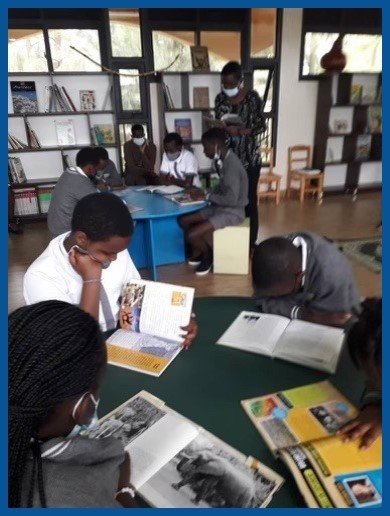 Dunchurch Fete Sunday 26th June
We are very excited to be supporting this event again. We would like children and families from both schools to join the walking procession. Mrs. Miller will be joining this event.
The theme for the parade is "70 years of achievements" Our schools have chosen "Harry Potter" as our theme and children and adults are asked to dress up to join the parade.
The parade assembles at 11.30 on the black path opposite the far entrance to the Dun Cow car park. We will be going up the pathway to the village hall this year rather than closing the road. The parade then enters the sports field and into the arena for the fancy dress judging where prizes/certificates are given.
Please put this date on your calendar and I look forward to seeing all the wonderful characters. All children must be accompanied by an adult.
Week commencing 23rd May
Message from Mr Andrews
Well, what a whirlwind of a half term the last 4 weeks and 4 days have been. It's hard to believe that we have experienced so much in such a short amount of time and that there is now just 7 school weeks left until the end of the academic year!
Across the Federation, we've observed some excellent learning, and commitment to being the best we can be. A number of pupils in year 2 and 6 have undertaken their SATs successfully, and every pupil throughout that period should feel incredibly proud with their own individual approach to the additional challenge.
In other year groups, it has been fantastic to see all of the wider opportunities being provided (as seen by our half term highlights). The Early years Open morning was extremely well attended and we'd like to thank everyone who was able to come in and join us for an interactive session.
In a week of much celebration, it was lovely to see such a wonderful atmosphere across the two schools and nursery, as they met together on the school field to mix between year groups and share their favourite books. The older children were excellent role models and engaged with the younger pupils, who were equally brilliant pupils with their positive response. This was all capped by Oscar in Year 5's trumpet rendition of 'God Save the Queen' to over 450 pupils. A truly inspiring moment and a fine end to a very purposeful term.
As we look ahead, there are a number of exciting opportunities planned – trips, visitors, residentials at the juniors, specific curriculum days and many end of year celebrations. Along with the important transition opportunities (for pupils and for new parents), it looks as if it's shaping up to be a very busy end to the year.
Wishing you all an enjoyable half term and jubilee celebrations!
Assemblies and Collective Worship
The children have learnt how to sing the National Anthem this week and sang with enthusiasm and great respect today. We also found out about the Queen and her 70-year reign. We discussed when and why we sing the anthem and how it makes us feel. The children enjoyed talking to their partner about how they are celebration over the next week.
We have said our school prayer and the children really know this now and respond well.
Please see below the church calendar and the colour cloth we have on our Reflection Table in the hall at the different times of the year.
Half term highlights
Year 3
Wow this half term has been a busy one in Year 3! We are so impressed with how the children have held their concentration this term as they continue to build their knowledge and skills. We have learnt about plants and pollination in Science, prayers and praying in R.E. and have examined the story of Rhodopis, The Egyptian Cinderella, in English. Following on from Rhodopis we have started our new Theme topic of Ancient Egypt and the River Nile, which the children are already immersed in after just a couple of lessons - their enthusiasm is infectious and we love to watch them be thrilled with their learning! In Maths we have worked on fractions, length and perimeter. On Friday 27th May, several children from Year 3 represented the school at a sports festival which celebrated the Commonwealth Games. They loved going, performed well and were very well behaved; well done to those children. The rest of Year 3 have had a morning of sports games, before mov