Religious Education - Year 6 - RE - 6th July 2020
Dave Woods from Dunchurch Baptist Church visited school to lead a virtual RE lesson to year 6 pupils. The lesson was streamed into each of the 4 bubble classrooms and the children had the opportunity to read to other groups, asks questions and share ideas across the bubbles. The topic being discussed was Grace and following the session children produced art work to express their ideas. Thank you to Dave Woods for embracing the technology and leading a really brilliant session.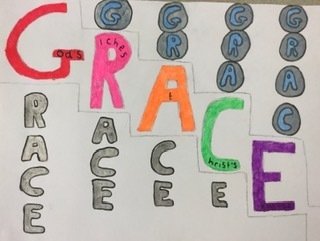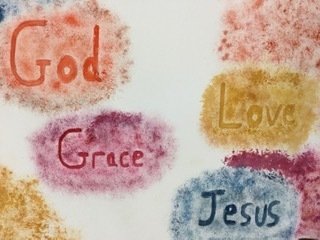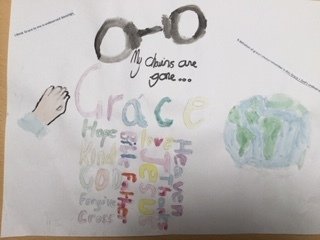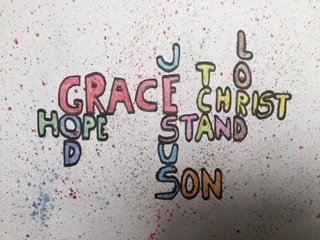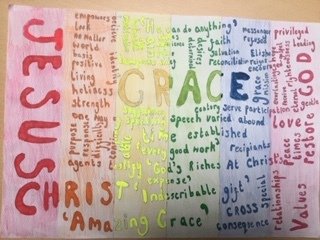 Art and History - 1st July 2020
Some of the children in school have made models of the river Nile.

Get ready for our Virtual Sports Week on the 29th June 2020
Mr. Beasley has organised some events to have a go at during this week. Watch out for his demonstrations on Seesaw next week. We hope to see lots of you joining in and filling in the form with your scores. This event will be launched on 29th June 2020.
Message from Reverend Pat- 2nd June 2020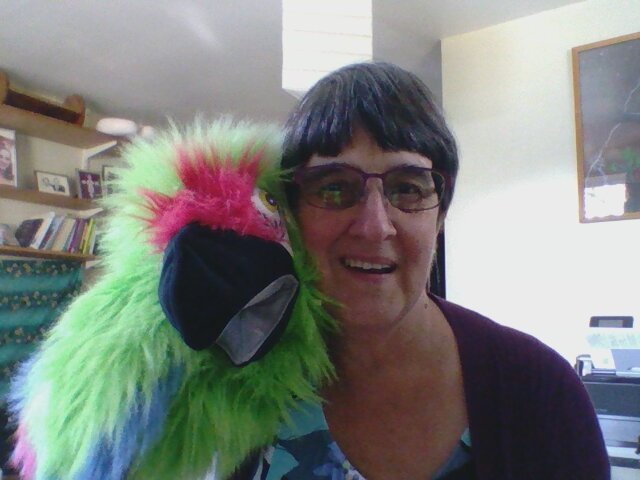 Hello to you all from Cedric and me!
The Holy Spirit, the Spirit of Pentecost, guides us and helps us all. I know this is a difficult time for everyone as we have experienced loss, pain and worry during lockdown. I know you have lost people you love and I wish I could be with you to talk to you about how you are feeling. But know that I am thinking of you and also that the Holy Spirit is with you all, whether you feel it or not, supporting you and showing you how to continue to live your lives.
God bless you all!
The Rev Patricia Townshend
Vicar
St Peter's Dunchurch with St Edmund's Thurlaston
Dunchurch

Rugby

An invitation from St. Peter's church- 27.5.20
Dear parents,
Your children are warmly invited to a short 'Pentecost Pyjama Party' on Zoom at 9am on Sunday 31st May.
They are encouraged to come in their pyjamas & bring paper & pencil & something red to represent the tongues of fire.
There will be a bible quiz, a story & a video.
Hoping to see them there,
Love, Maximus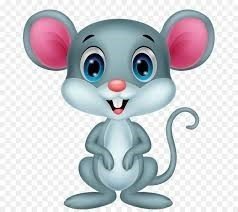 Maximus is inviting you to a scheduled Zoom meeting.
Topic: Pentecost pyjama party
Time: May 31, 2020 09:00 AM London
Join Zoom Meeting
https://us02web.zoom.us/j/81843318487
Meeting ID: 818 4331 8487
A Special Message for Pupil and Parents
We hope this video and these familiar faces will cheer you all up! Many thanks to Mrs. Read for making this film clip. (This book is written by Charlie Mackesy and published by Penguin Random House - we are sharing it with you under the amended copyright guidelines issued by them - this video will be deleted on 31st of July 2020)
Standby for National School Sport Week at Home, supercharged by Sky Sports! 20th-26th June 2020
This year has been like no other and, in recognition of the huge changes and challenges that we have faced, National School Sport Week looks rather different in 2020. The Youth Sport Trust is delighted that Sky Sports will be helping to supercharge the campaign and that Sky Sports Scholarship athletes will be helping to promote National School Sport Week at Home. For more details see here. Please let your teacher know through Seesaw if you are planning to take part.
Music Resource 21st May 2020
As a school who receives Upbeat tuition, we are delighted to attach the first video in our series of Upbeat resources for distribution to our pupils.The first of these videos has been done by Kieron Howe, our Singing strategy lead, to distribute to pupils to keep them engaged in music-making at home. Our team of Upbeat teachers will be creating a video each week for the rest of this term.
Further videos and other links to resources from Warwickshire Music can be found here.
Holiday Activities- 20th May 2020
Mrs Fairbrother has suggested these two websites to have a look at in the holiday. They have some fun activities on
Information from Warwickshire School Health Team- 20th May 2020
Video link https://youtu.be/vDviUVsuWwU
School Health team are #HereToHelp Warwickshire families at this difficult time. Text for confidential health & wellbeing advice from their friendly nurses. Young people 11-19: text ChatHealth on 07507 331 525 Parents/carers: text Parentline on 07520 619 376 #COVID19 #HealthyAtHome
Recommendation by Mrs. Gooch and Mrs. Miller-R.E. 15th May 2020
Spirited Arts and Spirited Poetry Competition
Mrs Gooch and Mrs Miller suggest this:
This is an exciting R.E. project that you can do at home. There are £25 prizes for the winners and your work may appear on the web gallery. The art you make should be all about your own ideas on a big religious or spiritual question. It can be 2D art, painting, drawing, pastel colours. It can be 3D fabric or sculpture, video art, music or poetry.
More details can be found on the following website.
Pictures of our lovely school dog Woody- 13th May 2020. Mrs Beech thought these might brighten your day. Can you spot Matilda too?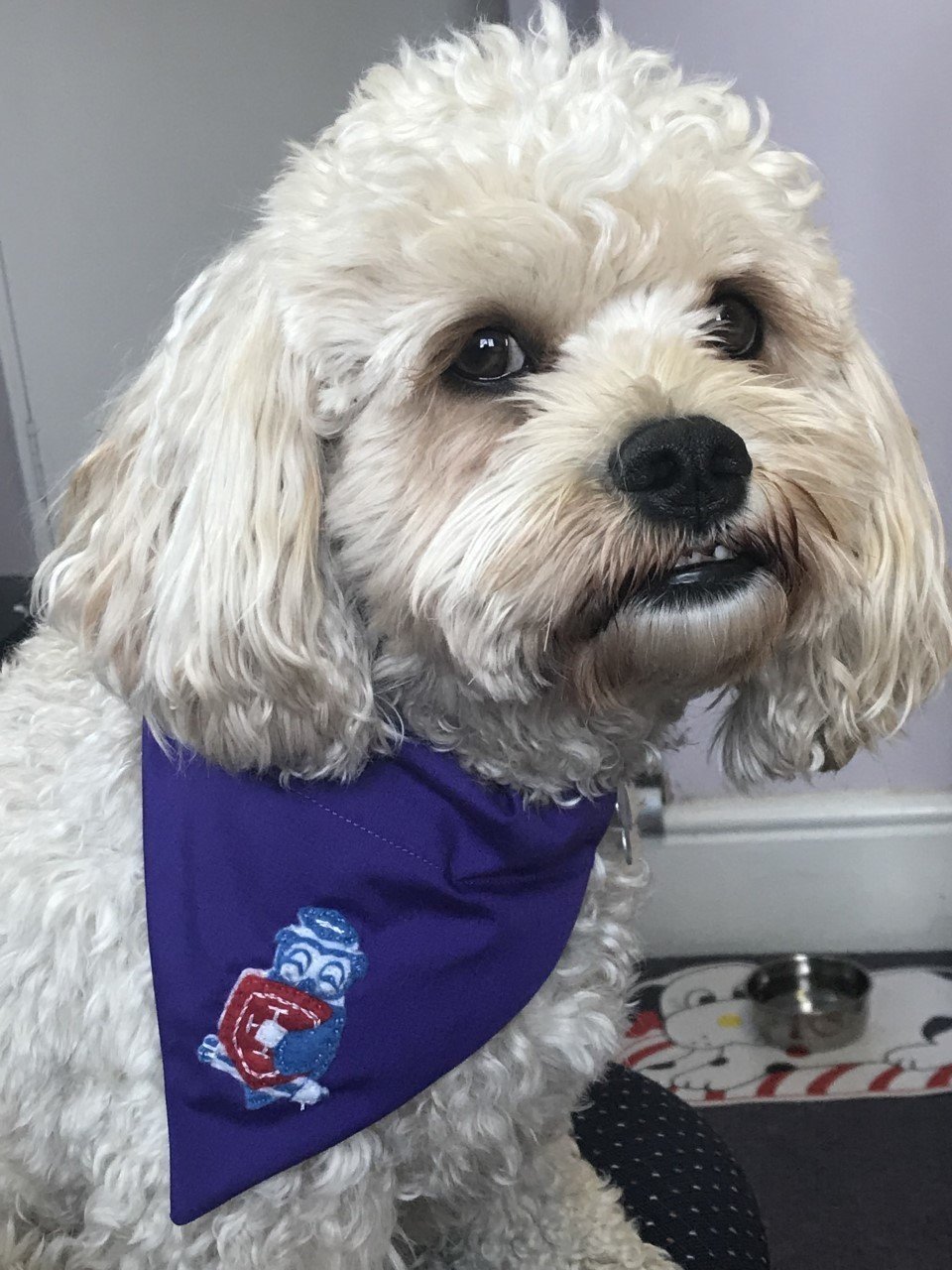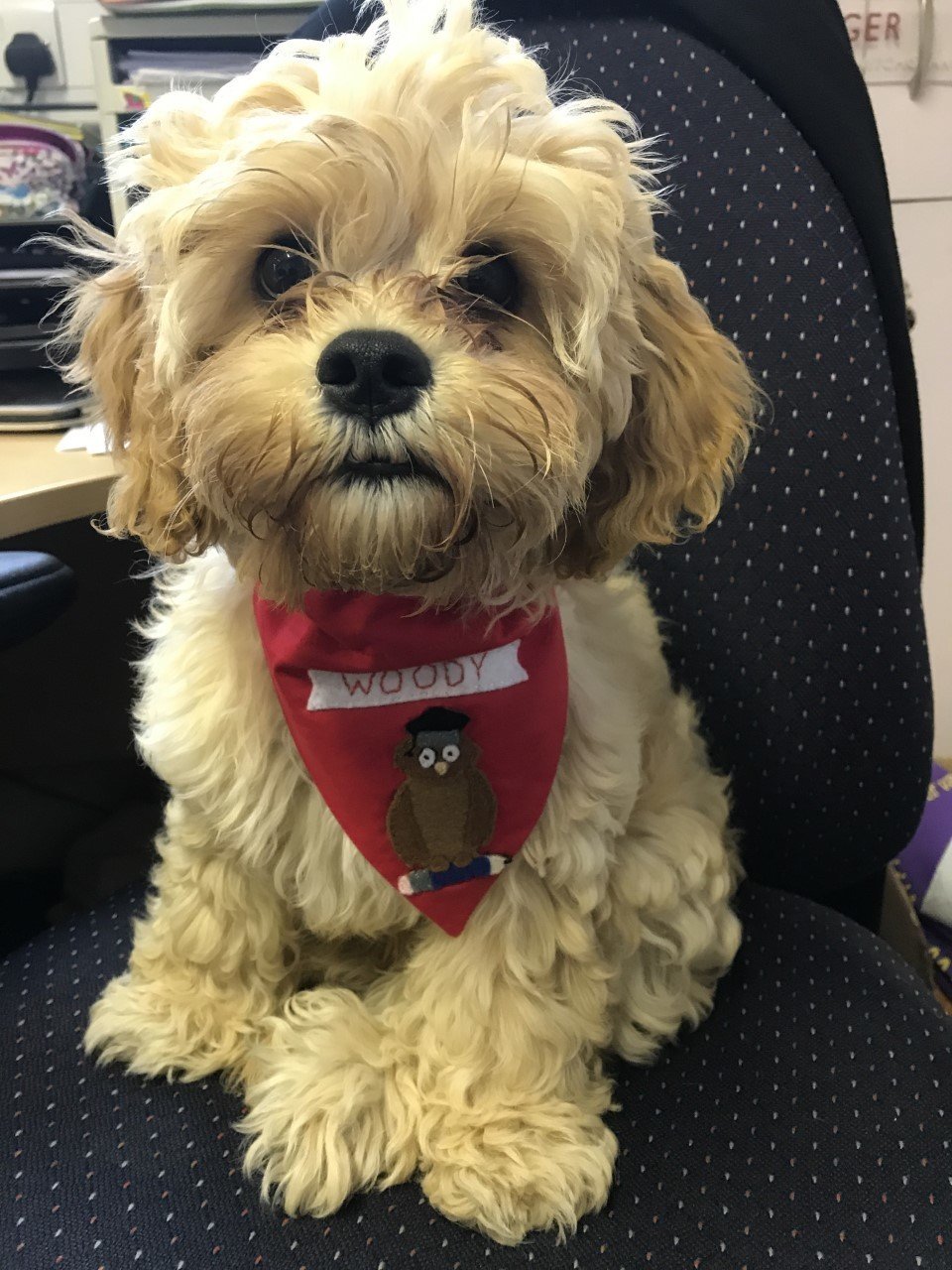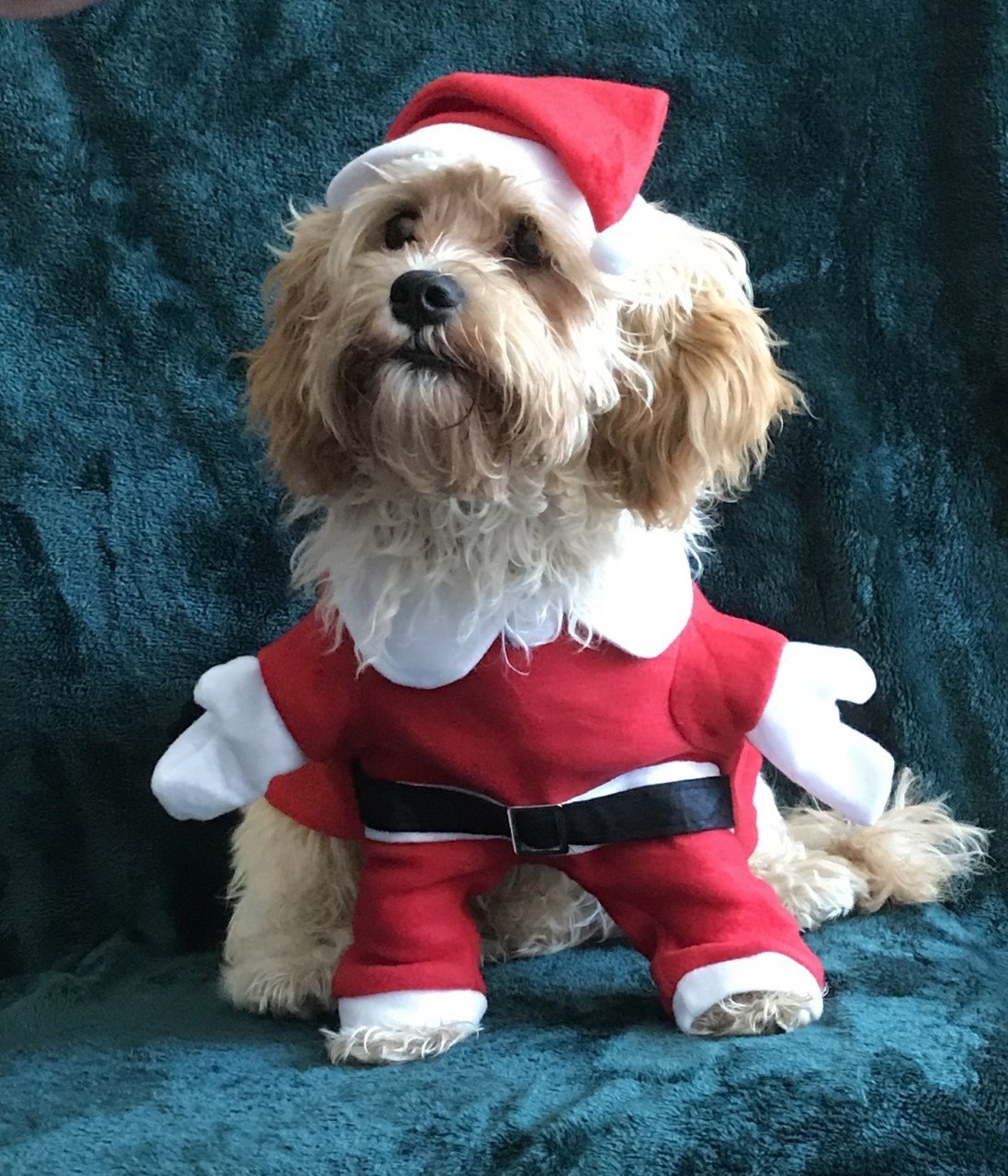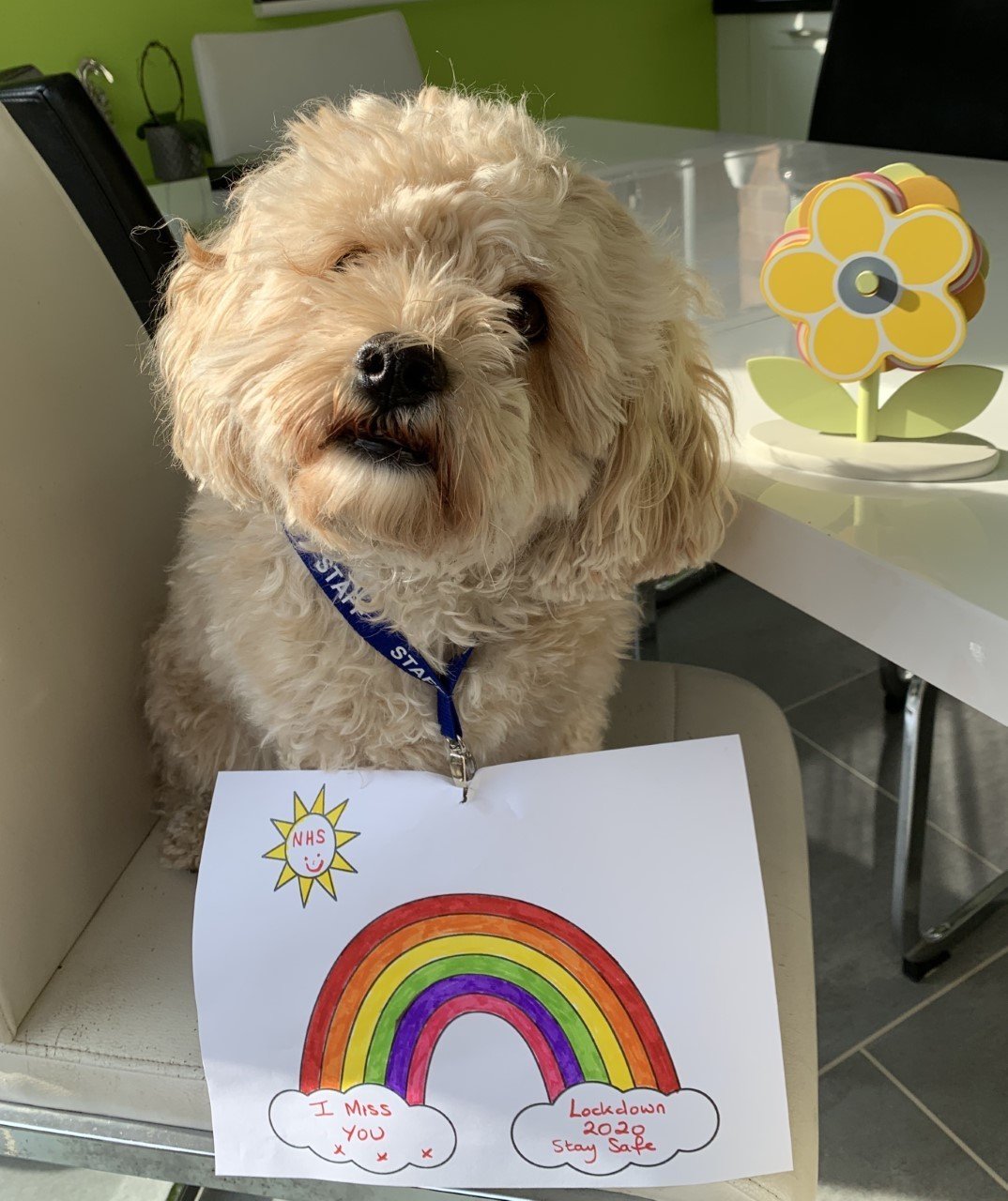 A new friend for D.B.J.S. -10th May 2020
Mrs. Laithwaite has very kindly made us this new teddy. We will vote for a name, once we return to school.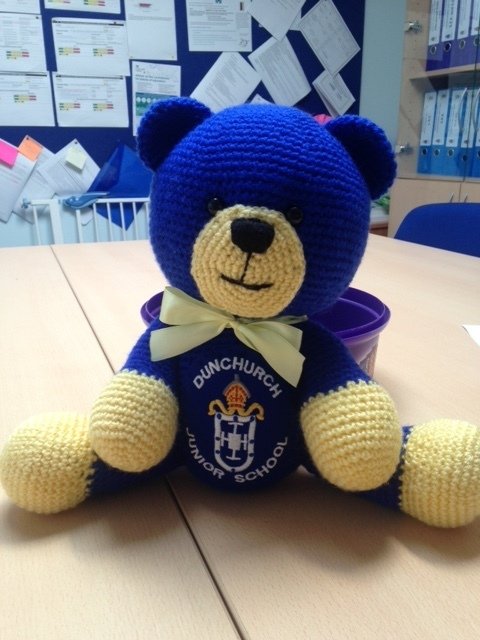 Recommendation from Mrs. Jenks - 5th May 2020
Daniel Radcliffe is reading the first chapter of the first Harry Potter book. Why don't you listen to it especially if you have never read these books before?
https://www.wizardingworld.com/chapters/reading-the-boy-who-lived
School Today - 4th May 2020
Mrs Keffler and Mrs Gooch were in school today looking after the key worker children. In the morning they worked really hard on all the tasks set on SeeSaw. In the afternoon they tried out the new ovens in the spare classroom by baking cranberry and white chocolate cookies, from a recipe shared by a year 5 pupil. They smelled amazing!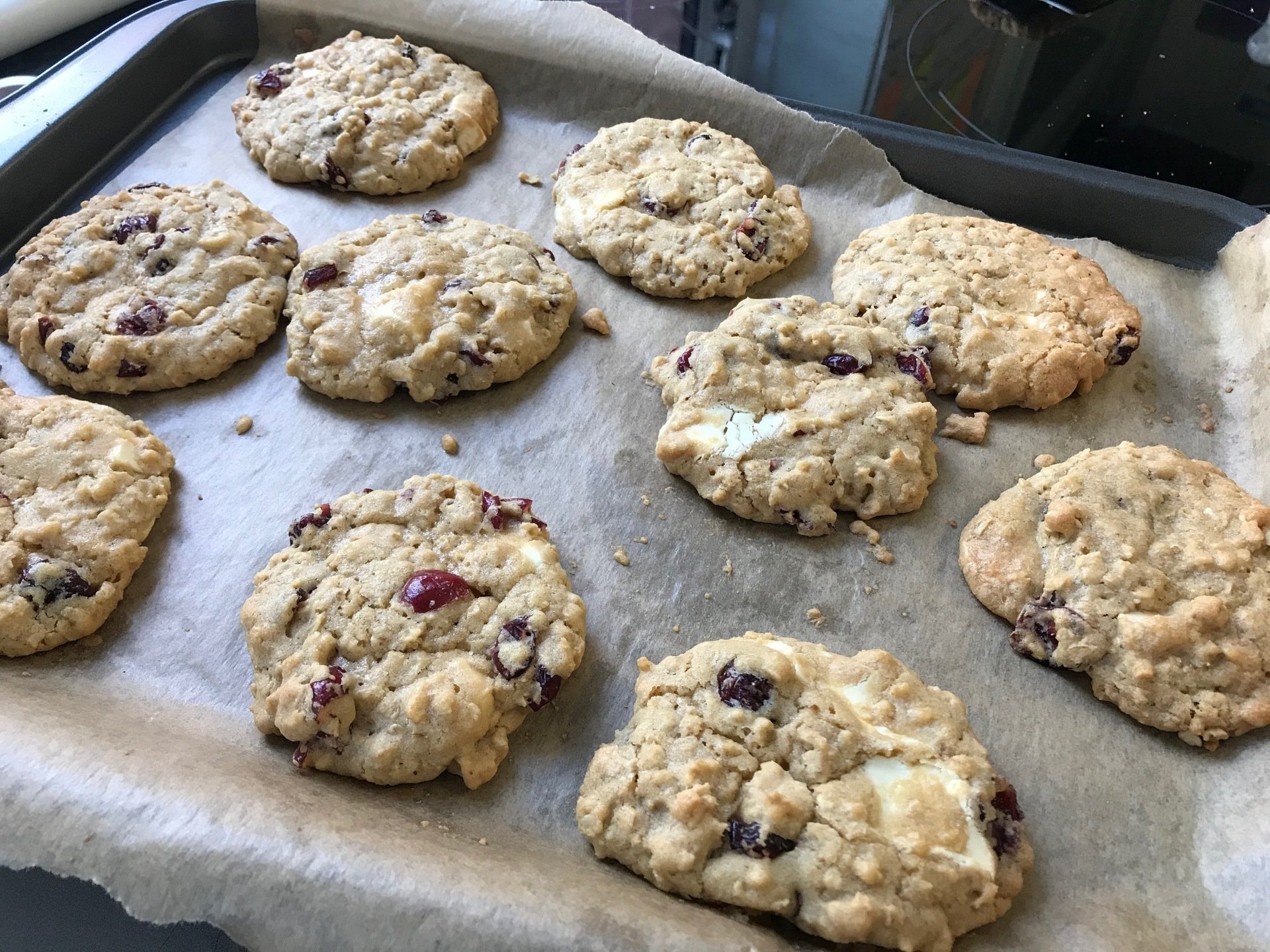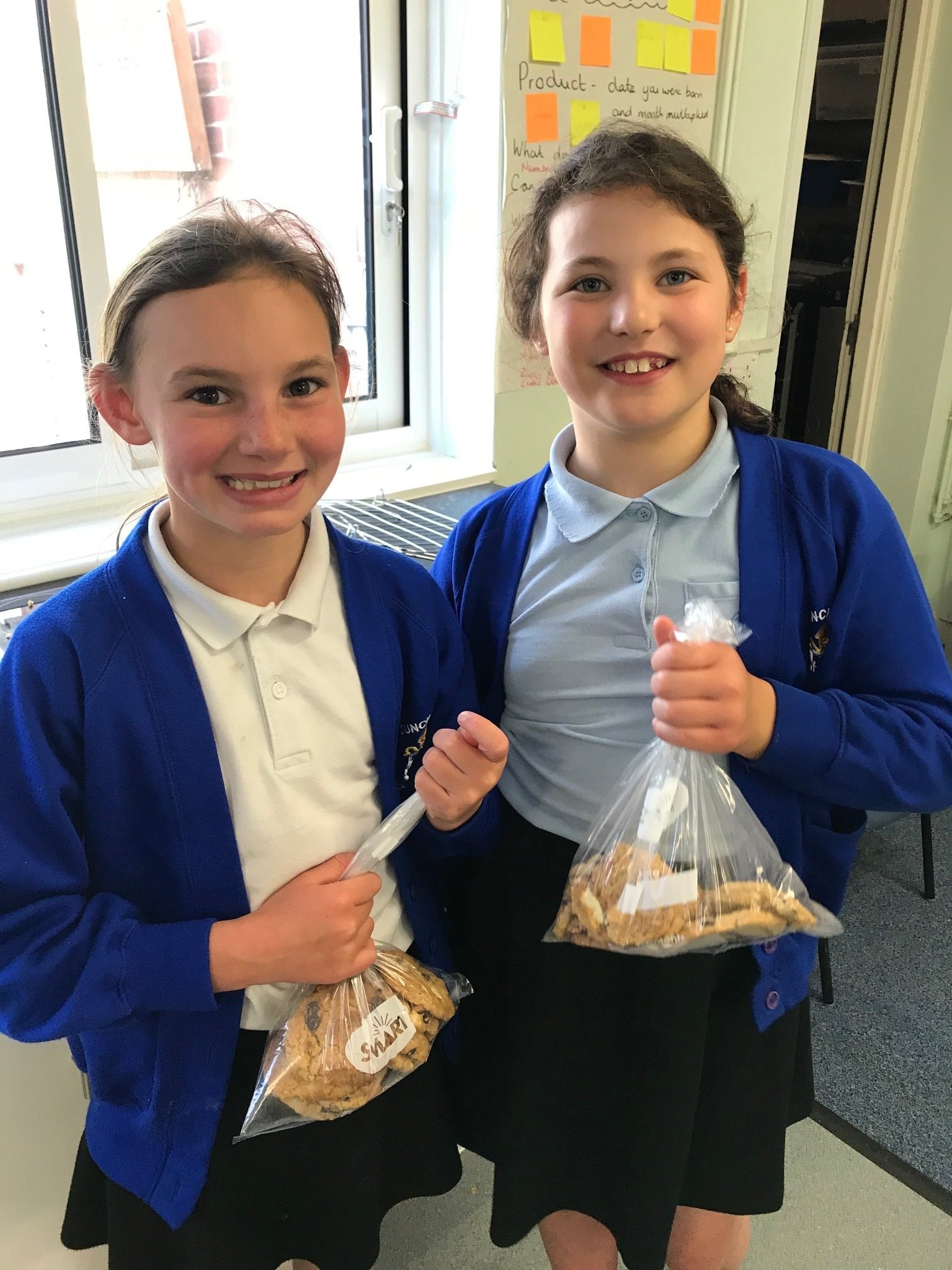 A little bit of School History - 4th May 2020
Last week the school received an email from Louise Greenwood, who was Head Girl at Boughton Endowed School around 1962, when the Headmaster was Mr Grey. Below she shares some of her memories of events at the school.
I was at Boughton Endowed School from about 1956 to 1962. I lived in Thurlaston at the time and took a 2d. Bus Ride - Midland Red R91 every morning to school. Here I am on May Day. At my primary school, every year we had a grand afternoon which started with a procession of all the boys and girls in pairs walking with pointy toes first. The girls held a little basket of flowers each and wore white dresses, the boys had BrylCreamed hair not usually worn but this smartened them up for the occasion, and wore white shirts, grey shorts and school ties. We crocodiled around the school grounds trying to look composed, counting out our steps and keeping the right distance from one another.
Then we put on a display of maypole dancing in the infants playground. There was a special hole in the playground tarmac covered with a brass plate all year until it was opened up to take the white Maypole in early April. The rest of the time the covered hole marked 'centre' for our netball pitch. We practised in freezing weather, Miss Grattidge wheeled her piano out into the playground and banged out the tunes we had to skip to, to wind and intertwine the maypole ribbons around the pole. It was usually freezing and the boys were rubbish of course ;-). So there was a lot of going back and undoing the ribbons, but we kept going until we were 'plait-perfect' ready for the big day.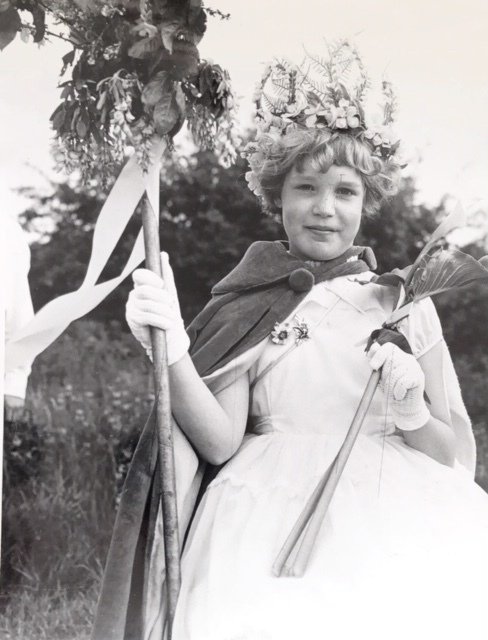 There were elected offices, a May Princess (carmine velvet train), a May Queen (gold velvet train) and a 'retiring May Queen' (deep blue velvet train). You were presented with a brooch for each year, and you can see here I have two pinned to my dress, so I had been Princess the previous year and this was the big one! Larger crown than the other two and a presentation Arum lily! Our flowers and floral crowns were made to match our trains so my 'staff' and crown is adorned with yellow flowers ...'Don't eat the Labernum, Louise!'
I think some dignitaries came… school governors, but no parents so Mum and Dad were surprised to see this photo in the Coventry Gazette!! I must have been nine. For us May Day and all that it entailed was rather part of the curriculum. I suppose it taught us co-operation and patience... and how to walk with pointy toes first!
Message from Chris Tabor (school governor) - 4th May 2020
I've missed you all and was expecting to be taking assembly about now!
I've thought about creation as I've been on many country walks and I've been pleased at the lack of pollution. I made this from small triangles of coloured paper which I stuck on- took a while but it's God' promise of hope. Then I got creative with household objects to amuse my great nephew and he replied with head of T-Rex using clothes pegs for teeth. Have you missed the prayer spaces at school? I found a log in the woods where it was peaceful and a good place to pray (that's a sort of selfie!!) Then looking over a gate watching the lambs was a good thinking spot too. I attempted an Easter garden and put it on the doorstep for the post lady with a "Happy Easter" message. On Easter Sunday after I'd watched the Youtube service from Dunchurch Baptist I made this cross in the woods. And a few days ago I spotted this sign of love- maybe some of you made it?
I feel as if this strange time has encouraged us all to be more patient and considerate, so I hope as we come back together we will continue those attitudes while enjoying each other's company again
See you all soon
Chris Tabor (governor)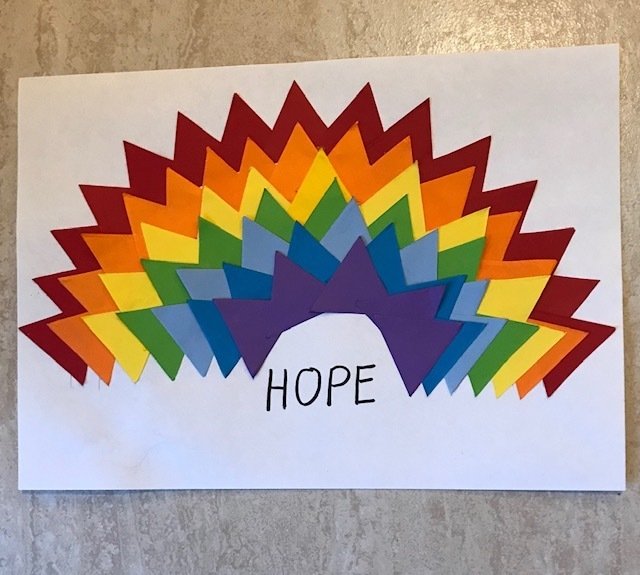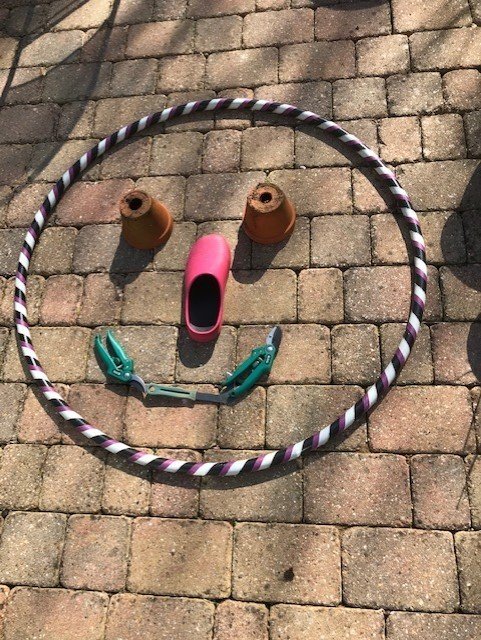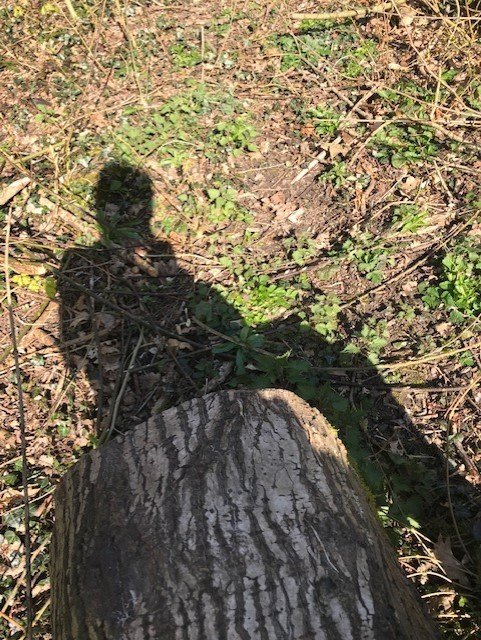 A message from Mrs Hayward - Friday 1st May 2020
Hello Children, I hope you are all well and taking care of yourselves and your families. I am missing school very much and especially missing your smiley faces.
We are in an unprecedented and challenging time but I know you are all doing your best at your home schooling and I know your teachers are working extra hard to set work and support you whenever needed. Remember to have fun too - play board games, do lots of crafts, be active.
I am doing well at home and feeling good. I am busy supporting Jake in his home learning (Year 9 curriculum ;-)). Every day I set myself a job to do - either housework, gardening or sorting paperwork (lots of shredding). The house has never been so clean :-) Also, every week I bake or try a new dinner recipe, both Mr Hayward and Jake are enjoying these. It keeps me busy!
Take care and I hope to see you all very soon.
Stay home and stay safe :-)
Kind Regards
Mrs Hayward
Message from Steve from St. Peter's church - Thursday 30th April 2020
Good morning children,
I do hope and your families are well and safe.
How are you doing with the many changes we are all having to adapt too?
It all seems very strange and very different.
Perhaps many of you have been learning new skills whilst at home and trying new activities that you hadn't done before.
It would be good to hear of the new things you have been doing.
As a church family at St Peter's, we have had to adapt a new way to worship on a Sunday morning. Vicar Pat leads a service from her front room at home in the Vicarage and by using the Zoom app, many members of church log on with a meeting identification number and this means that we can see everyone in their homes. Our church secretary sends out an order of service by email so that we can all join in.
Sadly we are not able to sing worship songs together, but we do have prayers, readings and a short sermon. This Sunday I will be taking the sermon, its on Jesus as the Good Shepherd and his followers as his sheep.
It will be very challenging for me as I talk into my laptop but I have had some practice. I have decided to dress up as a shepherd to help me.
I miss not being able to come to school and see you all but hope you are enjoying learning on line with your teachers and look forward to seeing you soon.
Mrs Keffler makes a recommendation - Wednesday 29th April
Mrs. Keffler has suggested this link. You can get free books to read.
https://www.oxfordowl.co.uk/for-home/find-a-book/library-page
Mrs Gooch makes a recommendation - Monday 27th April
Mrs Gooch was in school last week and suggested this website for great story telling. www.radioblogging.net
Stories are available at 9.30 am every day. Why not give it a try?
School Today - Friday 24th April 2020
Yet again it was a gloriously sunny day and the children in school (and Mrs Read) had time to get creative in the quad after their 'socially distant' lunch.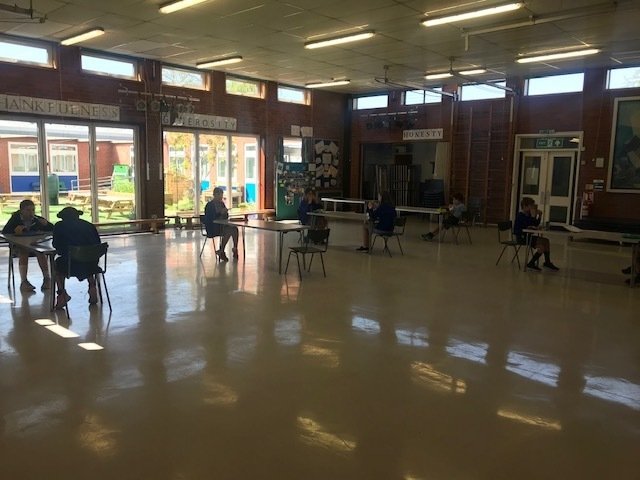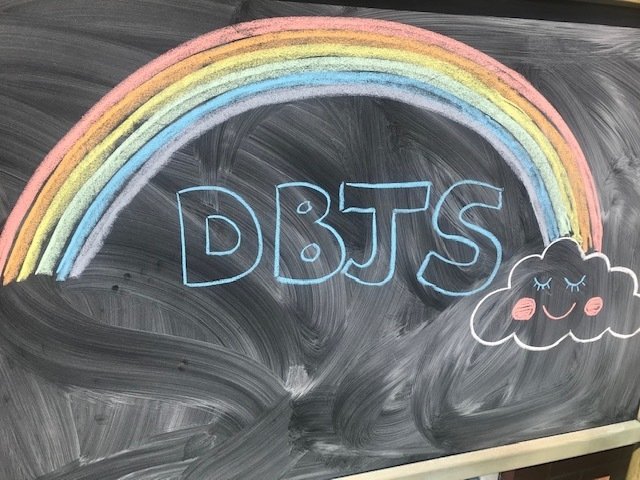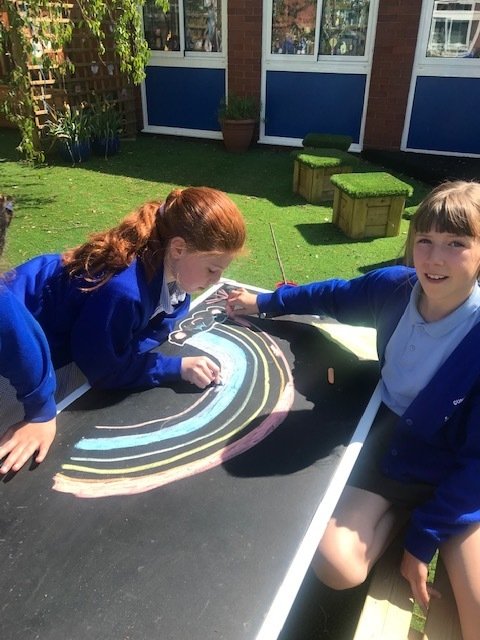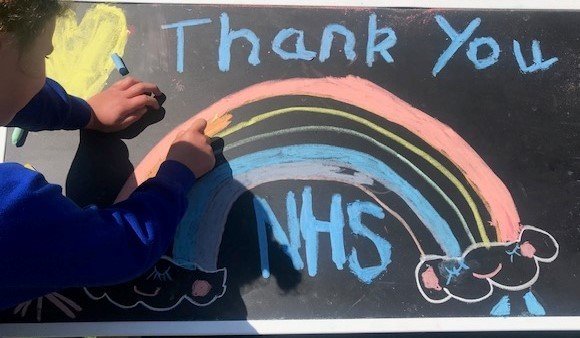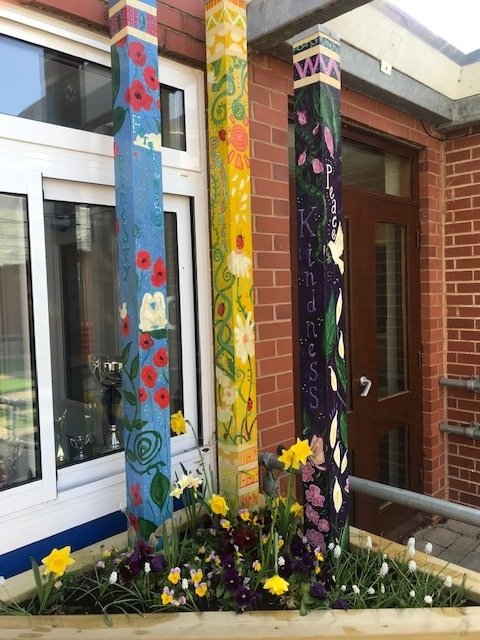 School Today - Wednesday 22nd April 2020
The children in school completed their SeeSaw learning this morning and then headed outside for some fresh air. They used Garage Band on the iPad to compose some music inspired by the beautiful weather and spring flowers.The teachers received some training on SeeSaw yesterday so they are starting to get the hang of it and they are really enjoying seeing all your fantastic home learning - keep up the hard work.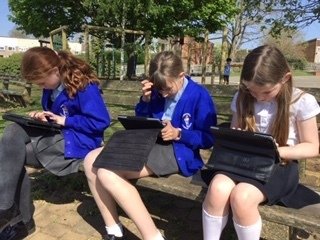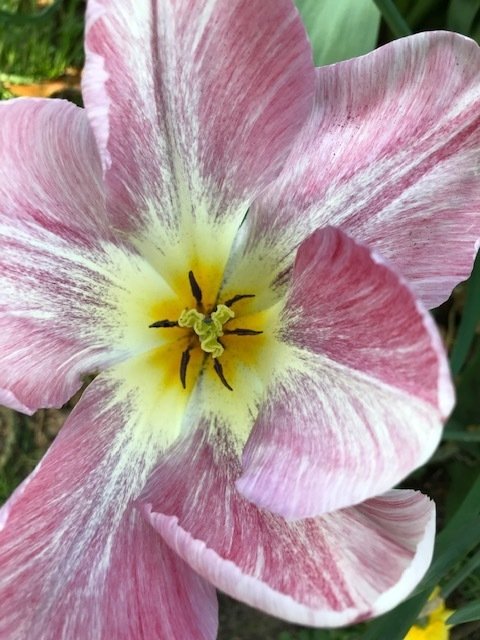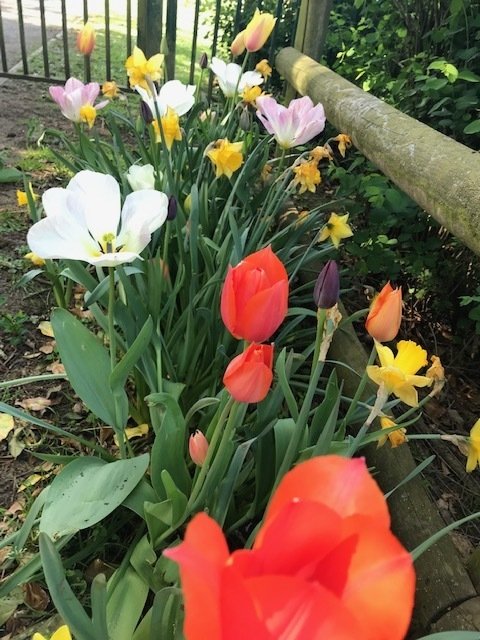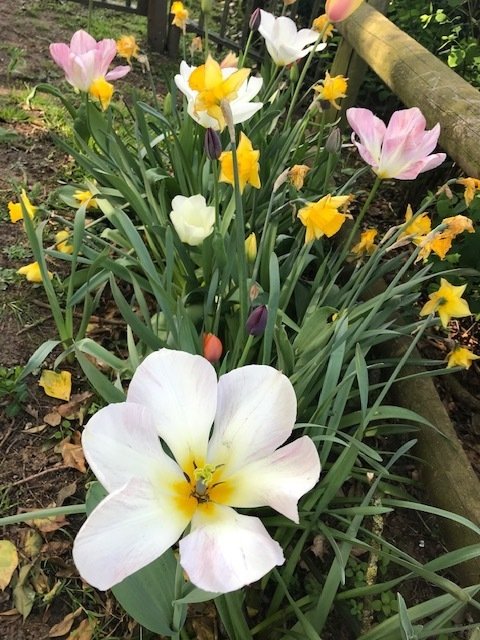 School Today - Monday 20th April 2020
As the Easter Holidays are now finished a small number of children returned to school in the lovely sunshine. They spent the morning getting to grips with SeeSaw and trying to complete some learning - well done everyone for persevering with it. I have already seen some amazing work posted. In the afternoon the children headed out onto the daisy covered field to enjoy a game of Rounders. It was lovely to see some pupils and staff today; school is very quiet without the rest of you here. I look forward to your SeeSaw updates.
Mrs Read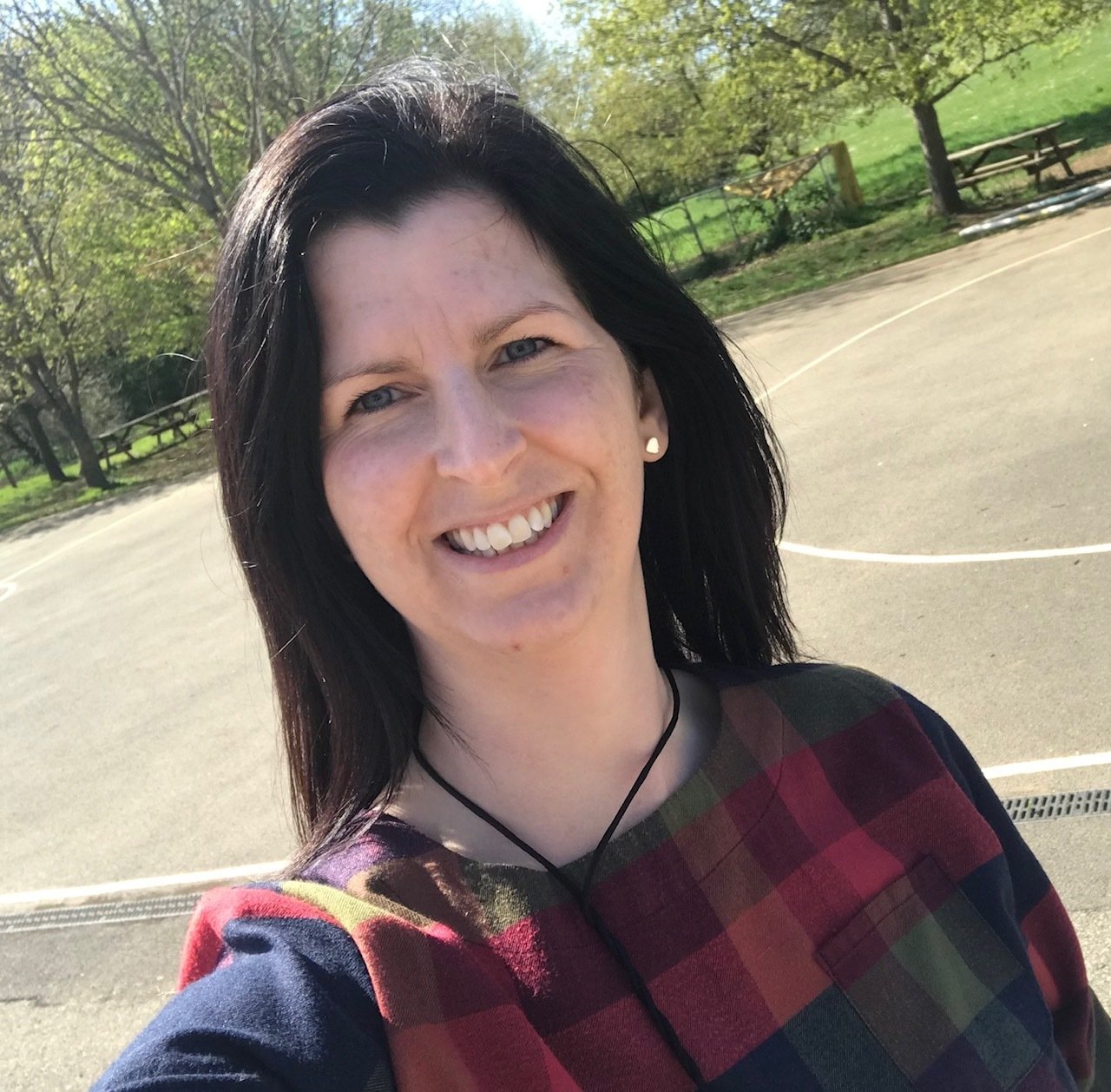 Message from Mrs Clusker - Monday 20th April 2020
Hello Children,
I hope you are all ok and that you are enjoying your time at home or at school. I am missing you all lots! It's very quiet and I miss hearing all your wonderful stories of what you have been up too. I look forward to hearing them when we see each other again or reading them if you write about your adventures.
I know you will all be continuing to learn at home as well as having lots of fun and enjoying spending time with your families. Remember to do lots of reading and playing outside.
Olivia (My daughter) turns one next week. We are going to give her a little party to celebrate at home. She is very excited and has nearly learnt to walk. She can stand all by herself now.
While we have been at home, we have been doing lots of cooking together. Olivia really enjoys this. Maybe you could try some baking and send me your favourite recipes to try or pictures of the food you have made.
Be kind to each other and where you can help out home. Maybe give your bedroom a hoover!
Take care
Mrs Clusker and Olivia
New Books from Mrs Miller - Monday 20th April
Here are two more books that you will be able to read, when we are back at school. I hope you are all reading every day at home.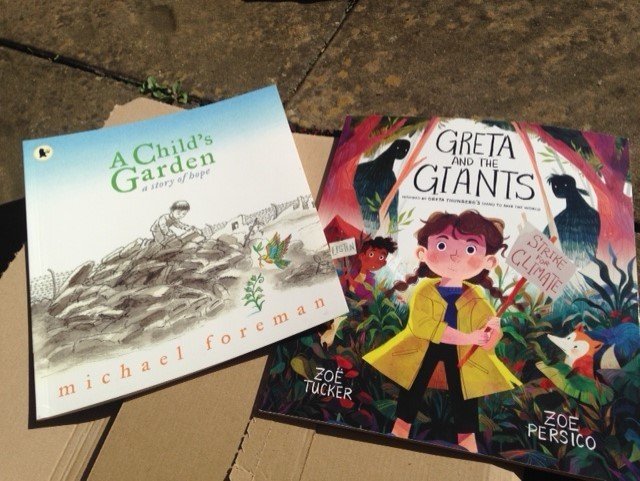 Easter Sunday Service at St. Peter's Church
If anyone would like to see the service it will be live streamed. Please email Reverend Pat and she will give you the link. Her email is revptownshend@gmail.com
Easter Holiday Club - April 2020
The club is open to children of Key workers and vulnerable children. Yesterday they made Easter gardens and Easter nests. They enjoyed playing outside in the sunshine too.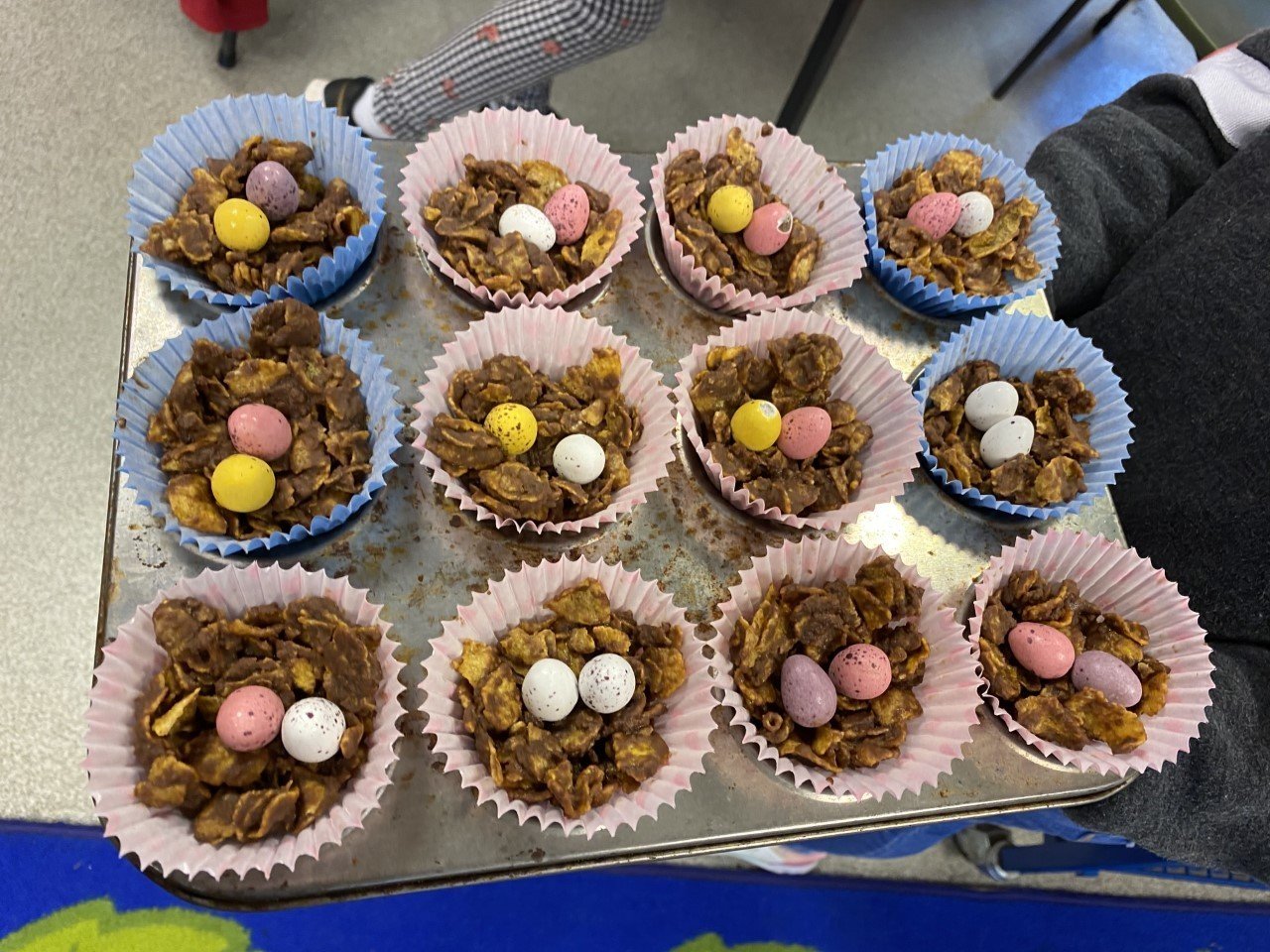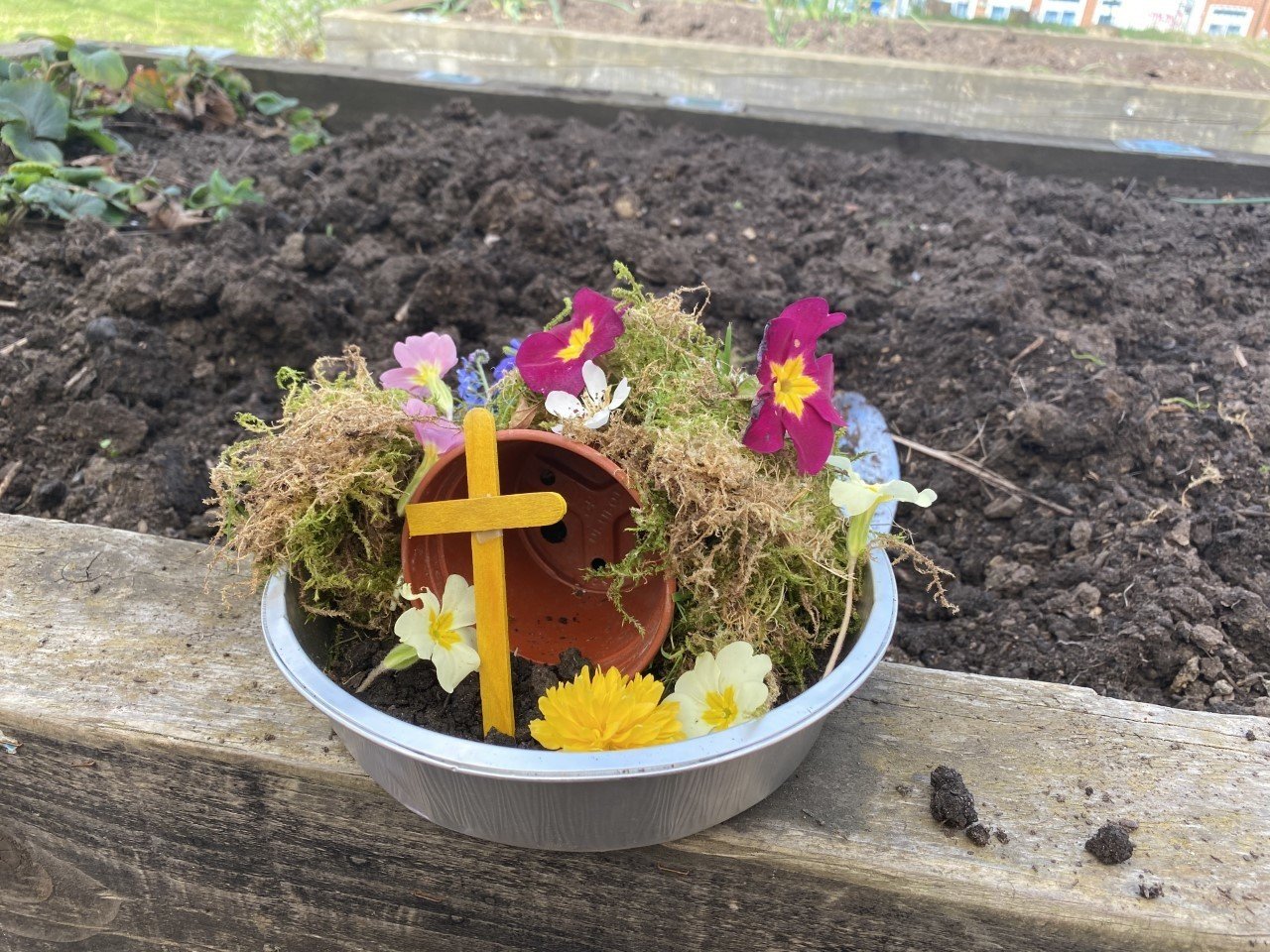 School Today - 31st March 2020
The children in school today worked hard on their Maths and English and then completed a 25 minute run with Mrs. Miller around the field. It was hard work, but we made it. Mrs. Broderick taught the children and in the afternoon, they completed some bead pictures linked to the school values. Mrs. Miller has bought three more reading books for her gifted section. I am sure there will be a queue for these, when the children return to school. We are all missing you and hope that you are keeping well and safe. Perhaps you could try some art work linked to our values at home and email it to the office for me to see?
Mrs Miller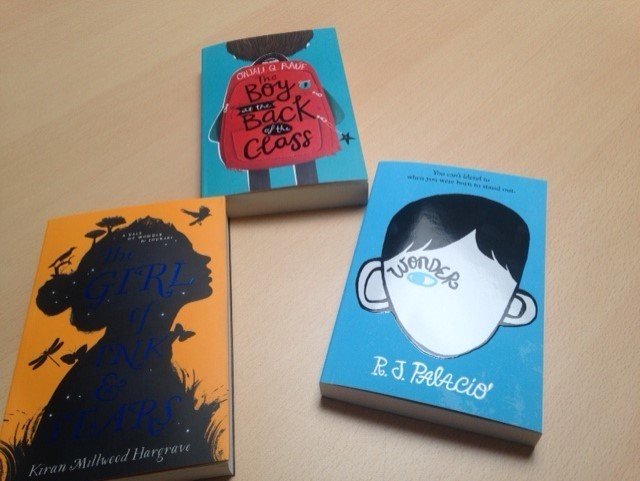 School Today- 27th March 2020
Another sunny day today. I hope you are all enjoying some time in your gardens. The children in school enjoyed completing project work set and Maths and English. We then had a long walk around the school field. This afternoon the children made a Rainbow Message, that is now on the fence on Don Cerce Close. Perhaps you will see it if you go for a walk in the village.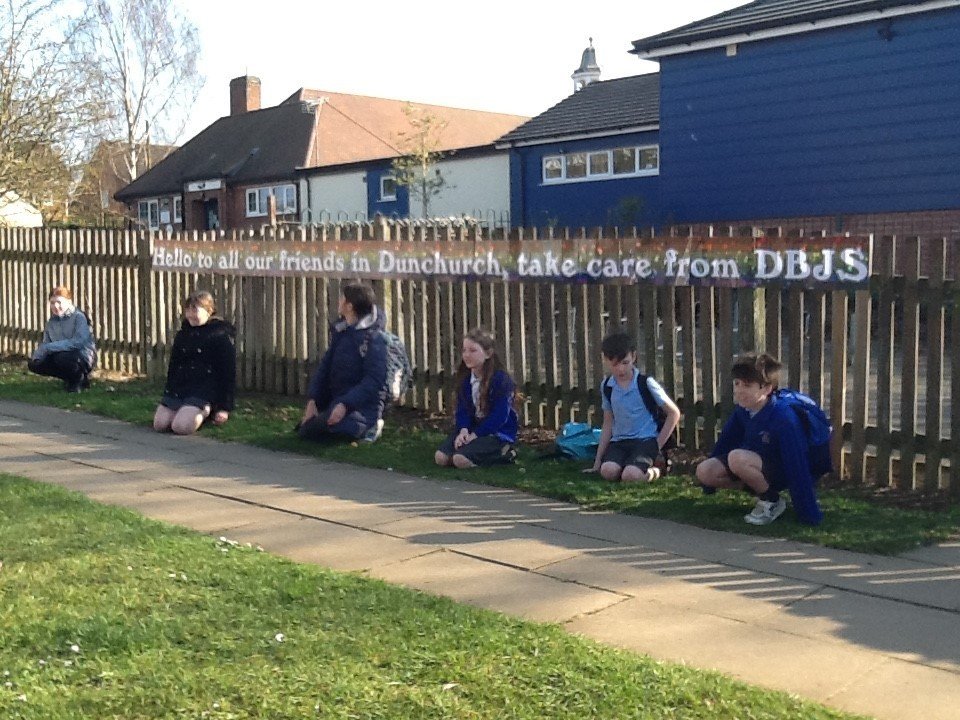 School Today- 26th March 2020
Today the children enjoyed making music, hanging the rainbow tea-towels on the fence and taking part in a work-out in the hall with Mrs. Fairbrother. They worked hard on their English and Maths this morning. Mrs Miller and Mrs Merrigan served the dinners and Mrs Cooper did the washing up.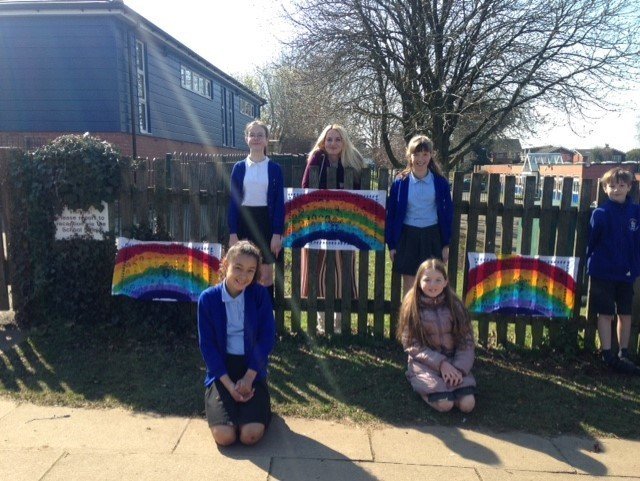 Home Learning - Music - 26th March 2020
If you are missing your weekly dose of music take a look at these tasks that Mrs Fairbrother has set. There is an activity for each year group. Enjoy!
Year 6 Frequency of Sound PowerPoint
Year 6 Frequency of Sound Experiment Table
Updates from Matilda and Woody - 24th March 2020
It has been a very quiet couple of days and Matilda is missing you all very much. I hope you are all working hard at home and you've made it into the "Golden Book". If you would like to send a letter or post-card into school telling us how you are, we would love to receive them.
Matilda had some new friends with her today. I am missing you all, but I am keeping busy and am sorting out the office. I also enjoyed a run around the playground this morning with the children. Take care and try to be helpful at home, by making your bed and perhaps doing the washing or drying up. Don't forget to do lots of reading too.
Mrs Miller and Matilda
I really miss you at school but I hope you are having fun at home whilst completing your school work. It's very important that you stay in and stay safe. Listen to the grown ups and be good.
I have been around the school and I will be sending you a photograph for you to try and guess where I am. Here's my first one and I'll give you the answer in my next message.
Love Woody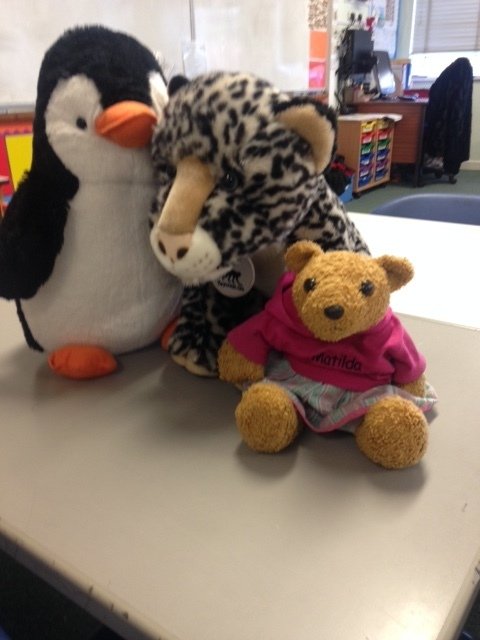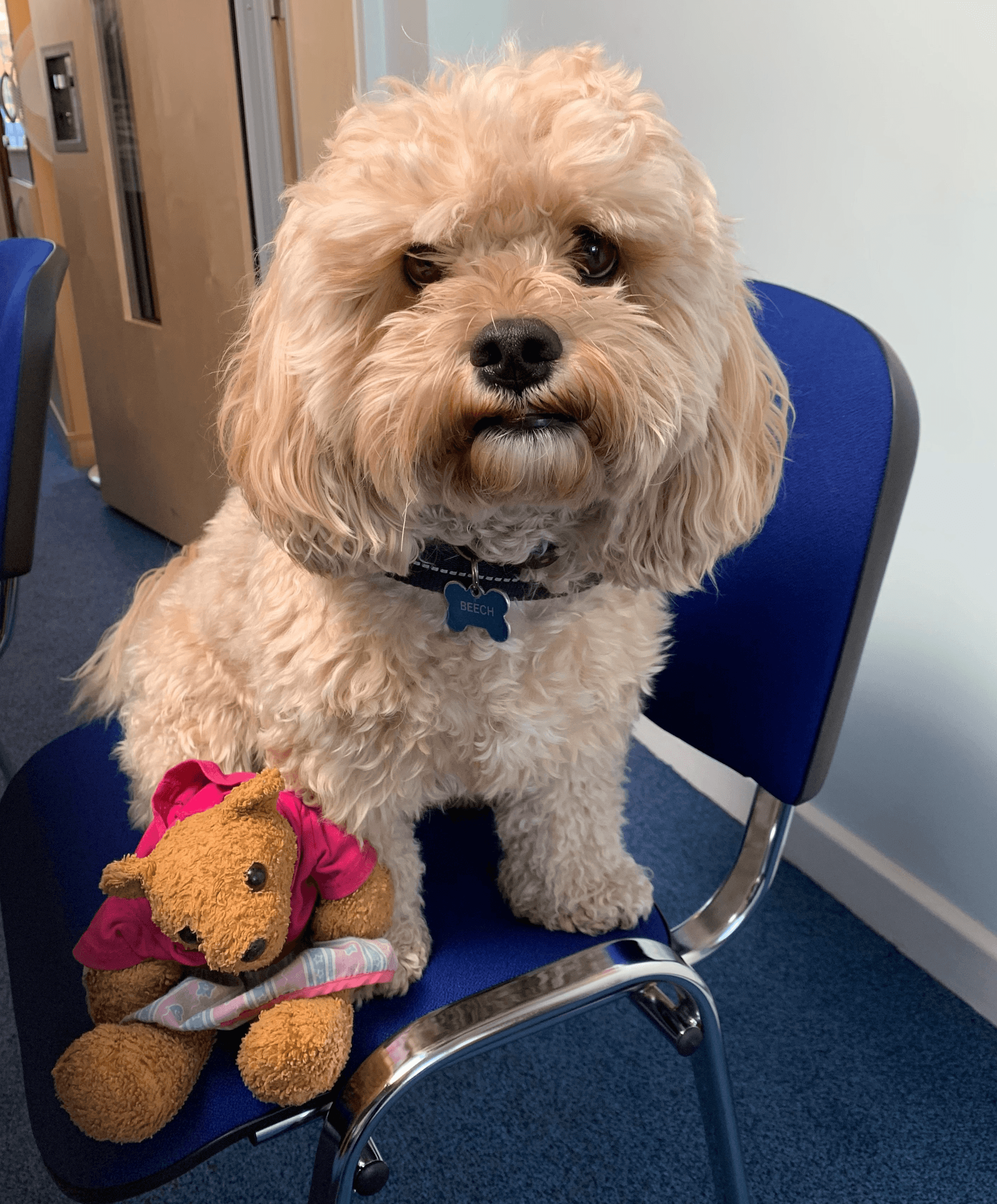 World Book Day - English - 4th March 2020
As year 4 were heading off on residential, we held World Book Day on Wednesday. Children had the option to dress up as their favourite book character, Mrs Miller shared stores at break time and year 4 visited the infant school to read to the younger children. Each year group spend time time looking a different, with Year 5 creating some amazing art work linked to The Lost Happy Endings.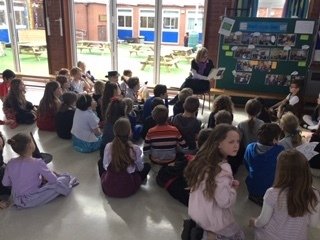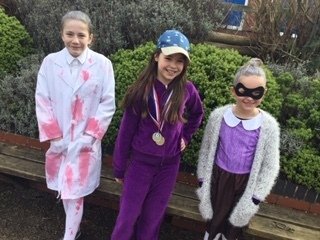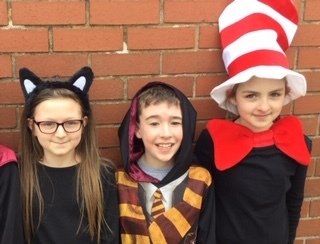 Sign to Sing - Music - 12th February 2020
Wednesday afternoon saw the junior school children and the infants come together to raise money for SignHealth, a charity which supports deaf people. Each school sang and signed a song, before singing and signing altogether... the children definitely got the hang of it quicker than the teachers! The event is the only mass signing event in the UK and aims to raise funds and awareness for deaf people. The children had a great time singing. Thank you for the kind donations.
Collective Worship - New Reflection Areas - 3rd February 2020
Our busy Spirit Ambassadors have helped to change our Reflection Areas this week. The new theme is "Please Beads." The children can pick up a bead and think about what is on their mind. If they want to, they can say a "please" prayer about what's on their mind.
Warwickshire Choristers - January 2020
Congratulations to Year 5 boys Lorenzo S and William Sh for their Primary Proms performance on stage at Birmingham Symphony Hall on Monday to an audience of over 5,000 children. Their choir, Warwickshire Choristers, are this year's winners of the Music for Youth National Festival. This is a huge achievement for the choir, well done boys!
Lorenzo and William also ran a colouring competition in school to raise money for the Choristers, who are making a CD. They raised £25. Thank you to everyone who took part.
If your son loves to sing, the choir are looking for new members (age 8+). Rehearsals take place in Rugby, Coventry or Warwick. https://www.choristers.org/ or Facebook @warwickshirechoristers
Football News - January 28th 2020
Well done to the boys' football team, who played at half-time of the Coventry City vs. Birmingham City FA cup match. The boys beat the Birmingham primary school champions 4-2. Some of the boys were understandably nervous, but they didn't let it show as they raced to a four-nil lead, before the Birmingham team rallied towards the end. Thank you to Mr. James for his continued hard work coaching the team.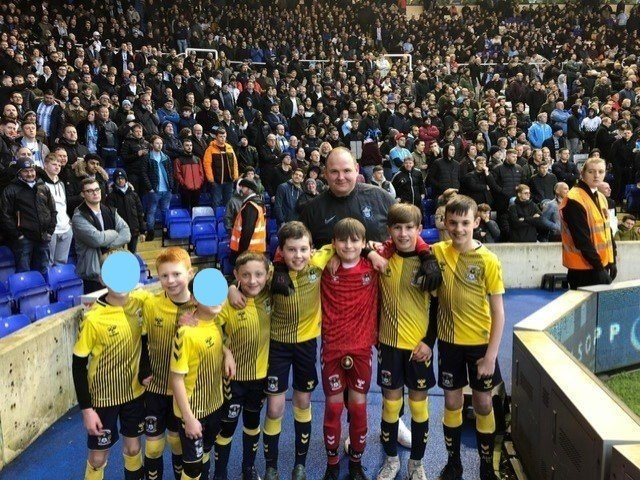 Collective Worship - Spring Term 2020
This half term our theme is Courage. We will be learning about Moses, Esther the Brave, Ruth and Elisha the Prophet. The children will also learn about Guru Gobind Singh and Nirvana. We will be celebrating the Christian festival of Candlemas and learning about Epiphany. We will also be revisiting our school values of : Generosity and Forgiveness. Reverend Pat Townsend, Dave Woods and Chris Tabor will all be leading Collective Worship this half term. Our Spirit Ambassadors will be leading a worship with the support of Mrs Broderick. During class assemblies the children will learn more about our school vision from Matthew 7:7, which is "Ask, Seek, Knock."

School Christmas Dinner - 18th December 2019
Following the church service in the morning, children returned to school to have their Christmas dinner. The whole school joined in with the celebrations. There was music and the table were beautifully decorated. Many thanks to the PTA for providing decorations and crackers for all the pupils. A huge well done to all the kitchen team for cooking such a delicious dinner.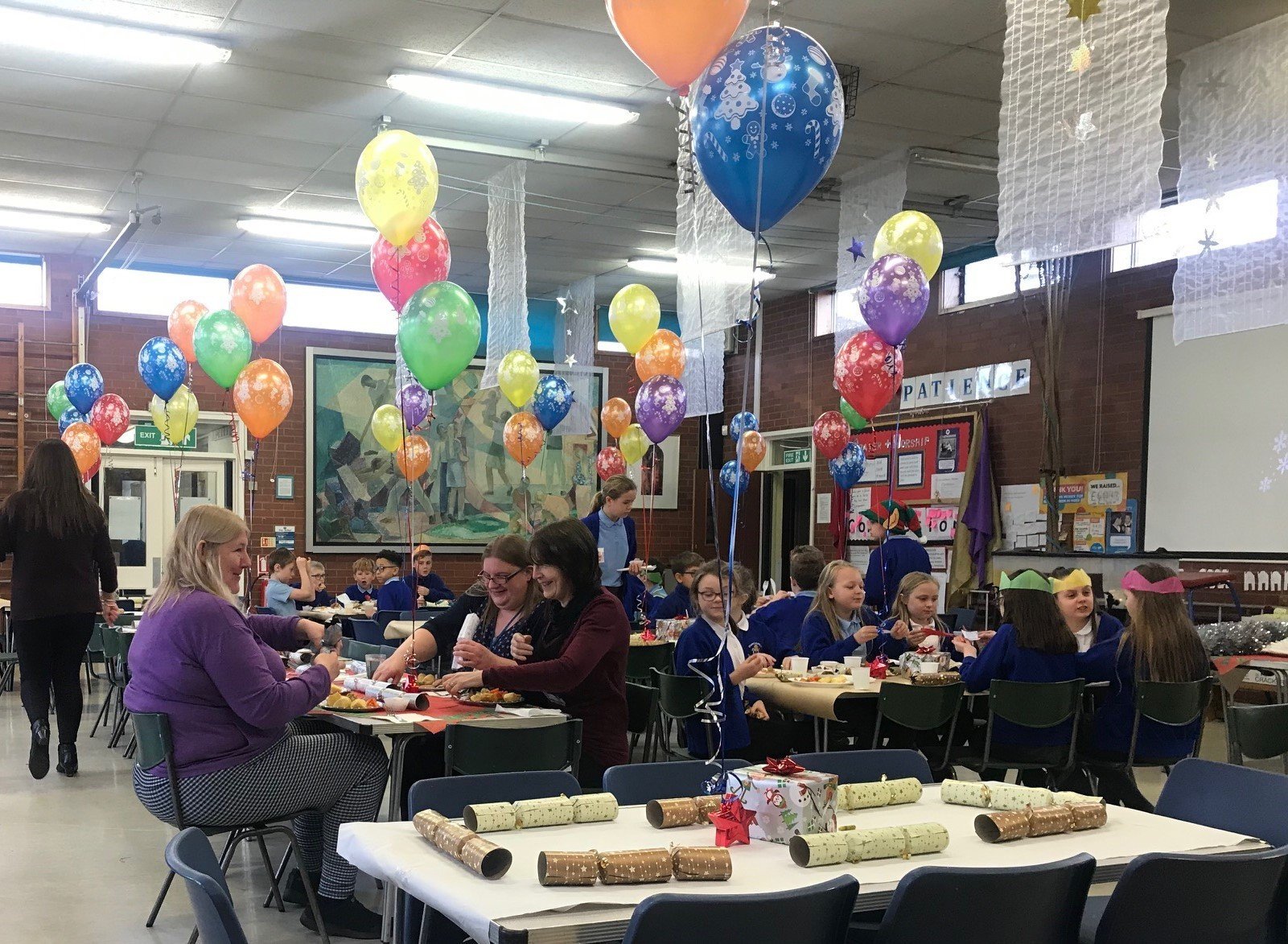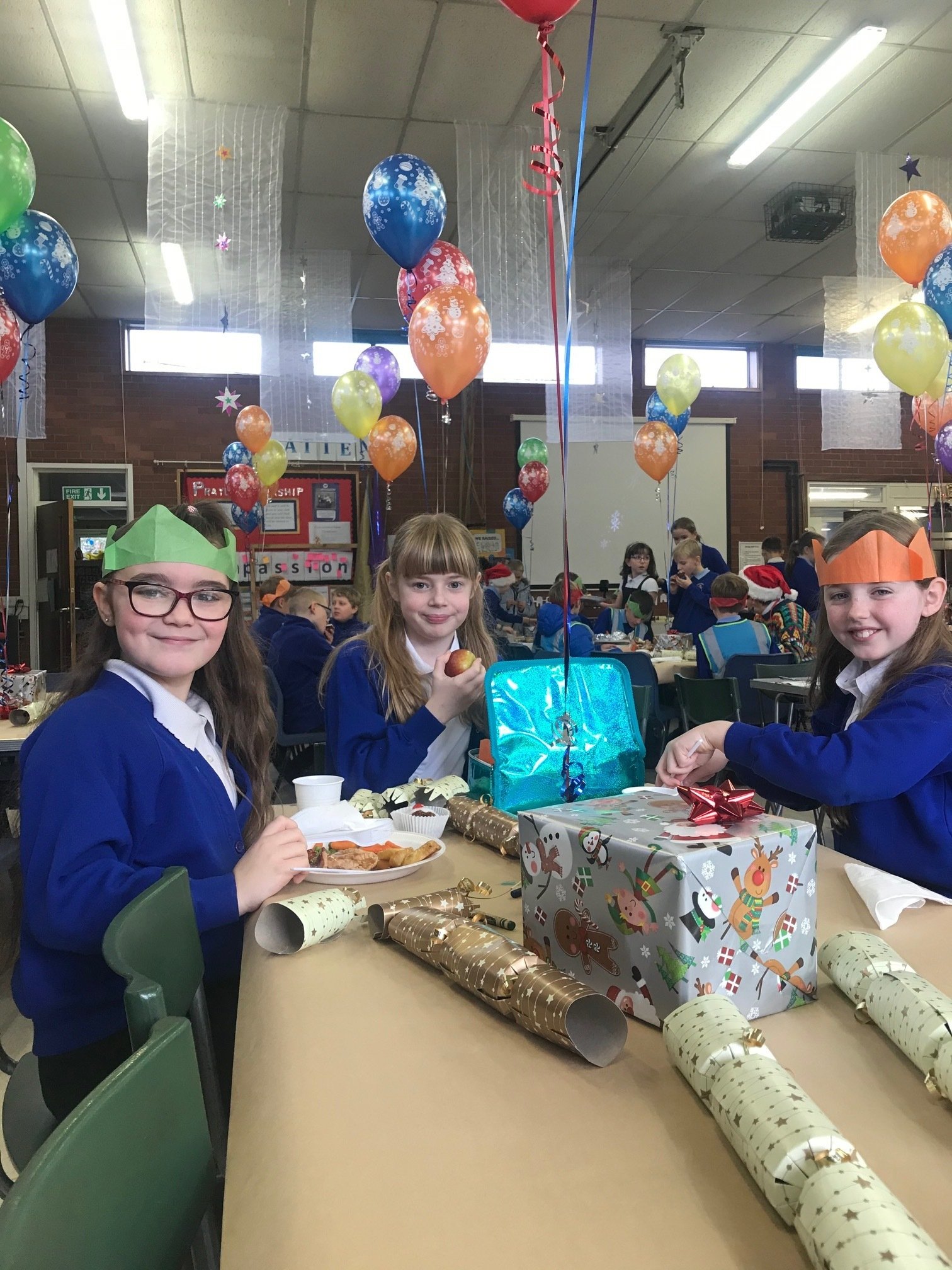 St Peter's Church Christmas Service - 18th December 2019
Wednesday saw the whole school visit St Peters Church for a Christmas service, complete with carols and a talk and blessing from Rev. Pat. The choir sang and the school orchestra also played. It helped the children remember the true meaning of Christmas.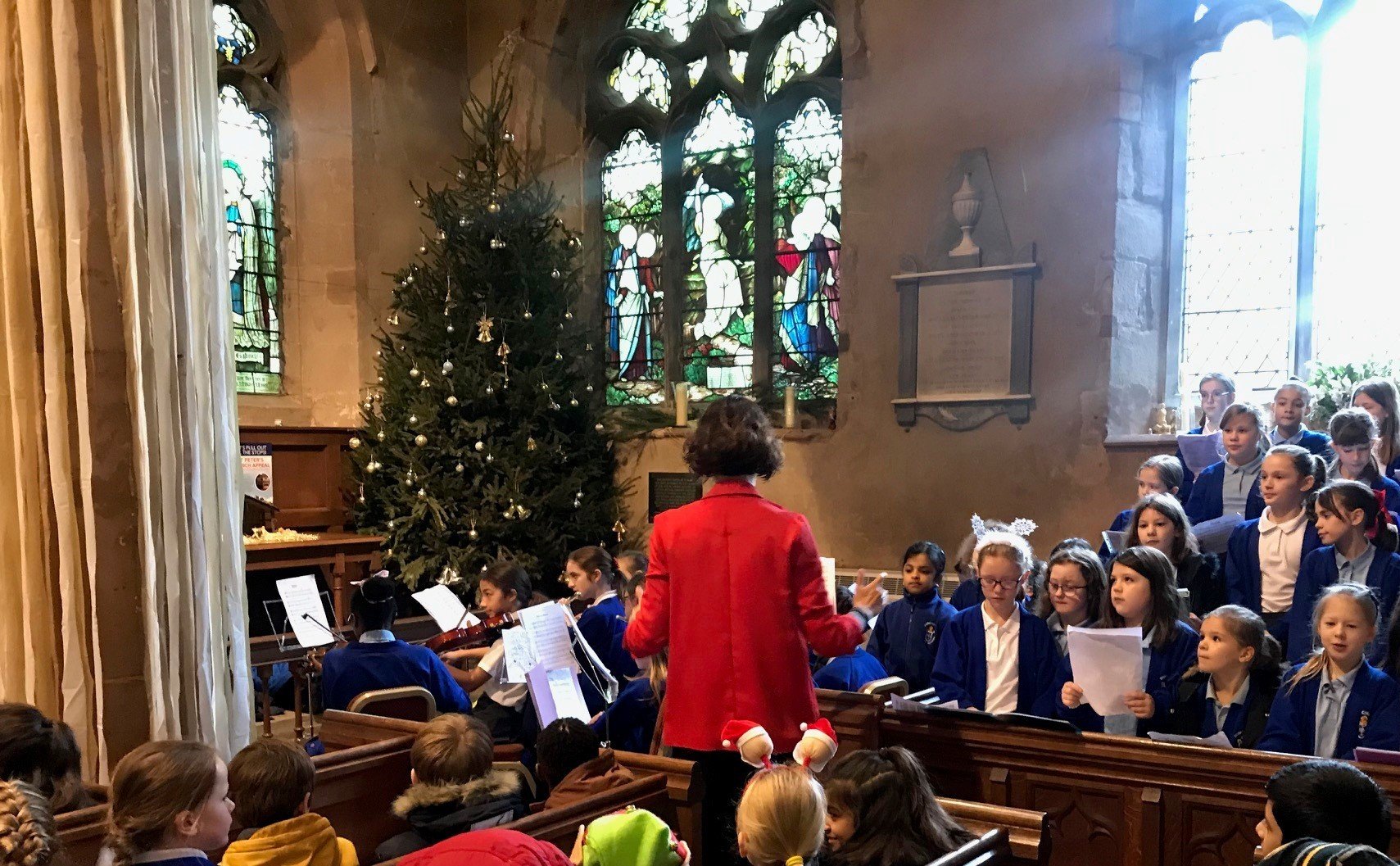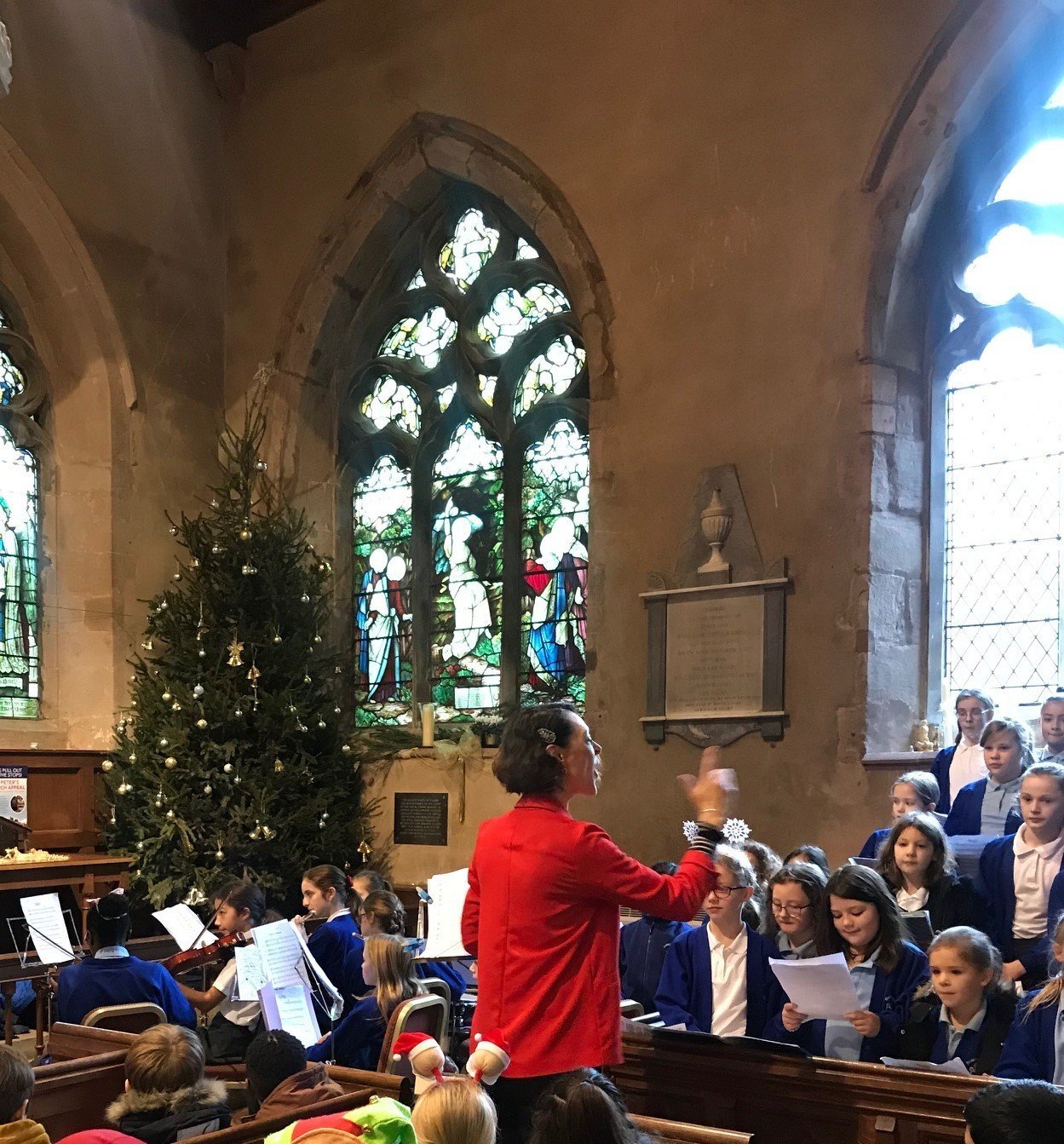 Dunchurch Tonight - Year 3 and 4 Nativity - 17th December 2019
The pupils from year 3 and 4 delivered three amazing performances of this years Nativity, Dunchurch Tonight. The first was to pupils from the rest of the federation, and the following two performances to a packed hall of parents and carers. The singing was amazing, with a new selection of songs picked by Mrs Fairbrother. The children did a fantastic job of remembering lines and stage directions. Well done to all involved. Pictures courtesy of Mrs Page, Offshoots Photography.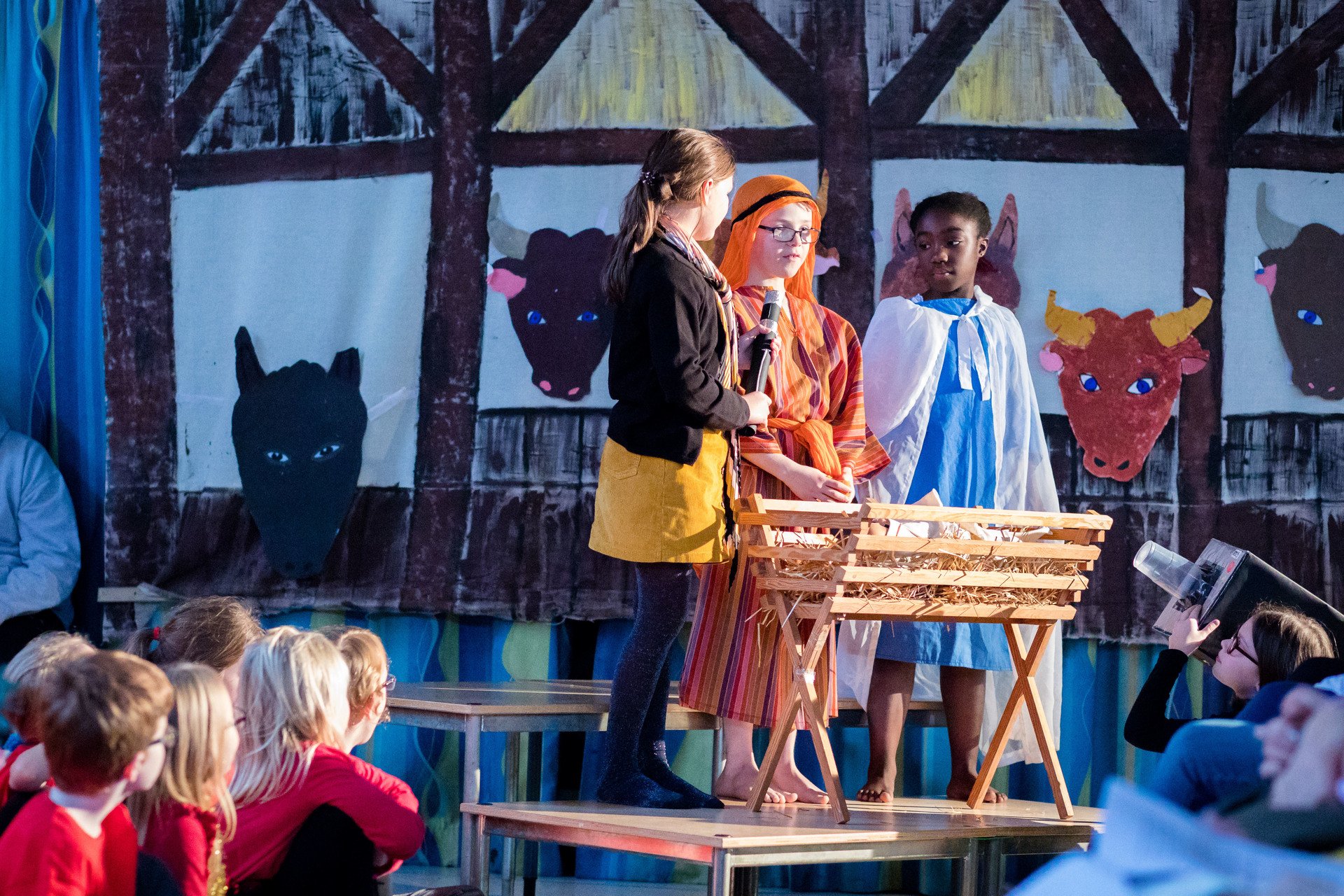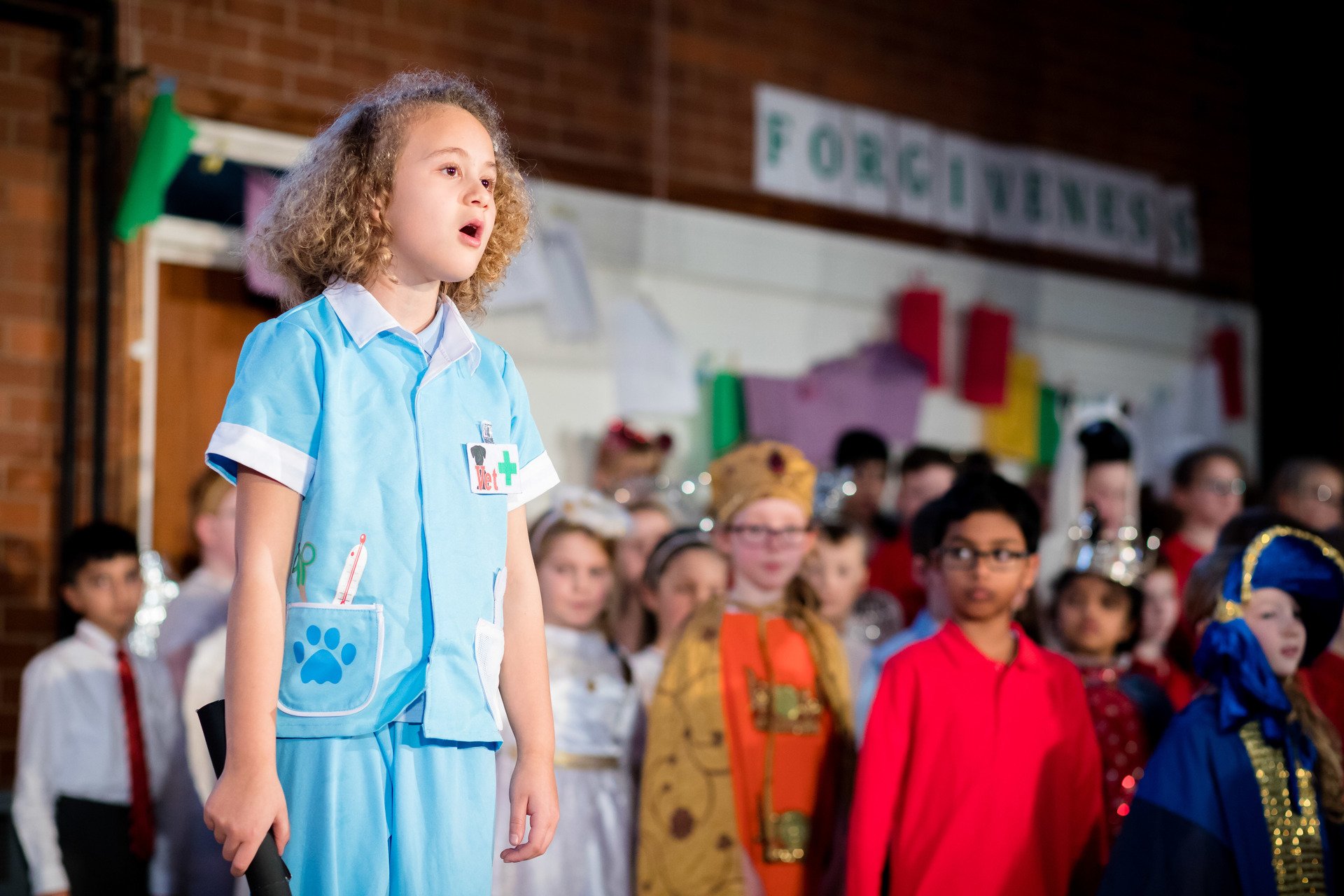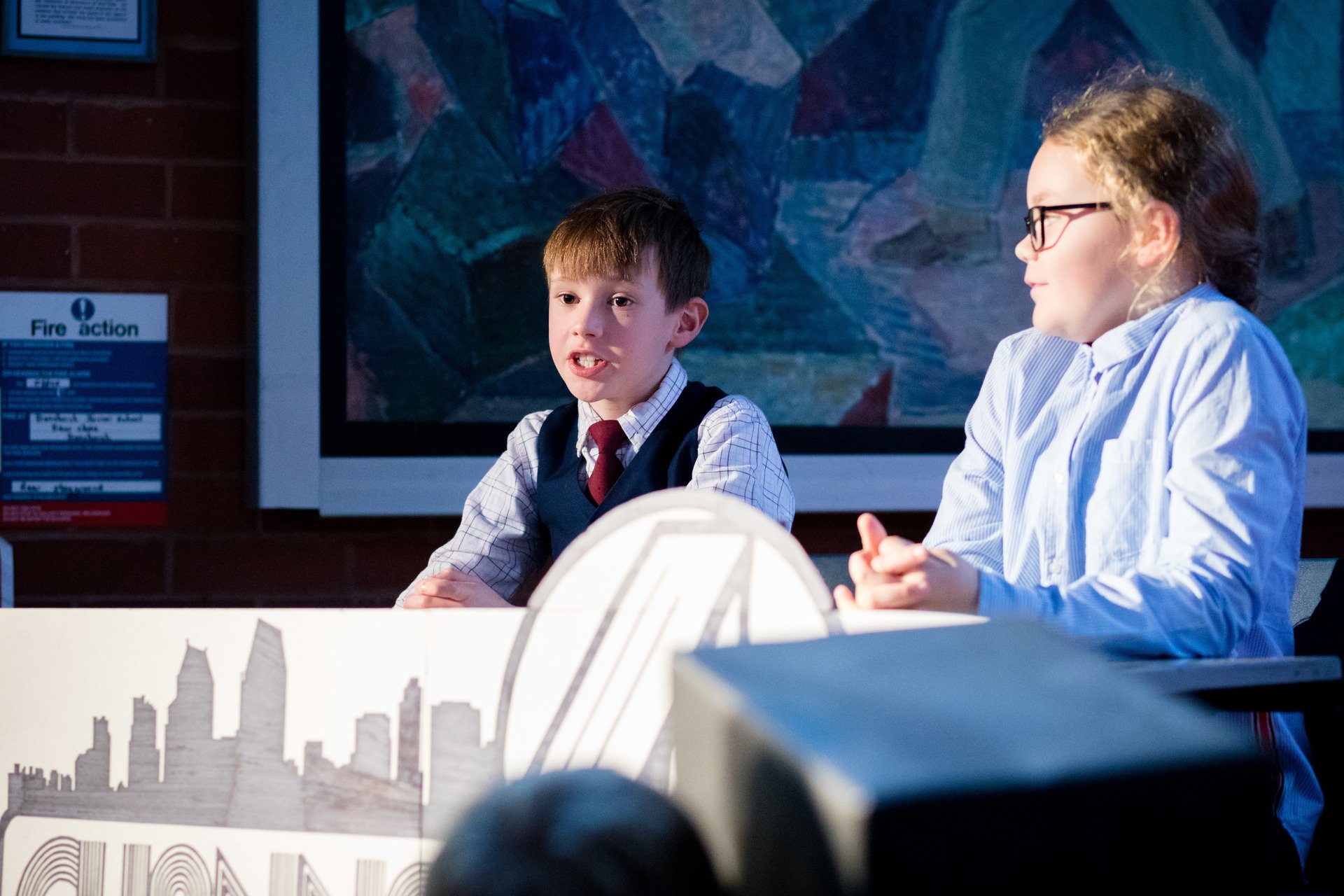 5 Gold Rings - Year 5 and 6 - 16th December 2019
Monday was year 5 and 6's turn to put on their panto-style performance, which was full of fun. The play saw two children learn to put aside their differences and recognise each other's strengths. In so doing, they discover the true 'gold' that can be given at Christmas! They performed three times and had the audience singing along to The 12 Days of Christmas.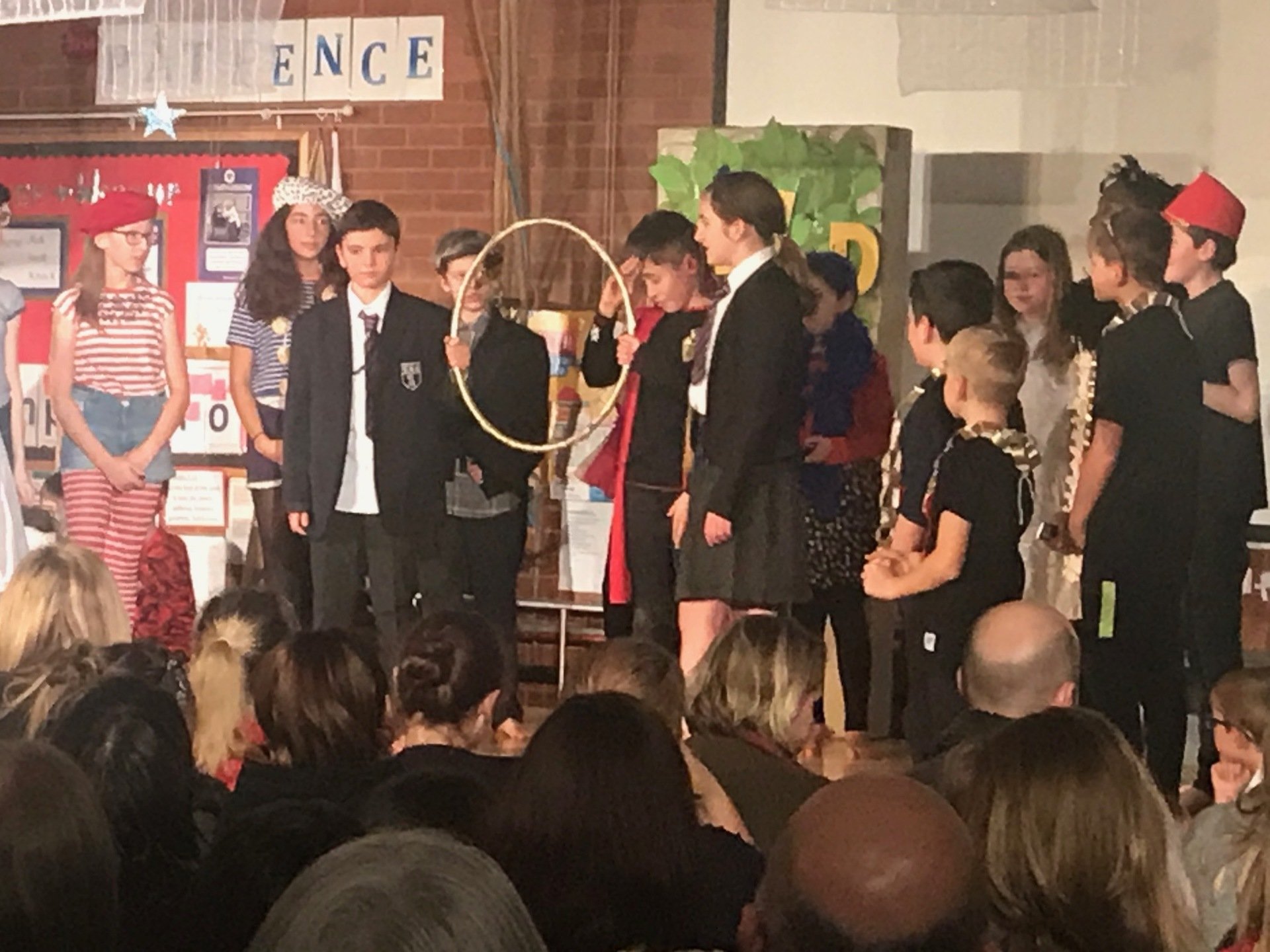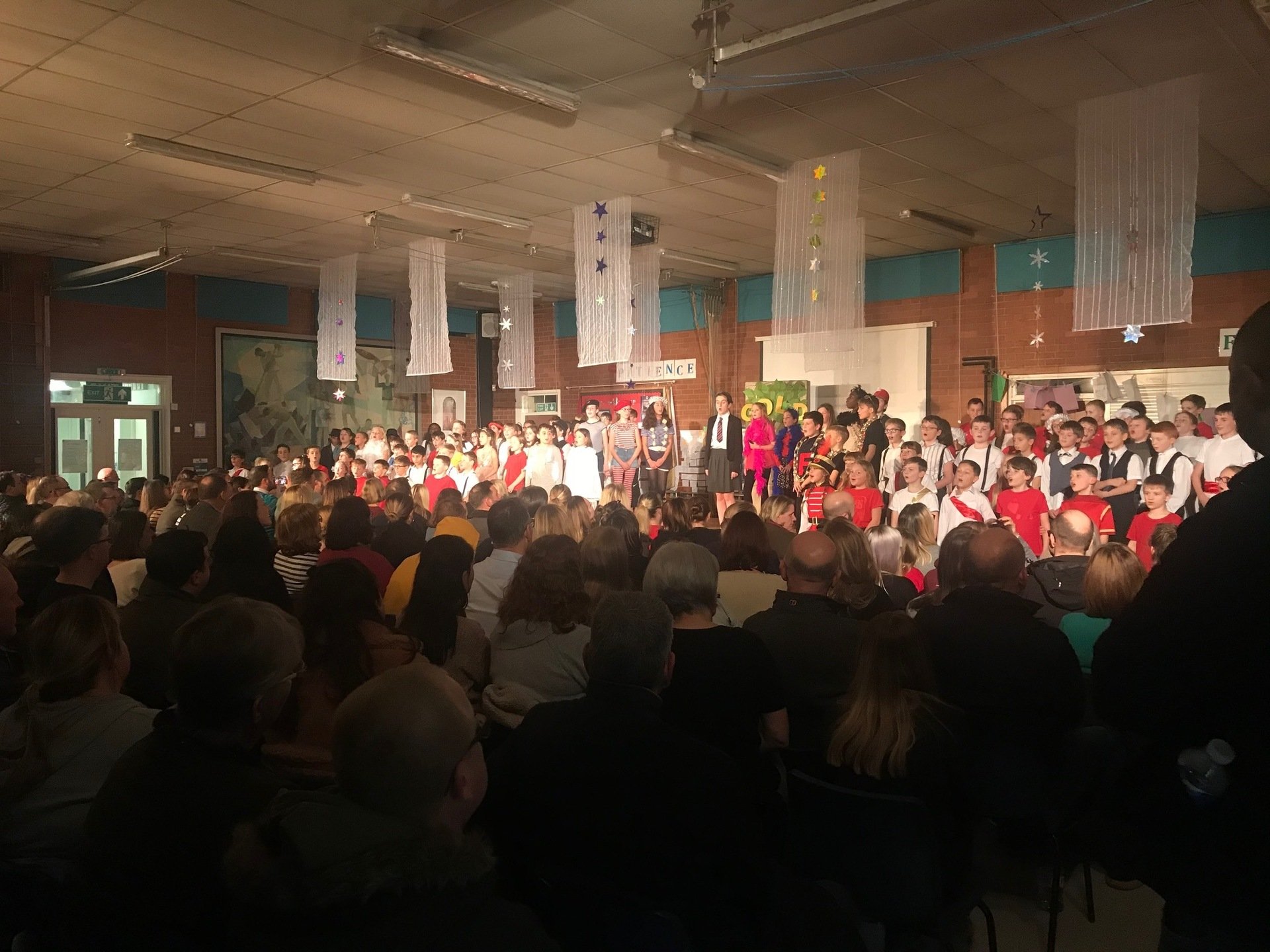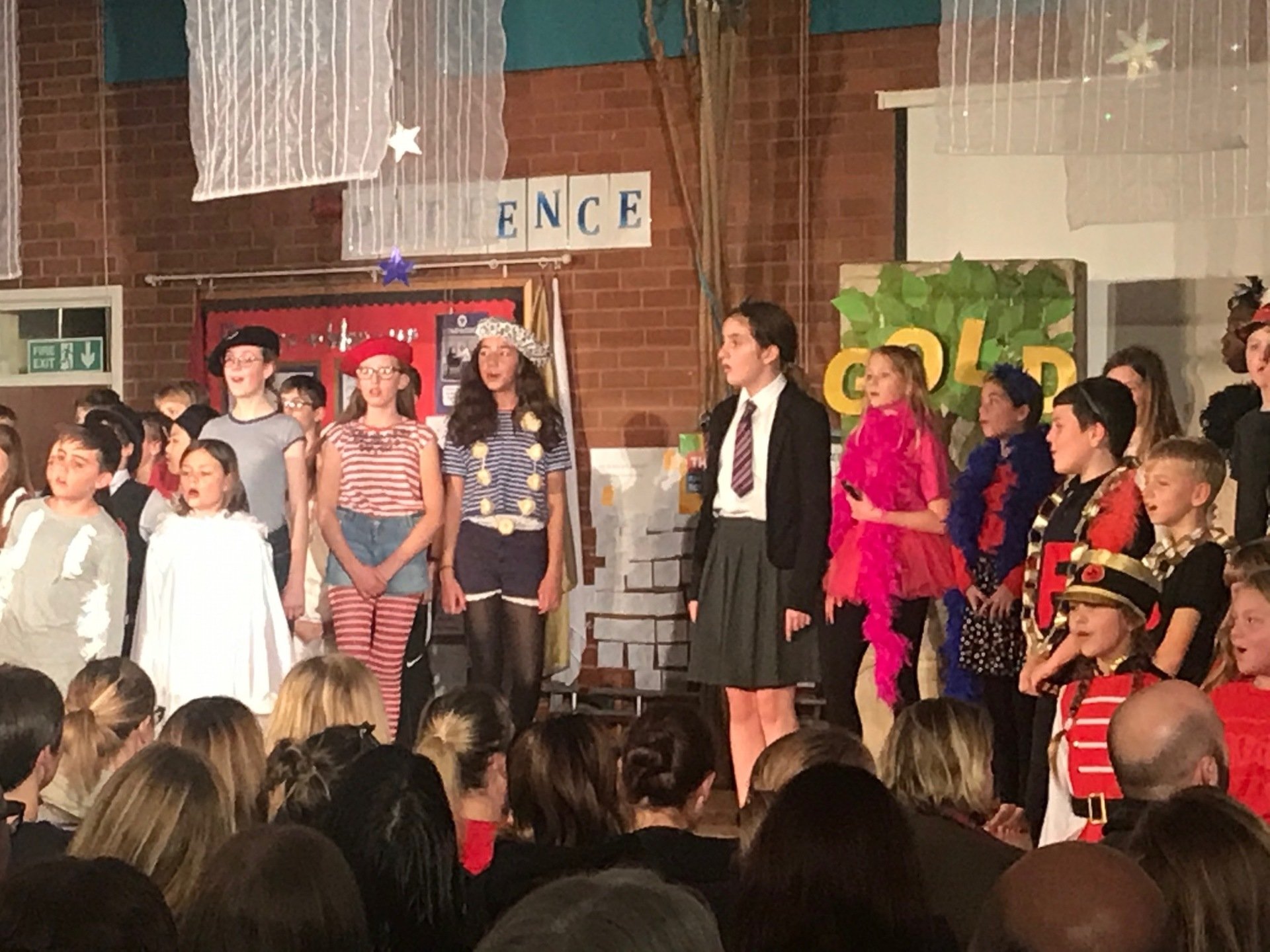 Dunchurch Statue - December 2019
Looks like the Dunchurch fairies have struck again. This time they have adorned the statue of Lord John Douglas Montagu Douglas Scott as the snowman Olaf from the film Frozen II currently running in the cinemas. The pranksters have decorated the statue for over 40 years, last year it was the Grinch and previously it has been Paddington, a smurf and postman Pat among many others. The Lord was a Guards Officer and MP who lived in Dunchurch and owned lands around the area. He died in 1860 aged 50 and his family are still one of the largest landowners in Europe. One of our school house's, Scott, is named after him. No one knows who dresses the statue every year but this is all part of the mystery that makes it so endearing.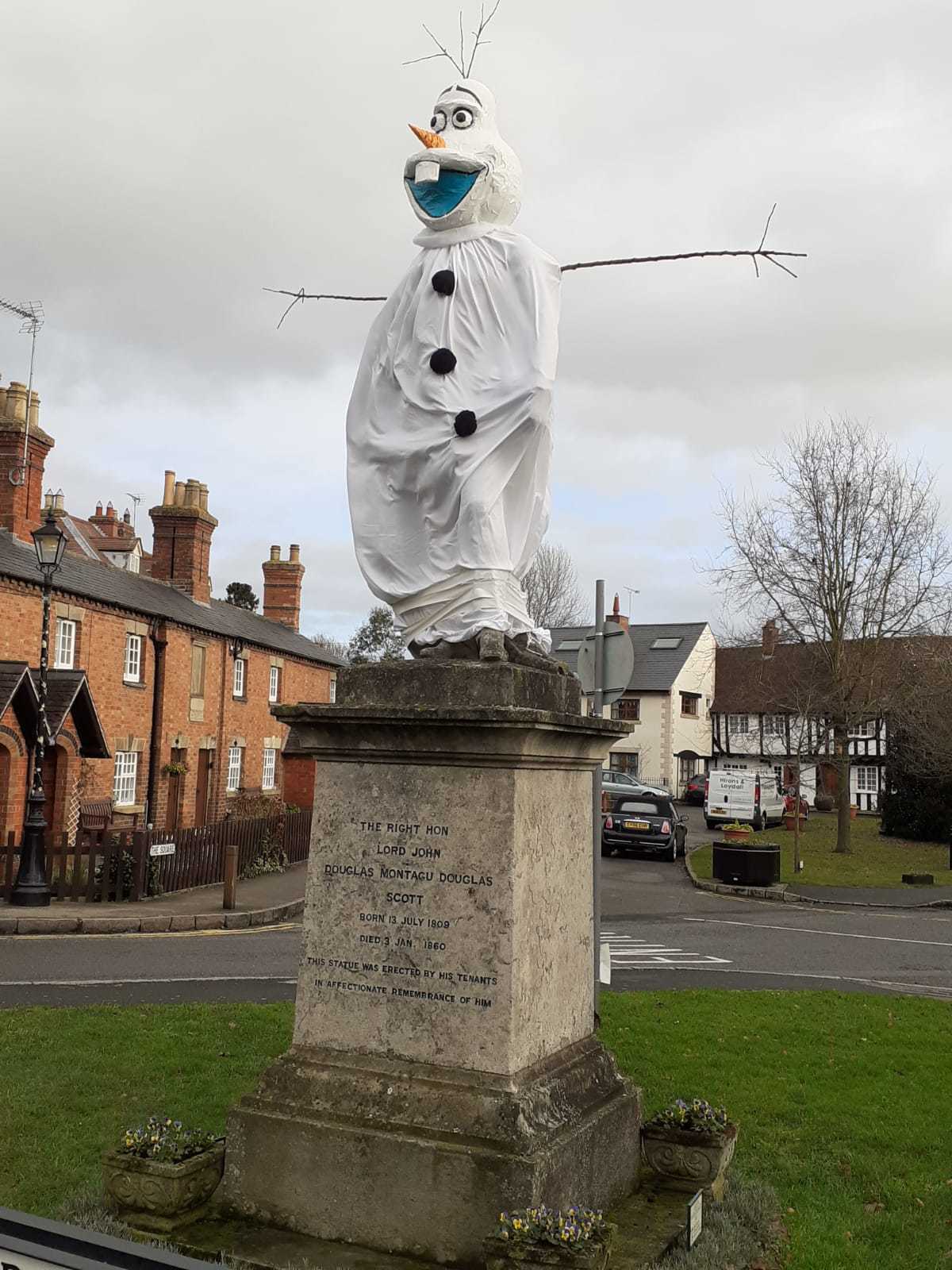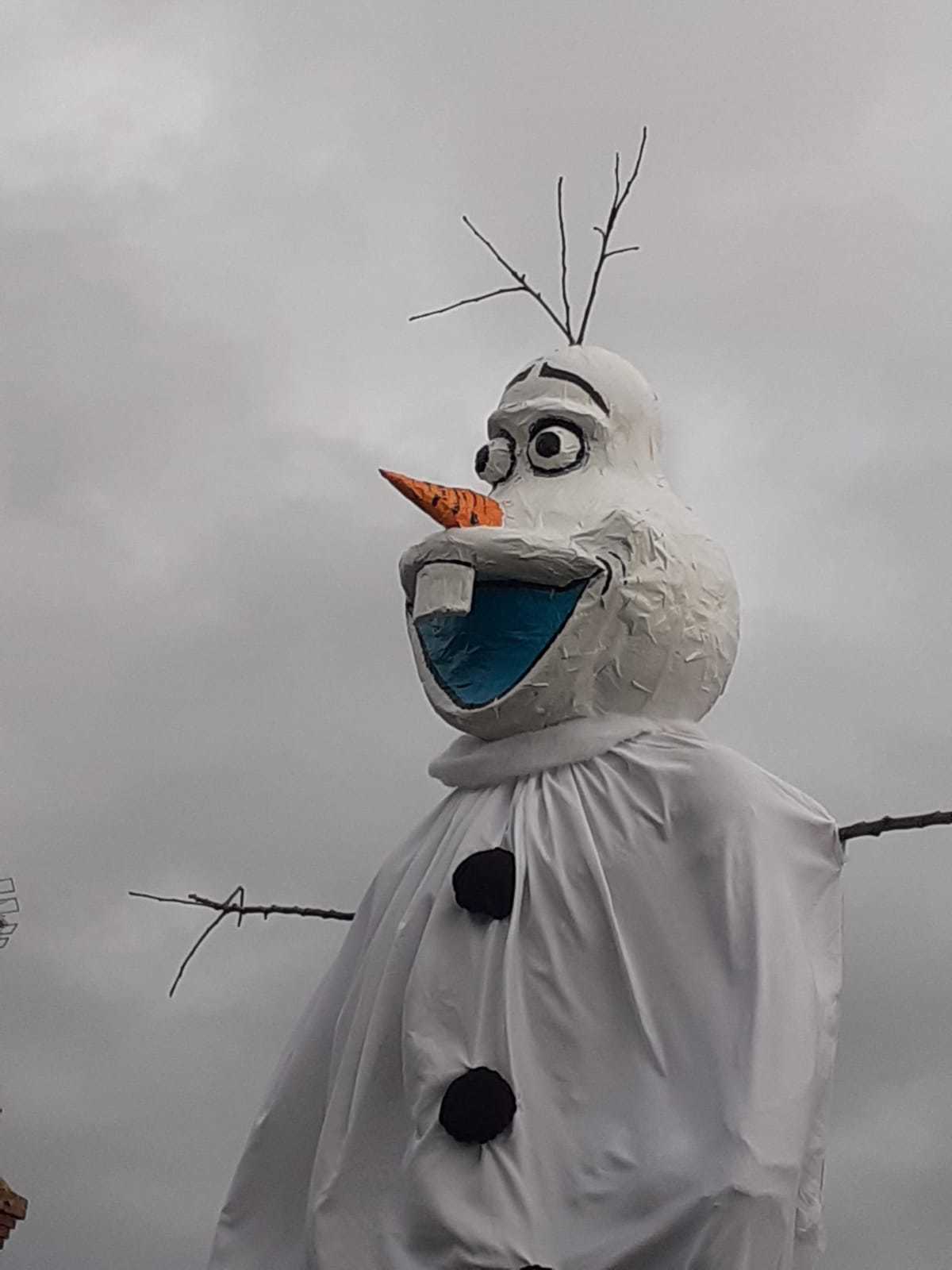 Cookery Club - December 2019
Cookery club have been busy on Wednesdays after school cooking up a storm. In preparation for Christmas they made mince pies, carefully mixing and rolling the pastry before sculpting it into intricate Christmas designs.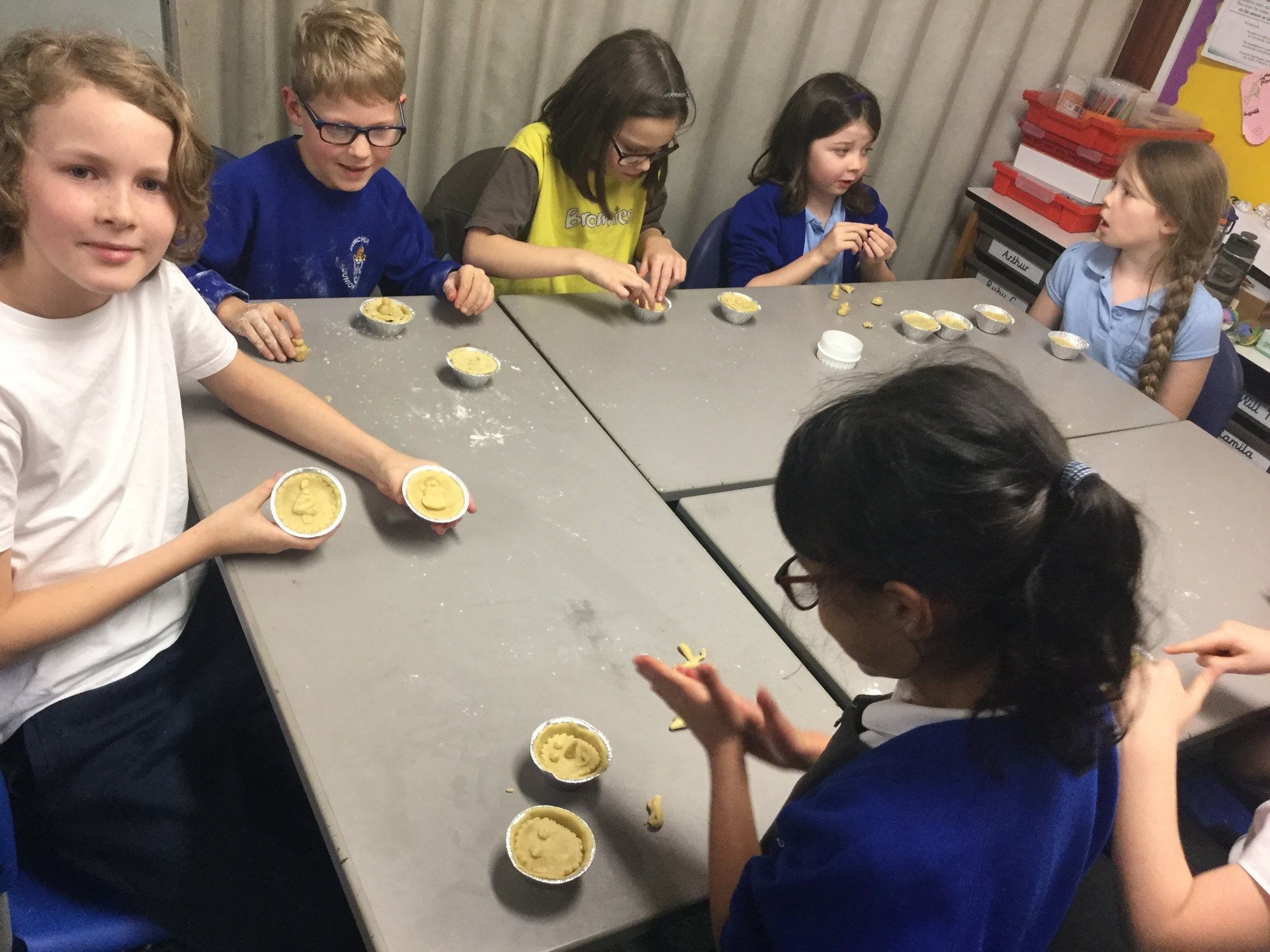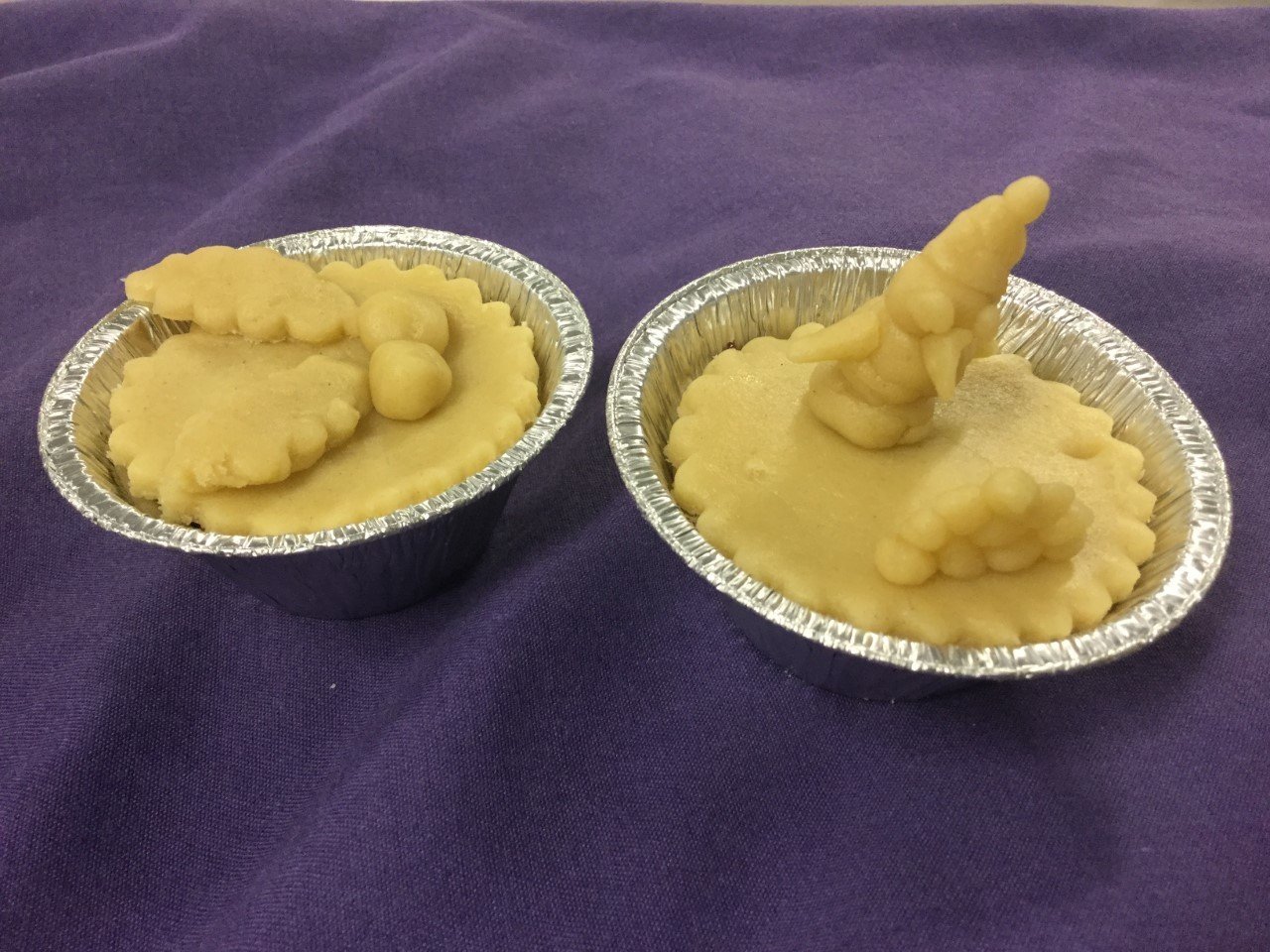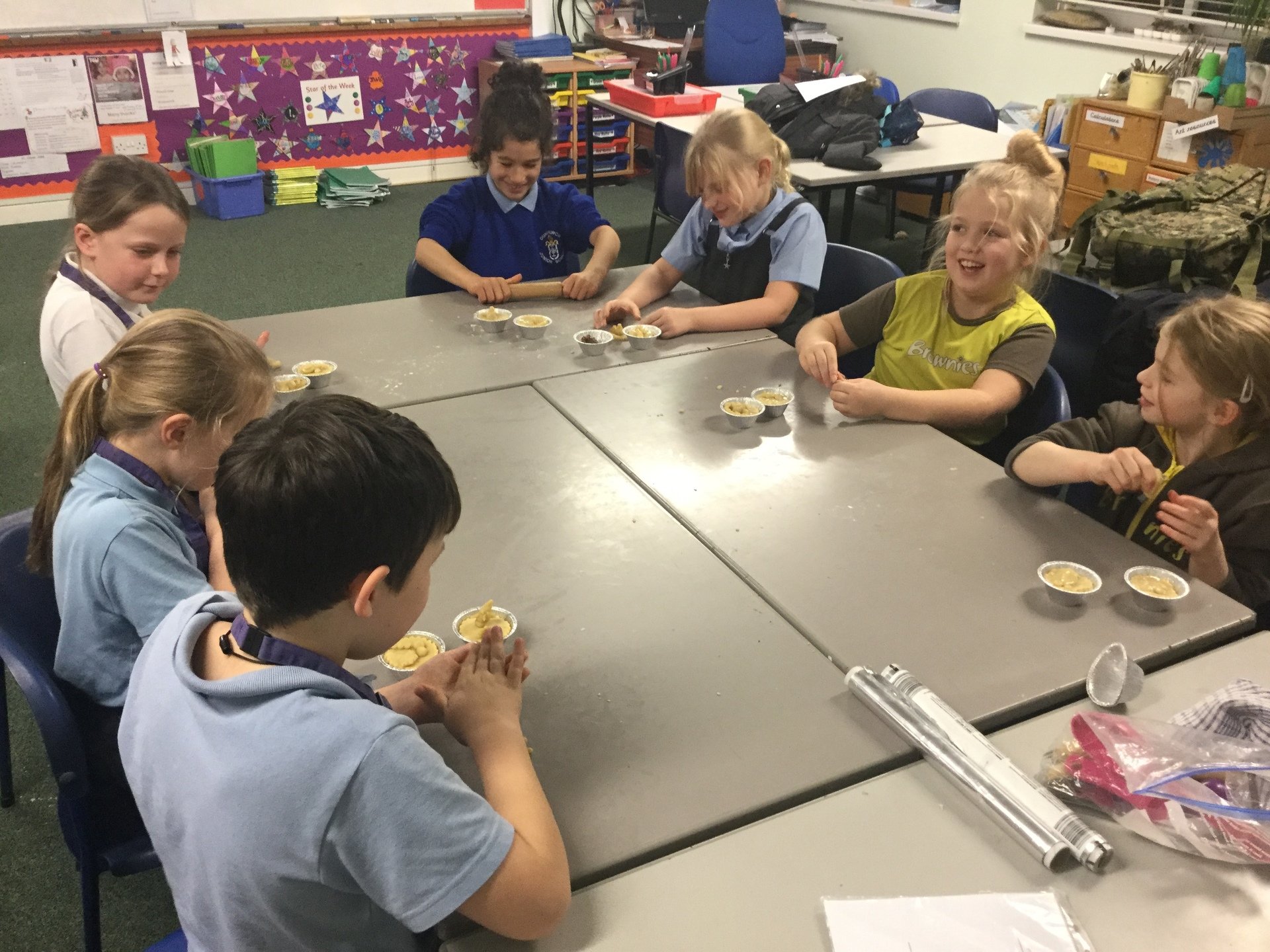 Christmas Lights Switch On - 1st December 2019
Sunday afternoon saw the annual switching on of the village Christmas lights. Children from year 4 re-enacted the nativity and the choir led singing of Christmas carols, accompanied by members of the orchestra. The event was well attended and the village now looks magical.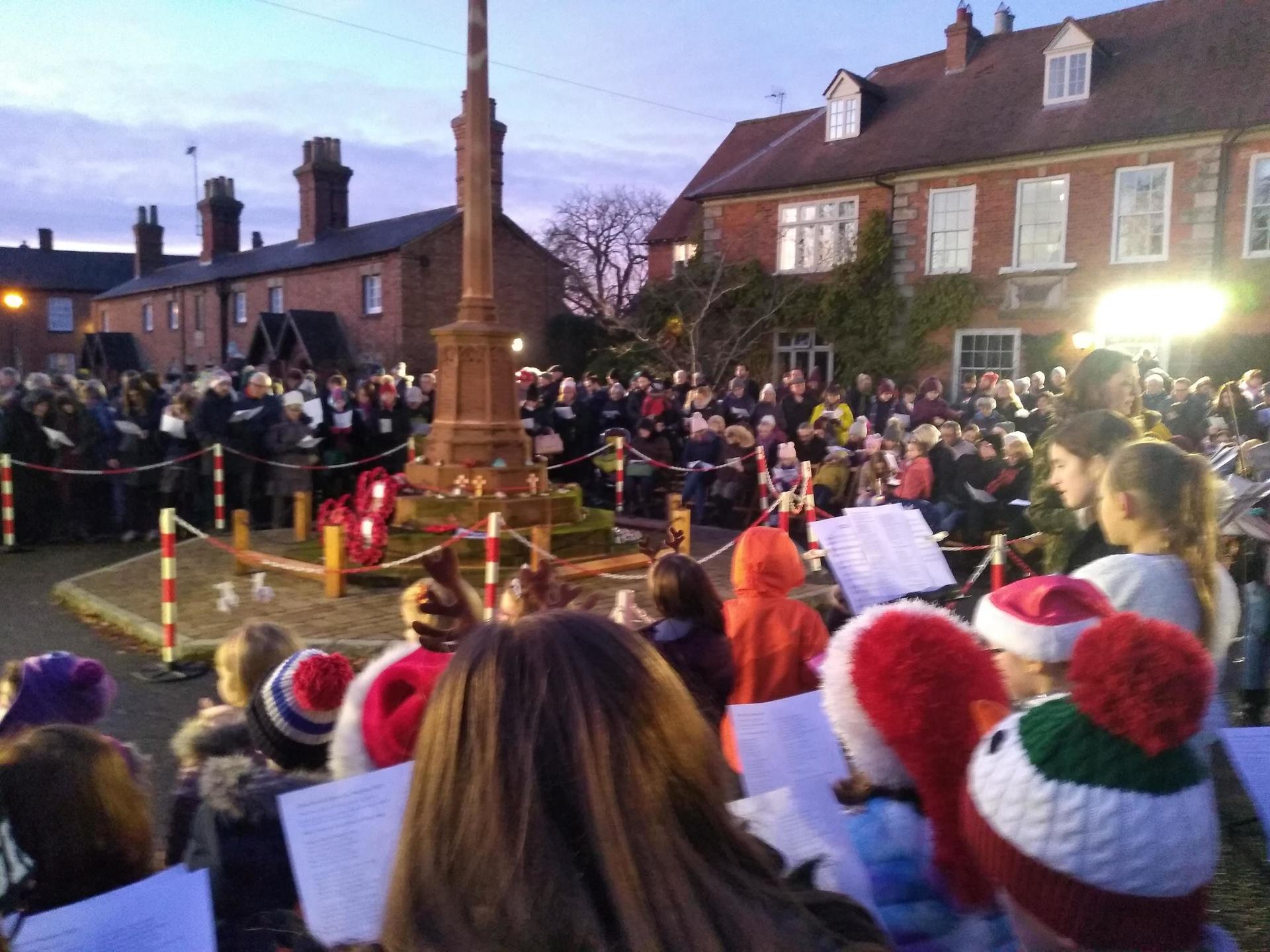 Dunchurch Festival Group - 30th November 2019
Each year we are very lucky to receive a donation of money from Dunchurch Festival Group towards a school project. In the past we have put the money towards projects like renovating the spare classroom and the trim trail. This year we asked for money towards an exciting project to create banners for our school hall to depict the school's Christian Values of Peace, Patience, Kindness, Honesty, Generosity, Thankfulness and Forgiveness. Mrs Beech and Woody kindly collected the cheque on Saturday.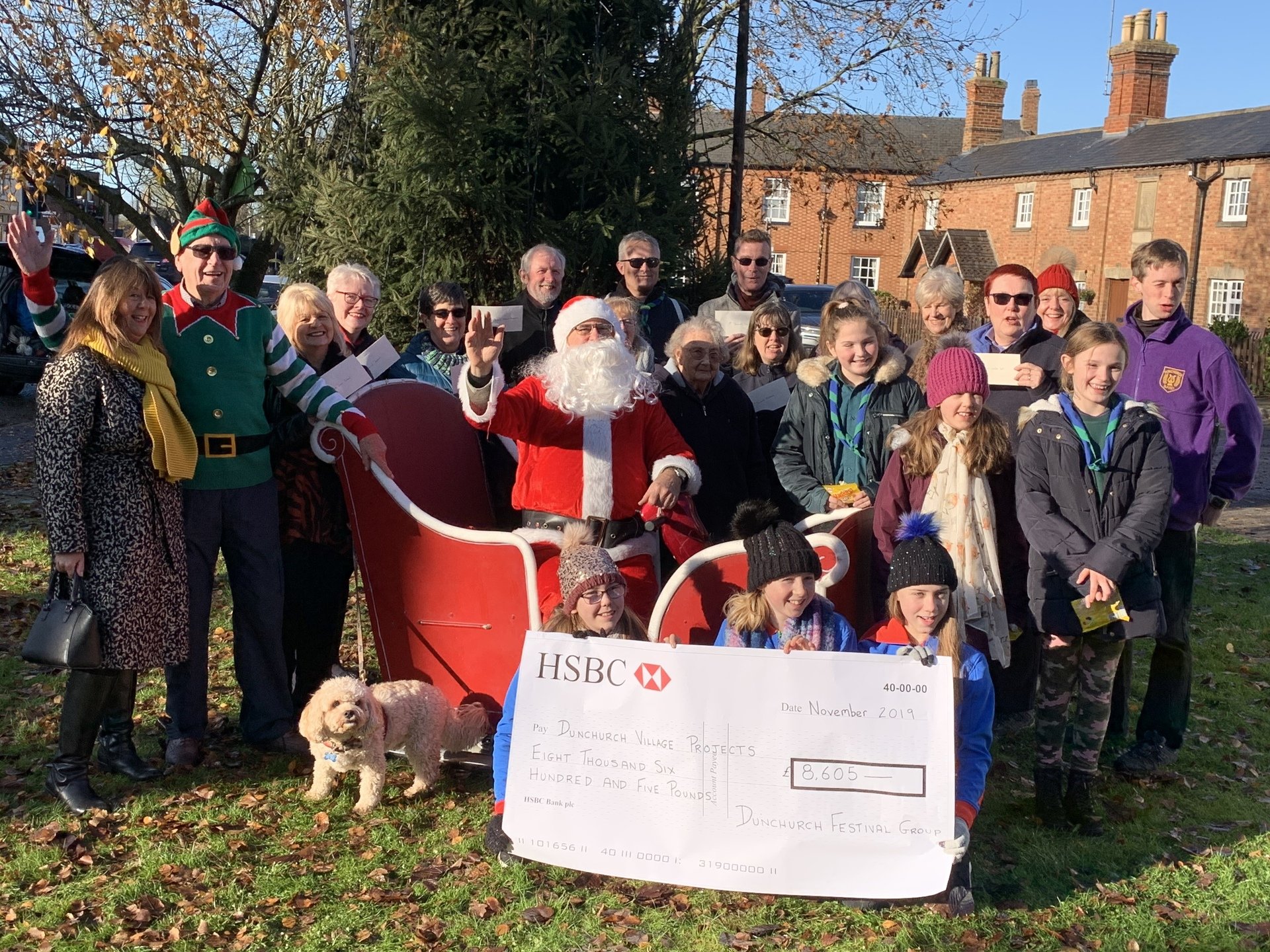 Lantern Parade - 29th November 2019
On Friday we held a lantern walk from the school to St. Peter's church. The children made paper lanterns in workshops after school led by our R.E. co-ordinator Mrs Broderick. There were over 40 children and their families involved. On Friday evening the children paraded through the village and into the church, where Reverend Pat Townsend blessed the lanterns and the children. We were delighted that many people from the village came to watch and joined in and the elderly residents from Tanser Court watched out of their windows. After the blessing, we paraded back to school and hung the lanterns in our Quad. We finished off the event with hot chocolate and marshmallows.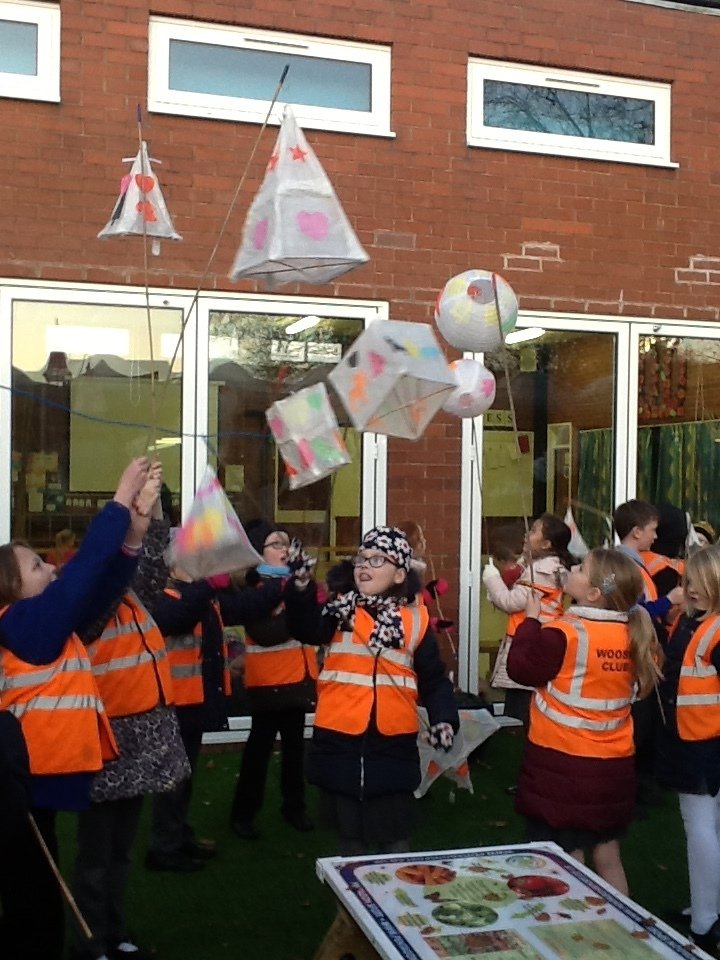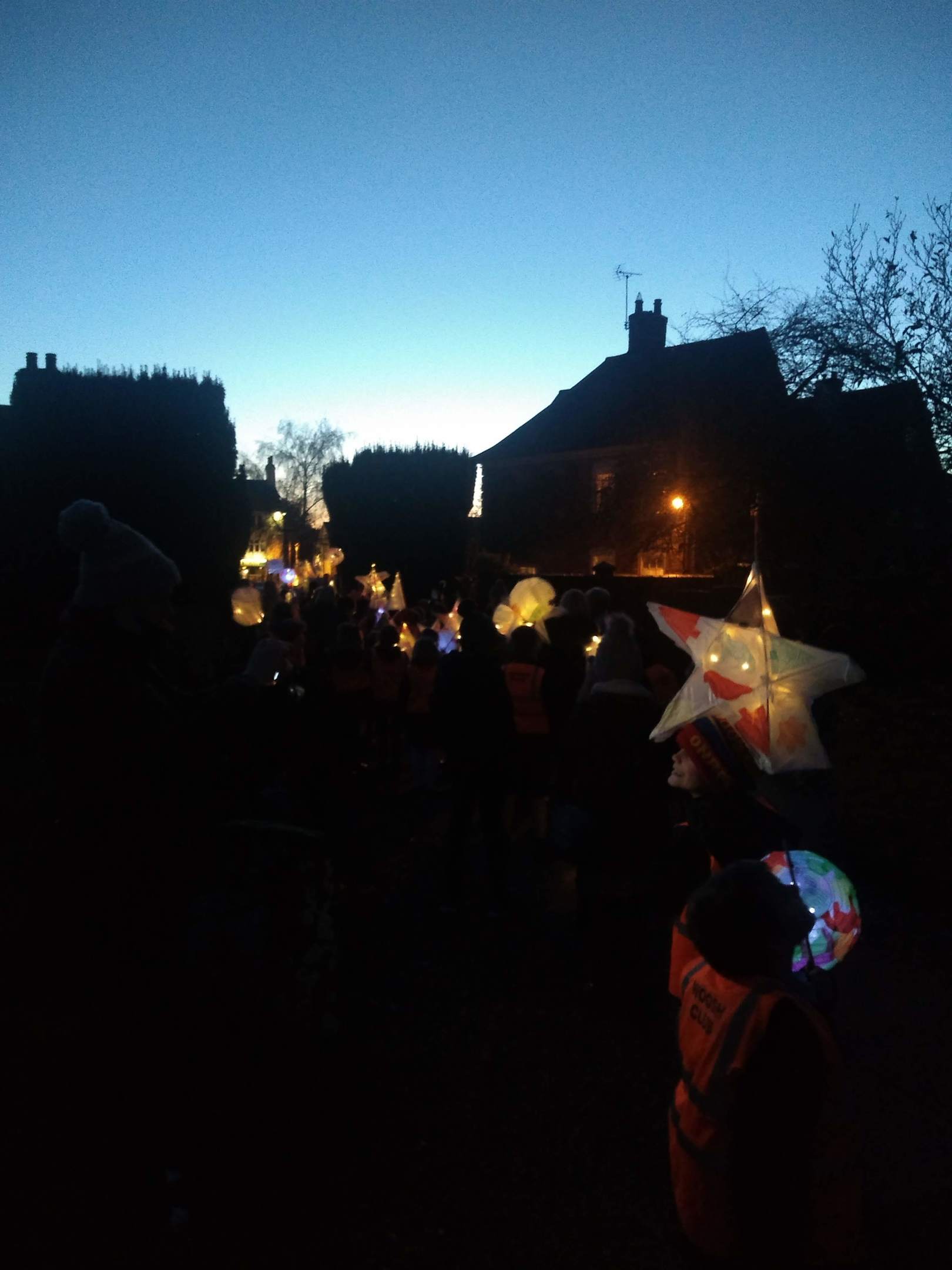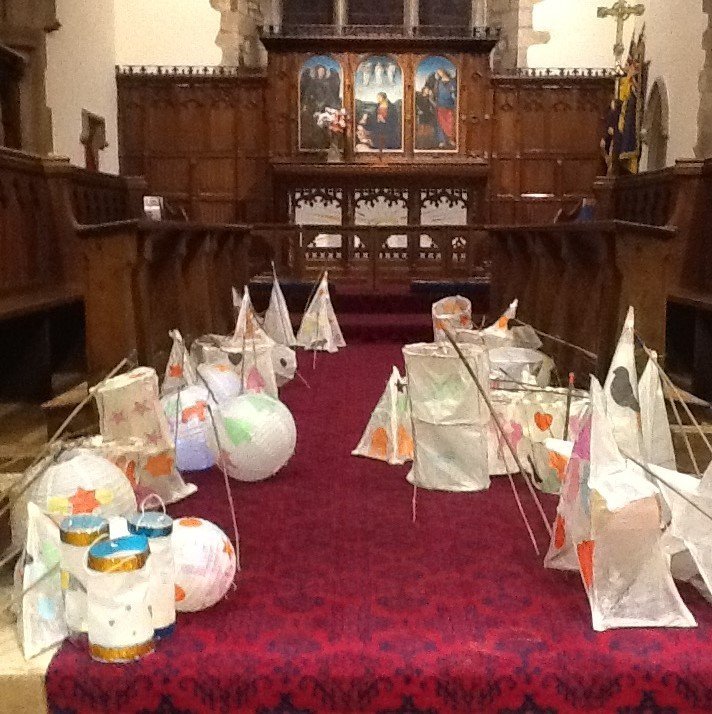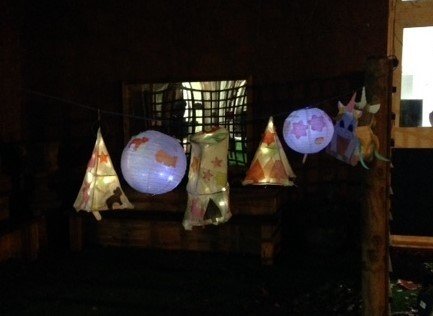 Alex T Smith - Love of Reading - 14th November 2019
What an exciting afternoon the children in year 3 and 4 had with the author and illustrator Alex T Smith! He spent an hour with the children sharing extracts from his two series of books - Mr Penguin and Claude. He also taught the children how to draw Mr Penguin and other characters. We are very lucky that he left us some signed sketches which are now on display in the library and also a copy of each of his books, so that children can borrow them from the library. We hope this inspiring visit will further increase the love of reading our pupils have.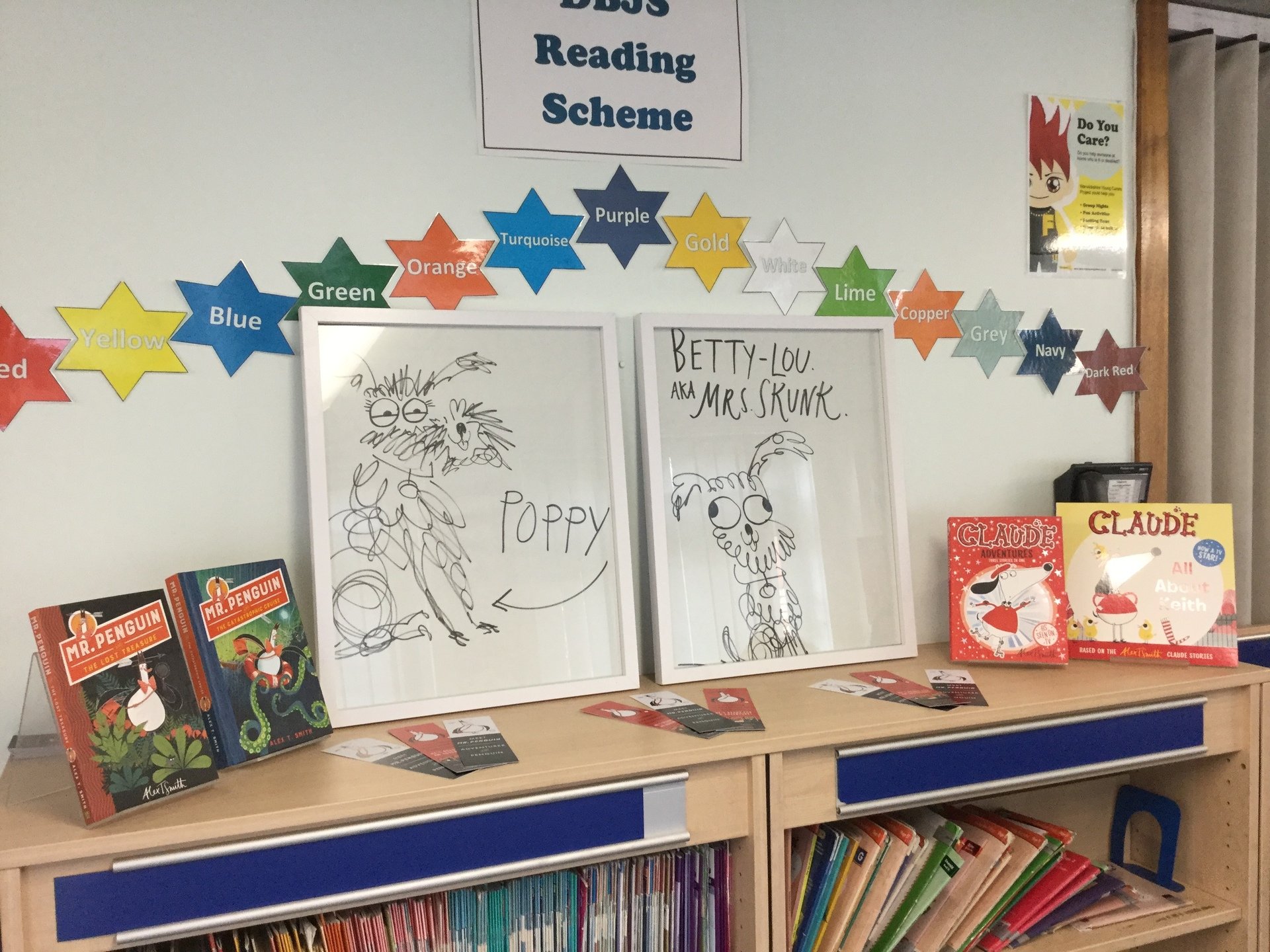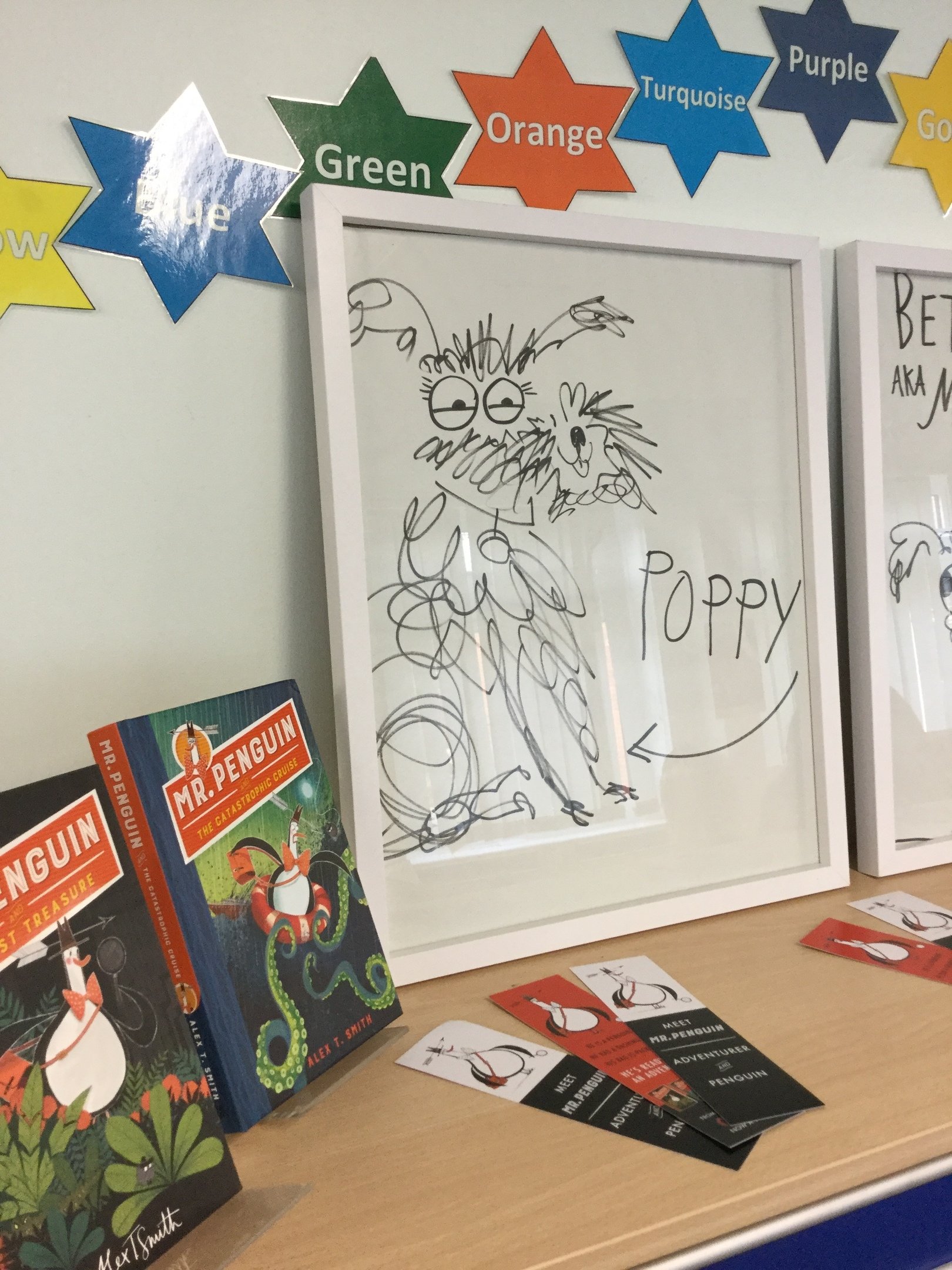 Remembrance Assembly - 13th November
The whole school took part in a special Remembrance assembly led by Steve Cook. Each child created a poppy to be placed at the front of the hall and on Monday the school observed a two minutes silence.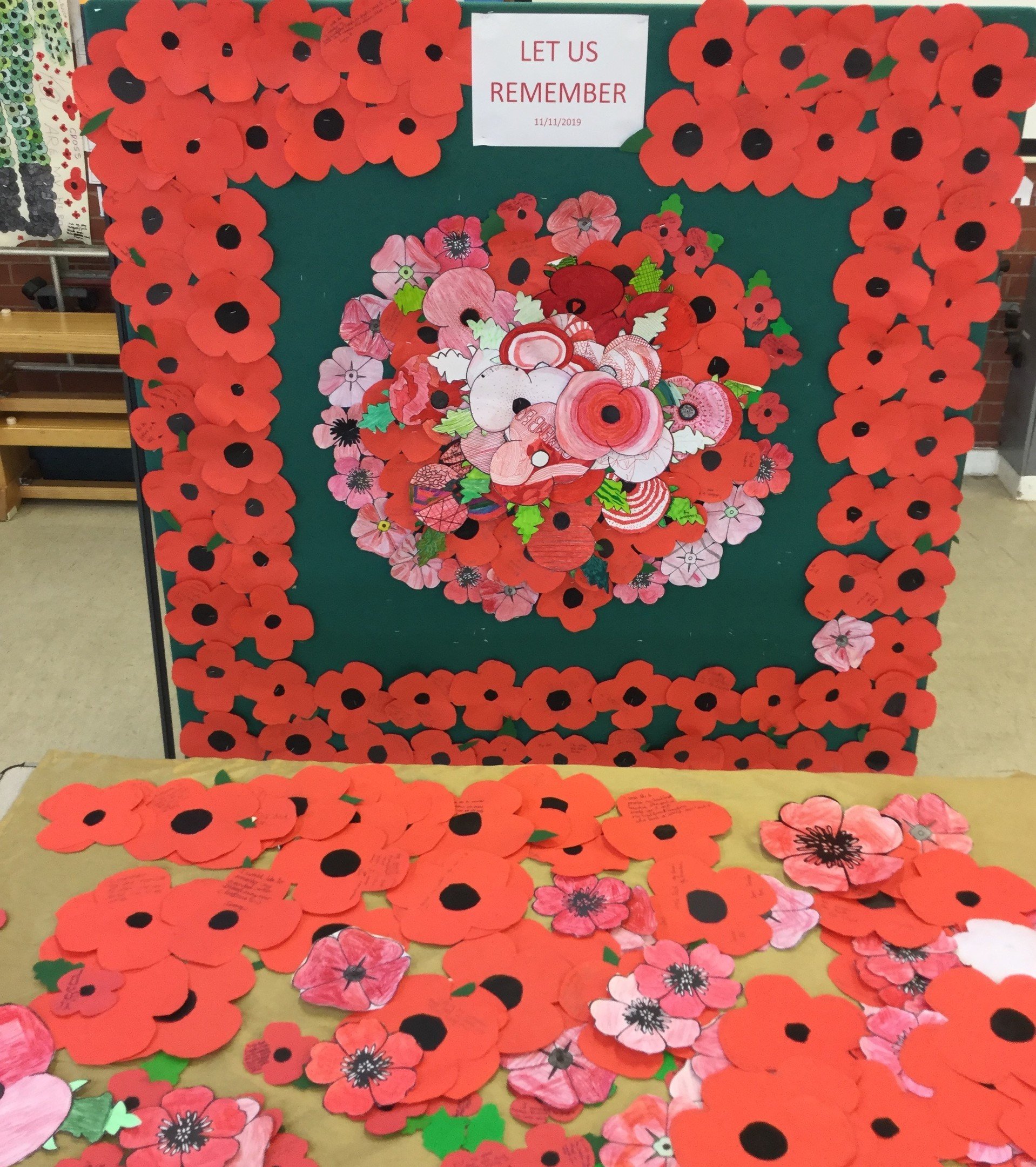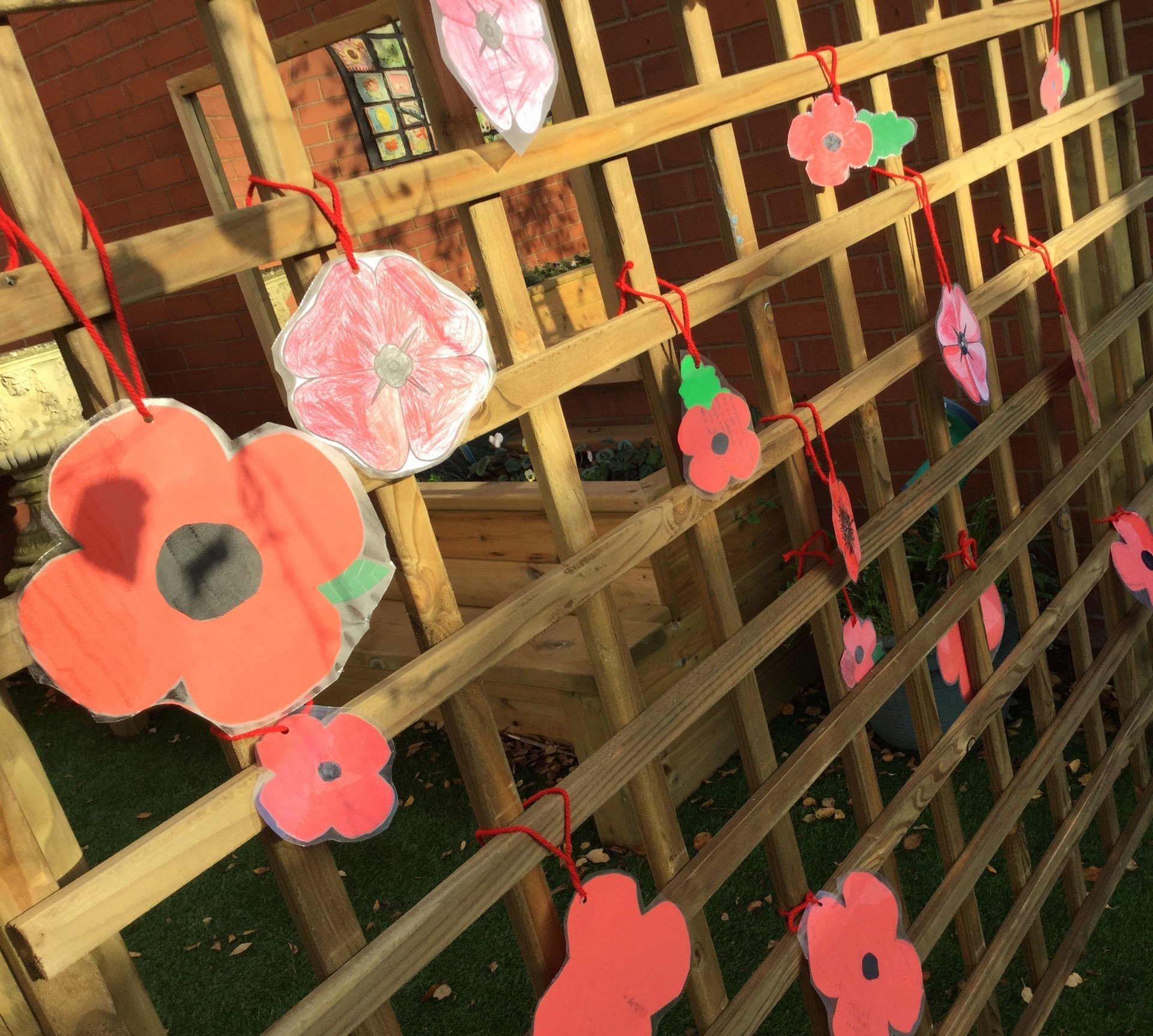 Author and Illustrator Visit - English and Art - 12th November 2019
In preparation for the very exciting visit from Alex T Smith, an author and illustrator, a publicist from Kenilworth Books spoke to the children about what illustrators do. The children were really excited as she brought with her original art work from 3 famous illustrators, to demonstrate the drafting process that occurs before a book is even sent to a publisher. The art work will remain in school for the children to look at until Thursday.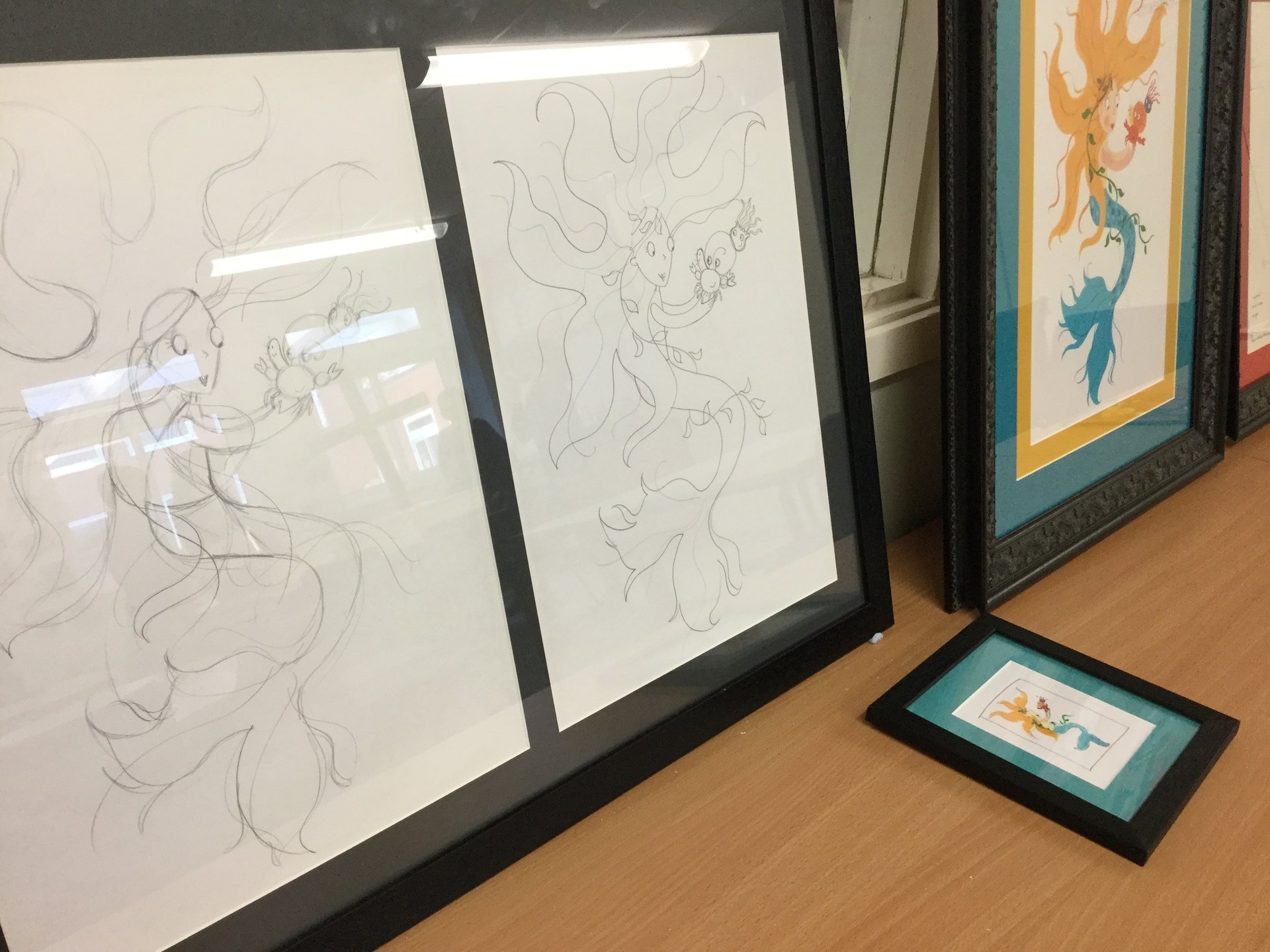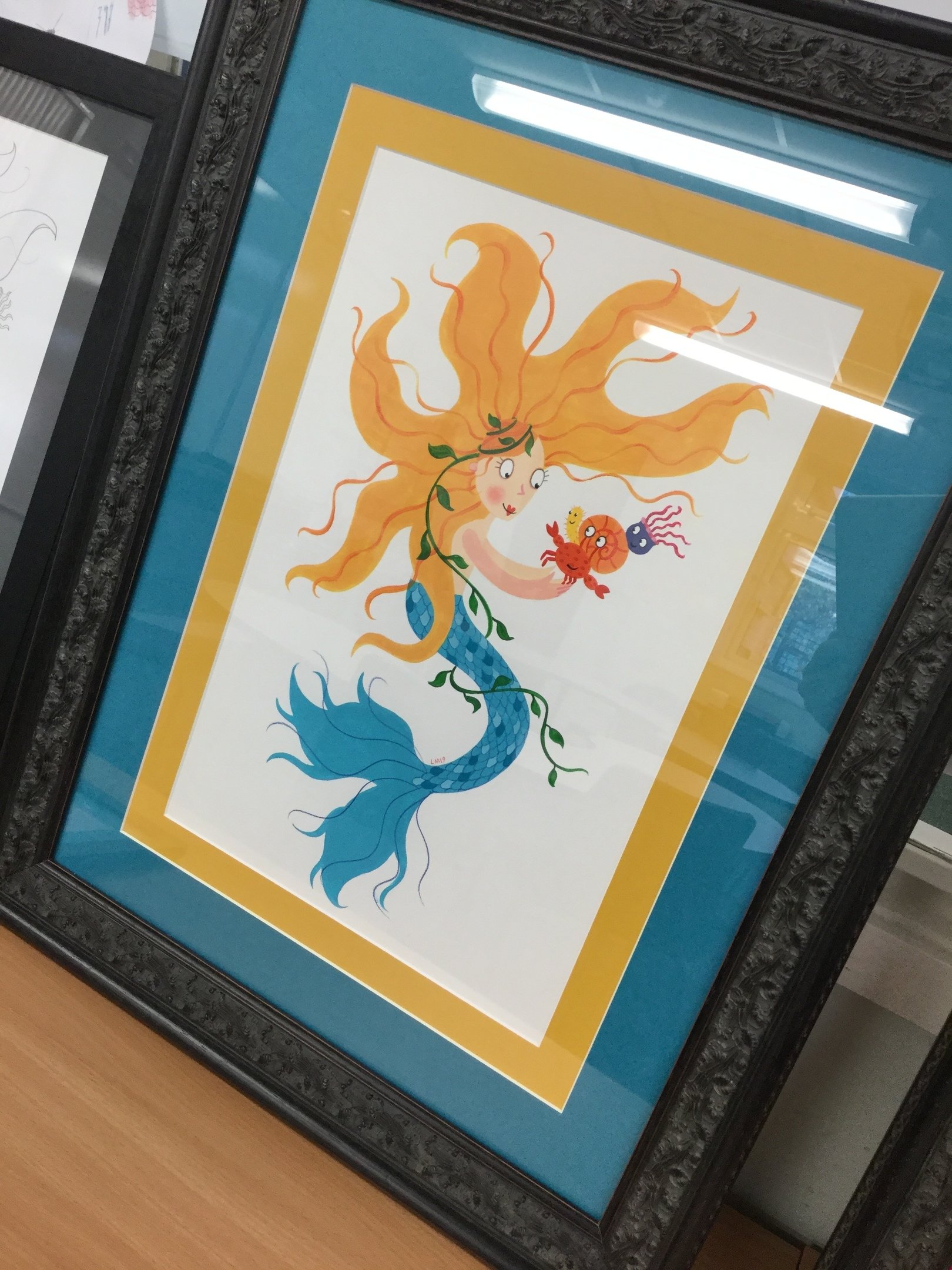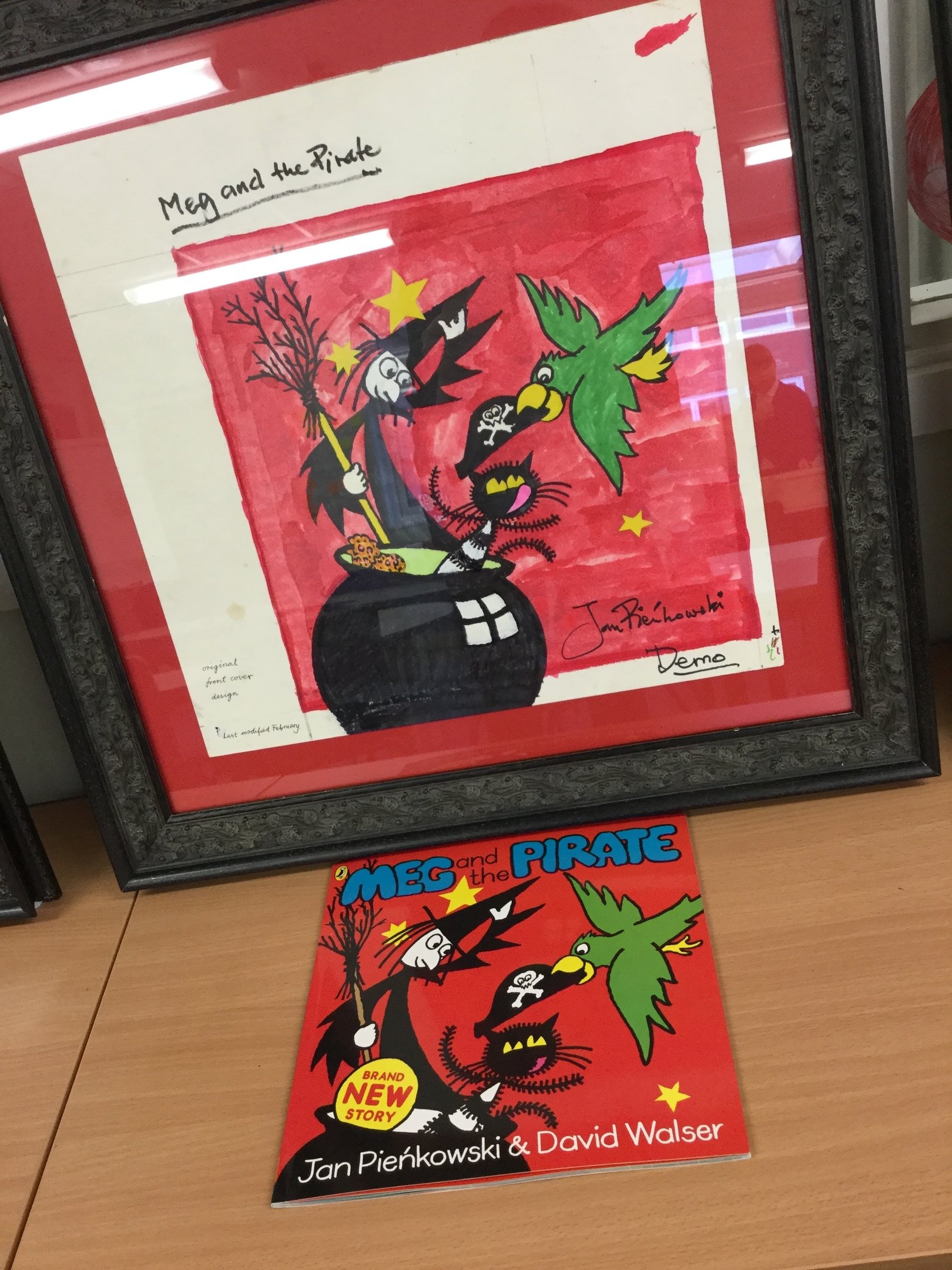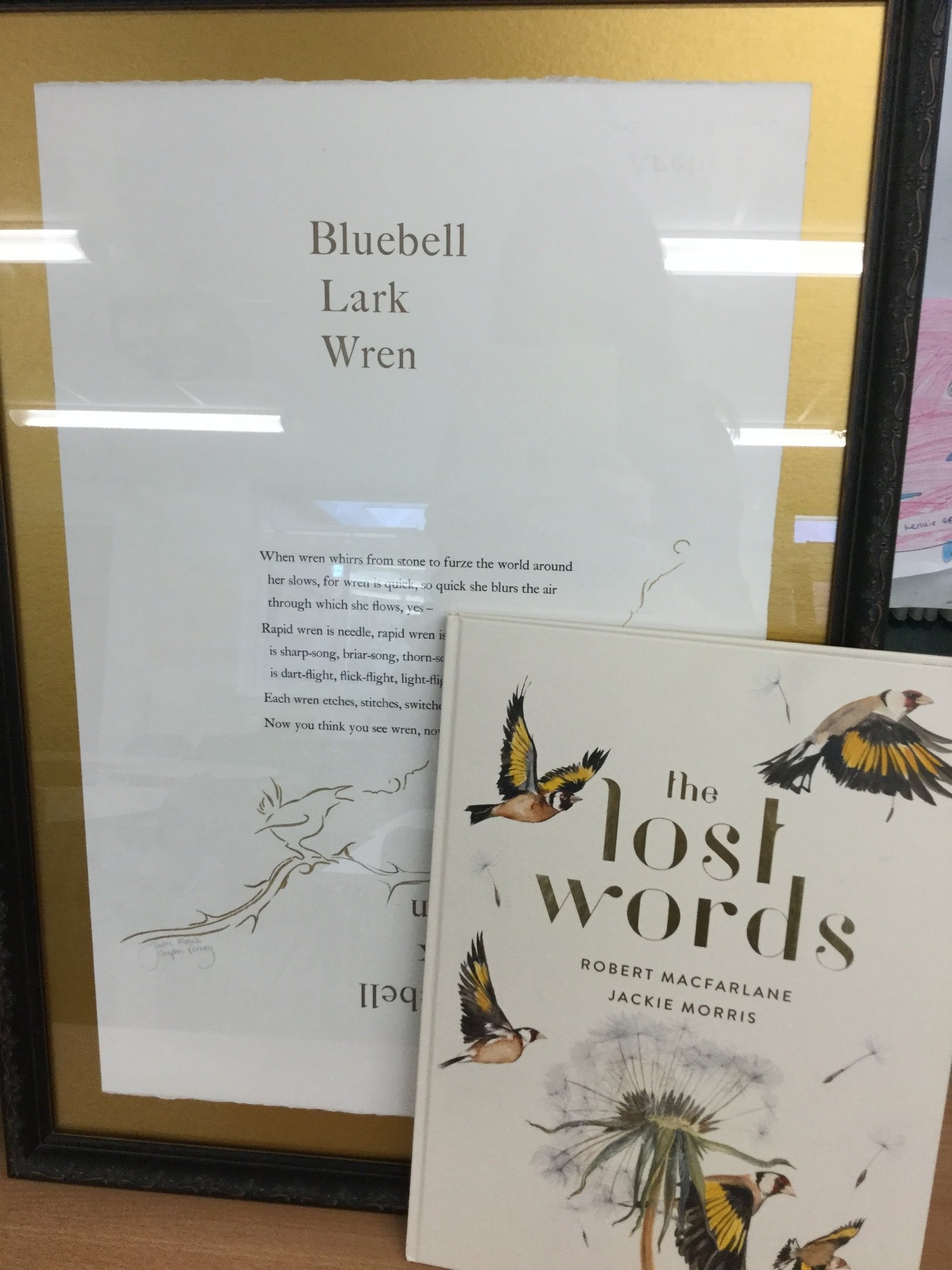 Football - Games and PE - 10th Novemeber 2019
Well done to DBJS' boys football team for a tremendous victory yesterday in the regional final of the English Football League's Kid's Cup. The competition is one of the country's largest national football competitions with over 16,000 children involved. After winning a qualifying competition, our team played Willows from Stratford at Coventry City FC's training ground. The boys won 9-1, a remarkable margin of victory, considering Willows themselves had won their own qualifying tournament to get to this stage. Later in the year we will play against teams from across the south of England. Victory at that stage will see the boys playing in the national final at Wembley in May. A big thank you to Mr James for coaching the team.
Trim Trail Installation - Autumn 2019
We are delighted the new trim trail installation is complete and children from across the school are enjoying climbing, swinging, traversing and balancing their way round the obstacles. The trim trail has been purchased with money from the Sports Premium Funding, Dunchurch Festival Group and also from the PTA.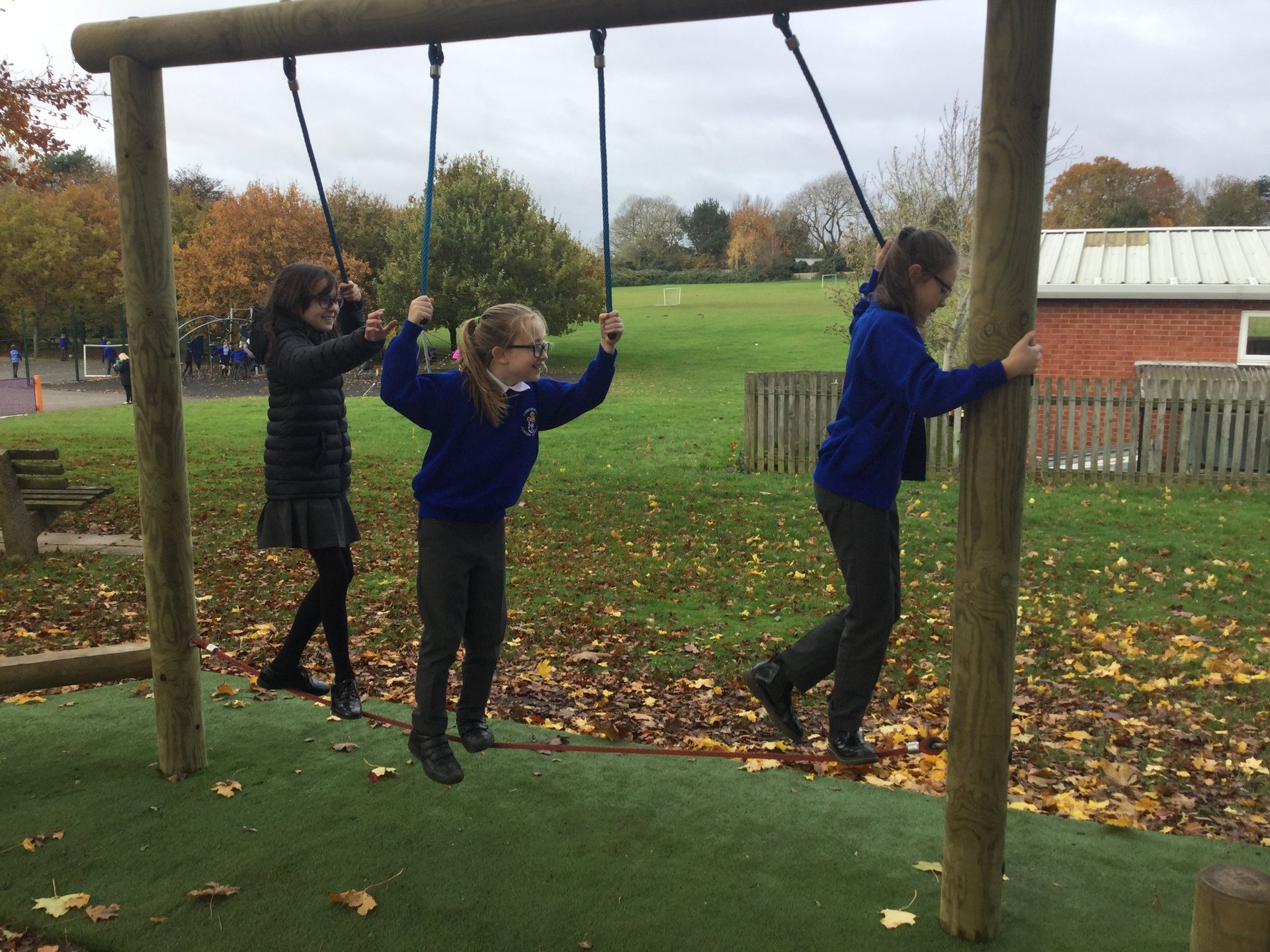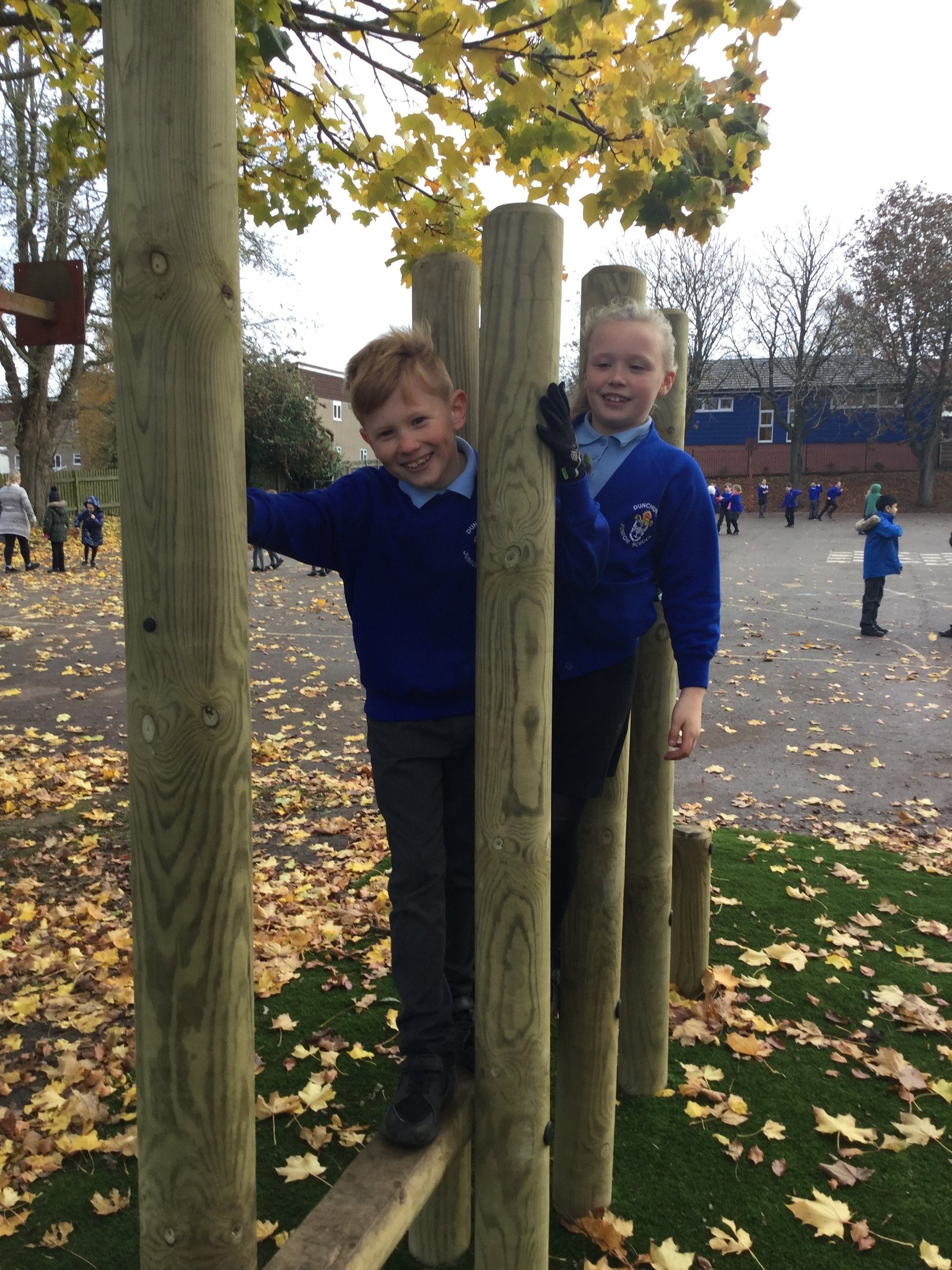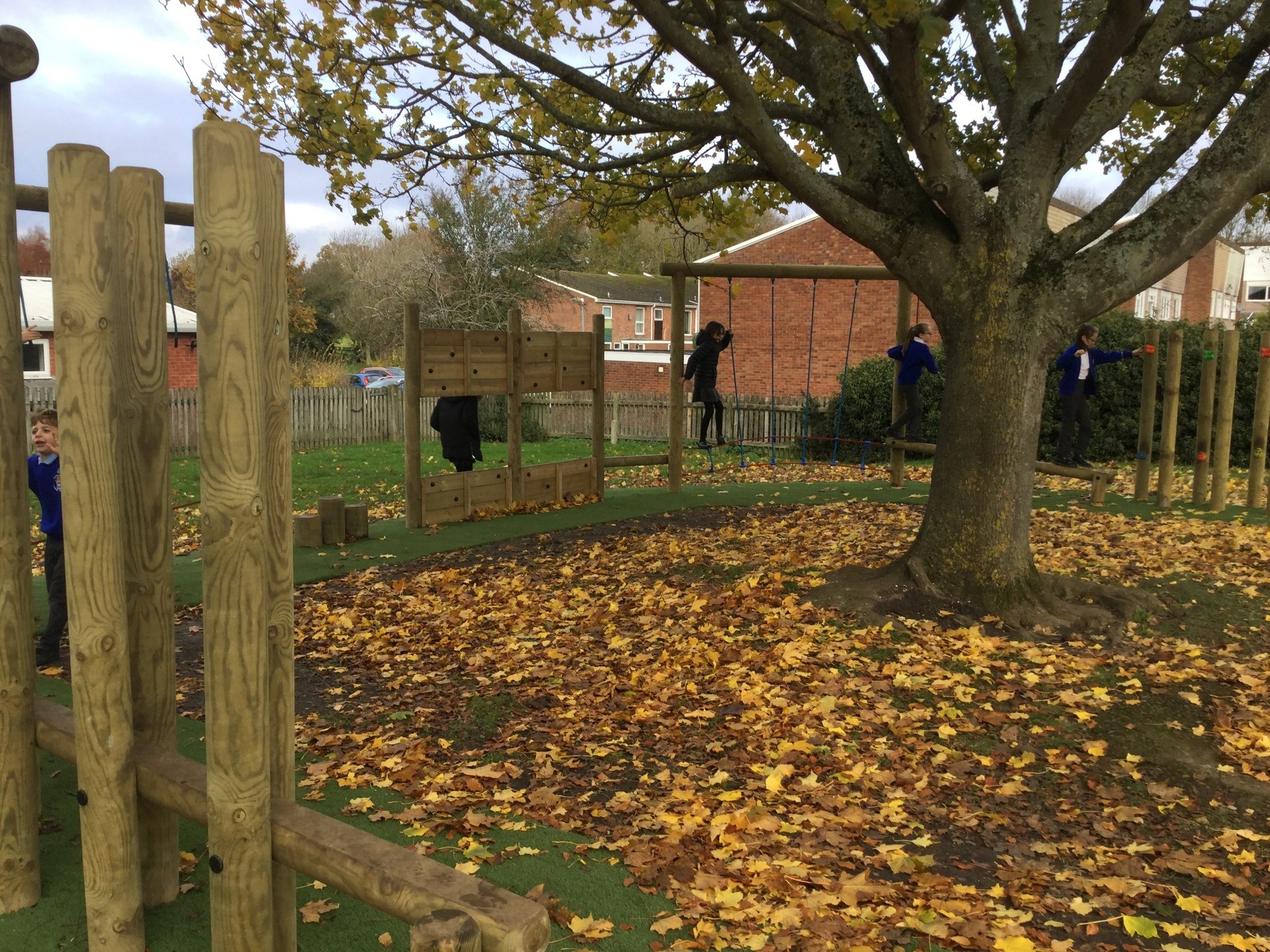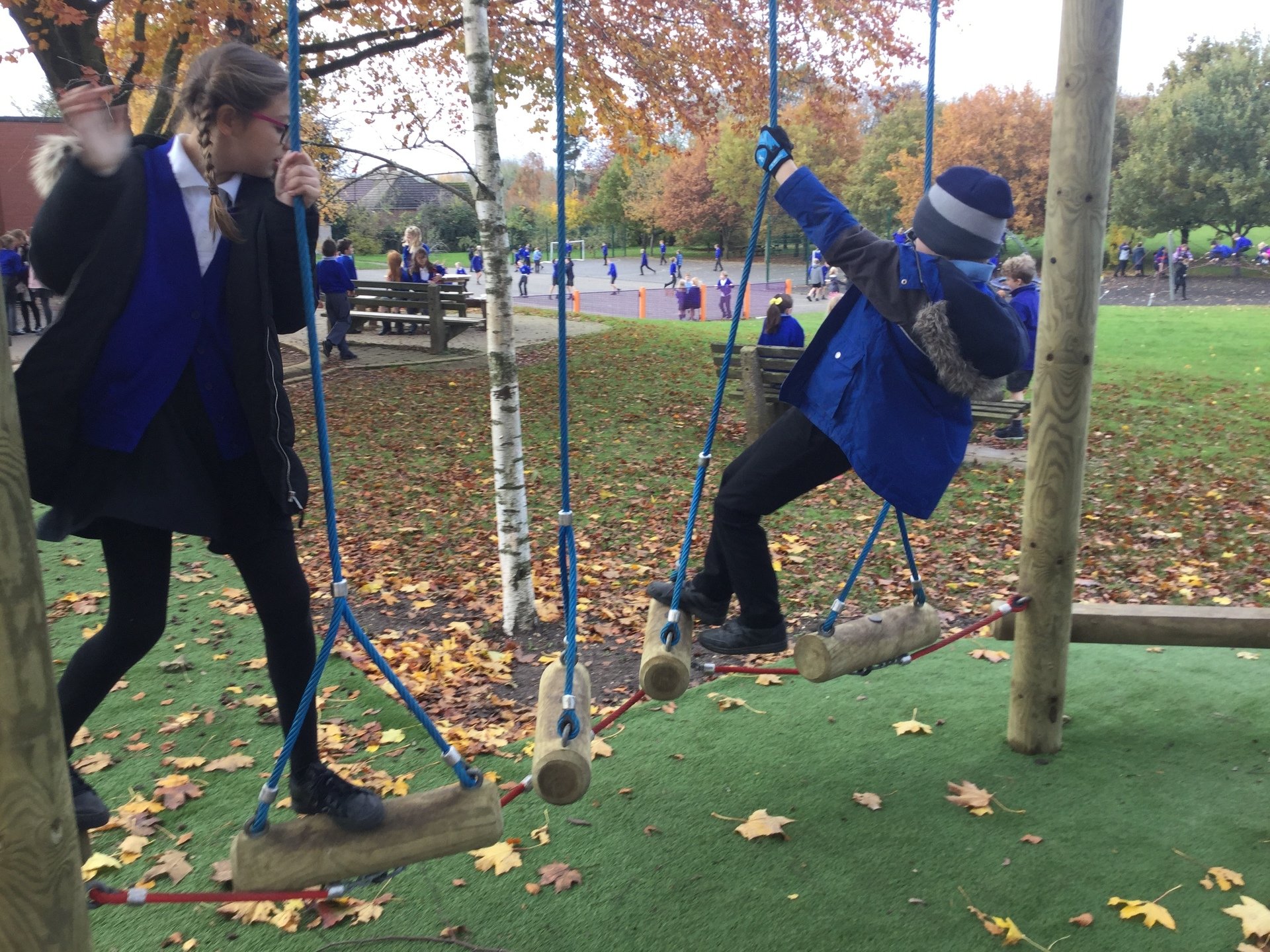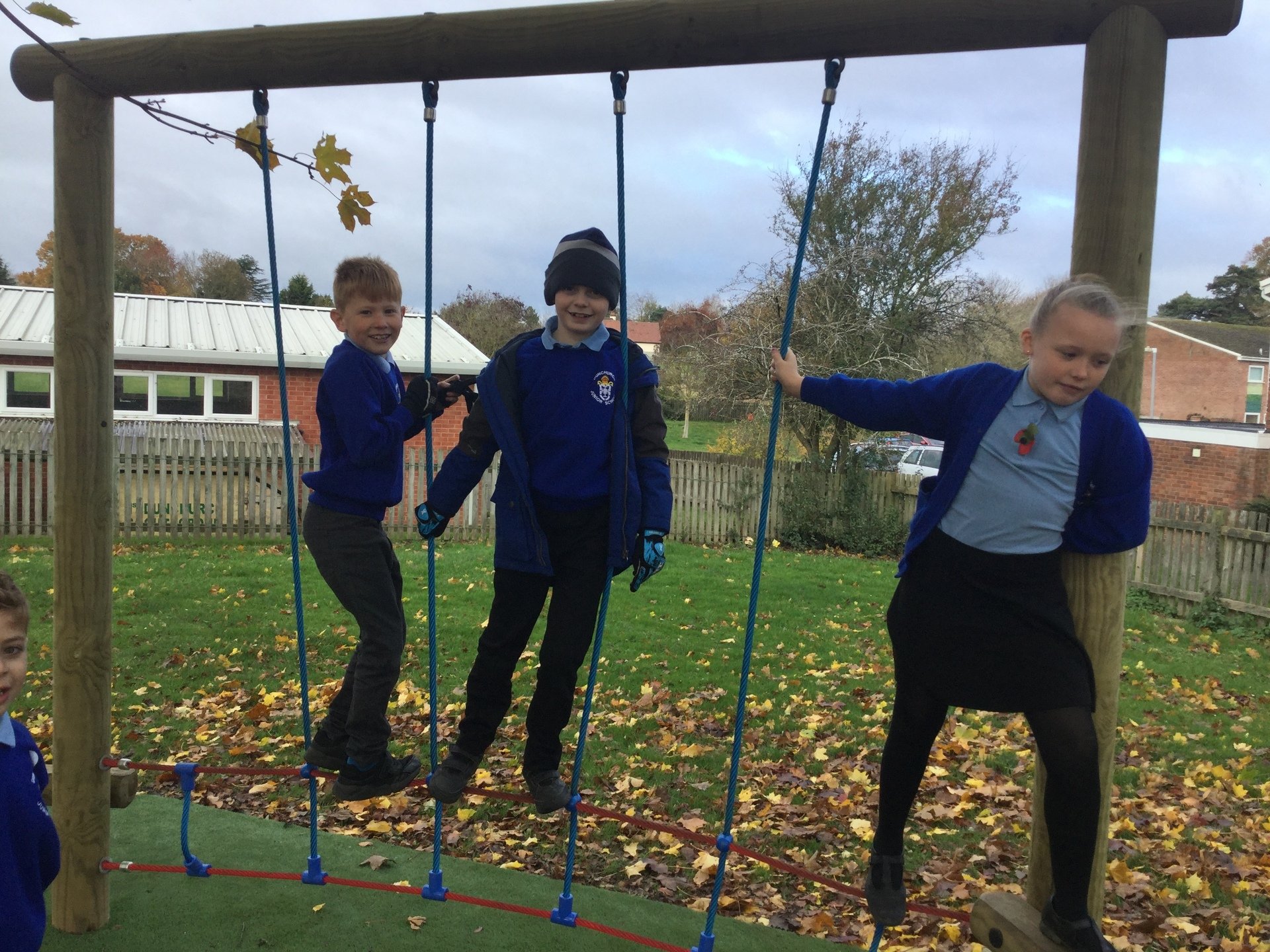 Remembrance Rocks - 7th November 2019
The Friends of Dunchurch group approached the school and asked if they would like to contribute to the village remembrance display by painting commemorative rocks. Lots of children from across the school volunteered to paint a rock, with images of poppies, candles and crosses to help remember the fallen soldiers. Two pupils then took the rocks to the village and placed them on the memorial outside St Peter's Church.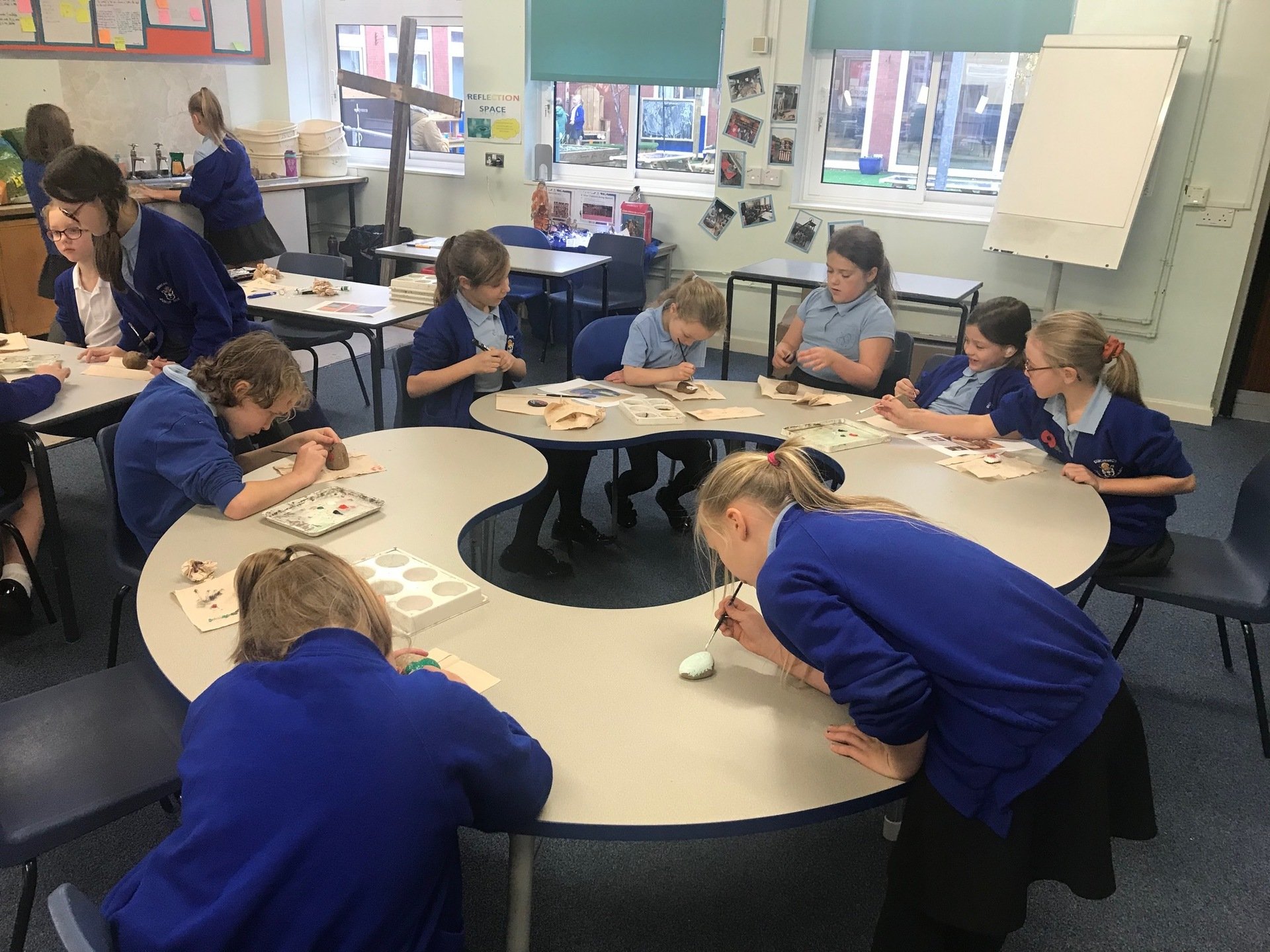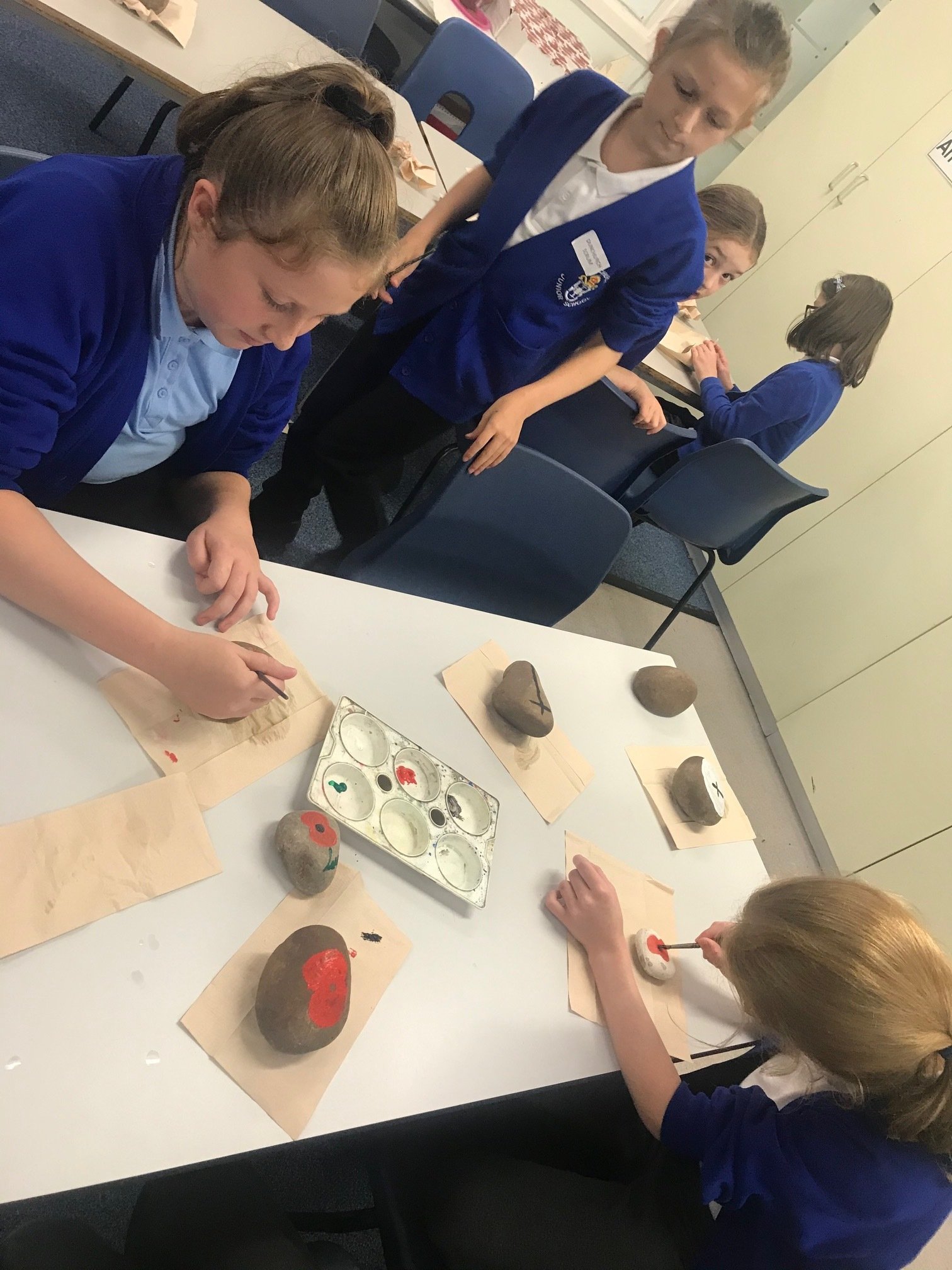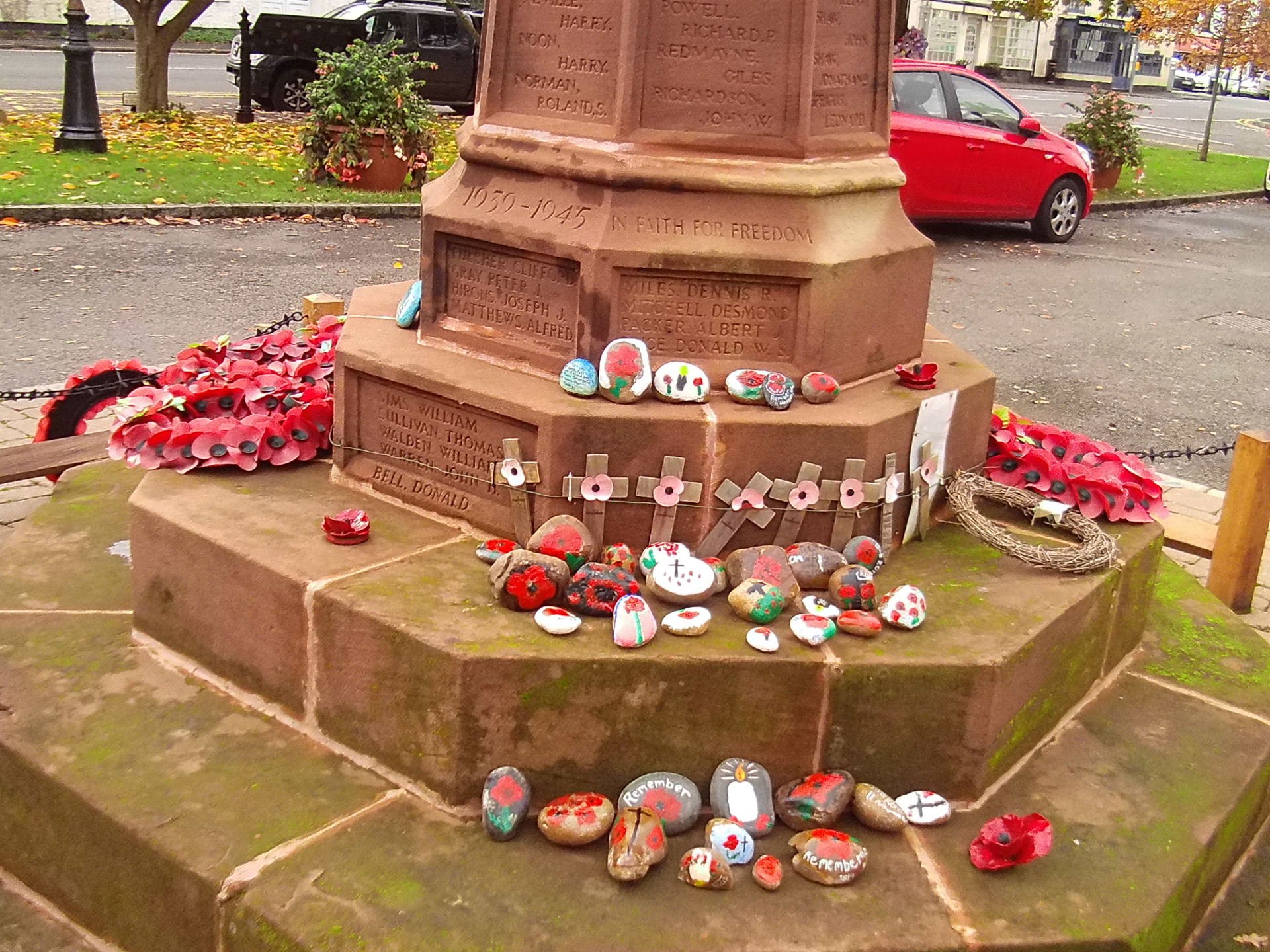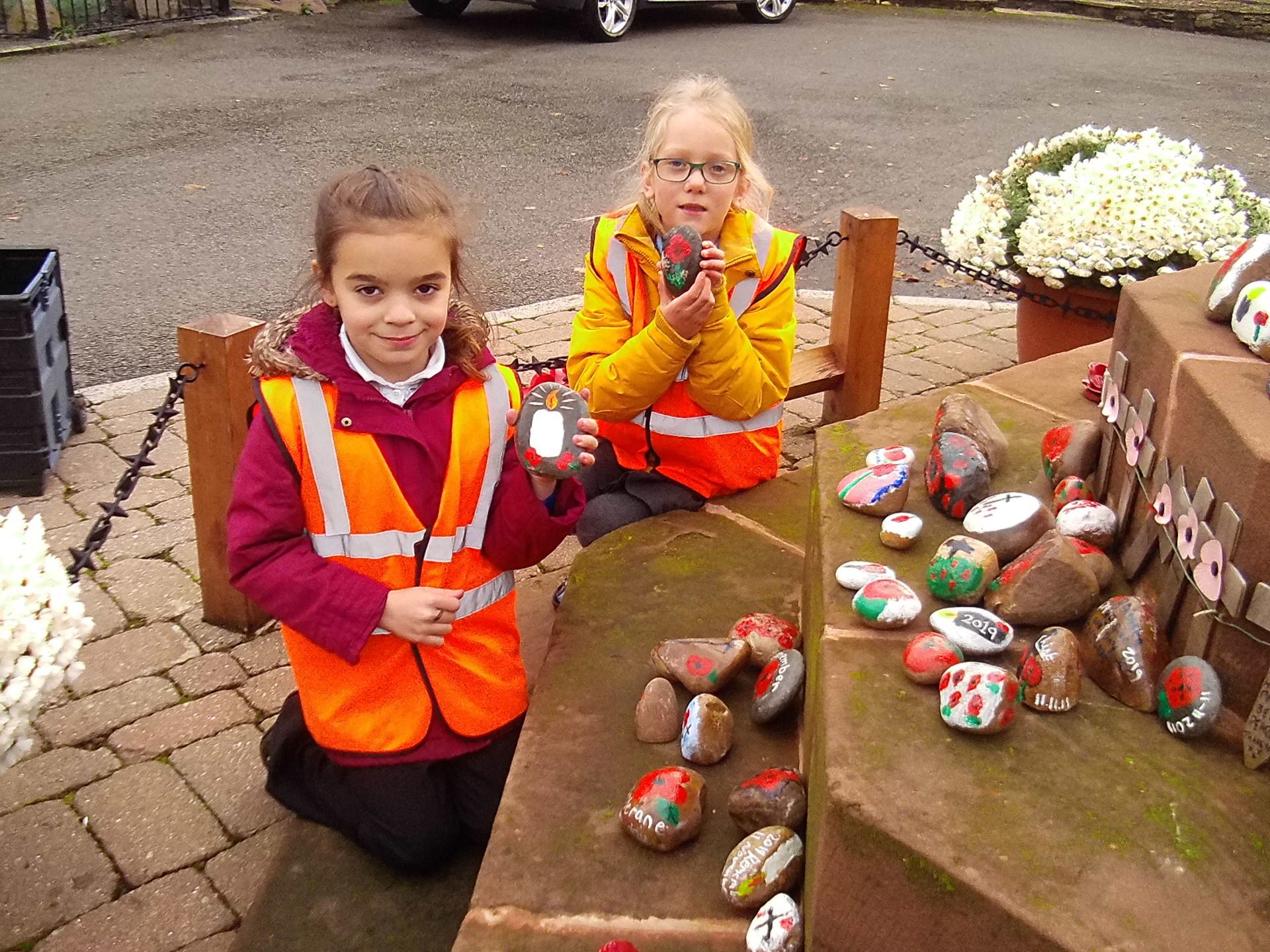 Aspirations Day - 24th October 2019
DUNCHURCH DELIVERS DREAMS
On Thursday 24th October the pupils at Dunchurch Boughton Junior School had an Aspiration Day to learn about different careers. Everyone had fun jumping from class to class listening to a variety of presentations.
The day started with a job quiz which matched children's skills to potential careers. During assembly the children guessed the different jobs of four mystery people. Mrs Miller, Co-head of School, joked she felt like she was on 'Question Time'! The adults had mystery items to aid the children's discovery. Eventually after extensive questioning, the pupils worked out what everyone did: a doctor; a spy, a British Transport Police Inspector and a radio presenter.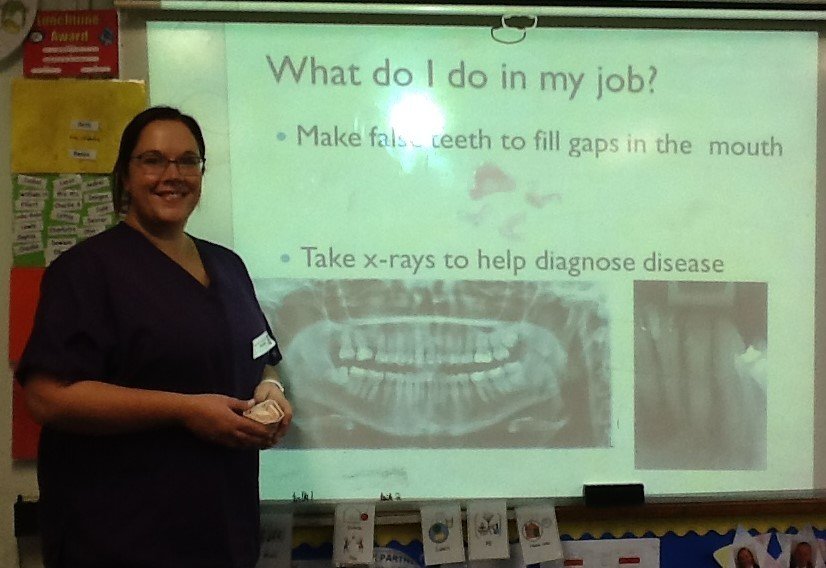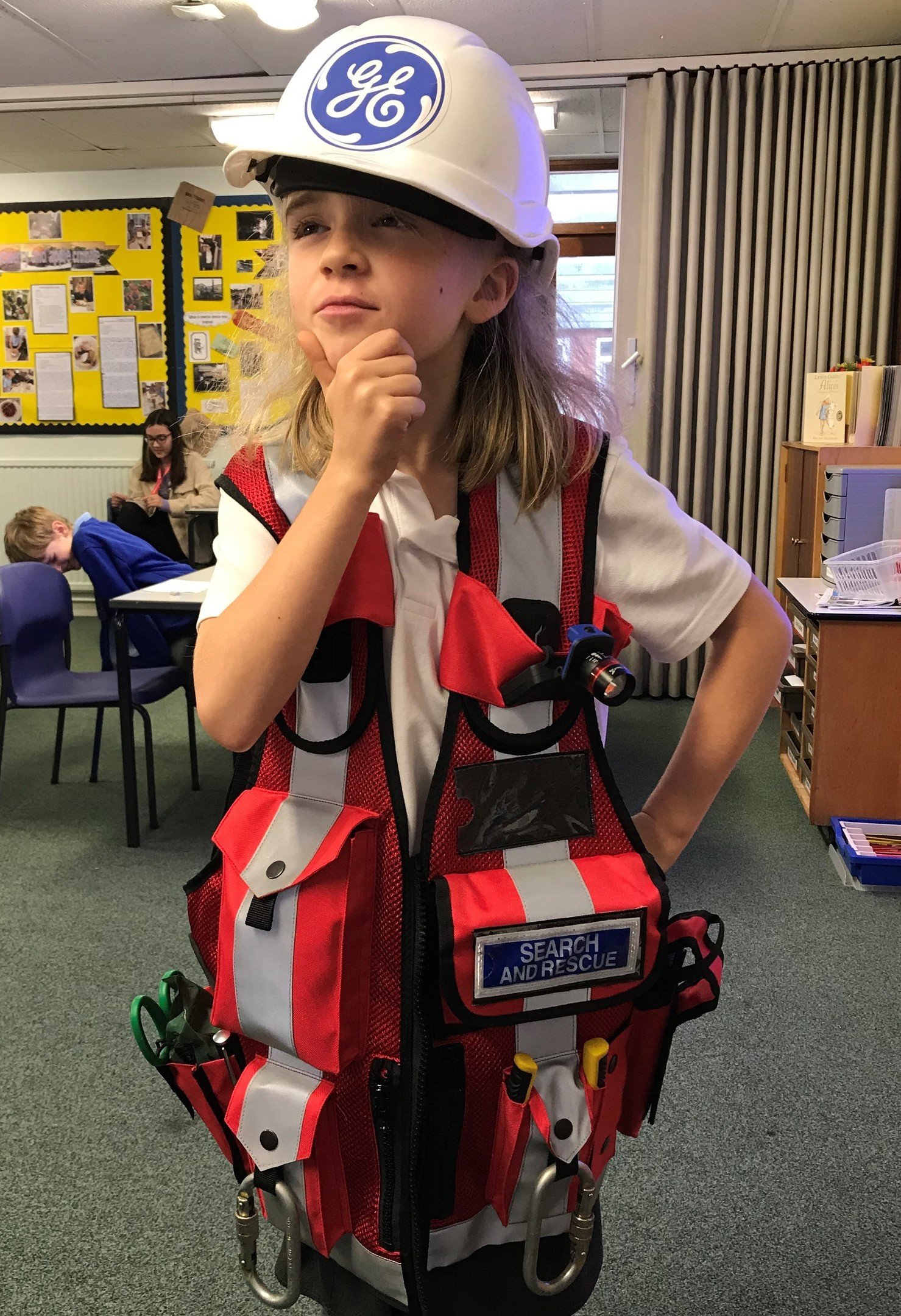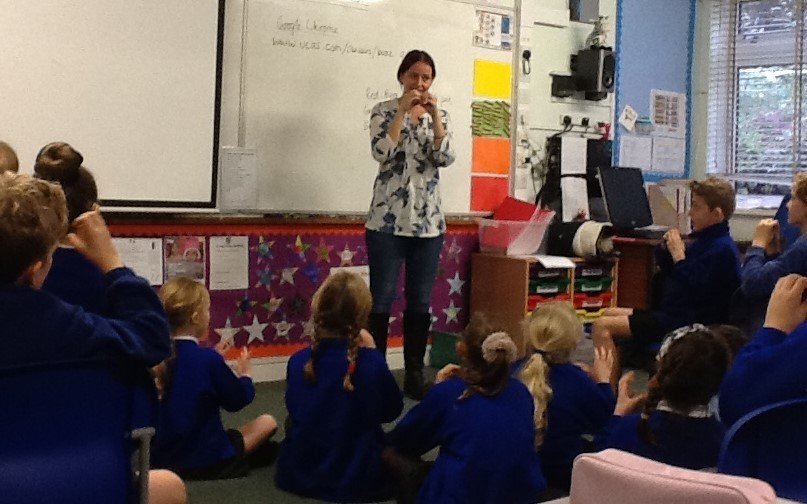 During the day the corridors were buzzing as the children experienced diverse future pathways. Each classroom had a different person explaining their jobs, including ex-professional footballer, Brian Borrows who had this advice for the pupils listening on how to deal with mistakes: "Yes, be disappointed but use it to get better!"
Other speakers on the day were an animator, a business owner, a vicar, a dentist and an engineer. Mr. Anstruther told reporters, "I am explaining how I became an engineer and the rules about my job." Children also got hands on experience with some of the roles during the afternoon workshops.
Mrs Miller explained that she hoped the children would learn about some jobs that they possibly didn't know about before. Also that the day might open the children's eyes a little bit to more jobs that are available in the world and start to think about their future and dreams and start to go for them. It seemed to work as one pupil told us "Before we did careers day, I never thought about what I wanted to do, but now I want to be a Social Worker."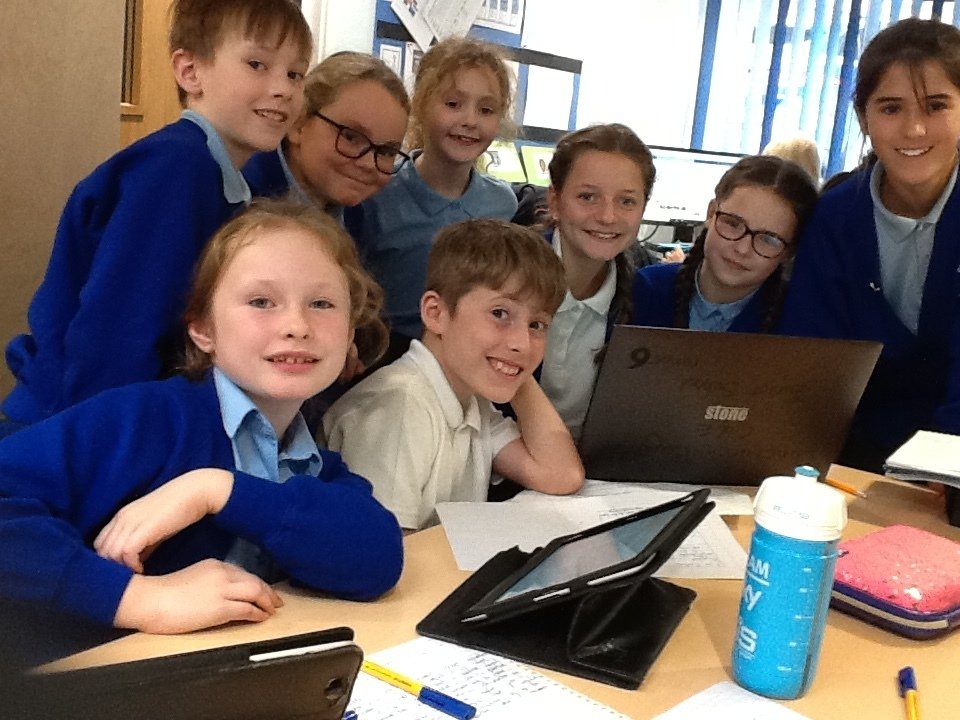 A small group of children worked alongside a radio broadcaster to report of the day's events, this was then broadcast on BBC Coventry and Warwickshire. Mrs Read, Co-Head of School, who organised the day, was delighted that it was such a success and thanked all the adults who had given up their time to work alongside the children and inspire them to achieve great things.
Written by the Dunchurch team of reporters.
Thank You Vicar - October 16th 2019
Children from across the school helped Mrs Miller plan and deliver a special assembly to say a big 'THANK YOU' to our vicar Rev. Pat. The children performed two plays written by pupils and sang a song composed by another child. Rev. Pat was presented with cards, flowers and chocolate cake.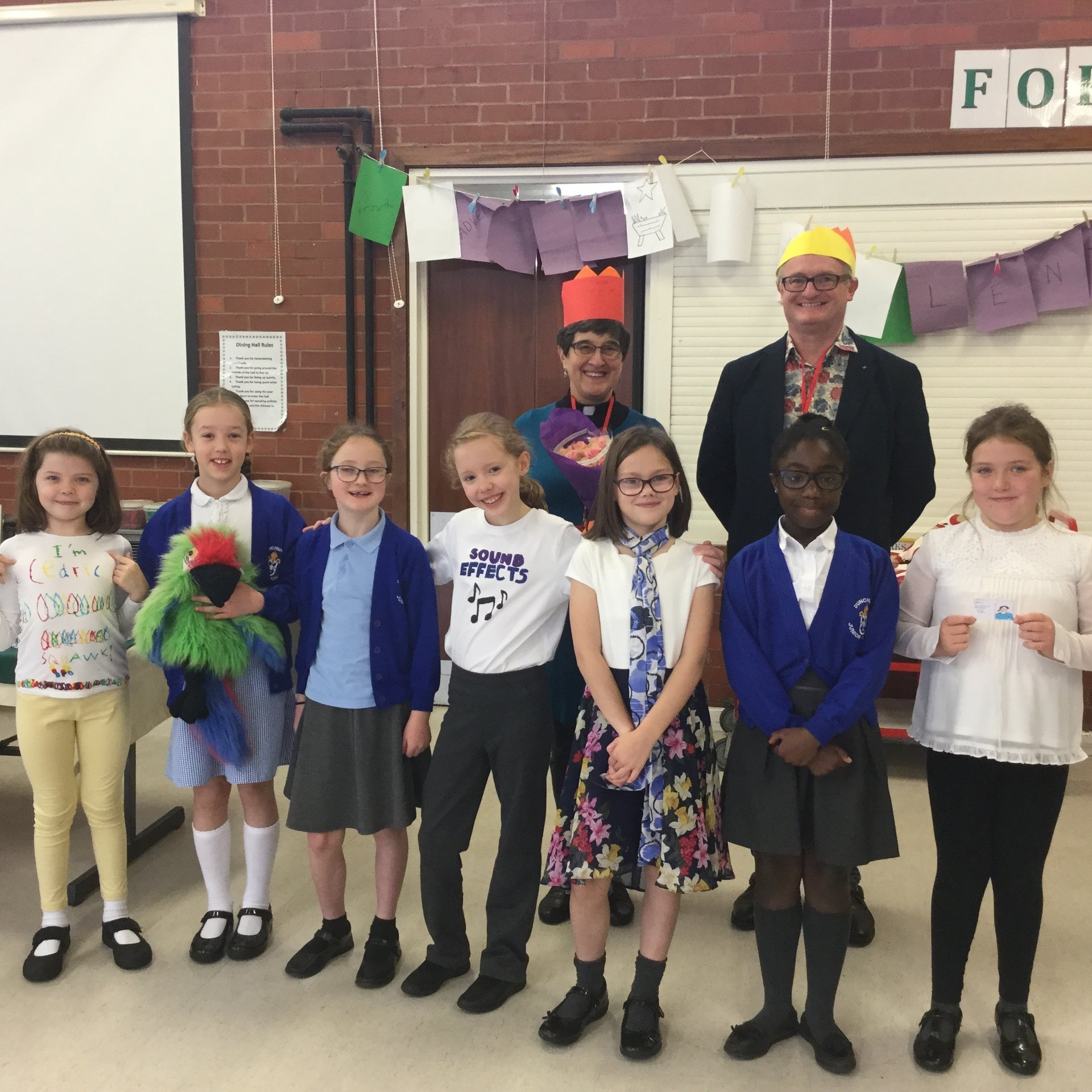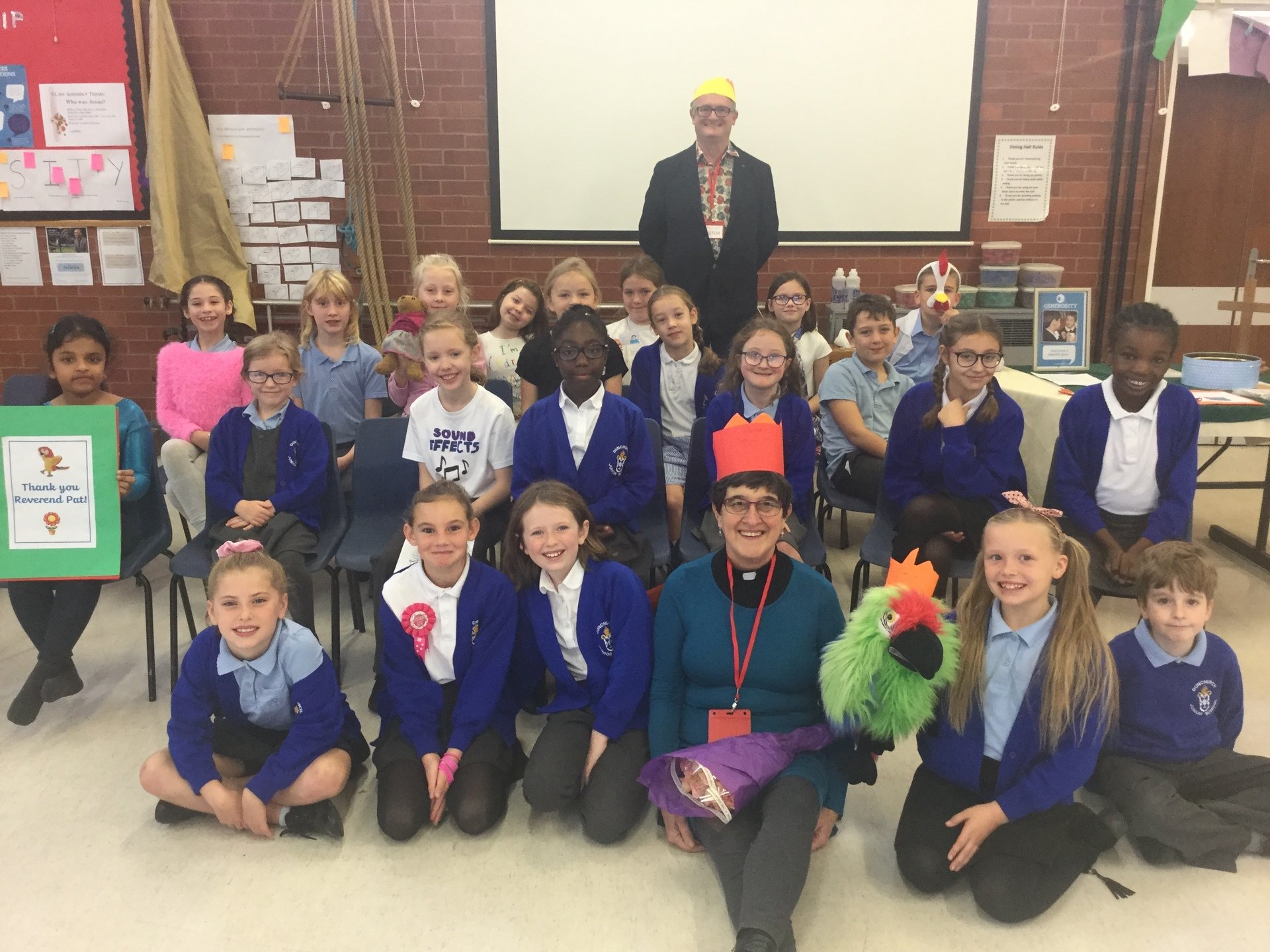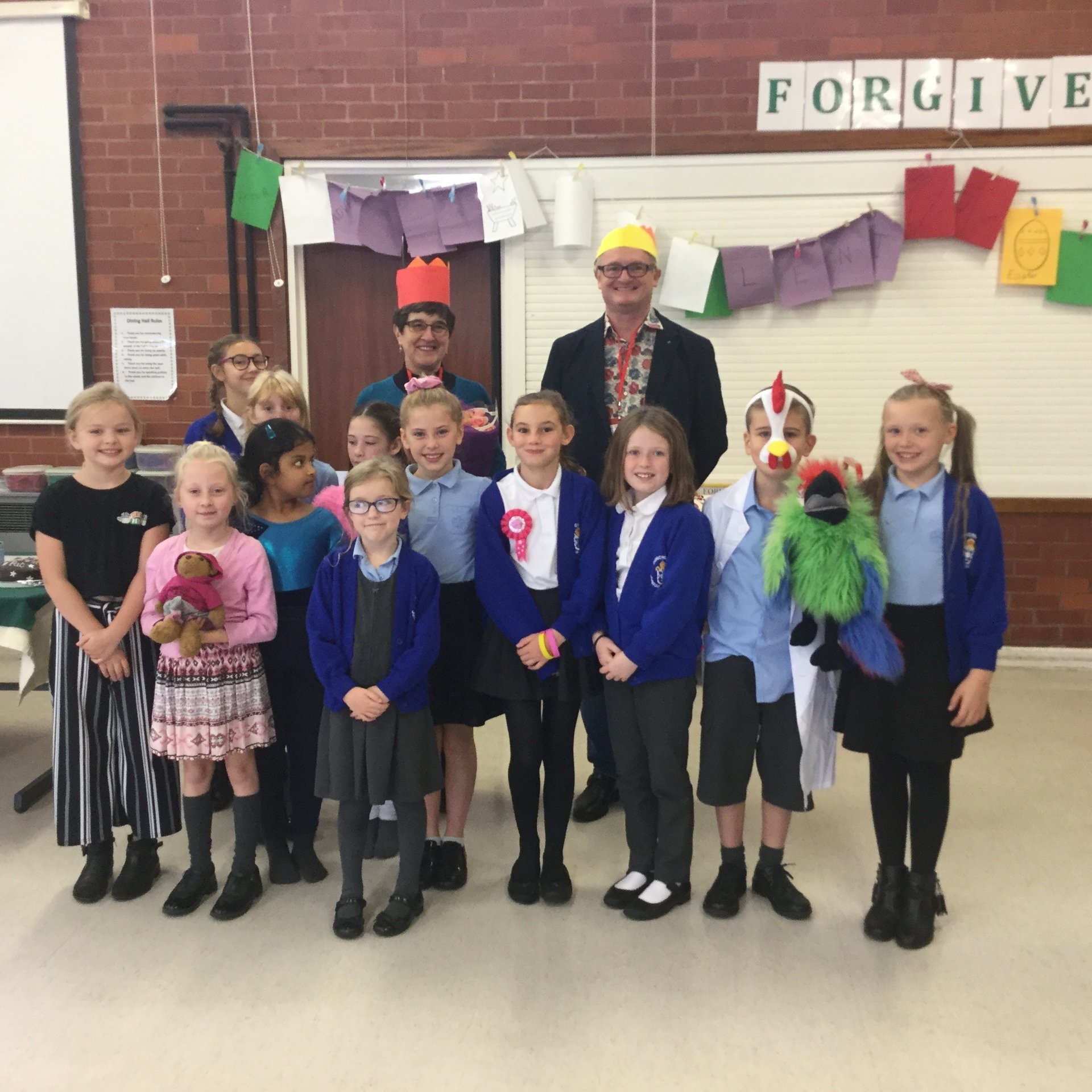 Tag Rugby Tournament - PE and Games - October 4th 2019
A selection of pupils from year 6 represented the school in a Tag Rugby tournament... here is their match report:
We arrived at St. Andrew's Rugby Club with high spirits. We were chosen to represent Italy in the tag rugby tournament. Our team started in a pool of four schools; Oakfield, St. Marie's 2nd team, Northlands and ourselves. Fortunately, we beat Northlands with a score of 6-2, rising from a previous score of 2-0. We then proceeded onto playing against Oakfield, luckily beating them with a result of 3-2. After that, we moved on to a third game opposing St. Marie's, in which we drew with an end score of 2 all. As luck would have it, we came out on top, because of try difference and progressed to the semi-finals. Our semi-final game was against a very good side (Our Lady's). It was an end to end game, full of tries and the game went into extra time in which we started with the ball, ran up the wing, got tug, laid it off and we scored a try… sealing the victory and moving us on to the final. The Mayor of Rugby arrived as the final kicked off and two professional rugby players stood on the side line observing both teams skills. It was a very tough game against St. Marie's 1st team. This was a game full of tactical plays and teamwork. We went 1-0 down and at that moment we didn't think we could pull it back, but somehow we found a bit of hope and brought it back to 1-1. Then they scored to make it 2-1 but again we fought back and somehow scored a try. We thought it was going to extra time, but in the dying seconds their defender dropped the ball which A pounced on and scored the winning try. Overall we had a great time and to top it off we won the tournament bringing home the trophy. This means that we get to be flag-bearers and do pitch side activities at the Ricoh.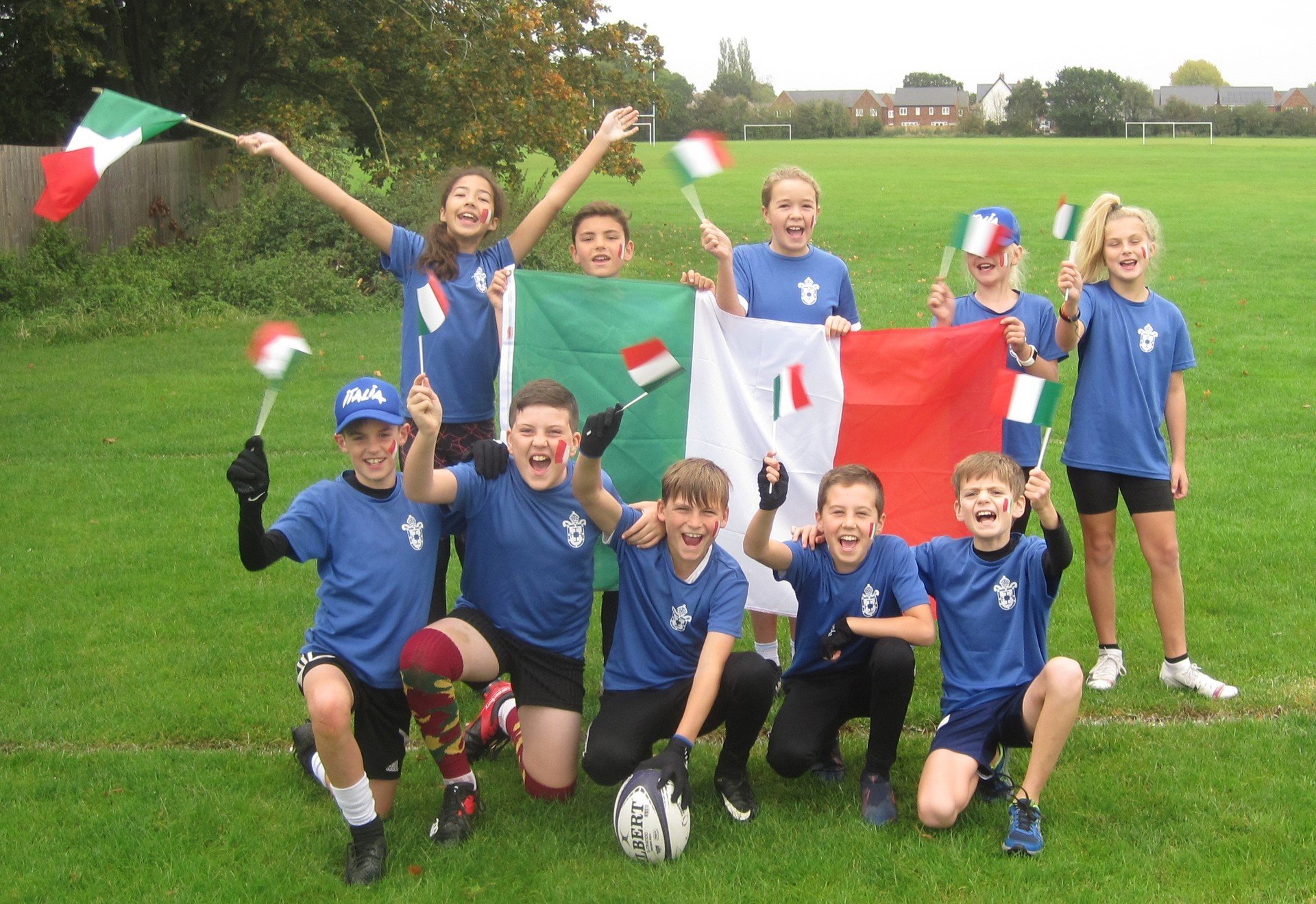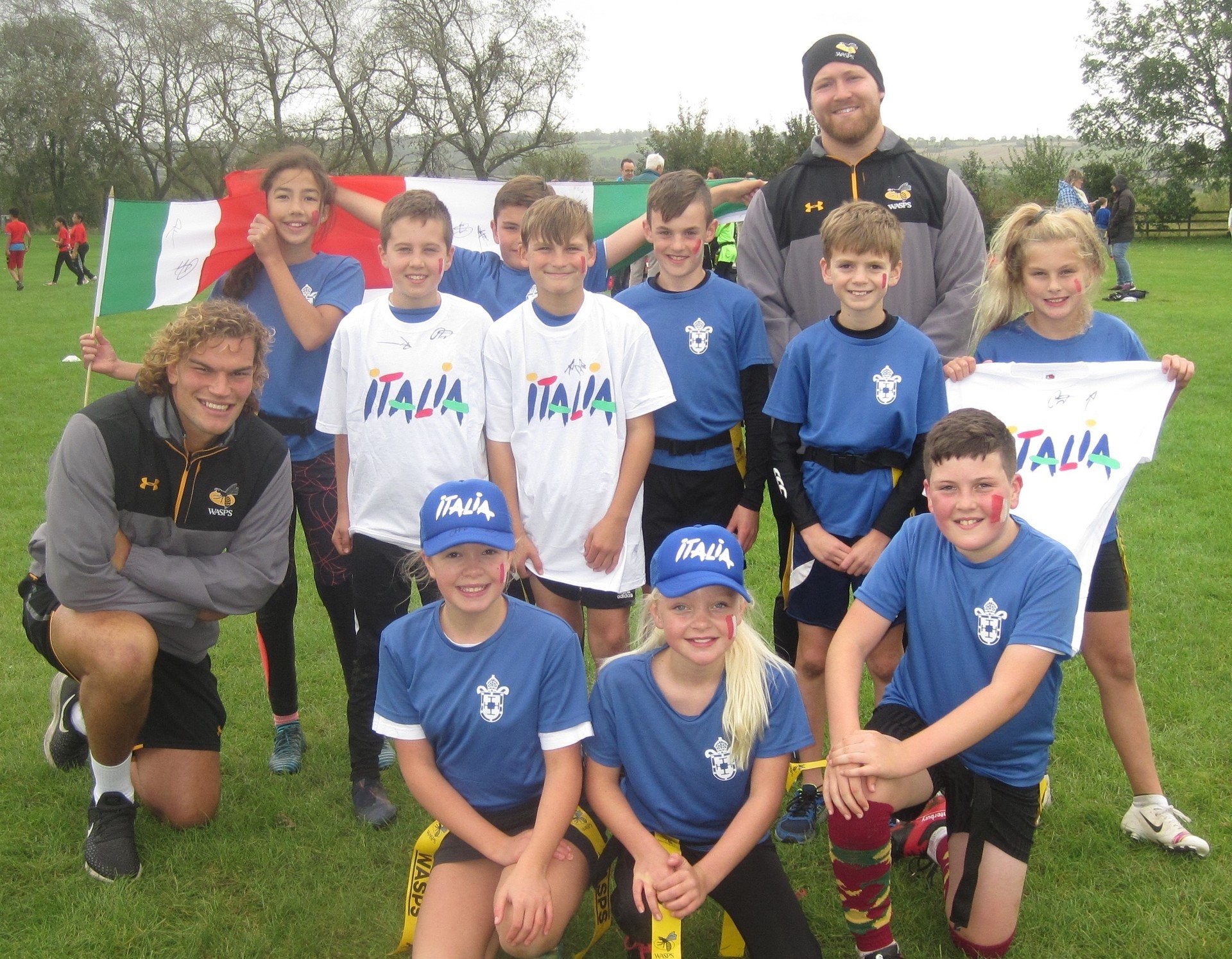 Rugby in Bloom - September 17th 2019
Representatives from Gardening Club and Mrs Broderick attended the Ben Hall to collect our platinum award. The children had the opportunity to try on the Mayor's robes.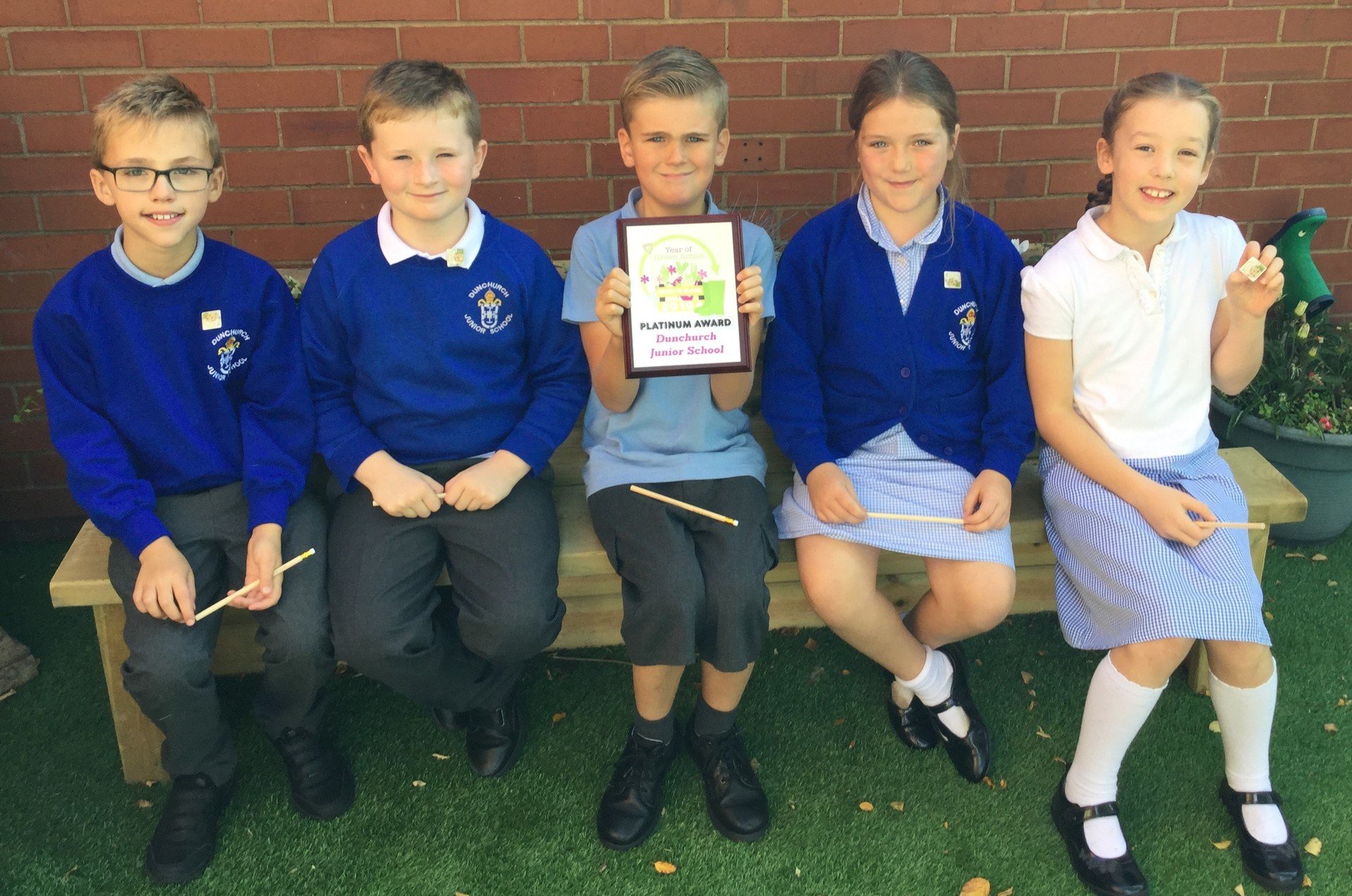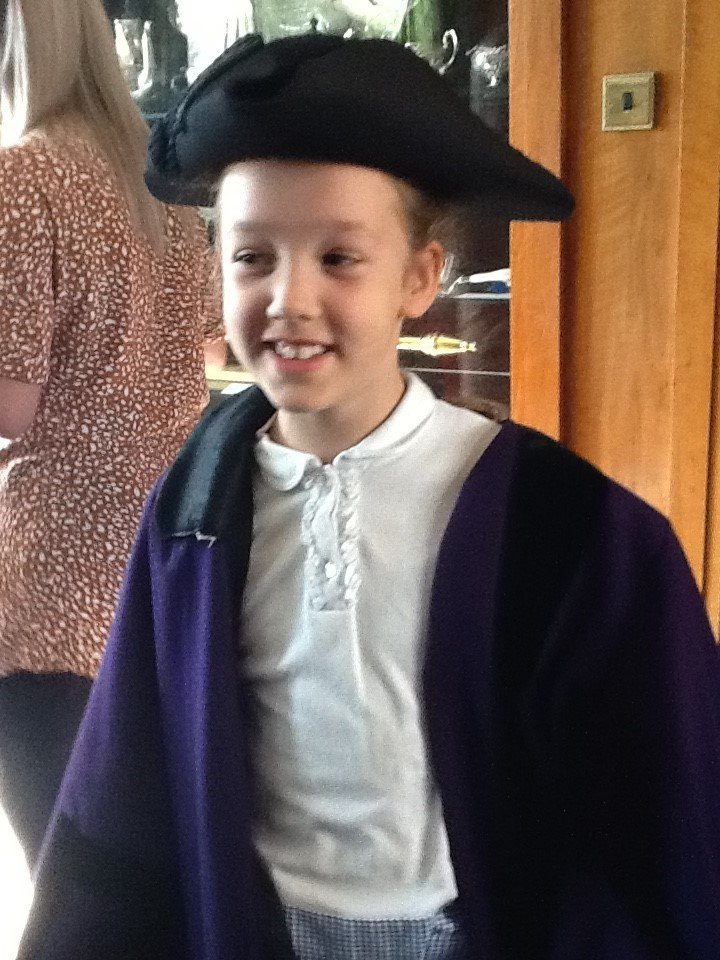 Cycle Tour- September 13th 2019
The whole school enjoyed watching the tour. We came back with a bag dropped by one of the cyclists. The children have been guessing what it contained. All will be revealed soon.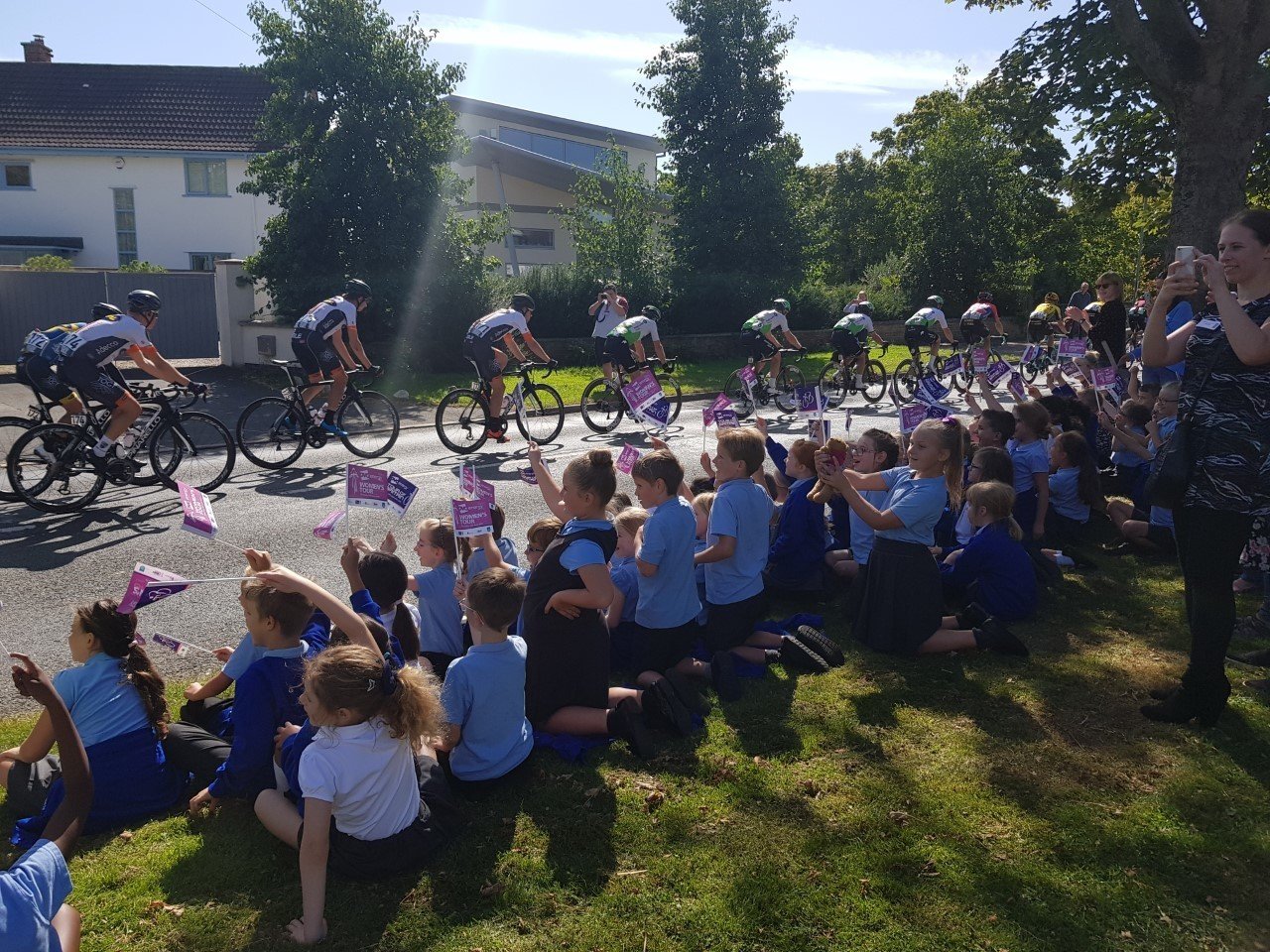 Quad Redevelopment- September 2019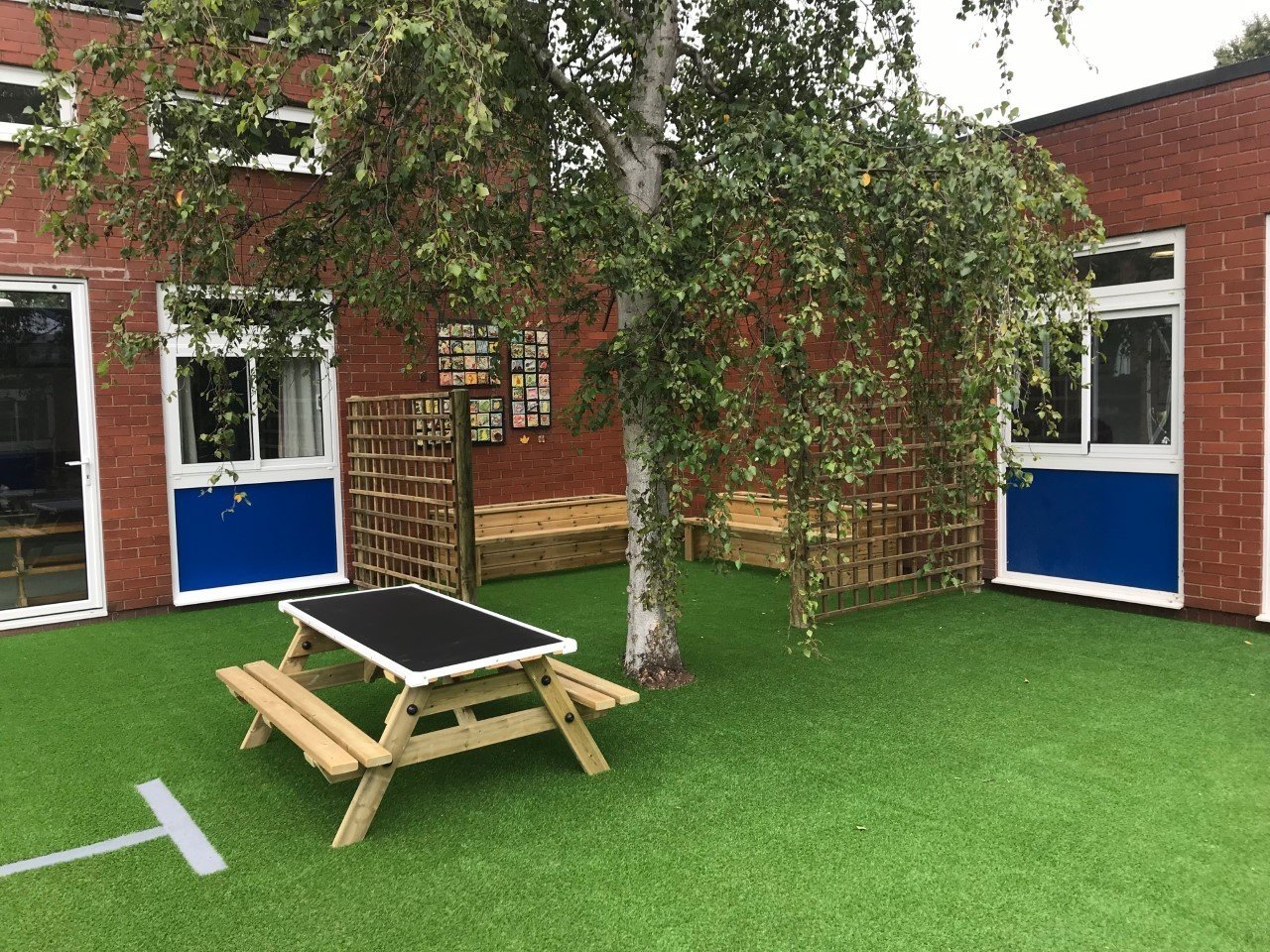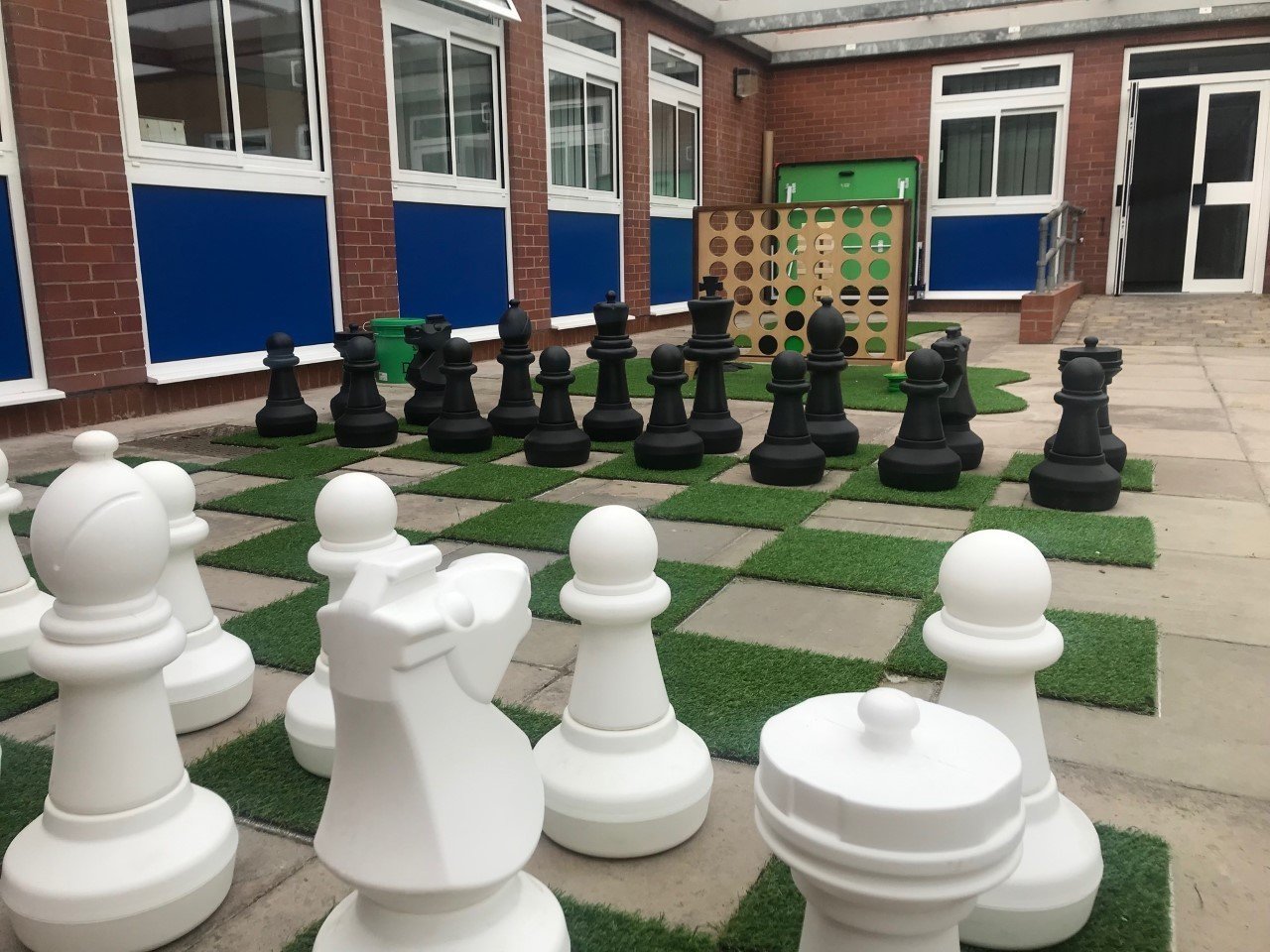 The past week has seen the quad redeveloped from a tired space into a new exciting area which includes spaces for: games, reading, gardening, reflection, eating, performing and playing. Children are now accessing this area at lunch and break time, as well as during lessons. There are still a few final touches to be added but it is already being well used.
The children enjoyed working with an artist to create Poles with our school values on. These are displayed in the quad.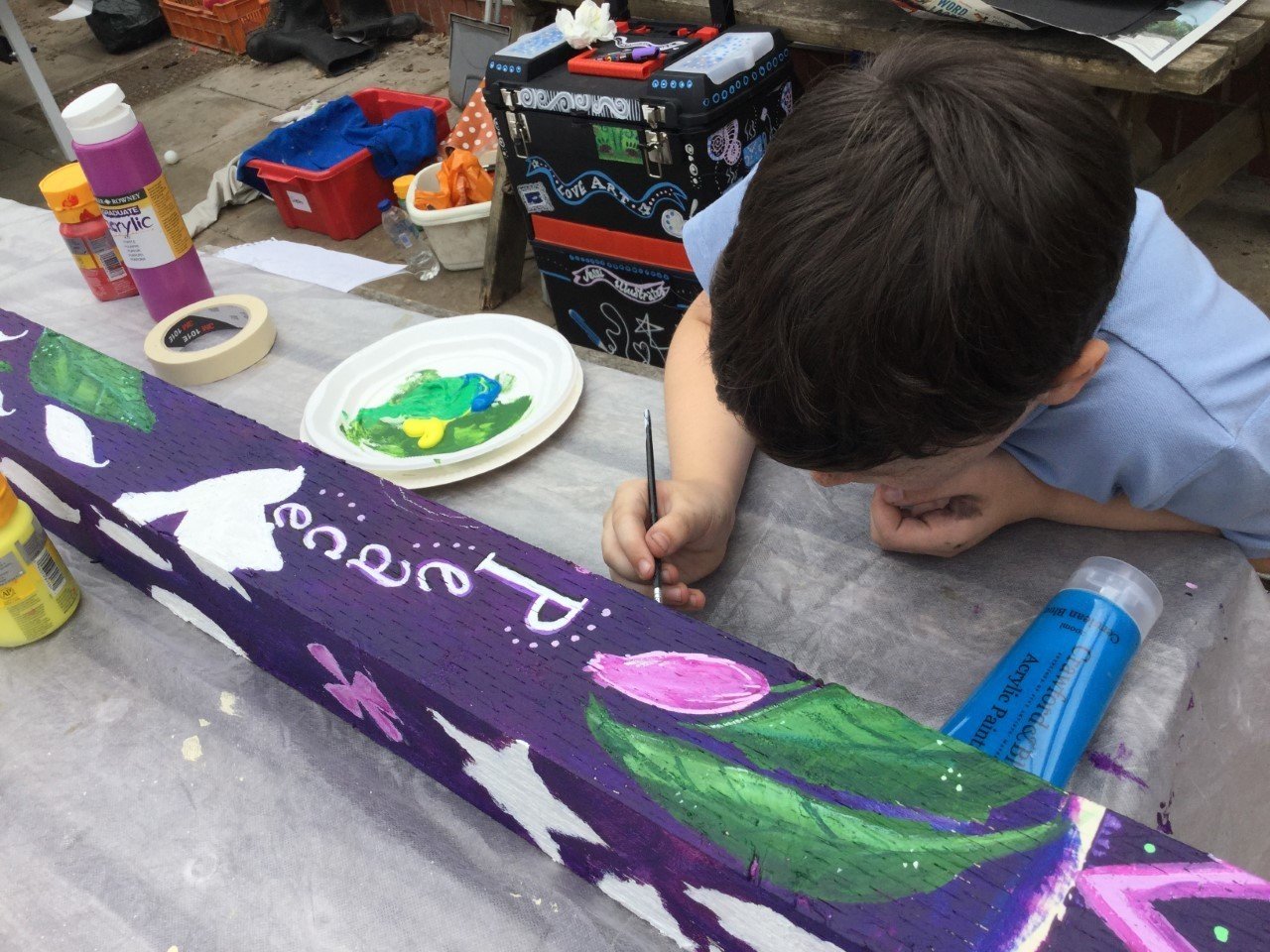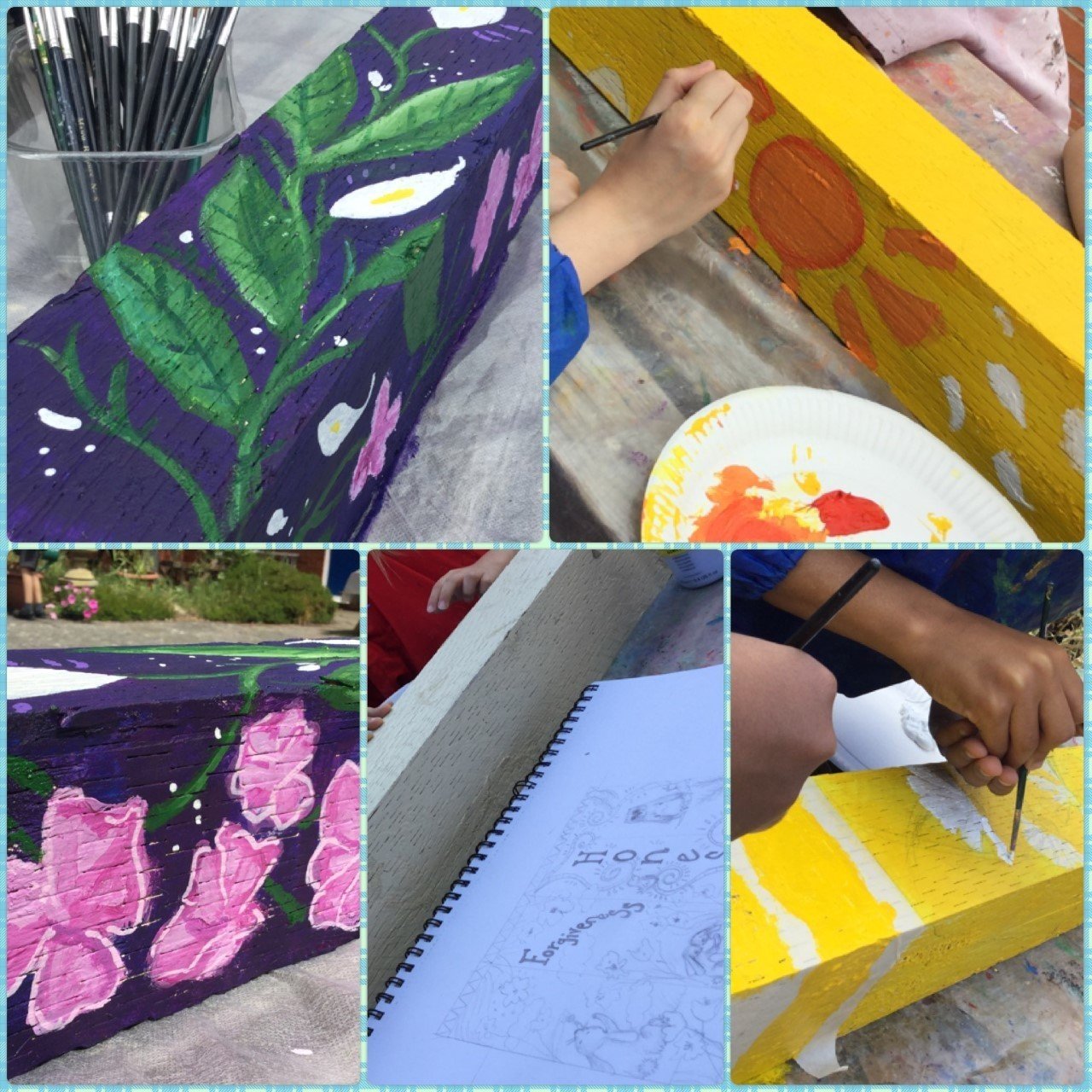 ------------------------------------------------------------------------------------------------------------