Latest News - 2021-2022
Week commencing 4th April
We made it…just! What a term it has been across both schools and the nursery.
Despite staff and pupil absence and illness, and other complications along the way, I have been truly inspired by the levels of resilience and compassion shown to one another. It is often said that when faced with challenge, people come together and that has been the case within our own community.
The past week has lived up to the comments I made last week in being a highlight of the term. The three church services undertaken at St.Peter's were just brilliant, bringing together children of different faiths and backgrounds in the spirit of reflection and thankfulness. The events also highlighted what talented individuals we have across the schools, with many leading readings, completing artwork for display, playing instruments and singing in the choir. There was no better way to finish the term.
Equally lovely was the opportunity (finally) to invite parents in to share in the work of their children in Year 2 this morning. We thank everyone for their attendance and look forward to holding events for other year groups throughout the summer term.
Looking further ahead, there is much taking place over the short first half term of the summer. SATs return at both schools, along with a number of additional trips and projects starting up/continuing. We will also have our after school opportunities in place for children to engage with once again. The half term will likely culminate in Jubilee celebrations (more details to follow).
For now, I would like to express my gratitude to your children for their commitment, to you for your continued support and to the staff for their incredible effort in keeping us going against all odds!
Wishing everyone a lovely Easter break – here's to an excellent summer term!
Easter Church Visit - Thursday 7th April
On Thursday this week, the Junior children visited St. Peter's church for an Easter Service. It was such a pleasure to be able to come together to sing and celebrate this important Christian festival. Thank you to the Music Ambassadors who performed 3 songs for us and to all the readers. Mrs. Broderick and Mrs. Fairbrother worked hard to plan the service and the children were all very well behaved.
The service was carefully curated by Mrs Broderick, who, given the state of current world events, decided to focus on our school value of "peace", focusing on thinking of the people who are suffering in Ukraine. The content was both poignant and uplifting, and the church was decorated with beautiful peace-themed bunting that our children made.
Many thanks to all staff, volunteers, readers and musicians involved, as well as to Reverend Pat and Steve at St. Peter's Church - we really couldn't have done this without you all. In addition, we are well on our way to having a whole school choir again, which, following COVID-related restrictions, feels like a long time coming!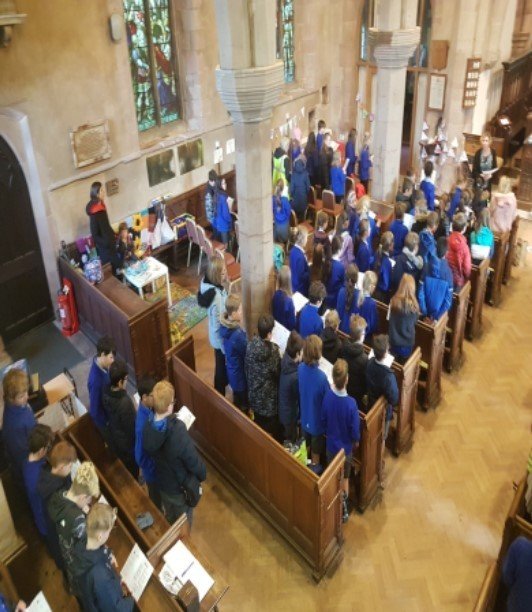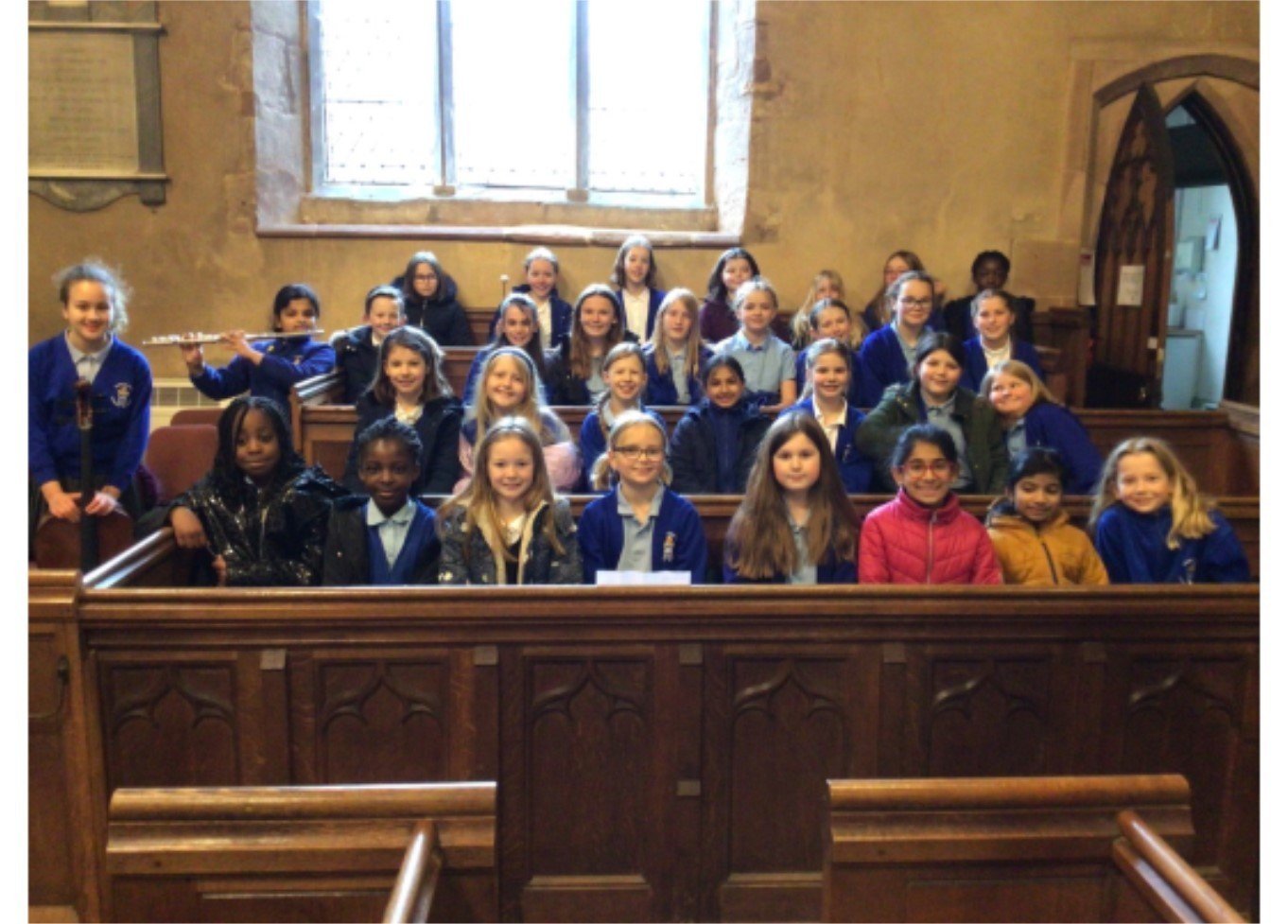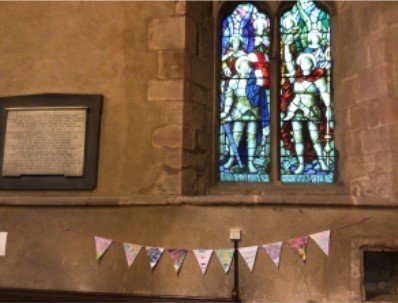 Half term highlights
Year 3 - Where have these last few weeks gone? This half term has flashed by in a whirlwind. It is not very often that we take the time to stop and reflect on our achievements, but this is something we should do. Over the last few weeks, the children have continued to persevere with their learning and overcome challenges in order to succeed.
This week in Maths we have looked at length and discussed the units of length commonly used today. The children have impressed us with their understanding and practical application of measuring.
Children have also enjoyed writing their narratives based on Stone Age Boy and have written some interesting stories showcasing the range of skills we have learnt this term.
After last week's unexpected flurry of snow, we were delighted to make it to Flag Fen where the sun shone- even if it was a little cold in the open space. The knowledge that the children shared with the adults from the site was fantastic and it was evident that both classes had enjoyed the unit of work on Stone Age-Iron Age. When speaking with the children after the trip, their highlights included making clay pots similar to the style of those found from the Bronze Age and sitting in a replica roundhouse- complete with an open fire. Some children found it tricky to believe that many years ago, people were able to complete activities in the low levels of light.
The disappointment of the cancellation of the Tag Rugby trip this week was soon forgotten when the children found out it had been replaced with a football tournament (thank you to Mr James) or an art morning. The footballers enjoyed a competitive few matches and both Mr James and Mr Coppillie were impressed with the level of sportsmanship shown. Those people who wanted to complete some art activities recreated some Stone Age cave paintings before making some bunting for our Easter service.
Thank you for the help and support you have given this half term.
We hope that the children and yourselves have a well deserved break and look forward to welcoming everyone back for an action packed Summer Term.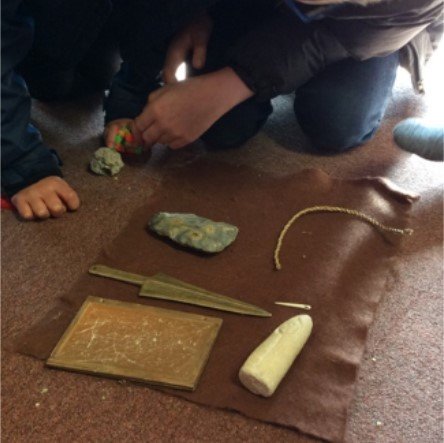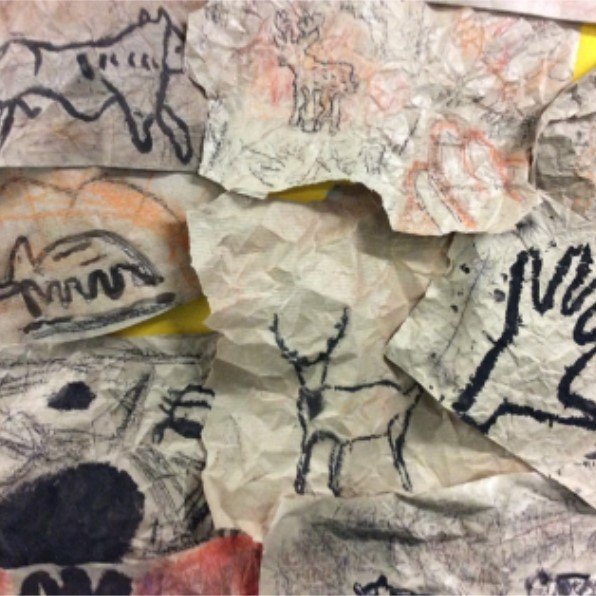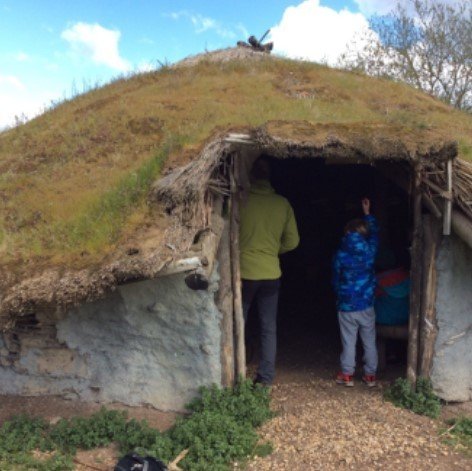 Year 4 - Year 4 have had a great Spring term and have continued to work very hard right up until the last day! The children have particularly enjoyed reading D King-Smith's The Sheep-Pig and have produced some excellent written work to go with it. Another highlight of this term has been our Science topic on sound where children linked their Science knowledge very well to their music learning. They particularly enjoyed making instruments with different pitches and experimenting with string telephones! To round off our successful half-term, the children completed an Easter themed maths scavenger hunt. Mrs Cooper and Mr Beasley were very impressed with not just the children's superb maths knowledge, but also their excellent teamwork when working in pairs. Happy Easter from everyone in Year 4!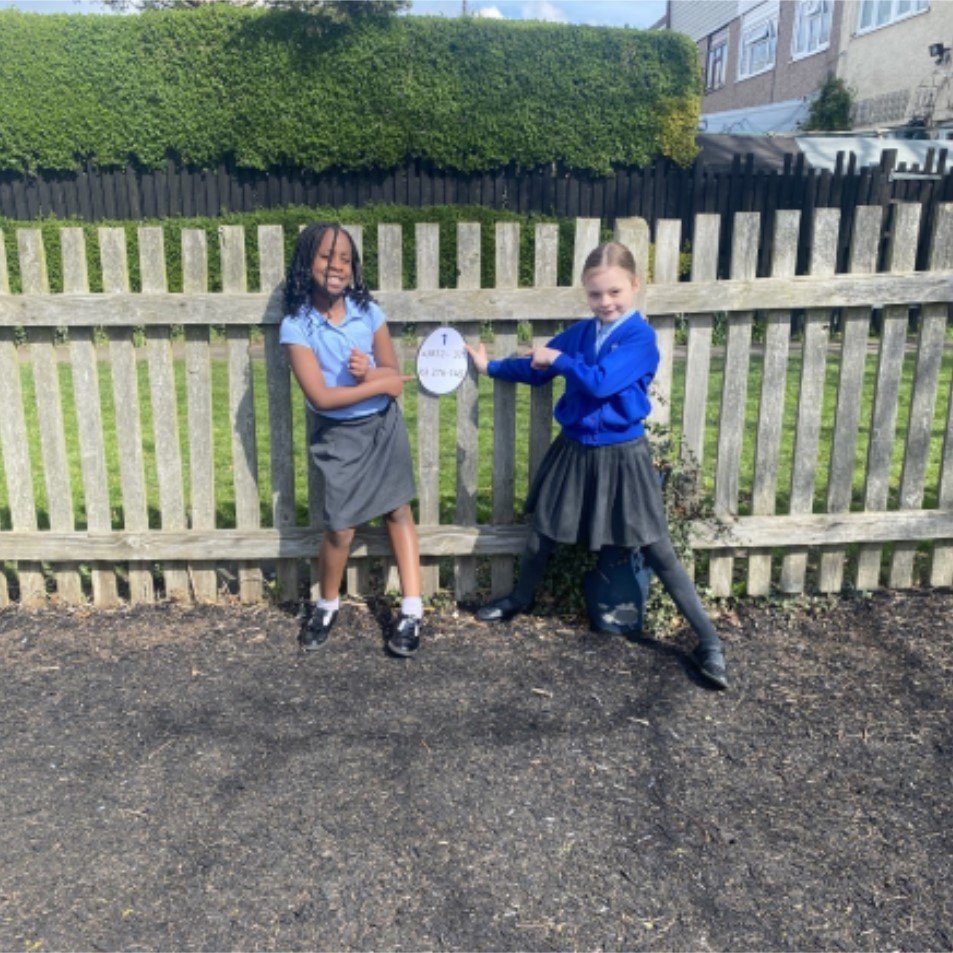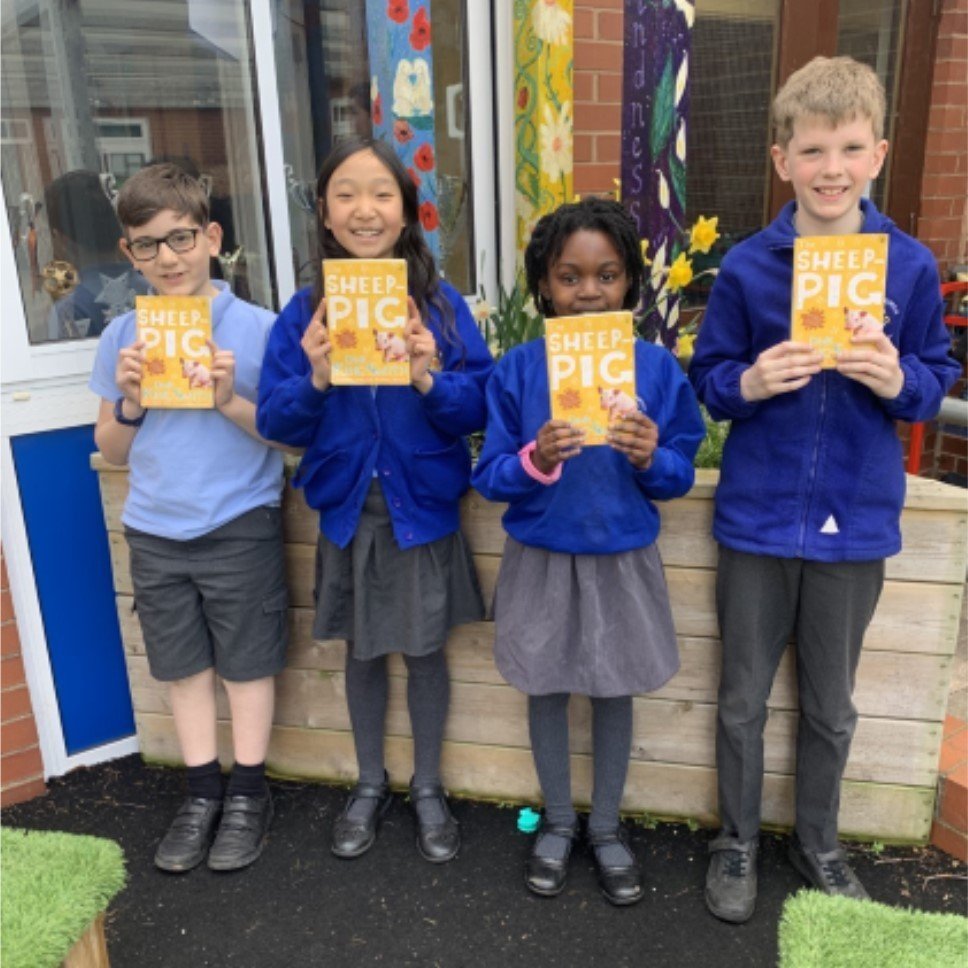 Year 5
A message from year 5 from the pupil perspective -
This term we have enjoyed:
The cake sales, because it's raising money for a charity and good causes. Year 5 raised around £217 this term.
The life cycles, as they show how different animals have nearly the same life cycle.
We like the teachers, as they are a credit to all of us.
We loved Wales and wish we could go again as the teachers made it the best experience they could have. THANK YOU TEACHERS!!!
From 5HB
This term we enjoyed all the amazing art projects we did, such as weaving, printing, glazing, on line painting and clay sculpting and learning about Claude Monet.
We obviously enjoyed our amazing 3 day residential to Wales.
The Easter activities were very enjoyable, especially the egg drop. We have also LOVED all the spectacular writing tasks we have been set, like writing about Eric and the explanation text about Wallace and Grommit's Tellyscope.
Thank you Mrs Fairbrother for our amazing music lessons too. (history of the Blues) Also we wanted to say a big thank you to Mrs Keffler and all the other teachers that have made this experience even more special. Overall being in 5K has been a real blessing to us and we wouldn't change a thing.
From 5K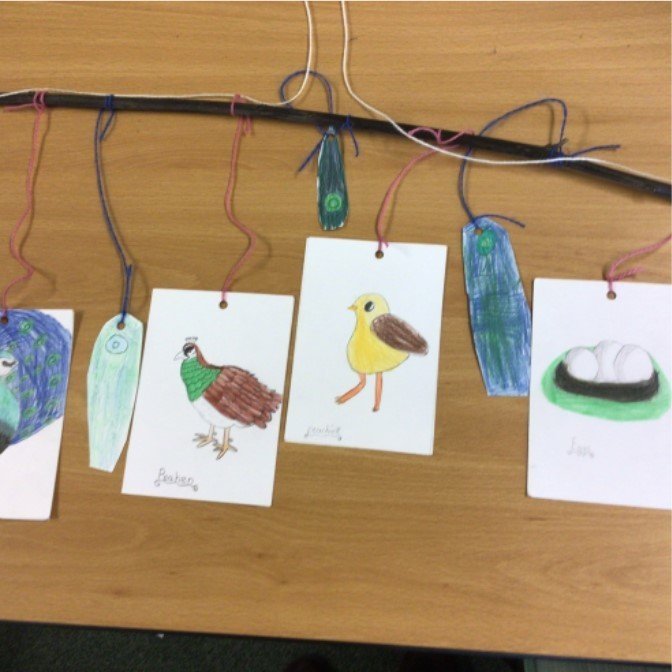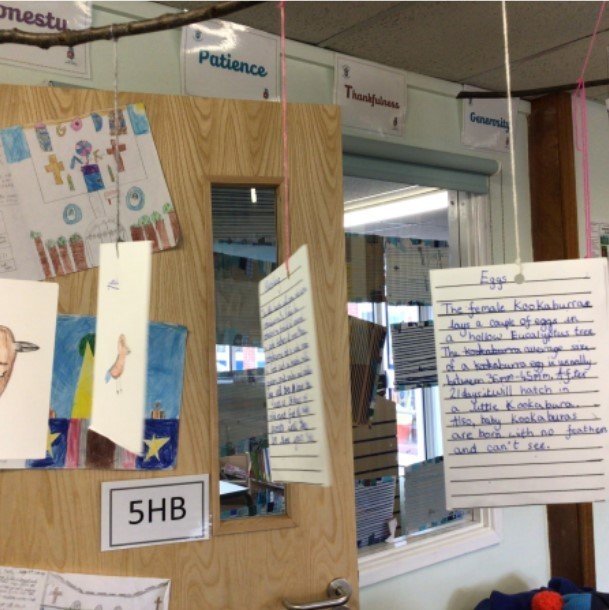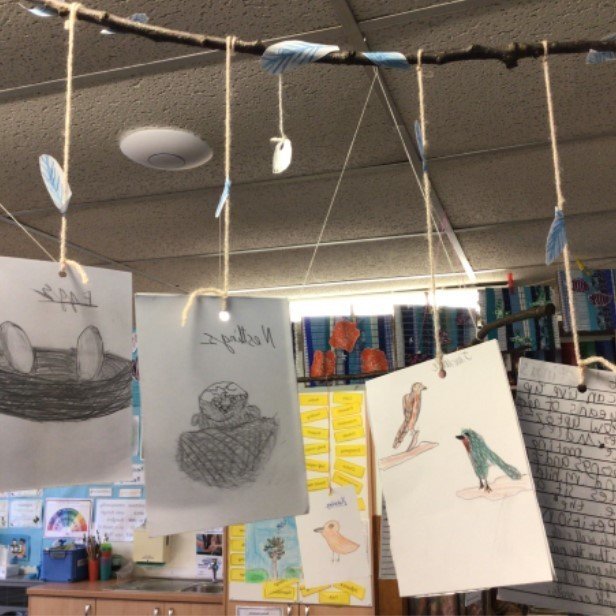 Year 6
This half-term, Year 6 have enjoyed learning about World War II, in particular about Coventry and the Blitz. The visit to Coventry Cathedral really made the topic even more powerful, being able to see first-hand the devastation caused, but also taught us about the importance of forgiveness and reconciliation to help make our world a better place. To accompany this, the children also read (and watched) Goodnight Mr Tom, which again, brought the experiences of an evacuee to life and, some of the work the pupils produced in a variety of lessons, demonstrated how immersed they were in the topic and books they were learning about.
Most recently, Year 6 attended a tag rugby tournament at the University of St. Andrews Rugby Football club. It was great to see our pupils demonstrate their sporting prowess, determination in the face of adversity, supportive teamwork and for being such good sports – they are a credit to our school and community.
As we're sure you're aware, from all the egg-citement it caused, the famous 'Egg drop' competition resumed this year and Year 6 did rather well – the lack of egg-splosive mess, after a thorough egg-amination at the end, showed what egg-ceptional structures the pupils had constructed. (Sorry!) The winners of the best designs, as voted by their peers, were Hari and Naomi. So, well done to them and to all those pupils who participated.
This week, we attended a wonderfully uplifting Easter service at St. Peter's Church and, in the evening, the children began celebrating the start of the Easter holidays early thanks to the efforts of the PTA and Mrs Hayward.
We hope Year 6 (and you all) have a wonderful, relaxing holiday. We have set some homework which we hope they can complete, so that they will be as prepared as they can be for the upcoming SATs on the week beginning 9th May. Have a great Easter holiday!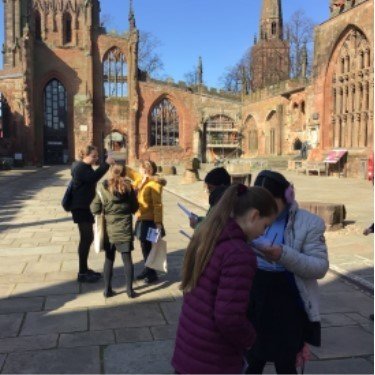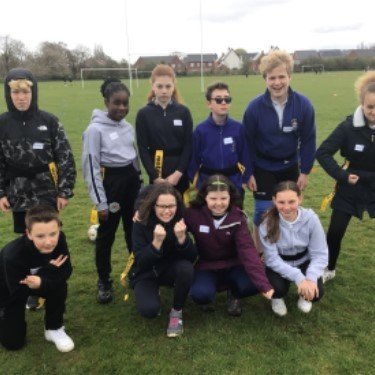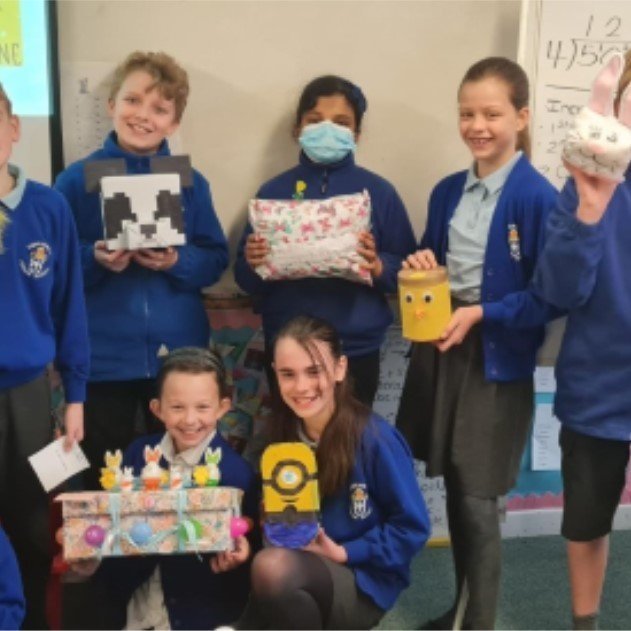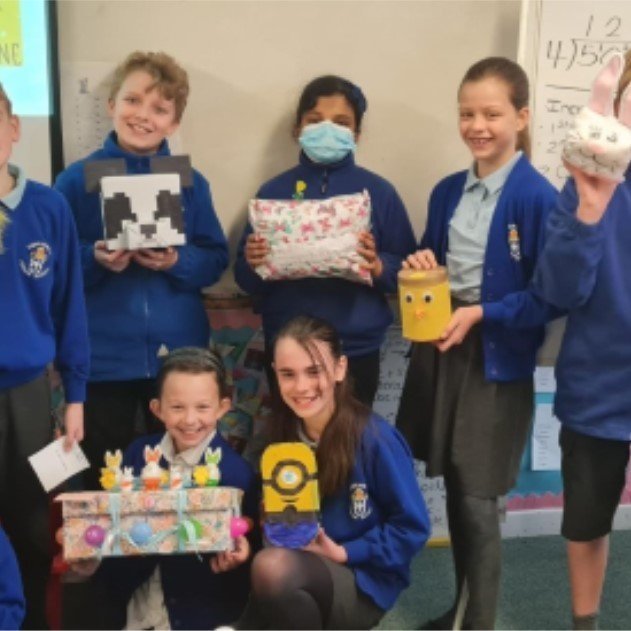 Cake Sake Year 5 - Well Done
Well done to all those in 5K who baked and organised this week's cake sale - it raised a fantastic total of £178.25 in aid of the Disasters Emergency Committee for Ukraine! Thank you to all those who supported such a worthwhile cause.
A big thank you to the children in Year 6 who held an Easter gift sale in aid of local refugees this week. Their sales were supported by the whole school and the sale was a big success, so thank you all who took part.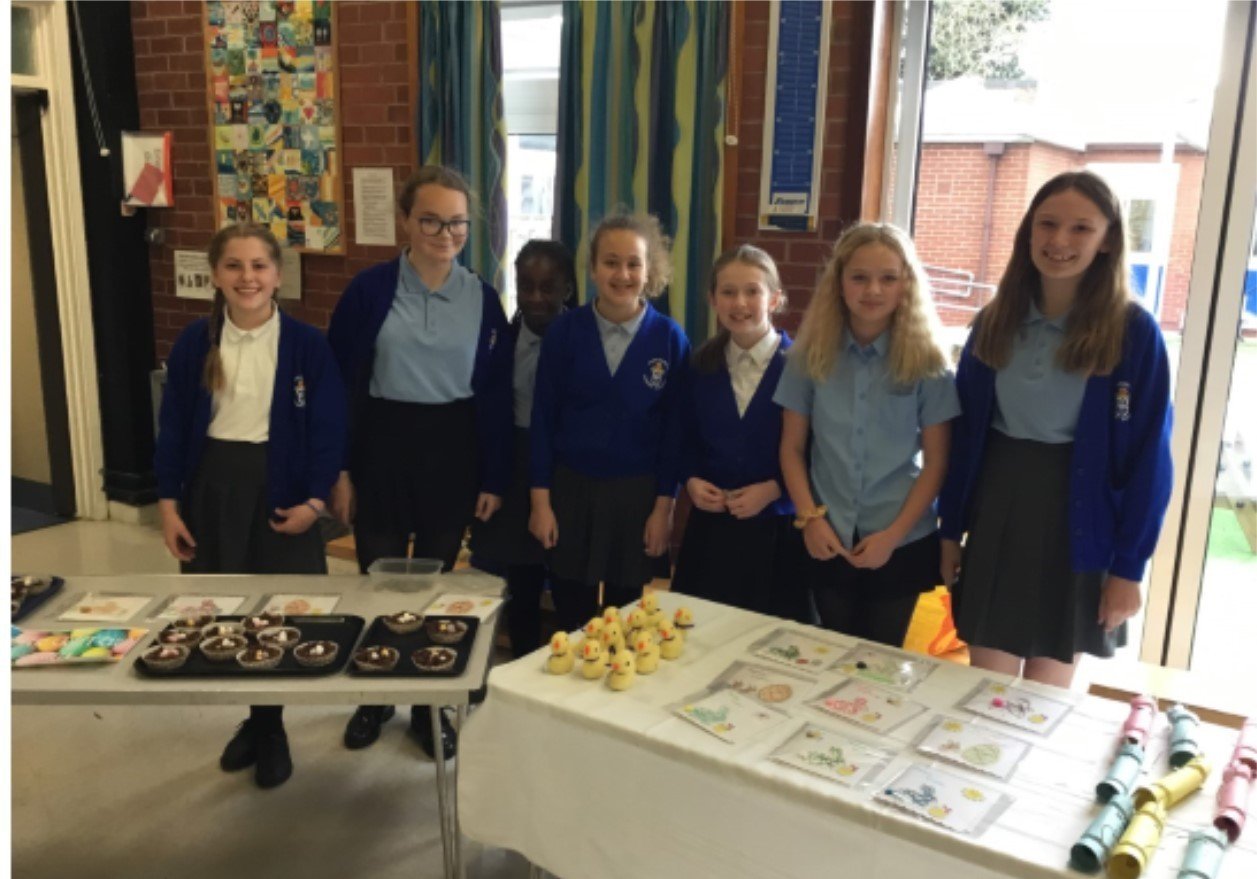 Gardening club
Spurred on by our success in late planting of bulbs on the car park slope, gardening club have been out planting the rest of the daffodils and some tulips. We hope they will brighten the space next spring. We have also planted potatoes and some veggie seeds. Not all have come up ...yet! But we look forward to gardening again, with the fantastic group of gardeners next term. If you have any extra seedlings from your plantings, they are always welcome at school!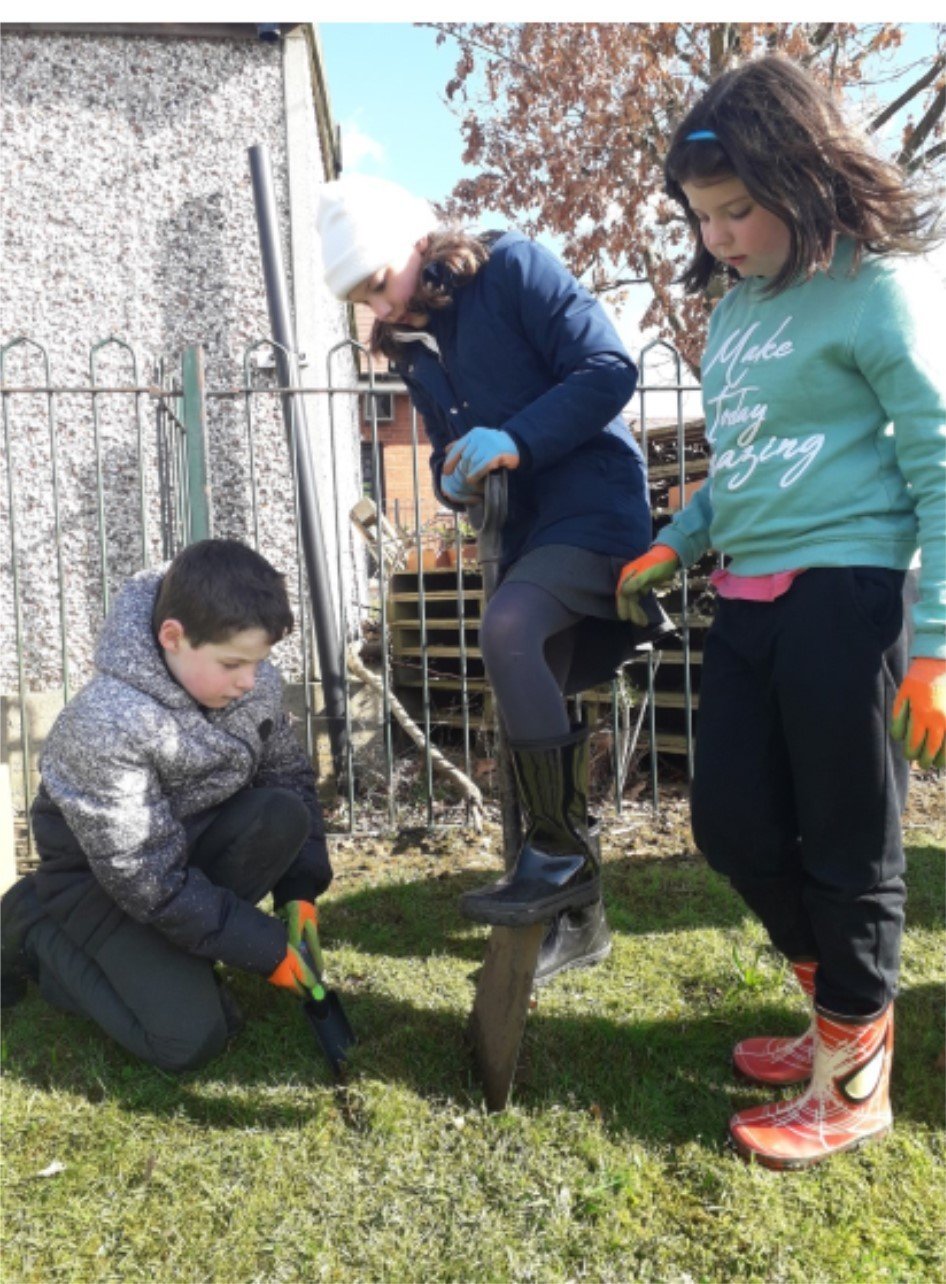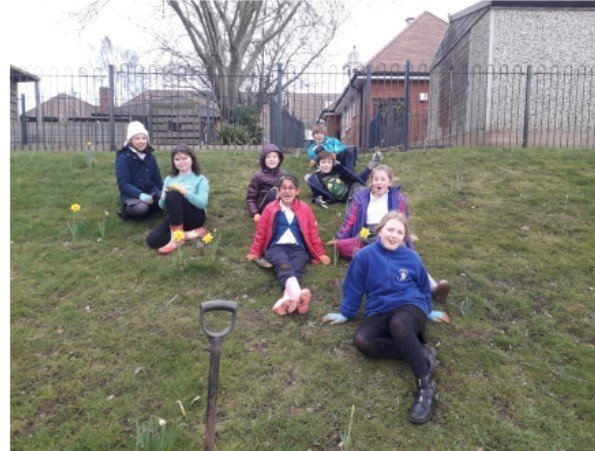 SPACE
Week commencing 28th March
Message from Mr Andrews -
I hope this newsletter reaches you safe and well and everyone has overcome the shock of 18 degree weather one day and snow the next! Unsurprisingly, this caused much excitement for the pupils across both schools and much worry for the staff who had been planning events and activities which required being outside.
Fortunately, we have made it to the end of the week and are looking forward to a really positive final week across the Federation. Next week sees us returning to the church after over a two-year absence, to commemorate celebrate Lent and Easter with Reverend Pat. The Infant school will be attending on Wednesday and Junior school on Thursday.
In addition to that, the Junior school PTA Egg-drop challenge will be landing (safely we hope) on Monday afternoon, Year 2's will be welcoming their family members in for afternoon tea (in the morning!) and hopefully joining us for the SATs preparation evening, Easter Day activities with the Infant PTA on Friday 8th, Junior school discos and Year 3 and 6 will be attending Tag Rugby tournaments.
There's nothing like cramming everything in to the last week to keep us going until the very last moment!
Whilst the term has been a challenging one from a staffing perspective, I have been so pleased that we have not had to close any areas of the Nursery, Infant or Junior schools, unlike some of my colleagues who have had to make that difficult decision. This is something to be celebrated; knowing that education has continued during the toughest of terms. We would like to thank you all, once again, for your continued support and hope you enjoy the weekend.
Year 5
This week in Year 5 we have had to come down from the excitement of last week's residential straight into assessment week, but the children have focused really well and tried so hard, showing us the progress they have made this term in English and Maths. We have also started a new science topic about life cycles, so far researching amphibians and different types of bird, from red tail hawks to flamingos. In English we have been investigating clear explanations for one of Wallace and Gromit's Cracking Contraptions, the Snoozatron (maybe we should have created one for our trip to Wales!), so that next week we can write our own. Finally, we completed our art topic about Monet with some very creative weaving and printing inspired by his Waterlilies.
One more busy week to go before we can all have some rest!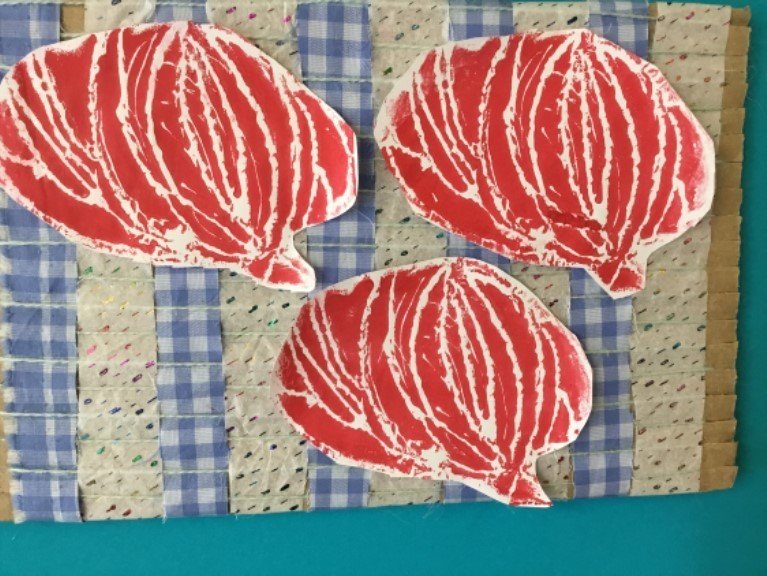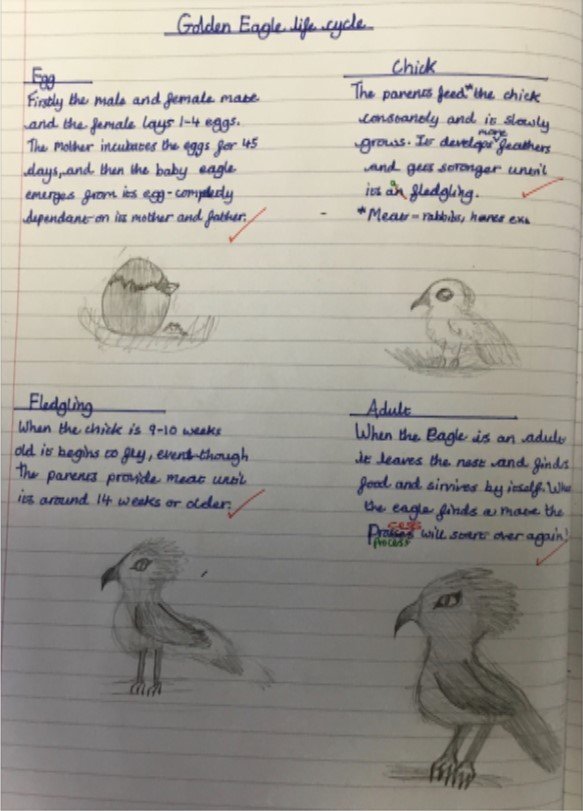 Year 6
Inspired by our trip to Coventry Cathedral, we have been learning more about the devastating Coventry Blitz and, as newspaper reporters, we have been describing the key events as well as reporting eyewitness's accounts. In our Theme lessons, pupils have learnt about events that lead up to WWII, as well as finding out who the leaders of the Allies and Axis were. In addition, we found out about daily life for UK residents during WWII as well as looking at, and producing their own, authentic propaganda posters.
In computing, we have continued sharing content in our Year 6 blog, learning about each other's interests and hobbies, as well as making positive comments about these posts. Some pupils have also tried to create quizzes to encourage engagement in the blog, most of which seem to revolve around food, for some reason!
We have been impressed with the children who have been putting a huge amount of effort into completing their homework over the past few weeks – it really will help prepare them for the upcoming SATs and get them into good habits for when they attend secondary school.
We're looking forward to next week's Easter activities and the Tag Rugby trip before we finally break up for a well-deserved rest.
The Dunchurch "OAK LINE"
On Saturday 19th and Sunday 20th March, children and families from the Dunchurch Federation took part in tree planting as part of The Dunchurch "OAK LINE" to commemorate 75 years reign of Queen Elizabeth.
It was a special moment for the village to bring such a range of residents and representatives together in support of our Monarch, knowing that the Oak Line will live on for many years to come.
A big thank you to those families who supported the planting and to the Trustees of the Village Hall and Sports Field for allowing us to be involved.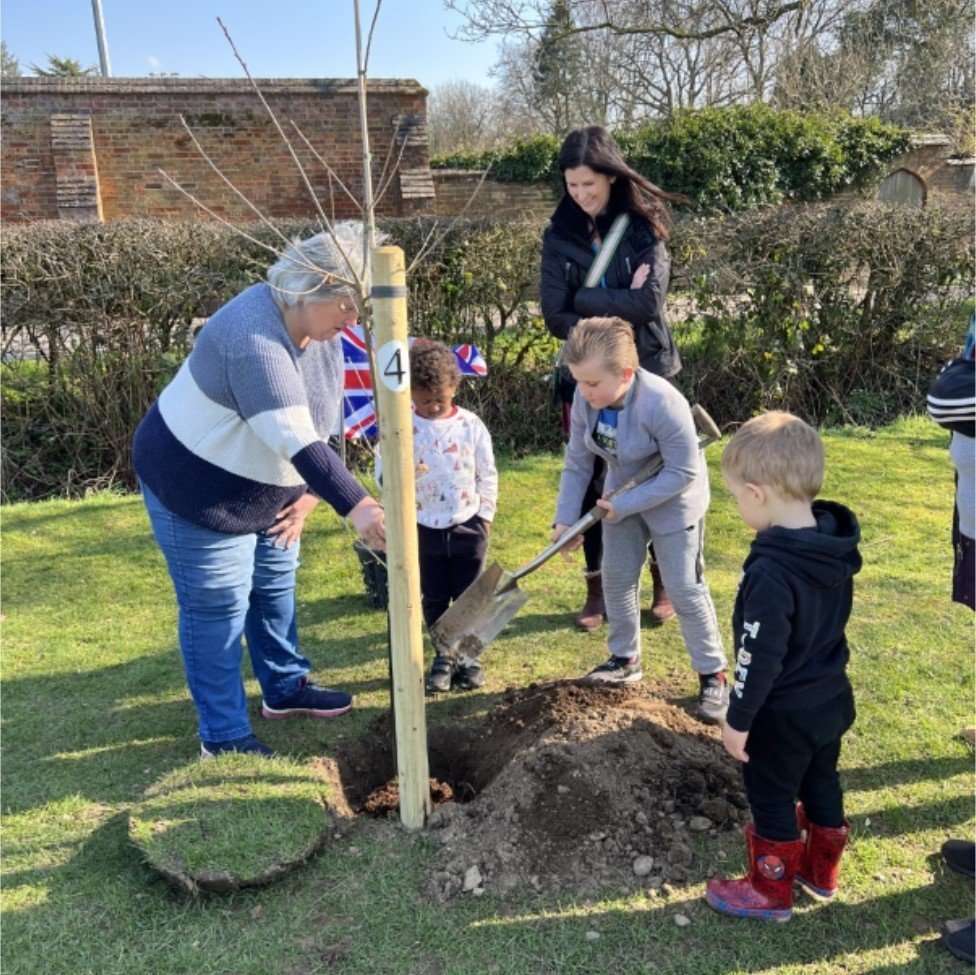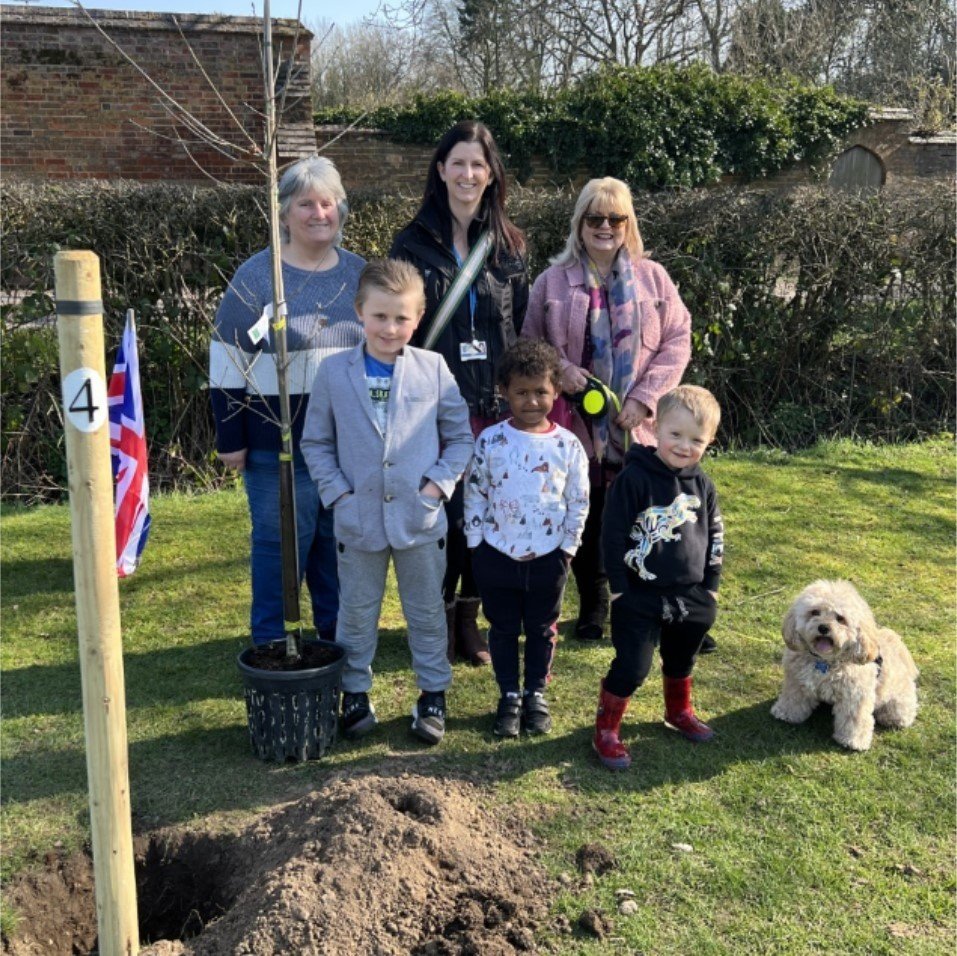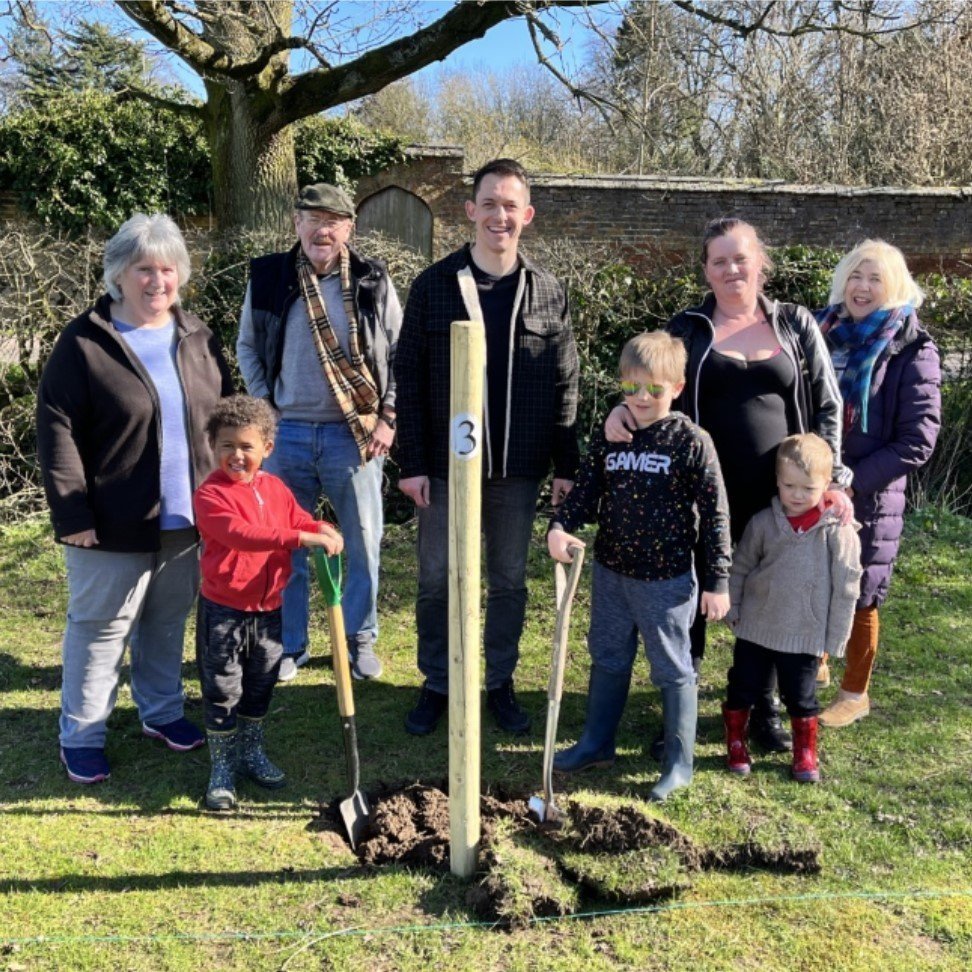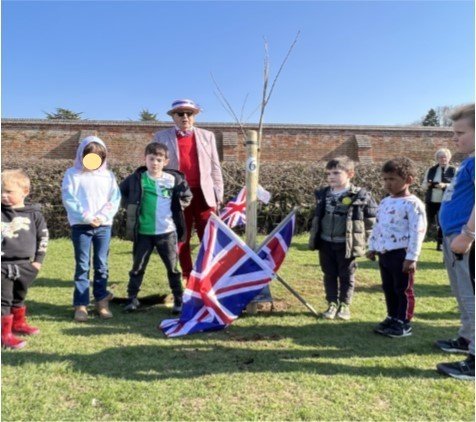 SPACE
Week commencing 21st March
Message from Mr Andrews -
What a whirlwind of a week this has been—with much to celebrate and a great deal to be thankful for.
As many of you will be aware, Year 5 ventured to Wales for the first residential the school has embarked upon over the past two years. Blessed by the most beautiful backdrop and weather, the children have truly embraced the adventure and will no doubt have some incredible life-long memories. A huge thank you to all the staff and volunteers who also attended the trip– please make sure you enjoy a restful weekend!
Within school, we have faced significant staff absence, which has led to daily changes around timetabling and support for some year groups. I must congratulate everybody, pupils and staff alike, for their support of one another and continuing to ensure the curriculum continued to be delivered so well.
Looking ahead, next week some of the children will be undertaking their end of term assessments in reading and maths. Staff will ensure that children are given the best support available to engage with the tests to see how much the children have progressed this term. Please encourage them to give their best effort and remain positive.
Wishing you all a sunny and enjoyable weekend.
Year 3
This week has been another busy one and a week in which we have all been grateful for some sunshine! We are proud of how brilliantly the children have responded to different adults within the year group and how they have demonstrated our school value of kindness by making the adults feel welcome.
It has been a busy week for learning and we have been thinking about how we can punctuate speech as well as the importance of using different sentence openers to create an interesting piece of writing. In Maths, we have finished our lessons on statistics and the children are now more confident in understanding and drawing bar charts. We continue to be blown away with the children's enthusiasm for learning and we have had some great discussions around life in the Stone Age and Bronze Age.
On Wednesday, when we had a talk about Equality and Diversity with Lisa Vine, it reminded us how kindness is so important and it was a great opportunity for children to reflect upon how they can continue to show kindness to everyone. The children listened carefully and made some sensible and mature comments.
Next week, the children will be completing assessments in Maths and English and it will be a great opportunity for the children to show off their learning so far this year. We are keeping our fingers crossed that Flag Fen will go ahead next Friday and this will be a fun end to the week.
Year 5 Residential - Plas Gwynant Snowdonia, Wales
This week has seen a highlight in the Year 5 calendar, with our residential trip at Plas Gwynant in Snowdonia, Wales. We have been blessed by superb weather in beautiful surroundings, but the best part has been seeing the children work together to conquer challenges, whether climbing a tree safely and collaboratively, scrambling up the Welsh hills, or sleeping away from home and family for the first time. We are incredibly proud of them all - particularly for their kindness and support to each other. Some of the many memorable moments have included having a water fight in the lake, enjoying the centre's games room and sports pitch, gazing at the stars on a night walk, eating the excellent meals together, wading into a mine, and singing our Dunchurch school song while climbing a mountain. Of course in addition, their geography learning at school about rivers and mountains has been greatly enhanced by seeing and experiencing it for real. We hope you have a good rest over the weekend to recover, Year 5, and enjoy telling your parents all about what you've been doing. Thank you to all those who gave up their time to enable the trip to happen.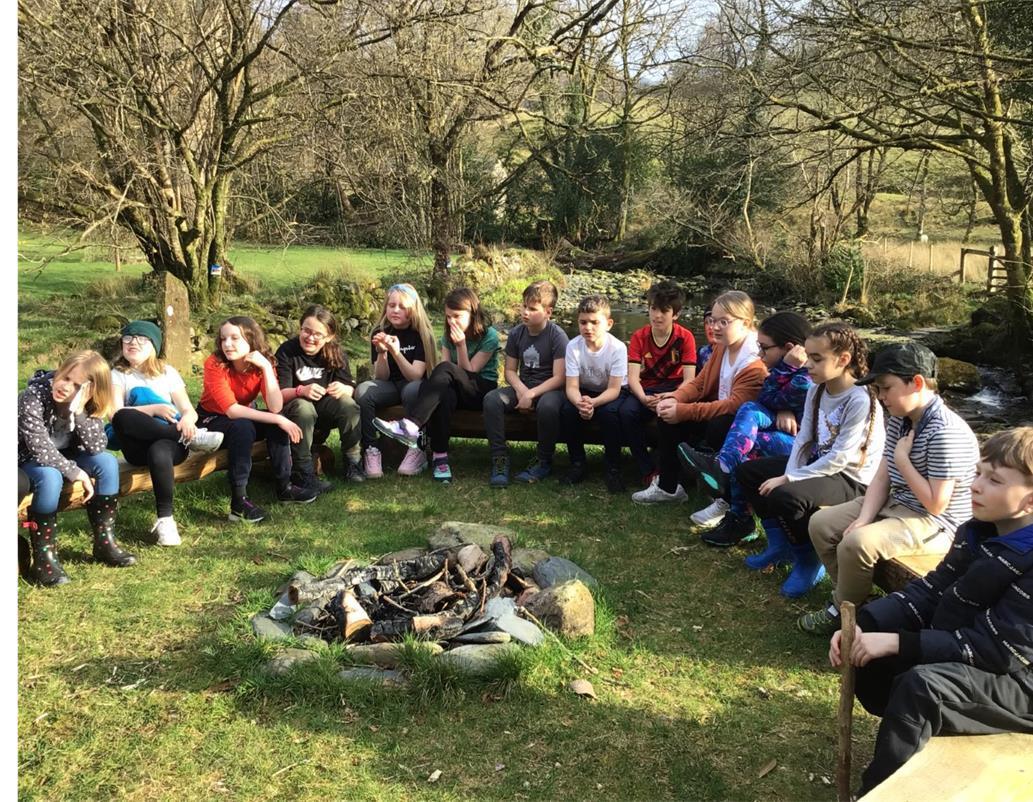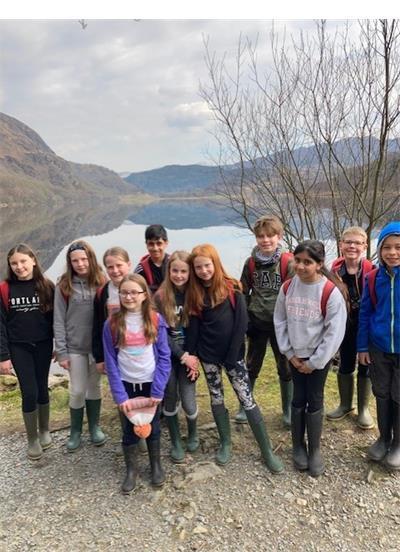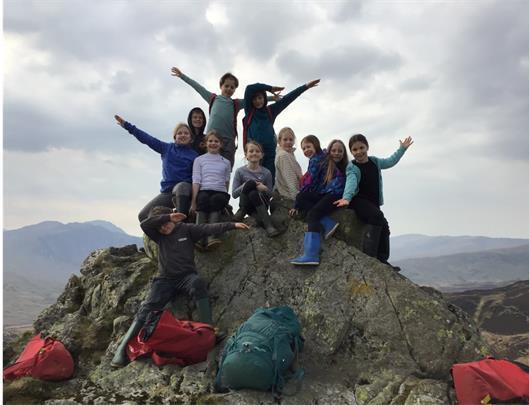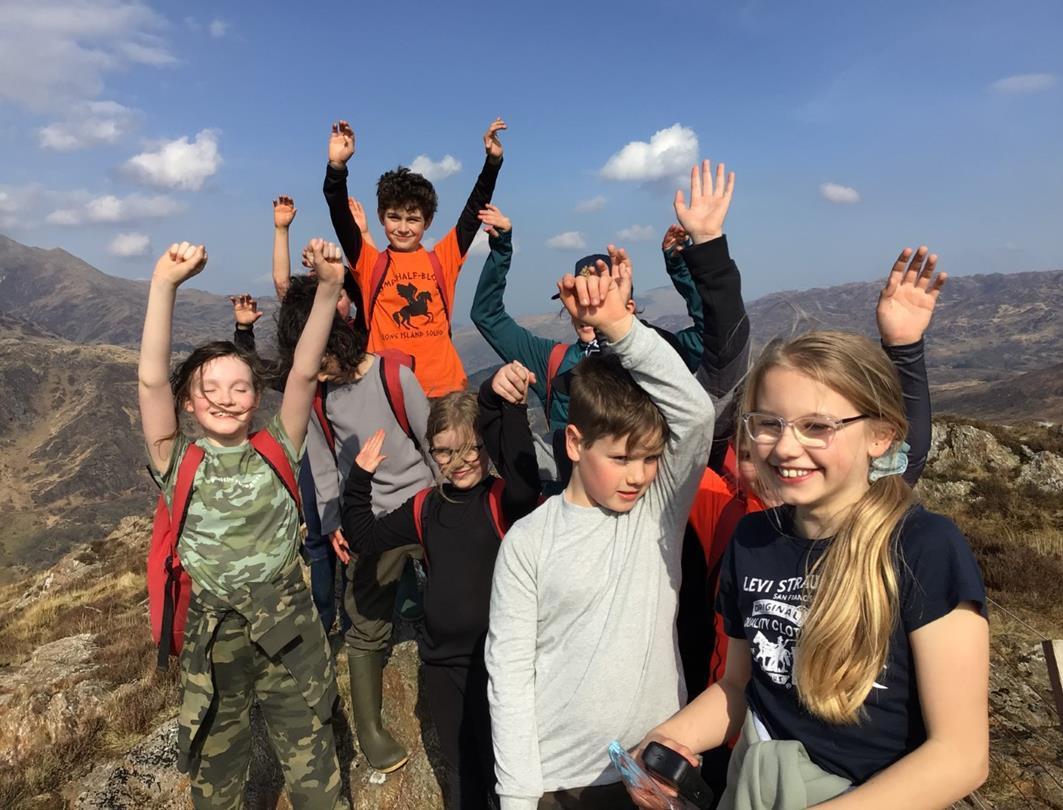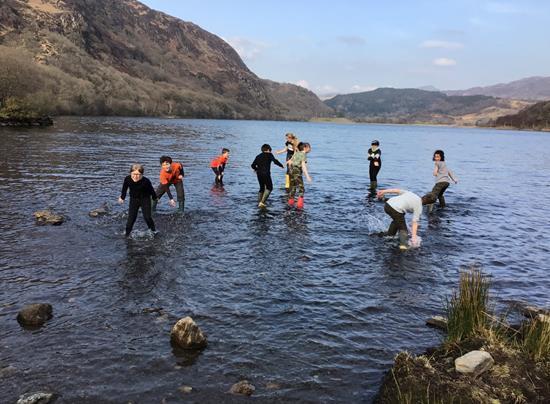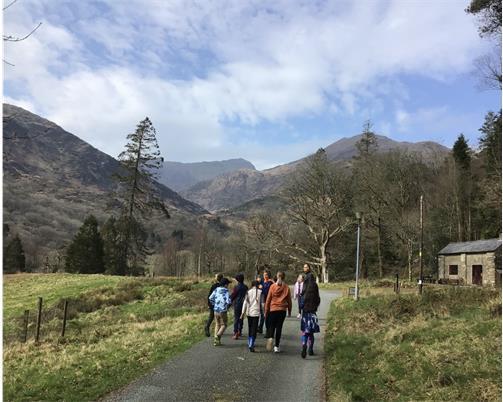 Congratulations to the Girls Football Team
Dunchurch Junior School entered the U11 Girls' National Premier League football competition. Our team won their first tournament, which resulted in them being crowned champions of Coventry and qualifying to represent Coventry City at the regional stage of the competition.

On Wednesday 23rd March, the girls travelled to the Premier League's Aston Villa training ground to compete for a place in the national final. The team played in a group against Aston Villa, West Bromwich Albion, Stoke City and Port Vale. After beating Aston Villa 1-0, the team faced Wolverhampton Wanderers in the semi-finals. The game ended 1-1 and led to extra time. As the game looked to be heading towards penalties, Wolves scored the winning goal with the last kick of the game and they went through to the final.
Dunchurch went onto win the 3rd and 4th playoff, giving them third place out of over 100 teams who had entered from all different regions nationally. They really represented the school well and the day was full of pride for all involved. A super WELL DONE from all of us at the Junior School.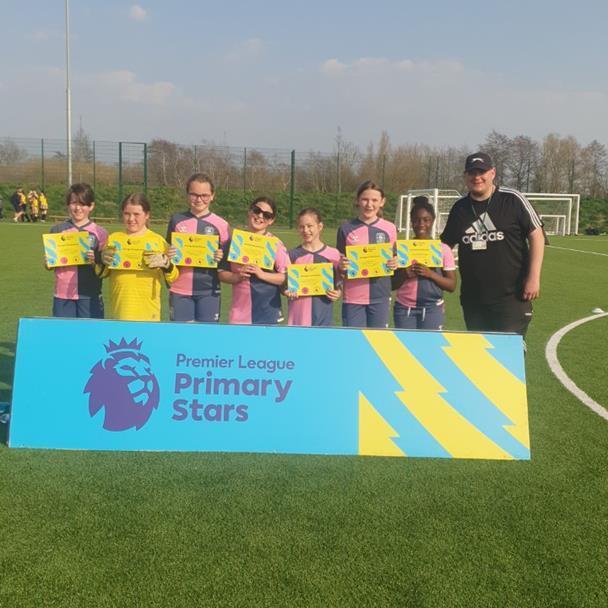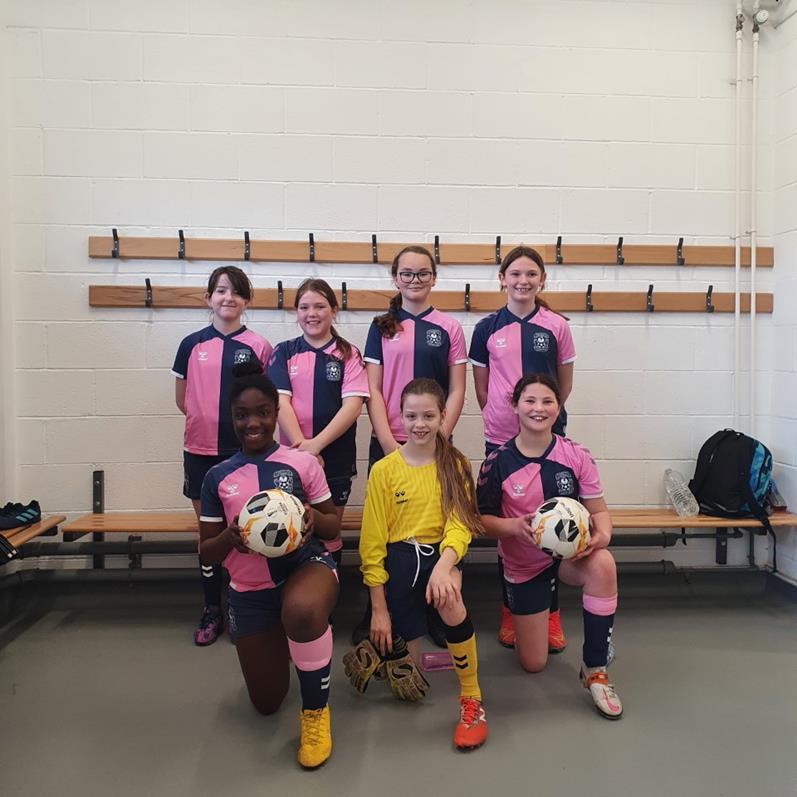 Week commencing 14th March
Message from Mr Andrews -
It's hard to believe that we are now at the two year mark since the start of the pandemic, and even more difficult to comprehend what we have all endured throughout that period. Whilst it remains important to reflect on the lessons we have learnt, and the challenges faced, it is also important to look forward with hope and great aspirations for our community.
On that note, looking forward to next week, there is much to be excited about:
Our Year 5s will be heading to Wales for the first residential in that two-year period. We hope that they and the staff and volunteers have a really rewarding time away.
Equally exciting is the prospect facing our Year 6 girls' football team, who are due to compete in a regional football tournament at Aston Villa's training complex on Wednesday. Our sports teams have done incredibly well in recent weeks and this is the reward for the continued focus on sport at school and the excellent support Mr James, Mr Beasley and all the other staff and volunteers contribute to the wider opportunities. We would like to wish all our pupils (and staff) the very best for next week.
Looking ahead, the weather at the weekend looks fantastic. I will be at Dunchurch Village hall supporting some of our children with tree planting for the Queen's Jubilee. Wishing you all an enjoyable weekend.
Assemblies and Collective Worship
This week, we have been thinking about "The Last Supper" and "Holy Communion". We looked at the painting of this by Leonardo Da Vinci and discussed the 12 disciples and how Jesus was betrayed.
We welcomed Steve from St. Peter's church to assembly on Wednesday and he talked about our school value of Honesty.
Mrs. Broderick and our Spirit Ambassadors are currently planning our Easter Service at St. Peter's church.
It was great to see all the children dressed up in own clothes today for Celebration Assembly.
Year 3
Year 3 have been exploring the process of fossilisation as part of their Science unit which links with our English work on the life of Mary Anning. The children learnt that the fossils Mary Anning found dated back 65million years to the Jurassic Period and were prehistoric creatures. Following on from last week, both classes have now finished their excavations of plaster of Paris fossils. The children also drew the steps of fossilisation to consolidate their knowledge and bring together all their understanding of this Science unit.
We have now moved onto our new topic of the Stone Age. The children are all excited to become historians and we have read our new class text 'Stone Age Boy'. We are all eagerly awaiting our upcoming trip to the great historical site that is 'Flag Fen' in Peterborough.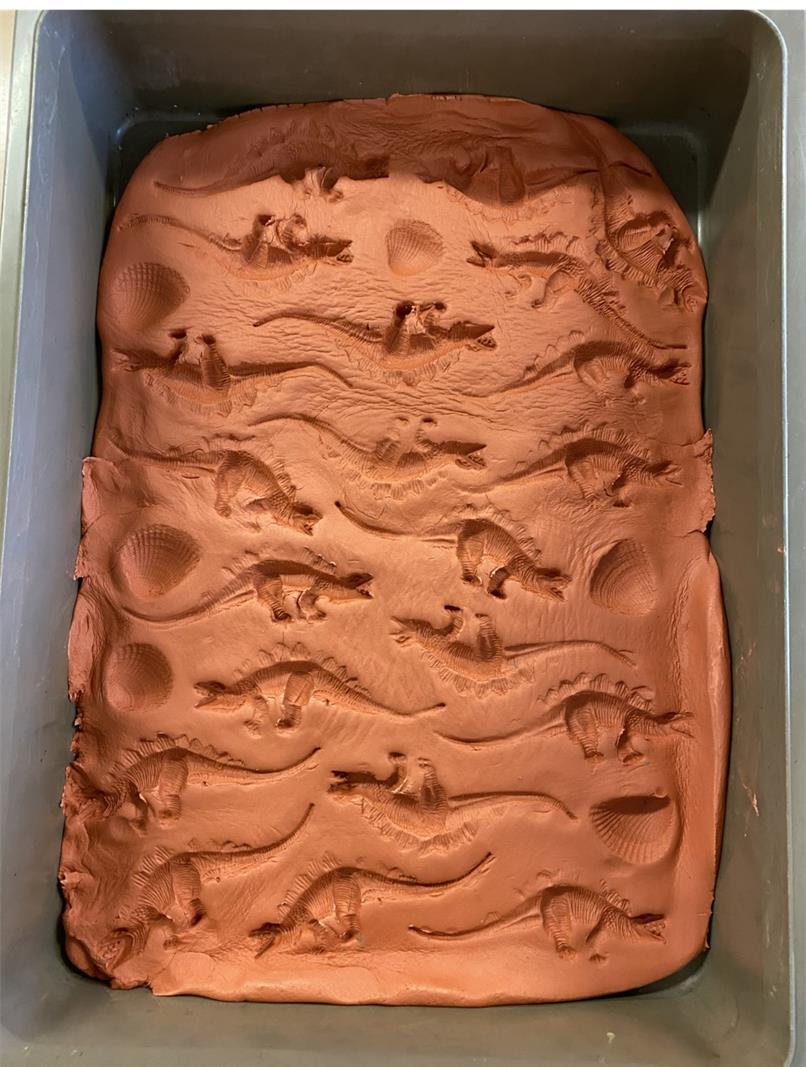 SPACE
Year 4
Year 4 have had another exciting week of learning, especially in science lessons. The children have loved making their own different types of musical instruments whilst learning that sounds are made when objects vibrate. They have also had great fun investigating amplitude and the pitch of different sounds. Sixty-six children shaking maracas, pinging chimes and banging drums… the wonders of learning!
The children have also shown great resilience in maths whilst learning about fractions. The children have been developing their knowledge of fractions greater than one and have been getting their teeth stuck into challenging problems involving fractions of quantities.
Well done Year 4!
Year 6
Year 6 thoroughly enjoyed their visit to Coventry Cathedral as part of our Theme topic - Coventry and the Blitz. There we learnt what everyday life was like for the people living in Coventry as well as what happened to Coventry Cathedral on that fateful night. We also looked around the ruins of the old cathedral to investigate how different artists have created artwork to represent the reconciliation between previously divide people. From feedback about the visit: I can say we all learnt a great deal from this memorable experience.
Congratulations
Well done to Tyler, James, Tom and Evelyn who qualified to race in a Warwickshire country cross country event. They all performed exceptionally well and did Dunchurch proud! Well done to Natalya who also qualified but was unable to compete on the day.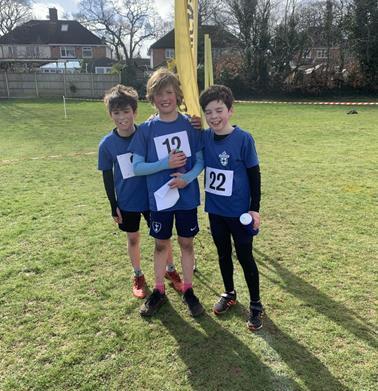 The Dunchurch "OAK LINE"
The Trustees of the Dunchurch Sportsfield and Village Hall are delighted and honoured to host and sponsor a celebration of Her Majesty's Platinum Anniversary and, working in collaboration with the Friends of Dunchurch Society, we are supporting "The Queen's Green Canopy" project, in itself marking her amazing 70 year reign. The Dunchurch Federation have sponsored a tree and this will be planted on Saturday 19th March at 2pm by 2 children from the Federation and a member of staff.
The "Oak Line" will be planted against the back-drop of the magnificent, recently restored Victorian Walled Garden at Bilton Grange. Members of the community are invited to attend if they want to.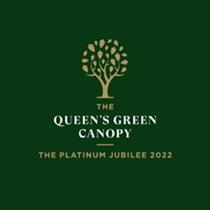 SAPCE
Week commencing 7th March
Message from Mr Andrews - The past four days have given rise to some excellent examples of where our pupils have taken ownership of leadership opportunities in school. Our school council continue to hold strong discussions around areas to support, with next week's Red Nose Day plans a prime example of them taking the initiative (please see page 3 for more). Equally, our peer mediators are working extremely well at lunchtime in supporting children with their relationships with one another and resolving issues. Their compassion and support are reminders of what fantastic citizens we have here at Dunchurch.
We are continuing to look at further opportunities for children to become involved in the wider aspects of school and are very much looking forward to seeing the impact all our pupil groups have on school as we continue through Spring and Summer!
SPACE
Year 5 - The last week in year 5, has been a marvellous mixture of consolidating and revisiting previous topics, finishing the RE unit with a quiz and continuing the learning about fractions including the all-important fractions of amounts work. There has been a good deal of creativity in glazing of the Greek masks and learning about the artist Monet, who gave the name to the impressionist movement. As well as that, the children have written exciting science fiction sequels to the story of Eric. At the end of last week, we had fun getting fresh air and exercise with a new PE unit practicing tennis skills. It is great to see the talents the children already have and how they are sharpening up their abilities.
In preparation for Wales, both classes have made their preferred choices for who they would like to share a room with, which we know is exciting. We emphasise that children should let us know how they are feeling and that we are available to help with any concerns before and of course during the visit. We will let you know the room allocations next week!
We are setting maths homework this week (10th) and next week (and 17th) which will not be expected to be completed until the week after we get back from Wales (31st March).
We hope you enjoy a longer weekend as staff are training this Friday and may be you'll find some time to get out and about in the spring weather if you can.
SPACE
Year 3 - this week has seen Year 3 continue their work on Mary Anning, the amazing fossil hunter from history. The children have loved learning more about the topic of rocks and soils in Theme lessons, gathering facts and information about different rock types, Mary Anning and expanding their scientific knowledge - their enthusiasm is infectious!
In Maths, both classes have been working on understanding UK currency, examining different coins and notes and applying their skills of the basic operations to problems involving money. It's great to discuss such real-world applications as giving change and buying items during lessons. Children are creating their own 'soil cup' on Thursday afternoon, using edible ingredients to represent different soil layers - we doubt they'll last long outside the classroom! Finally, we made our own dinosaur fossils using a clay mould and Plaster of Paris - they look great!
This week has seen Year 3 continue their work on Mary Anning, the amazing fossil hunter from history. The children have loved learning more about the topic of rocks and soils in Theme lessons, gathering facts and information about different rock types, Mary Anning and expanding their scientific knowledge - their enthusiasm is infectious!
In Maths, both classes have been working on understanding UK currency, examining different coins and notes and applying their skills of the basic operations to problems involving money. It's great to discuss such real-world applications as giving change and buying items during lessons. Children are creating their own 'soil cup' on Thursday afternoon, using edible ingredients to represent different soil layers - we doubt they'll last long outside the classroom! Finally, we made our own dinosaur fossils using a clay mould and Plaster of Paris - they look great!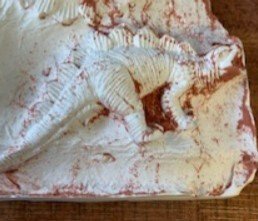 SPACE
Assemblies and Collective Worship
Next week, on Monday the teachers will be leading a class assembly about the conflict in Ukraine. We will be using a resource sent through to us from Coventry Diocese. We hope that this will help the children understand and also help them think about Peace and Reconciliation as concepts.
This week, the children heard the story of when Jesus entered Jerusalem on a donkey and the meaning of Lent. We have a purple cloth on our school reflection area now to recognise that in the church year this is the period of Lent.
We also said our School Prayer at the end of worship.
SPACE
Week commencing 28th February
Message from Mr Andrews - What a first week back we have had. Across the two schools there has been much change, which we hope will continue to positively impact on the pupils and their experiences.
The new Infant school phonics and reading scheme has been rolled out in full force and it has been fantastic to hear the responses of the children so far. We very much hope they enjoy the new books they'll be bringing home today.
Equally enjoyable has been the response to this year's World Book Day. It was fantastic to see how engaged the children were with the dressing up and, most importantly, having the opportunity to share their favourite texts and stories. Well done to the staff too!
At the Junior school we have introduced the new Behaviour Ladder, which has been received well by pupils and adults alike. It has been very positive to see the level of maturity shown by children when discussing their actions and how they can make a positive change, very much in keeping with our Vision and Values. We look forward to introducing an 'infant friendly' version of the ladder on Monday 15th March and supporting the children with their social development
SPACE
Year 6 - In Year 6, we enjoyed dressing up for World Book Day. We loved discussing our favourite books and authors and are looking forward to sharing our recommendations in school.
At the moment, 6A are reading 'Boy at the Back of the Class' and 6R are reading 'Animal Farm' as their class novels. We have now finished reading our half-termly novel - 'Kensuke's Kingdom', which we all agreed was a wonderful story that captured our imagination and kept us gripped until the bittersweet ending. Next, we will be reading 'Goodnight Mr Tom' which also supports our history topic.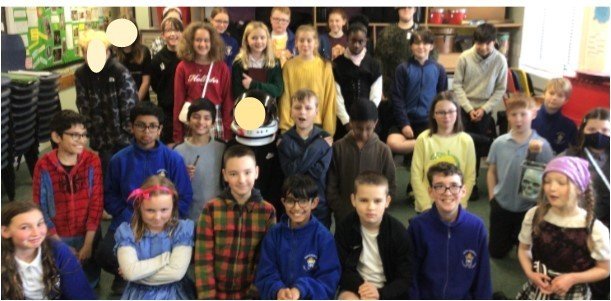 Year 5 - on Thursday in Year 5, not only were the teachers transformed into Harry Potter characters (though fortunately not Voldemort or Malfoy!), but so were many of the children, a sign of their enthusiasm for the JK Rowling books. In addition, we enjoyed seeing all sorts of other characters, from Marie Curie to Marvel. Our focus for the day has been 'The Lost Happy Endings' by Carol Ann Duffy and Jane Ray, a beautifully illustrated and written story. After reading the first part, the children enjoyed some free writing, predicting what might happen next. We then re-created the sackfuls of happy endings which the hero, Jub, shakes out to give children a happy bedtime read and a good night's sleep.
This half term we have also just started reading new class books: The Spindle and the Sleeper in 5HB, and Windrush Child in 5K, and we look forward to seeing these unfold over the next few weeks. It is such a pleasure to hear the children's enthusiasm for the books they are currently reading, and to see how this sparks their imagination for their own writing.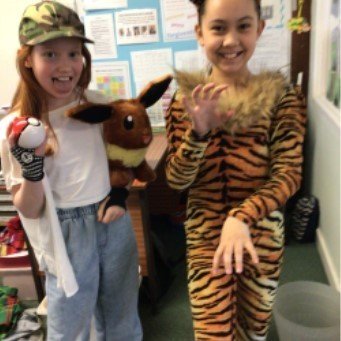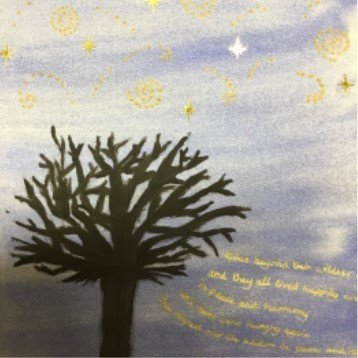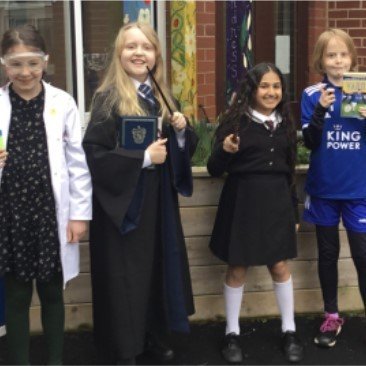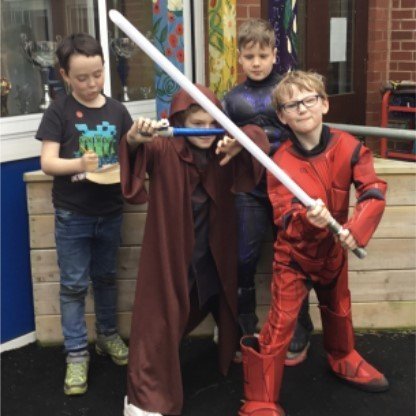 Year 4 had a fantastic World Book Day! 4C completed some character profiles on their class reading book 'Harry Potter and the Philosopher's Stone'. The children were very excited that Mr Beasley had come as Harry Potter and Mrs Cooper was dressed as Hermione Granger!
4B also had a brilliant time reading the end of their class reading book 'Varjak Paw' and were very pleased with the ending! They produced some fantastic book reviews and even wrote their own blurbs.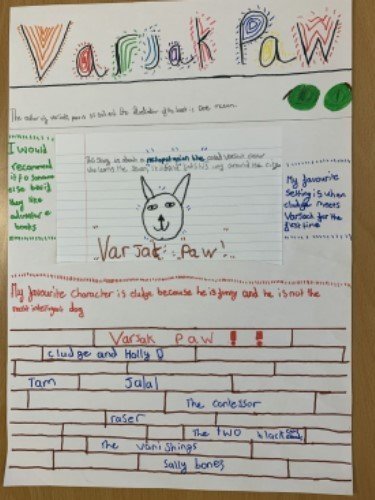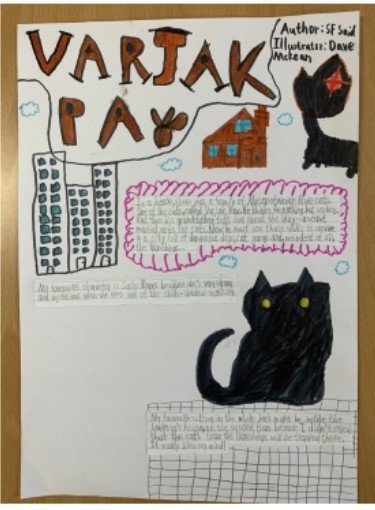 Year 3 have very much embraced World Book Day, with a wonderful selection of colourful characters turning up for class on Thursday! From Disney princesses to a whole hog of Hogwarts pupils, Year 3 spent the afternoon reading and discussing their favourite books. In addition, the children have been drawing their favourite characters and retelling scenes from their selected stories. We have also read 'The Bear and the Piano' and 'Millie's Marvellous Hats' across the year group, which are fantastic books which the children have loved. The Year 3 team have also got in on the act, appearing as teachers and pupils from the Harry Potter series (thankfully Snape is missing) - much to the children's mirth!
A big thank you to parents/carers for going to the trouble of supplying costumes and letting the children bring some precious books to school - it is much appreciated. We have loved seeing and hearing the children's enthusiasm for such a wide range of authors. As we know, reading helps with our ability to write, so it is encouraging to see the children engrossed in their books, expanding both their knowledge and vocabulary - as well as igniting their imaginations! We hope that the children remember today as something special.
Expecto Patronum!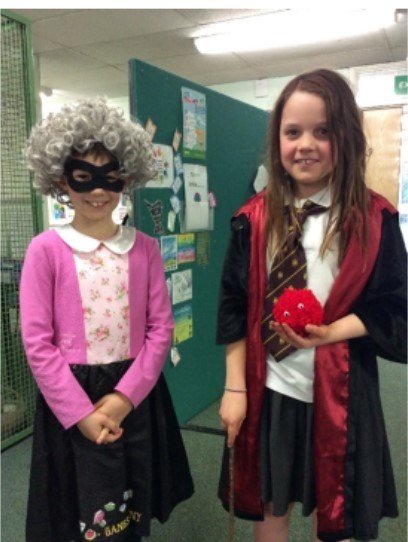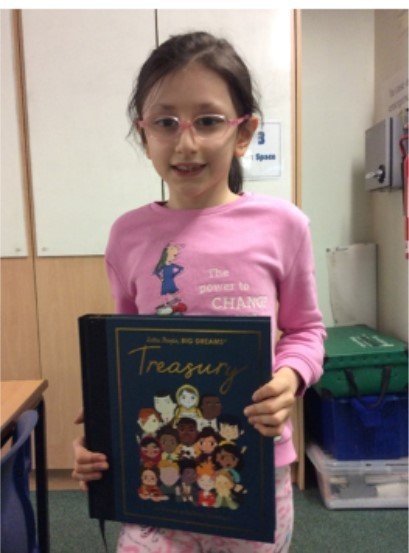 Assemblies and Collective Worship
We had a focus on "World Book Day" on Thursday, with the children showing off their costumes and talking about their favourite book.
On Wednesday Reverend Pat visited school to talk about "Ash Wednesday" Children had the choice to receive an ash cross on their forehead.
It was lovely to have all the children back in the hall for Celebration Assembly and to hear that so many children have demonstrated our school values this week.
SPACE
Week commencing 14th February - half term highlights
Year 6 - we've had a fantastic time this half-term learning about Brazil and South America. We've explored political and physical maps to learn more about the country's amazingly varied landscapes and investigated the range of climates in Brazil. This, as well as finding out about some Brazilian culture helped us to create some wonderfully persuasive leaflets and written information texts about the working and living conditions in this extraordinary country.
In Art, we have practised producing carefully observed drawings of plants, exploring colours, tones and textures as part of our topic where we explored the work of Henri Rousseau and produced our own versions of his iconic jungle-based paintings based on his "naïve" painting style.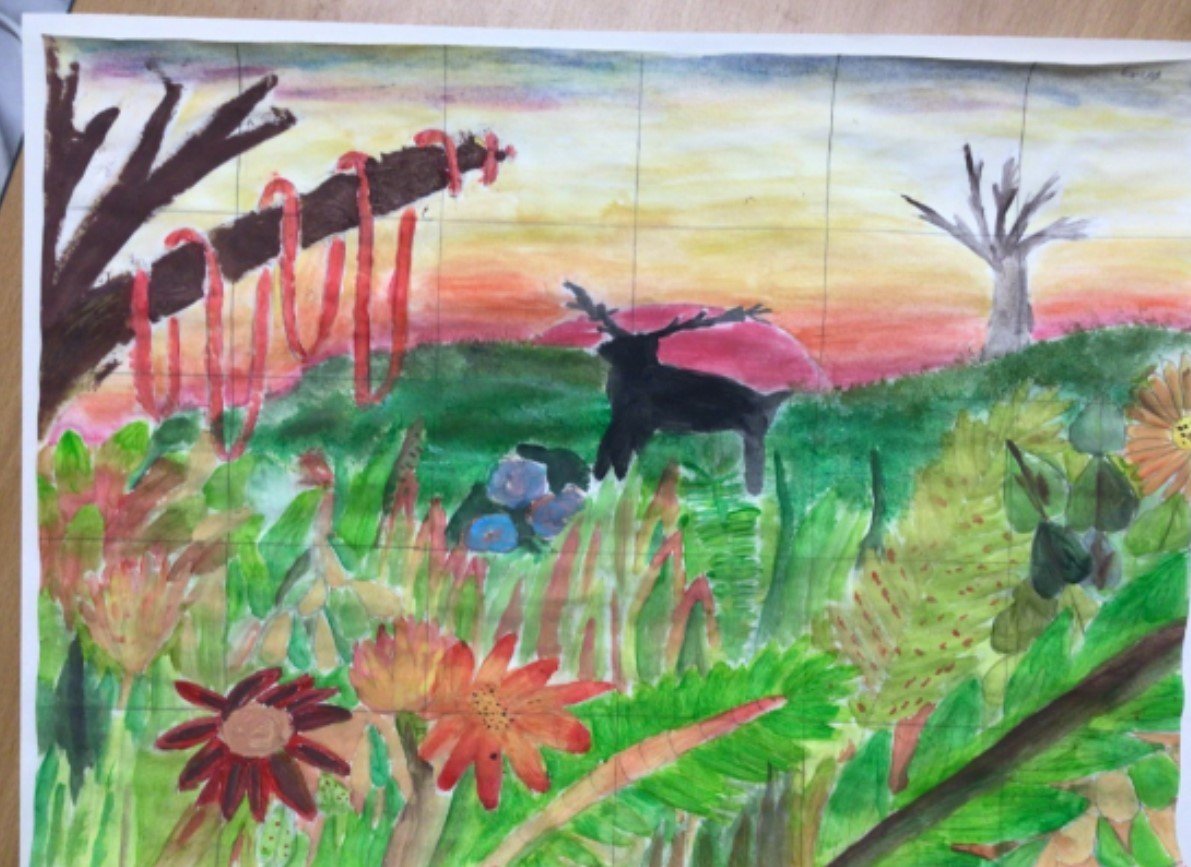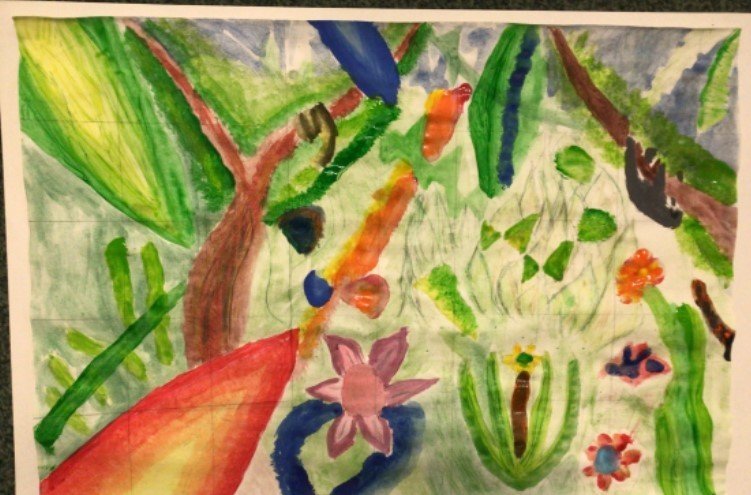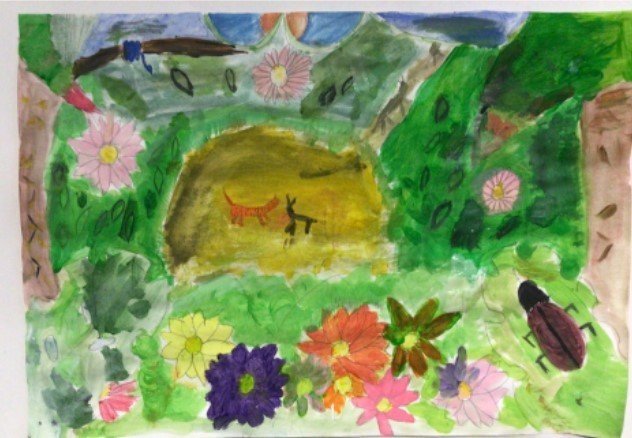 In PE, we have been creating motifs, putting them in sequences, develop our routines and practised our pirate inspired dance routines and have enjoyed performing them to each other.
We have also been very successful with our LEGO programming and have produced some fantastic moving models by creating our own algorithms to achieve intended outcomes, then programming and debugging our projects.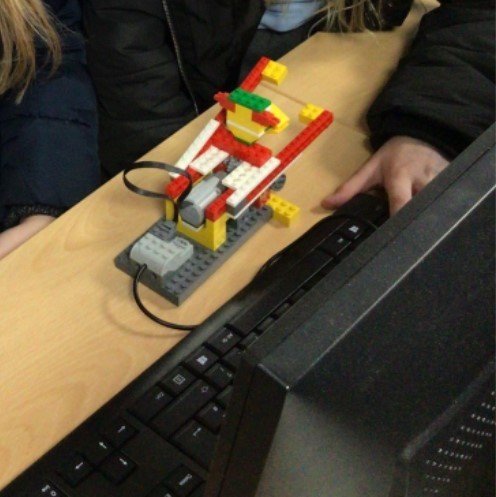 SPACE
Year 5 - this half term has felt like another whirlwind of activity, so here are a few highlights of our time in Year 5.
We started with learning about the Ancient Greeks, including their culture and way of life, but also reading several of their exciting myths, full of heroic and villainous characters as well as terrifying mythical beasts and powerful gods.
The children finished this by writing their own myths, demonstrating their creativity, but also the fantastic progress they are making with the delights of modal verbs, relative clauses and parenthesis (ask them to explain what these mean!). Linked to our history learning, we also made clay masks exhibiting different emotions - these will be fired in the kiln over half term to be ready for glazing - and our Dance lessons were based on Ancient Olympic sports.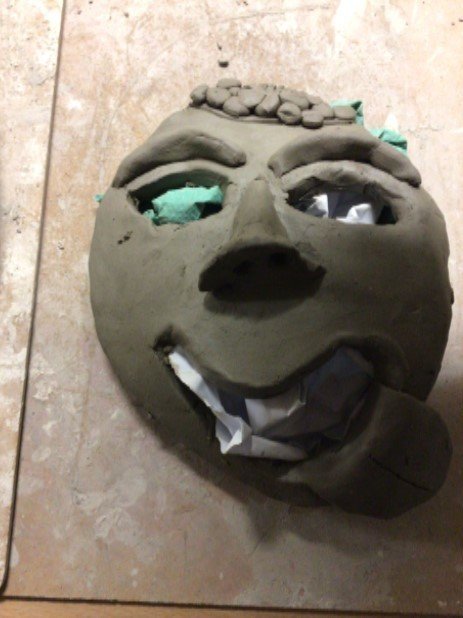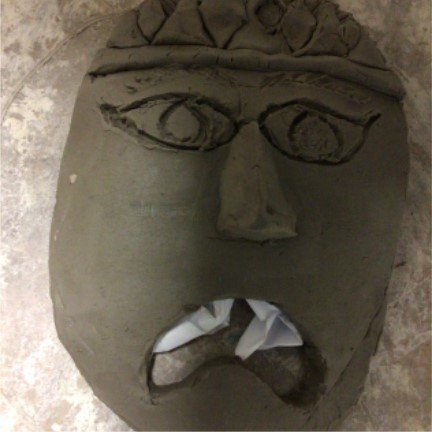 Since then we have been tackling a whole series of challenging objectives in maths, focusing on written multiplication and division, followed by fractions. The children have showed great resilience, and determination to understand, and even if they have occasionally felt that they are in the learning pit, they have been able to climb out of it by persevering and demonstrating a great growth mindset. In addition we have been thinking about our dreams and goals in PSHE - this has involved planning for possible future careers for ourselves as well as reflecting on how it is different for children from other cultures.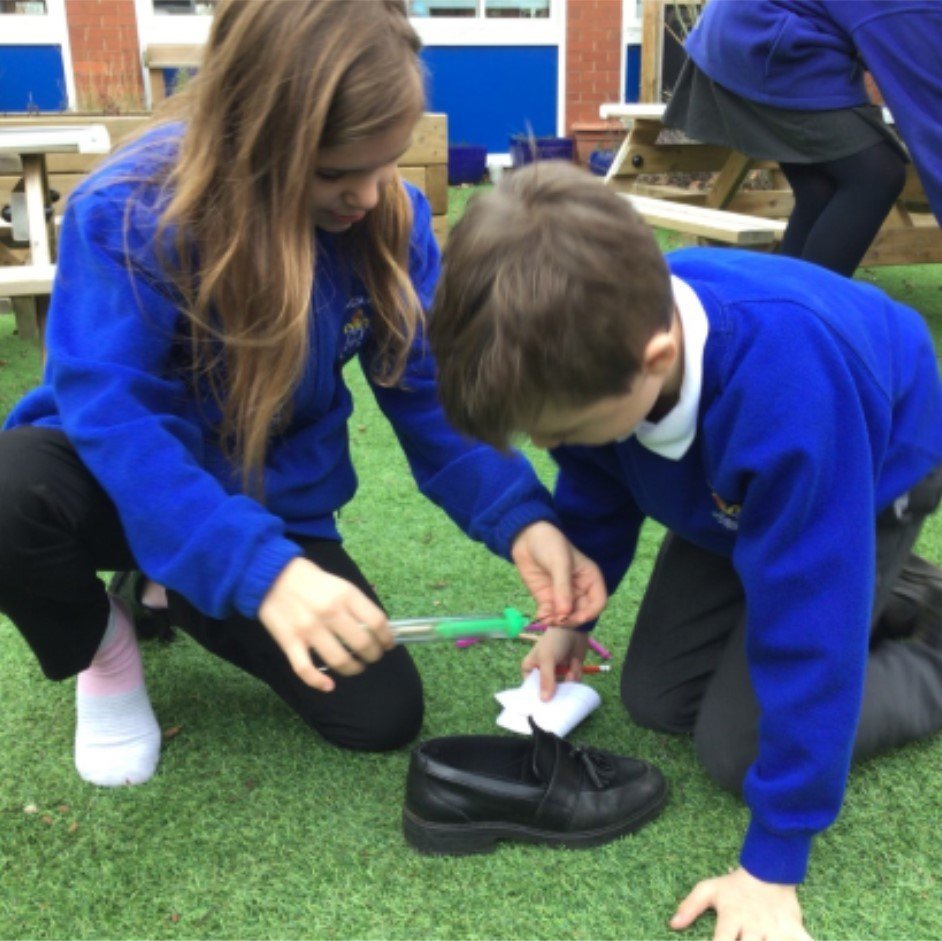 Highlights of any school term are always trips, particularly when they have been in short supply over the last two years, and going to Rugby Library's Lego exhibition was no exception. In only two hours the children not only created their own Lego animation, but also looked round the exhibition and had time to play with Lego. We are now starting to become excited about our upcoming residential trip to North Wales at the end of March, and look forward to this enhancing our geography learning as well as developing our independence and teamwork skills.
SPACE
Year 4 - the children in Year 4 have, yet again, done themselves proud this half term. They have shown great resilience and have applied themselves wonderfully to all learning opportunities.
In maths, there has been a huge focus on multiplication and division- the children have shown great determination whilst learning times table facts. Please keep it up! Year 4 have also secured written methods for multiplying and dividing 2 and 3-digit numbers.
Equally impressive effort has also been shown in English. The children have been super engaged reading the Iron Man and have produced lots of outstanding work linked to the story. Their Iron Man story openers were particularly gripping and packed with descriptive writing- the children certainly gave Ted Hughes a run for his money! This week, the children finished off the half term studying Michael Rosen's humorous poems all about tomatoes! They performed his poems to great effect and have written their own in a similar style.
Lots of exciting learning has also taken place in Year 4 music lessons! The Key Stage 2 National Curriculum for Music states that all children should be given the opportunity to learn an instrument, and this is something we fully endorse at DBJS. Since September, 4B have been enjoying weekly whole class brass lessons, taught by Mr Stoneman from Warwickshire Music. Pupils have either been learning to play the cornet, trumpet, tenor horn, pBone or euphonium, and the amount they have learnt in just a term and a half has been very impressive! Not only have lessons included singing quirky songs ("I love bumble bee tuna…I love tuna made with bumble bees"), but the class have been getting to grips with the technicalities of learning a brass instrument. They have had to think about embouchure (mouth placement), breath support and where to place the fingers on the valves (or move the slide for the pBone players). Lots of fun has been had along the way, and their last lesson culminated in a performance of all the pieces they had learnt, such as We Will Rock You and Hot Cross Trumpet Players.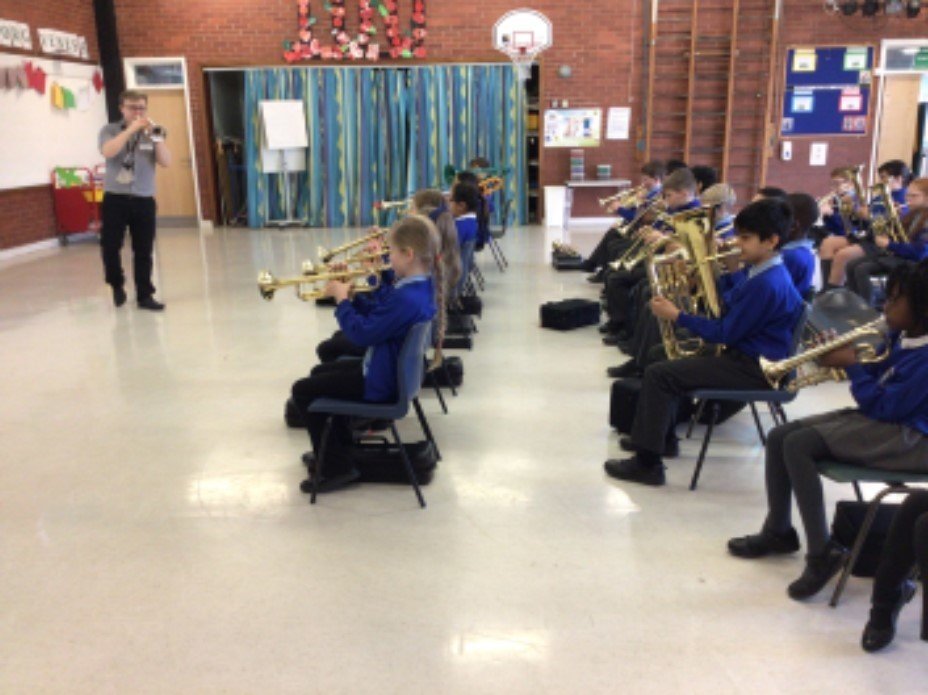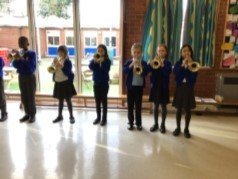 Well done 4B, and we look forward to hearing what 4C do when they start their brass lessons after February half term.
Finally, Year 4 finished half term with a bang and evidently loved designing and creating farm models fitted with alarm systems to help catch Iron Man. This was a fantastic opportunity to link learning in English, science and DT. Thank you to all parents/carers for sending in items to enable the children to create their projects.
Well done for all of your hard work, Year 4! Have a lovely half term and we look forward what the final half of the year has to bring!
Year 3 - this half term has been a positive (and busy) one for Year 3. It has been fantastic to see the children combining their Science and English learning to produce some excellent pieces of extended writing in the form of instructions on how to brush teeth and a non-chronological report on teeth. It has been such a pleasure and source of pride for us to watch the children develop their skills and knowledge rapidly over this period.
We cannot reflect on this half term without mentioning our recent Design and Technology unit of work and in particular last week's pizza making extravaganza! It was great to witness the children forming a company, creating their own distinct brand and designing a new product. Designing and constructing the packaging was a challenge but the children persevered and it was great to see our school values of kindness and patience being demonstrated in both classrooms. The children thoroughly enjoyed their cooking experience and we hope the pizzas tasted as delicious as they looked and smelled.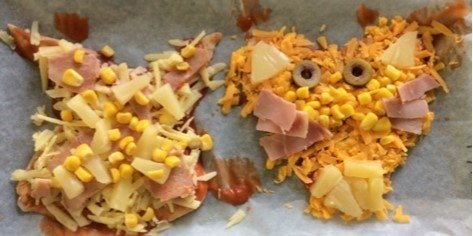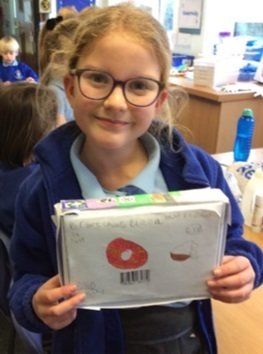 In their Music lessons, children have been studying the instruments of the orchestra. They have been learning about the different families and how individual instruments produce their sound. We have had lots of interesting discussions about the similarities and difference between the instruments, and classes have had the opportunity to listen to and watch pre-recorded orchestral performances. For our practical task, we have been learning to play Beethoven's Ode to Joy, and the children were astonished to discover that Beethoven was completely deaf by the time he'd written this now famous piece. For our final classroom performances this week, we had some children playing the accompaniment and some were on the melody (at the same time!), we even had some children playing a solo. Both class' performances were brilliant!
Next half term looks set to be just as action packed and we are hoping to go on a couple of trips. Fingers crossed!
We look forward to welcoming the children back after half term; they continue to delight and surprise us.
Assembly, Collective Worship and Reflection Areas
It was great to welcome Chris Burgess into school on Wednesday to lead worship. Chris works for Rugby Youth for Christ. The children loved the activity where 2 children were asked to draw a picture of Chris with a clipboard on their head. The message from the assembly was "Kindness"
Our Reflection areas at the moment in school are called "Weight lifting Worries" and they encourage children to write a worry on a weight and lift this worry up to the sky, thinking about what you need to overcome this worry.
Steve from St. Peter's church also led our first Café Church event after school for children. They enjoyed this. Look out for the next one on 16/3/22.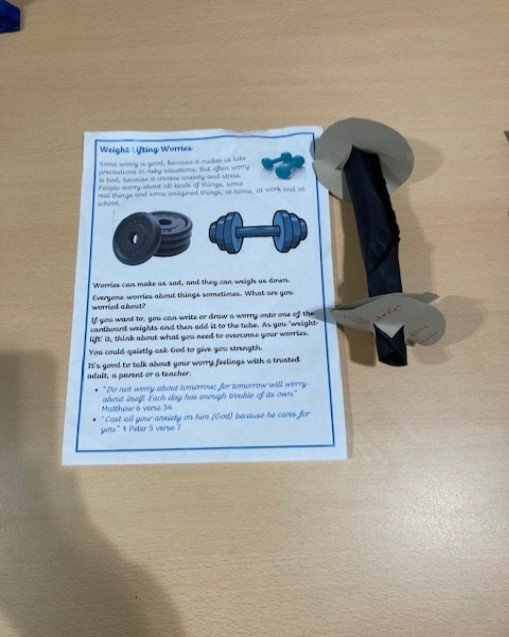 SPACE
Week commencing 7th February
Year 3 This week has been a busy one for Year Three! In Maths, children have been working on developing their multiplication skills, and we have loved seeing their confidence grow. We have also been working on division, where the children have persevered and are now more confident in using a place value square. In English, the children have been planning and writing a non-chronological report on human and animal teeth, and we have been particularly impressed with how the children have been linking their English work to their Science work, combining both sets of knowledge to produce some excellent writing.
Our Theme lessons have been on Design and Technology. The children have entered the pizza making business, having created company names, slogans and logos with which to brand their business. We have been impressed by the teamwork shown by the children. This unit involves the children designing, planning and making their own pizza for real - they have shown much enthusiasm for the task! Thank you for parents' contributions with toppings for pizzas - hopefully there's a slice left for you!
Finally, a massive thank you to Mrs Down, who has volunteered her time in order to help us get the pizzas made and cooked all in one morning; she is a fantastic member of our school community. Thanks also to TAs Mrs Jackson and Mrs Wright for their help and enthusiasm.
Year 5 In another busy week in Year 5, we continued our Maths block on fractions - the children are gaining in confidence at tackling more challenging problems, and demonstrating great resilience (this half term's learning behaviour focus). Also this week, we have introduced our new English character – Eric, a mysterious foreign exchange student who comes to stay, but doesn't want to use the guest room as he prefers the pantry, before leaving behind an array of beautiful luminescent plants.
In Science, we have enjoyed planning and completing investigations about forces. We dragged trainers across different surfaces using Newton meters to find out which showed the most friction, and dropped all sorts of paper spinners to determine how to increase air resistance, as well as designing the most buoyant foil boats. As part of Children's Mental Health week we discussed growing together, talking about showing kindness and that as we grow our minds and feelings can change too. We reminded the children that if they were feeling worried about something to speak to an adult they trust in school or at home.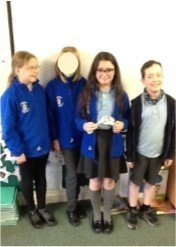 Children's Mental Health Week 7-11th February
This week, we are taking part in the national Children's Mental Health Week, as part of our continued growth and development around building positive mental health.
The theme for this year is Growing Together.
Throughout the week, children and their teachers will undertake some activities and discussions around what it means to grow emotionally, in order to better understand ourselves, and also focus on how we grow our strengths and interests through practice and commitment.
We are all looking forward to exploring such an important part of our lives and personal development..
SPACE
Week commencing 31st January
Assemblies and Collective Worship
This week in worship, a group of children acted out the story of "Simeon in the Temple" This involved Mary and Joseph carrying Baby Jesus into the temple in Jerusalem to be blessed by Simeon. This time is known as Candlemas and we lit a special candle on our worship table.
On Wednesday, the school council talked to the children about recycling and have encouraged each class to help with this. All the children are very enthusiastic about this topic. Thank you to Mrs. Keffler for her support with the school council.
We have also thought about our School Values of Peace and Forgiveness this week. The interactions our children have in school demonstrate that they show forgiveness and they understand that living in peace well really helps us.
SPACE
Year 3
In Maths, children have continued to grow in confidence with written multiplication methods and we have spoken about how practising times tables at home means that not only will the calculations become quicker but the answers will be more accurate too.
During English lessons, we have looked at different sentence types and reviewed the construction of compound and complex sentences. Alongside this, we have been reading some non chronological reports and the children have enjoyed finding out some interesting facts about blue whales. It has also been great to hear the children share with us their knowledge.
The start of a new unit of work brings a sense of excitement in the classroom. The beginning of our Desi