Armistice Day Assembly
On 8th November 2018, the children brought poppies that they had made into our assembly. We learnt about W.W.1 and held a 2 minute silence. We used the poppies to decorate a 100 wooden stand that Mr. Freeman made. We raised money for the poppy appeal by selling poppies in school. Thank you to Mr. Freeman.
Rugby Food Bank
On the 11th October 2018 we had an assembly about the work of Rugby Food Bank. Children then very kindly donated lots of food during our Harvest Assembly.
Shoe Box Appeal
On 16th October 2018, we had an assembly linked to this appeal. We have managed to collect many shoe boxes in school that will go to Romania for children this Christmas. Thank you to parents/carers for helping with this appeal.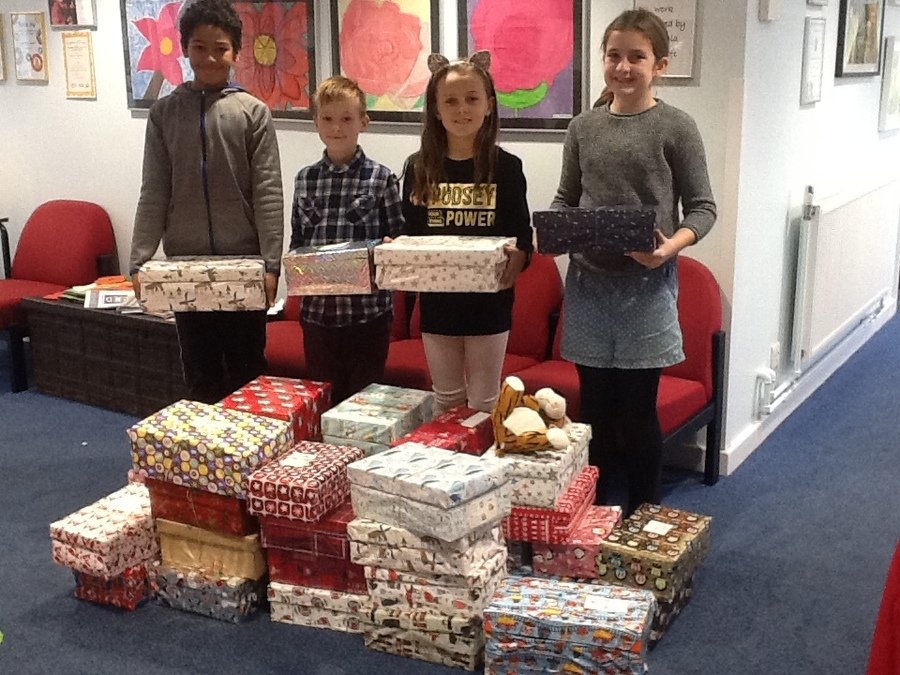 Woosh Club
During October 2018, some children from Woosh club took some fruit to Tanser Court and spent some time with the elderly residents. It was lovely to receive a Thank You card from them. Thank you to Mrs Stockwell and Mrs Laithwaite for organising this.
2017-2018
Biscuit Sale - Year 6
Year 6 made biscuits, and held a sale for their chosen charities. They raise a total of £60.52. Well done Year 6!
Born Free Foundation
The children in Woosh club had a plant sale, and made and sold bird feeders. They raised just over £50 and have been able to adopt a dolphin through the Born Free Foundation for one year - Muddy and her calves. They received an adoption pack certificate and cuddly dolphin. With the money left over they are going to buy some caterpillars which they will feed and watch until they become butterflies. Thank you to the parents who bought plants and bird feeders.
Tearfund - loose change collection
The children in Year 6 collected loose change, hoping to reach 5.5m of coins (roughly representing the distance from here to Brazil). They raised £12.40 for the Tearfund charity.
Sport Relief
On 29th March, for a donation of 50p, children came to school in sporty clothes. Each class also completed a sporting challenge. A fantastic £132.64 was raised, thank you for your donations.
Sign2Sing
Our pupils, joined by children from Dunchurch Infant School, took part in Sign2Sing on 7th February. They learnt 'Friends Forever' in sign language and sign on the day. We also held a cake sale to raise money for the Deaf Awareness charity, and raised £204.22!!
Christmas Jumper Day
Pupils and Staff wore Christmas jumpers to school, in return for a donation to Save the Children. £73.30 was raised.
Children In Need - 17th November
The school council organised a cake sale and non-uniform day for Children In Need. A brilliant £381.20 was raised. Thank you to all who donated.
Christmas Shoebox Appeal - Samaritan's Purse
We supported the Christmas Shoebox appeal again this year. Thank you to all of the children who brought in filled and wrapped shoeboxes, an impressive number of shoeboxes were collected. These were collected by the Samaritan's Purse charity and distributed to children around the world who would otherwise not receive a Christmas gift.
Jeans for Genes Day
We took part in Jeans for Genes day, where children wore jeans to school in return for a donation to the charity. The money raised, £135.48, will help to transform the lives of children affected by a genetic disorder.
Roald Dahl Day
The children in Year 3 took part in Roald Dahl Day again this year. They came to school dressed up as Roald Dahl characters, and made a donation to the Roald Dahl children's charity. The day raised £47.10.
Rotary Club Bulb Planting
On Tuesday 31st October Mike Beck from the Rotary Club led our school assembly and told the children all about the work that they are doing to help raise awareness of Polio. He explained to the children that this very nasty disease is on the verge of being eradicated, with only handfuls of cases being reported in places Afganistan. For the past few years the Rotary club assisted by other local community groups and schools have been planting purple crocus bulbs to raise awareness of Polio. They use purple as when children in other countries receive the polio vaccination their finger is marked with a purple spot. Following the assembly children from 3KB went to the green in the village to help plant 5000 bulbs, which should create quite a display in the spring. The Rotary Club also kindly donated 1000 bulbs to school, which we hope to get planted soon.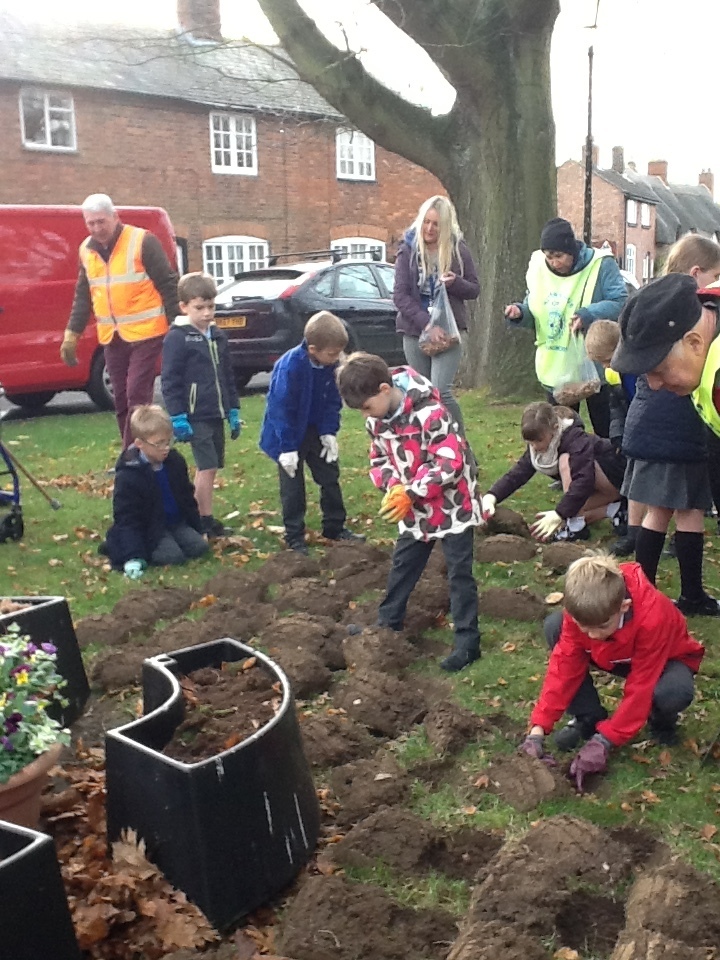 Harvest Festival - Foodbank collection (September 2017)
As part of Harvest Festival, we asked the children to bring in a contribution of food, to be donated to the Rugby Foodbank. Thank you to everyone who brought food, this will be collected by someone from Rugby Foodbank and will be given to people in crisis.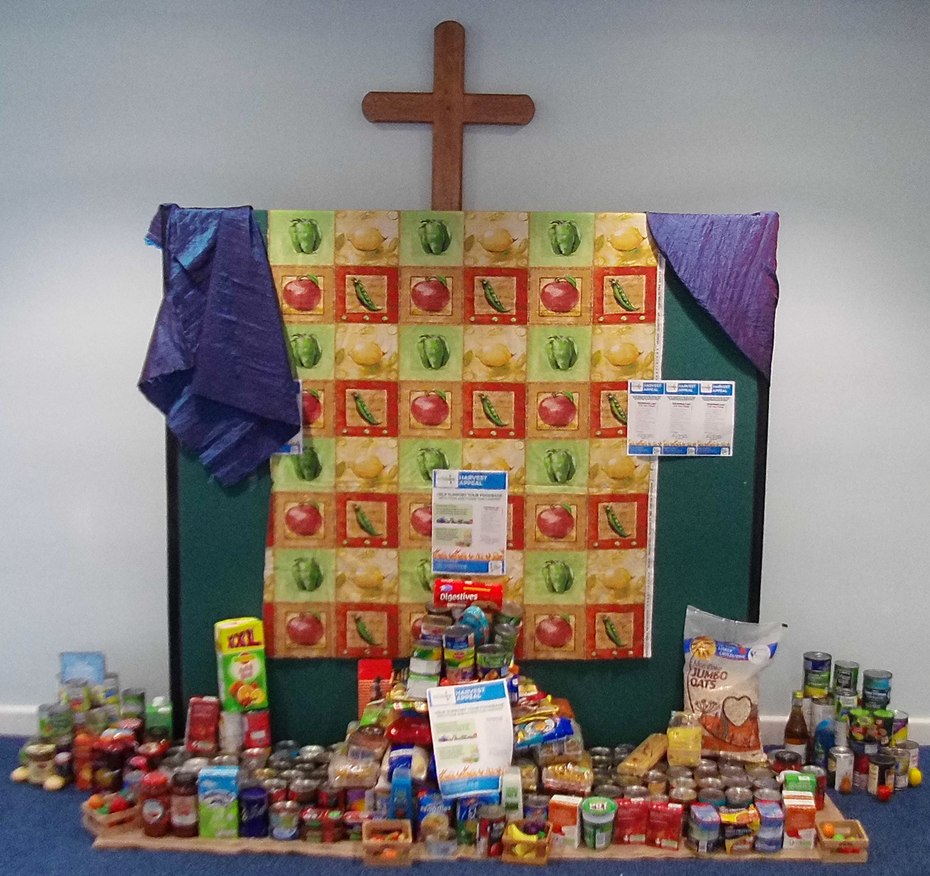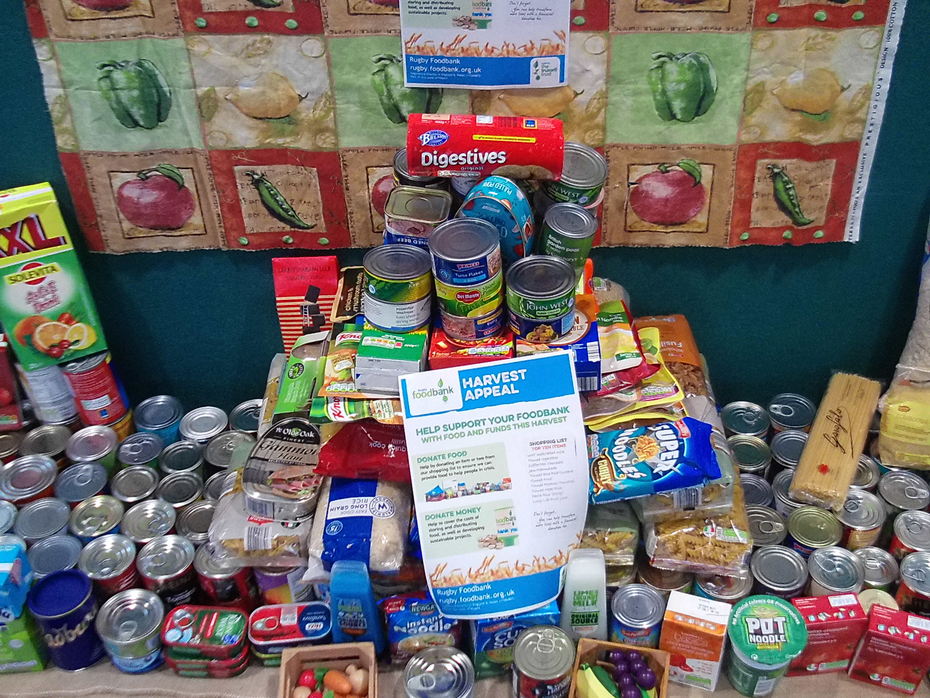 .....................................................................................................................................................................................................
2016-2017
Biscuit Sale - Unicef
We held a biscuit sale, the proceeds of which - £176.28 - was donated to Unicef.
Young Carers - Cake Sale
In April we held a cake sale to raise money for the Warwickshire Young Carers Project. We raised just over £54!
Red Nose Day
The school council arranged a number events for Red Nose Day this year. The children wore red, held a cake sale, a bring and buy sale and a sponsored jog around the field. We raised just over £230 for Comic Relief.
Charity Non-Uniform Day
On Friday 16th December we held a non-uniform day to raise money for the Mar Ephraim (Syrian Orthodox Christian) School in Bethlehem. Thank you to everyone who sent in money. We have sent our donation via the Coventry Diocese.
Shoebox Appeal
Once again this year, pupils at Dunchurch Boughton CofE (VA) Junior School kindly filled and wrapped shoeboxes for the T4U shoebox appeal (www.teams4u.com). The children brought in their shoeboxes filled with Christmas gifts, and these were collected to be transported to vulnerable children and families in Eastern Europe through schools, nurseries, day centres and orphanages.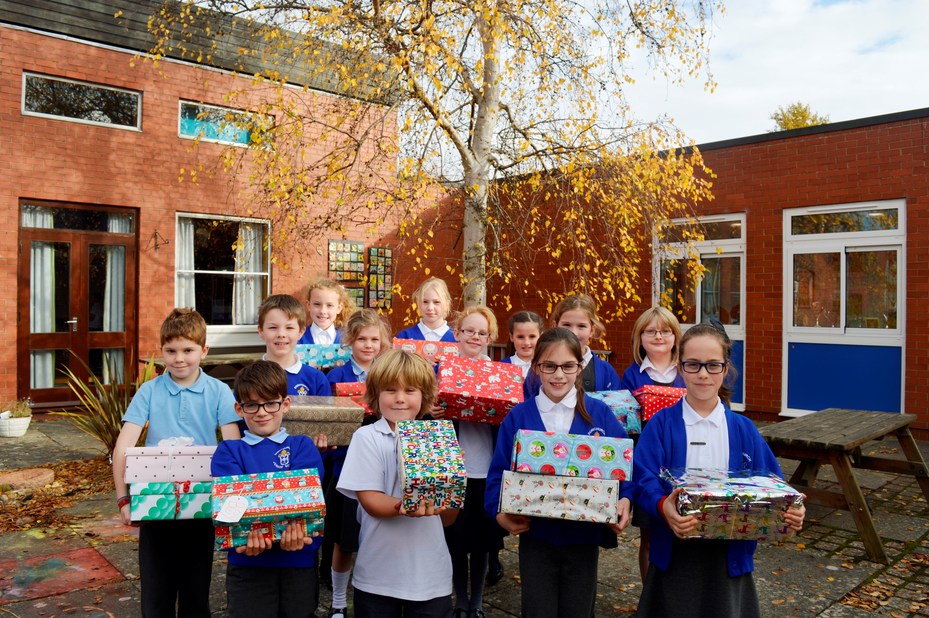 Children In Need
The children had a cake sale and non-uniform day on Friday 18th November for Children In Need. Thanks to the generosity of parents and children we raised a fantastic £324!
Roald Dahl Day
On 13th September 2016, children in Year 3 had a dress up day to raise money for the Roald Dahl Marvellous-Children's charity. They raised £51.00. This was linked to the Roald Dahl work they have been doing in Literacy.