Religious Education is taught according to the tradition of the Church of England, as outlined by the Warwickshire Agreed Syllabus (Coventry Diocese).
As our school was originally founded to teach about the Christian faith, RE has a significant role within the whole curriculum. This will enable pupils to understand the Christian roots of our culture and, through exploring religious beliefs and practices and related human experiences, to develop their own spiritual awareness.
RE teaching, like our assemblies, is broadly Christian-based, but takes into account the need for children to have a growing knowledge and understanding of other cultures and therefore of other beliefs. Class teachers normally undertake the teaching. Seasonal themes, especially Harvest, Christmas and Easter, are given particular emphasis as appropriate.
As a Church-Aided Junior school we seek to promote Christian values in the day-to-day life of our staff and pupils. We expect that adults and children alike will be thoughtful, kind, caring and helpful in their dealings with each other.
Visits to St Peter's Church in Dunchurch and various other places of worship for other faiths broaden the children's experiences.
Each Year group has a focus:
Parents have a legal right to withdraw their children from RE and appropriate provision will be made.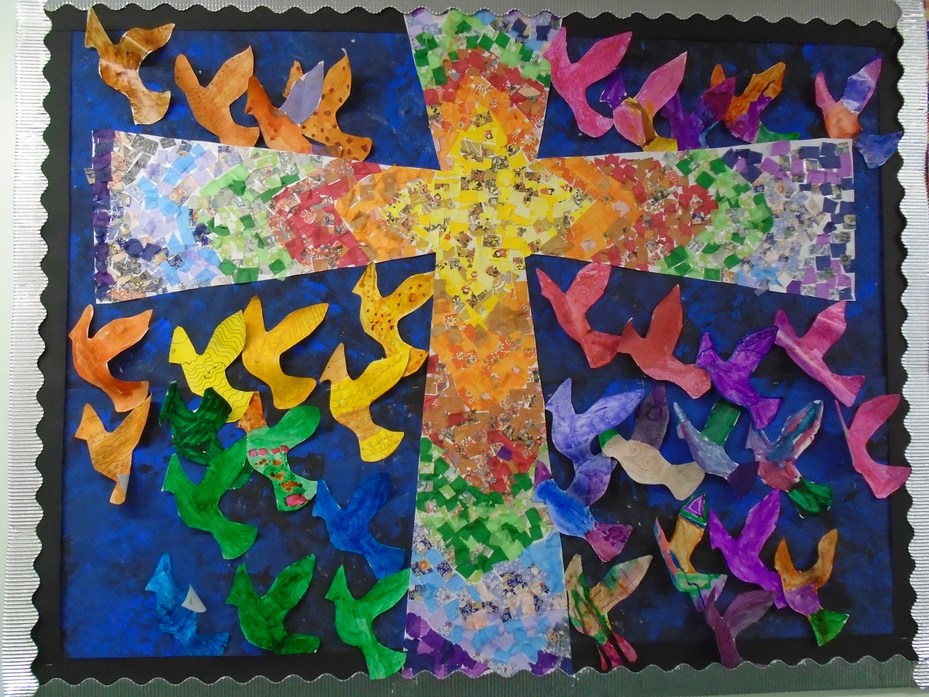 Year 6 pupils at the Warwickshire Youth SACRE debate Christmas Carol Service at St Peters Church Some of the artwork created on Art day, themed around
the school values of Kindness, Peace, Forgiveness,
Patience and Honesty