Our vision for English is for children…
To become literate to a high standard which enables them to access the wider curriculum and prepare them for life beyond the classroom.

To have a passion for reading through immersing them in an abundance of quality texts.

To equip children with the skills and vocabulary they need to create engaging pieces of writing in a wide variety of genres.

To confidently communicate their ideas and opinions in an eloquent way using a rich and varied vocabulary.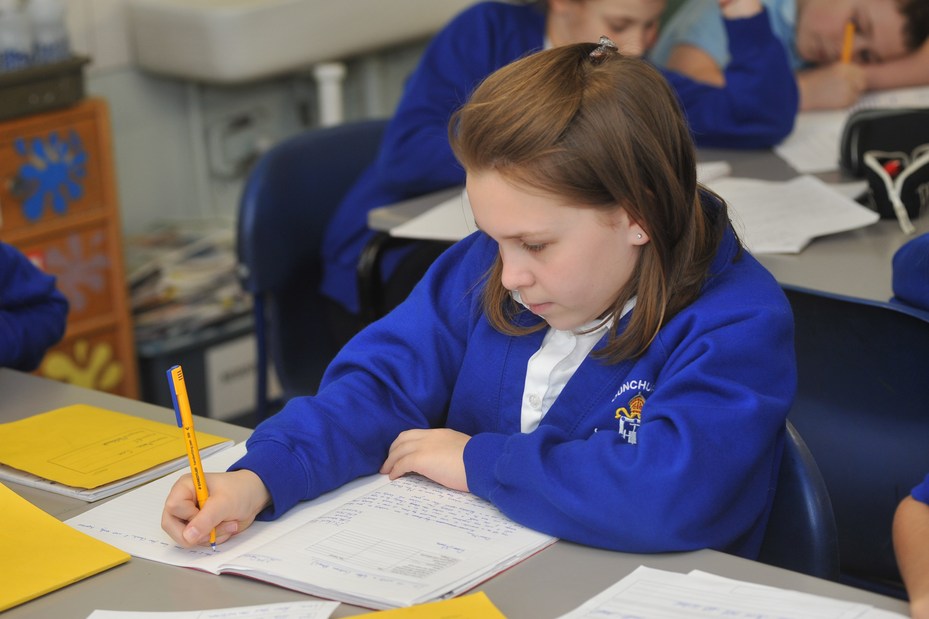 Positive attitudes ensure that the children grow in confidence and self-esteem and are highly motivated towards their own personal achievements in all aspects of English. Six hours a week are dedicated to teaching English, including two hours for reading and ample time for extended writing opportunities, including editing work. Where possible the English topics are linked to themes being covered in other subjects to give more relevance. Each child has targets for writing to ensure rapid progress.
Reading is taught using the Reciprocal Reading approach, where children learn to summarise, question, predict and clarify. Key texts are used by each year group to complete reading comprehension activities and also base both fiction and non-fiction writing on:
Year 3
Roald Dahl - The Enormous Crocodile

D King-Smith - Hoghedge

The story of Rama and Sita

Traditional Tales with a twist - The ThreeLittle Pigs and The Wolf's Story

Fairy Tales - Cinderella and Rhodopis The Egyptian Cinderella

Theseus and the Minotaur

Stone Girl, Bone Girl

Laurence Anholt - Seven for a Secret and Harry's Home
Year 4
Ted Hughes - Iron Man

CS Lewis - The Lion, The Witch and the Wardrobe

Stuart Hill - I was there

D King-Smith - Sheep Pig

Karen Ball - Pompeii

Lloyd Jones - Beowulf
Year 5
Shakespeare - A Midsummer Night's Dream

Shaun Tan - Eric

Clive King - Stig of the Dump

Philip Pullman - Firework Makers Daughter

Alfred Noyes - The Highwayman

Julia Green - The Wilderness War
Year 6
Charles Dickens - Oliver Twist

Michelle Magorian - Goodnight Mr Tom

Michael Morpurgo - Kensuke's kingdom

Louis Sacher - Holes

Lewis Carrol - Jabberwocky